SAN ANGELO,TX –  Carry the Load walked on through San Angelo today for the reason of reminding people what Memorial Day is all about.
Around noon today, I drove over to Foster Field where ASU was actually playing a baseball game (Go Rams) and in the parking lot was a huge RV with "Carry the Load" decals on the side. I figured I was in the right place.
I walked up to the gates at Foster Field but suddenly realized that ASU was playing a baseball game so I walked back towards the RV slightly embarrassed.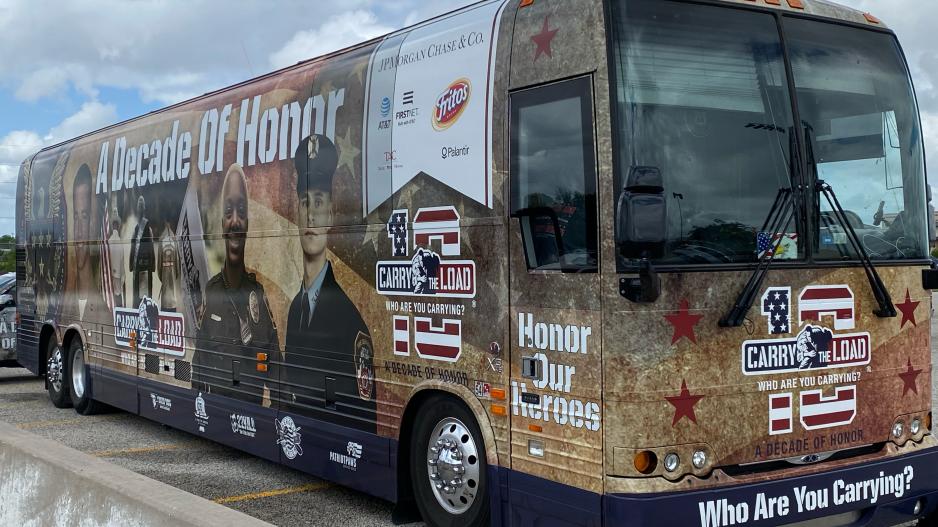 Meagan, one of the several people on the West Coast Relay Team for Carry the Load, greeted me just outside the RV. I told her I was with San Angelo LIVE! and would like to get some pictures. I was more than happy with what she did next.
Even though it interrupted their lunch, Meagan got the others off the bus for a group photo. I even got an interview even after so rudely interrupting their lunch. Jason Dickens talked to me about Carry the Load and what they do. He's the guy in blue third from the right.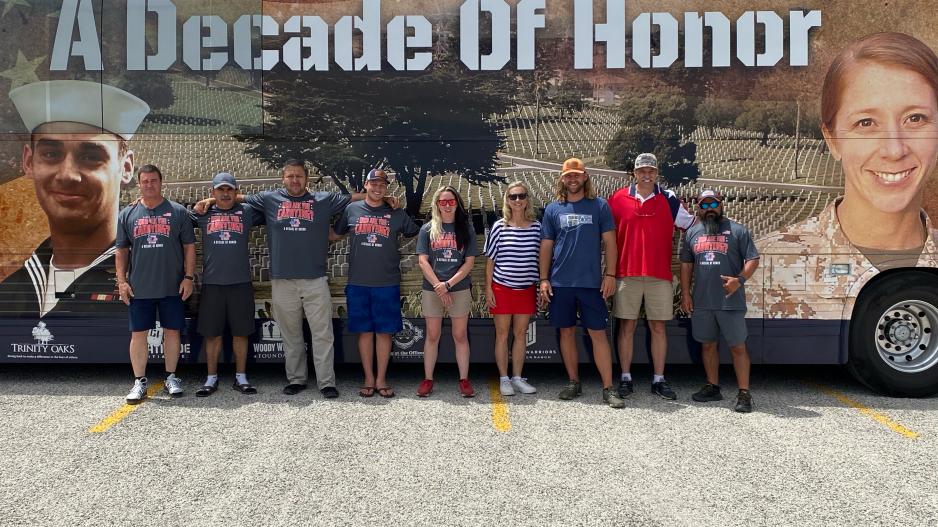 "We are the West Coast Relay for Carry the Load. We started in Seattle, Washington on April 29th and we're ending in Dallas, Texas on May 30th." Jason said.
Jason continued, "Our relay's purpose is to bring awareness to the real reason for Memorial Day. Carry the Load extends that to first responders and their families along with military members and their families."
"The purpose of the relay is to go from town to town, each leg is open to the public, and we give communities and the people the opportunity to actively participate in a way of recognizing the sacrifices made by our men and women, both here and overseas."
Here is where I found out that Jason Dickens is actually a Wall graduate and is currently a grad student at ASU online. We both were surprised that ASU was playing baseball today. (Go Rams from Jason Dickens)
San Angelo had a couple first responders show up at the event earlier in the morning. Sheriff Nick Hanna and SAPD's Travis Griffith brought their families out to walk San Angelo.
"I haven't ever really walked through San Angelo," said Jason. "To be there with those guys (Hanna and Griffith) who serve us and Nick being a former Ranger as well. It was fun to be back in the community and be able to play a small role in a big, national event."
"We actually have 4 relays going on right now. The East Coast Team, Midwest, The Mountain, and us on the West Coast. We all meet in Dallas on Memorial Day for a huge event. It's a 24 hour walk and you get to meet some cool people and hear some stories. You get to continue to remind people why this Nation is so great and it's because of the sacrifices men and women have made."
Almost as if the event was destined to happen here, Jason brought up the fallen officers from Eden.
"Also, I know on May 10th the tragedy that happened in Concho County. I heard about it on May 11th while we were in San Diego. The premise of our walks is each walk you give the people time to recognize (whether it's a mile or 5 or 6 miles) you are carrying everyone who has lost a life and the sacrifices they've made or you're carrying someone specific. So since San Diego I've been carrying both the deputies and I'll carry them all the way to Dallas." Jason said.
To learn more about Carry the Load and the goal of the organization, go to carrytheload.org or click HERE.
Most Recent Videos