OPINION — According to Wikipedia, San Francisco has what they call a 'warm summer Mediterranean climate,' which is characteristic of California's coast. The winters are 'mild and moist,' and the summer are 'dry.' The 'cool currents of the Pacific Ocean' cause stabilization, and allow 'little seasonal temperature variation.' Which is probably why so many homeless people end up there. If you're going to become a professional camper, it's a good idea to avoid Duluth, Minnesota.
But San Francisco's political climate engenders caring, or what passes for it. The folks there really, sincerely want to help the homeless people to live better lives, short of inviting them in to take up permanent residence in the guest room. And I'm not being critical, because I believe the desire to help is real. The methods, however, seem just a tad, I don't know, bizarre.
For example, the folks in charge of San Francisco recently decided they needed to do something about all the homeless people sleeping in the streets, because it often gets as hot as 72 degrees there in July. Of course, that's during the daytime. At night it's a lot cooler, often slightly below sixty. And once in a great while it rains. Not much, but still. And the homeless have to sleep outdoors in that harsh weather, and the caring people of SF understandably feel sorry for them.
Granted, those temperatures constitute what I would call perfect camping weather, but I would never reveal such a harsh attitude, at least not in print. There's also the fact that the folks in charge of ERCOT, the energy regulators for Texas, are telling Texans to run their thermostats at 78 degrees to conserve energy. This suggestion has gone over fairly well, and the great majority of Texans, in a spirit of cooperation and civic responsibility, have expressed the opinion that ERCOT can gently place their 78 degrees in some quite unmentionable places. So there's that.
But that's because Texans just don't care as much as Californians. Texans heartlessly take the attitude that it's better to use too much energy than die of heat prostration. The cads. You just can't reach some people.
The San Franciscans, conversely, care a lot, so much, in fact, they have decided to provide shelter for a bunch of their homeless residents. Not real, solid shelter, of course, but the next best thing. The city has voted to purchase 262 tents and set them up on empty lots all over the city, to create what officials are calling 'safe sleeping villages' for the derelicts. They'll also provide food and other services. Because that's what caring people do.
Now, these are apparently not just average tents, the kind you or I would buy to take the kids on a camping trip. They're special tents, probably specifically engineered by a snobby expert in New York City, with a degree from Columbia in Homeless Tent Design. I say that because these 262 tents are costing SF $16.1 million. Which makes me wonder why I didn't choose a career in California tent sales like my mother told me to.
These tents will have to be pretty special to last a year, considering the amount of California sunlight to which they'll be subjected, but we'll give them the benefit of the doubt for that. And well we should, since each tent is costing the city $61,000. If they last a year, that comes to $168 per night for a homeless person to relax inside a nylon dome in 75-degree comfort, as opposed to having to brave the open air elements and sleep shelterless in 65-degree discomfort. Plus there's the safety factor, since we all know it's impossible for someone to break into a tent, what with that complicated zipper thing, and all.
So the expense is definitely worth the cost, if you really care about people. It's probably best not to mention the fact that you could get a motel room for less than a Franklin per night, or that, according to the San Francisco Chronicle, the annual cost of one of these tent spots is two and a half times the median rent for a one-bedroom apartment in SF. The Chronicle obviously doesn't care enough, is all I've got to say. Besides, if they put all those homeless people in apartments, they'll probably want to use electricity, and California is fresh out of that.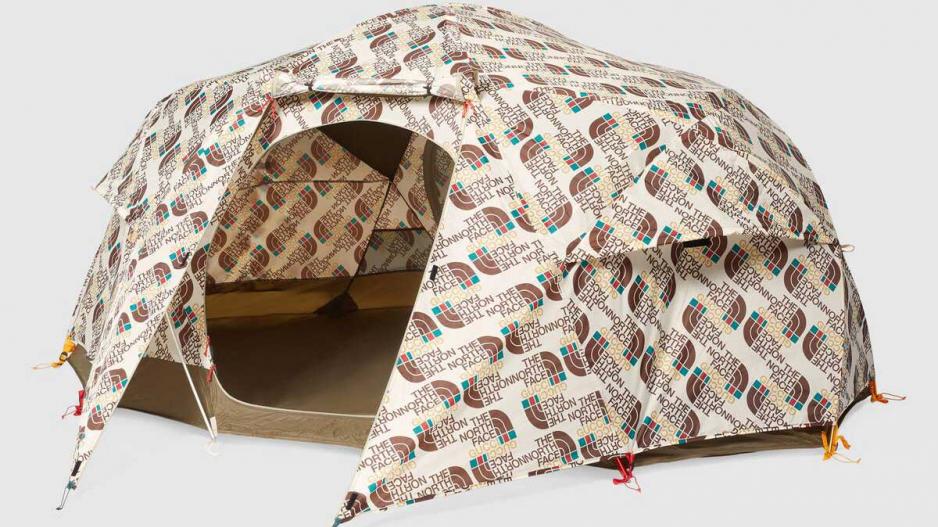 But I've got a suggestion for the SF city council that might alleviate some of the cost of sheltering their homeless population, while still caring a lot. The North Face and Gucci have just teamed up, and are offering a four season tent for the amazingly low price of $3,490, which is a steal compared to the price SF is paying for theirs. It's covered in the logos of both companies, but that's to be expected, with your bargain variety camping gear. They also offer free shipping, a big plus, but the best part, for the SF leftists, since they care so much about people, is that the Gucci/North Face tent is made in China, by children earning upwards of fifty cents an hour, in humanitarian-oriented sweat shops running two 12-hour shifts a day. You can't get more caring than that.
I wish the SF city council luck in their selfless efforts to provide everything for everyone all the time, especially since they're broke, but I've got to go make sure my thermostat is set on 78. As far as ERCOT knows . . .
Kendal Hemphill is an outdoor humor columnist and minister who has a tent or two to sell. Write to him at [email protected]
Most Recent Videos