OPINION — I had been in Nashville for six long years I started as an agent forThe Hubert Long Agency, then hired on as a tour consultant for two years with Conway Twitty and Loretta Lynn. As that tour came to an end I got a call from Tom Collins, a well known producer and head of Charley Pride's Pi Gem music. Could I meet with Charley next Tuesday? Of course.
Pride was relaxed in a golf shirt and jeans. He immediately went straight to the point. His intention was to establish a booking and management agency headquartered in Dallas. Would I run the operation, he asked. In just 24 hours I was packed and headed home to Texas.
The next eight years with Charley were educational and rewarding. Pride and I toured the world. I was amazed at the scope of his fame. England, Scotland, Ireland, Norway, and Germany were fertile grounds for huge concert crowds and big record sales. In London, fans ran by a smiling Mick Jagger in the hotel lobby, instead screaming for Charley and begging for his autograph.
There were countless awards shows and honors. Then there was the inauguration of President Ronald Reagan followed by dinner with Frank Sinatra. It was for sure the big time.
As I look back at those days and try to analyze the reason for his success, I concluded the magic was not in the rich baritone voice, or the well crafted songs like 'Kiss an Angel Good Morning' or 'Is Anybody Going to San Antone.' It was in that guy on the stage… Charley Pride, a man with a huge heart and charismatic empathy towards his fans.
Pride truly was one of the guys. He would as likely grab lunch at the hot dog grill at the local convenience store as he could dine in style at the Village on the Green in Central Park. At either venue, he'd always had time for fans. I never once saw him turn down an autograph or not stop to chat. He chose to live in a moderate house in north Dallas rather than the usual mandatory mansion in Nashville.
It is well known Charley was an avid sports fan. His early days in the Negro League and his shot with the Angels are well documented. No one predicted that years later Charley would be among the owners of the Texas Rangers. Few know that his sons Craig and Dion were accomplished athletes. Craig even spent time in the NFL playing four seasons as a running back at Memphis. Charley was his sons' biggest booster at home, practice, and games. At those times, the Pride was not there being a celebrity but in being a father. Dion is an accomplished actor and musician and tours as tribute to his father. Angie was his daughter and something of a mystery to Charley… clearly not understanding the whims of young females, he let Rozene tend to the girl issues.
There are literally hundreds of memories that fill my mind and my heart. Our dinner with Mohammed Ali, Charley singing "Jailhouse Rock" with the Mariachi band at a local Mexican Restaurant, and the late night party with Dick Clark are great times I recall. There were also special events with Mickey Mantle and Lou Rawls. Charley truly basked in the sunshine of his success. But that adoration, honors, and awards were not the real payoff for Pride.
What he loved most was finding raw new talent. Lending his name, enabling many opportunities for upstart artists and watching them grow was his pastime. Out of an Italian restaurant he found former Stamps Quartet member Dave Rowland. They Talked. A few weeks later Charley met with RCA records executive Jerry Bradley and like magic Dave & Sugar became the hottest new act in the business. Earl Thomas Conley was a struggling new act on RCA. ETC, as he was called in industry circles, joined the Pride group and a few months later became the first artist in country music history to have five number one singles from one album. Sylvia was a secretary at Pi Gem's Music. A trip or two to the studio with members of Charley's team and 'Nobody' became a world wide hit, climbing both the country and pop charts. Janie Fricke came aboard and became three-time Female Vocalist of the Year.
One night I went to a talent show at the Belle Starr Dance Hall in Dallas. The night resulted in a long talk with contestant Neal McCoy, and a next day, his meeting with Pride. It took a while but four years later Neal was firmly established as one of the premier male vocalists in country music. A little known story was that of country rocker Gary Stewart. Gary was among the most likable of all, but admittedly had a lifestyle that sometimes was not optimum for his career. When I joined Pride, Gary had just cut a honky tonk hit, "Drinking Thing." I was shocked to find this same Gary Stewart was gainfully employed as keyboard player for Charley Pride's band. As Gary became more popular, he began to perform prior to Charley taking the stage. Quickly, a problem emerged. Pride had the logic that if it worked for him, it should work for everyone. That might sound logical to some, but not Gary. He just could not convince Charley that the Red Leisure suits worn by the band world fit well with his style. Gary exited, only to return several years later. The two remained friends throughout the years. Charley was deeply saddened at Gary's death in 2003.
Randy Jackson is a music industry consultant and concert promoter living in Alpine. He produces shows in San Angelo as well.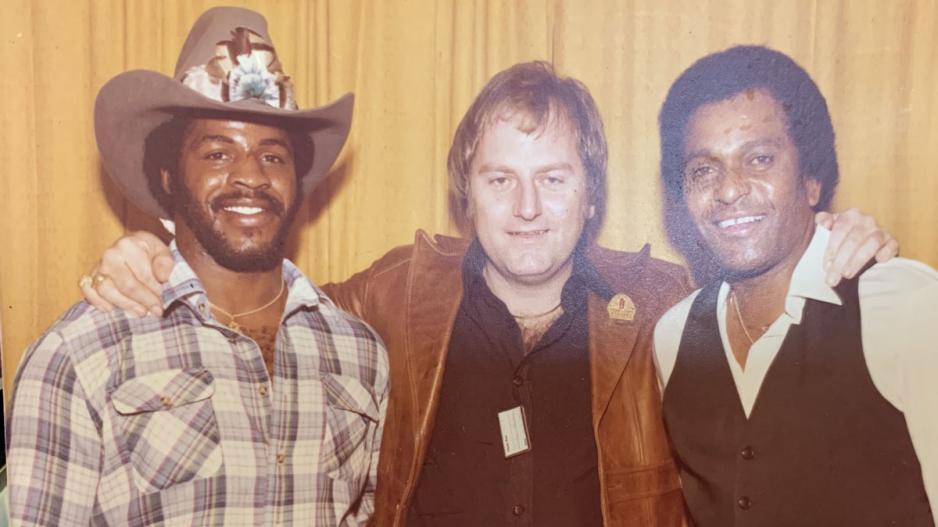 I was a kid with a dream when Charley gave me a chance. He was a kind and decent man. He was well aware of his humble beginnings and his fortunate life. Life gave him much and in turn he gave much more in return. I am totally grateful for all he did for me. His generosity with others is seldom seen in the cutthroat world of entertainment.
Last week, I got the call. Charley is gone. Dec. 12, 2020. Rozene was understandably distraught.
"It happened so quick, he came home from the CMA awards and the next day he was running a temperature. At first I prayed for him to survive. And then there was so much suffering I just prayed for peace"
Then she said, "You know, He got the CMA Lifetime Achievement Award, He sang his biggest hit, he got a standing ovation, He left the stage. Now he's gone."
Thank you Charley Pride, for all you taught me, all you gave me, and the love and honor that we shared. Travel well, you are loved.
Before you ask me Why I love Charley Pride. Now you know.
Most Recent Videos