Veganhood
Opinion
OPINION — With all the Chinese virus news lately, it seems I've neglected my favorite animal rights organization, and it's time to rectify that error. Our friends at peta have been busy lately, taking advantage of the pandemic to protest at supermarkets, urging people to save animal lives by going vegan. They're focusing on grocery stores because many other large retail businesses are closed, plus they want shoppers to make a connection between diseases, like the Wuhan virus, and animal agriculture. I'm a little vague on what, exactly, that connection could possibly be, but then, I'm somewhat normal.
But peta is dedicated, if incomprehensible, in its goal of irritating regular people at every opportunity, even when it requires them to ignore stay-at-home guidelines. And although I'm pretty OK with that, I'm curious as to what they think will happen, if the demand for meat drops due to rampant, unmitigated veganism. To paraphrase Ignacio Montoya, I don't think that would mean what they think it would mean.
For example, when the virus recently caused staff shortages in the area of food production in the northeastern United States, there weren't enough people to process chickens up there, which is comparable to a drop in demand for poultry, which is what peta is pushing. But the result was that about two million chickens in Delaware and Maryland were slaughtered and disposed of, because they couldn't be processed and shipped. So the birds died anyway, and no one got so much as a drumstick. Don't you hate it when that happens?
And if you thought vegans were just quiet, benign individuals, minding their own Brussels sprouts and watching salad documentaries on PBS, think again. Sometimes they get violent. One of them, a British fellow named Christopher, recently attacked his girlfriend with a glass bottle of vinegar for cheating on him. With bacon.
When Chris Ellam and Bethany Smith got together five years ago he was a regular person, but later decided to eschew meat, which is an entirely different thing from chewing meat, let me tell you. Chris insisted that Beth also go vegan, and constantly berated her if she slipped, such as the time she ate one cheese & onion potato chip, which the Brits mistakenly call 'crisps.' He cut up some of her clothes for that, although I have no idea how that was supposed to help.
The straw that broke the vegan's back, and almost cracked Beth's skull, was when she came home from work one evening smelling of bacon. Chris accused her of eating meat, although she worked as a waitress in her stepfather's café. A normal café, where they serve meat. I have no idea how you could possibly end up smelling like bacon in a place like that, so I'm thinking she was guilty.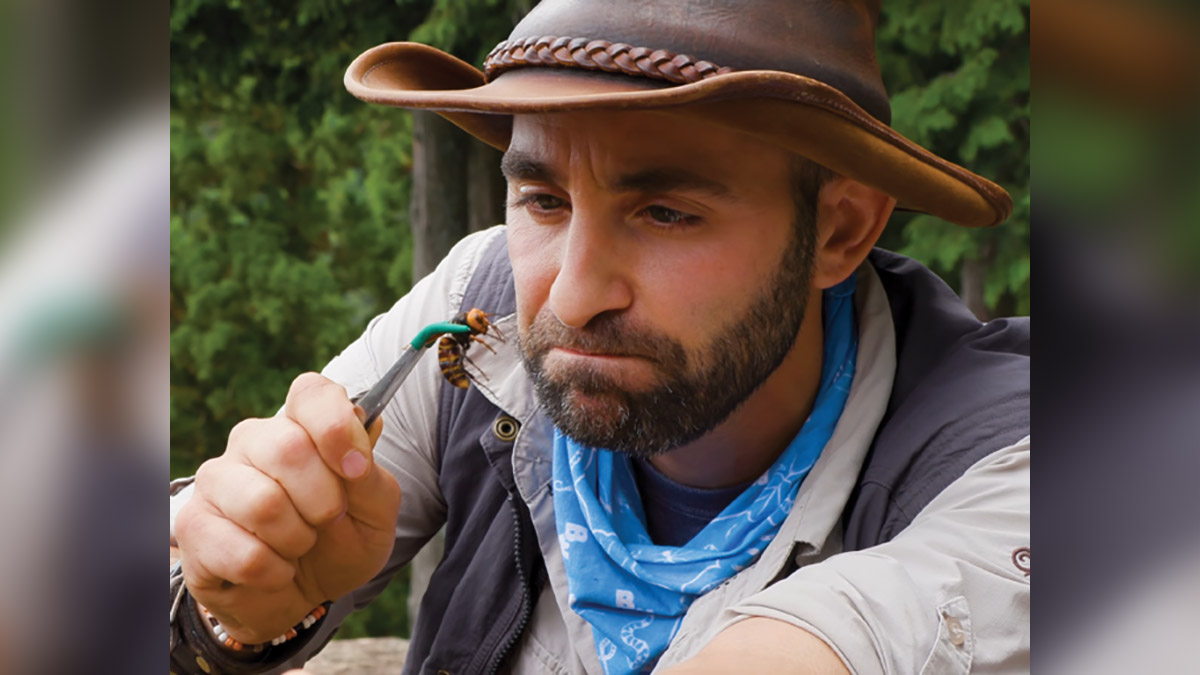 Above: Coyote Peterson
Which doesn't excuse Chris for beating the wadding out of her with the vinegar bottle, and continuing to hit and kick her as she lay on the floor in a fetal position. But then, I'd probably go nuts, myself, if I didn't have a ribeye now and then. Lack of good food is detrimental to human relations. If God hadn't intended us to eat animals he wouldn't've made them out of meat.
So I'm wondering if peta has anything to say about such a stellar example of veganhood, but I'm more interested in their attitude toward the Asian Murder Hornets that have invaded US territory of late. Properly called Vespa mandarinia, these vicious insects invaded the American northwest for the first time last fall, riding on tiny motorcycles. They typically target honeybees, and just a few of them can wipe out a hive in no time, decapitating the adults and eating the larvae. The Asian Murder Hornet is the insect world's equivalent of Adolf Hitler, with a little Conan the Barbarian thrown in.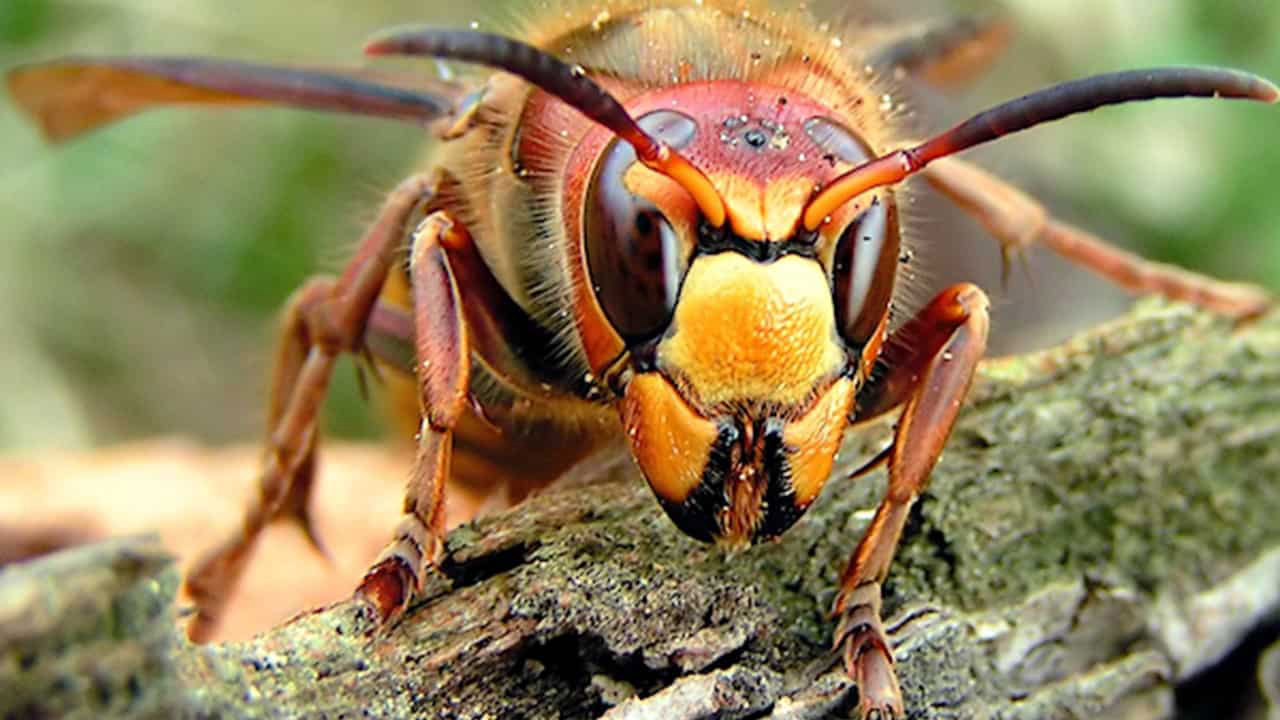 Above: Asian Murder Hornet
And these suckers are huge, up to two inches long, with big insect muscles, crew cuts, and long stingers that, according to the Washington State Dept. of Agriculture, can poke right through a beekeeper's suit like 'hornet stingers through a beekeeper's suit.' Bummer.
The sting of the Asian Murder Hornet is reportedly pretty painful, and can be deadly if enough of them get you, like 30 or 40 at once. So I looked up a YouTube video of Nathaniel 'Coyote' Peterson, who is supposedly an 'extreme-nature-show' guy, allowing one of the hornets to sting him on purpose. Coyote held the bug against his arm with some big tweezers, and pretty much had to coax it to sting him. When it did, he started whining and rolling around on the ground, like a soccer player who'd felt a breeze from someone running by. Then he started to coherently describe how bad it hurt. So I know the hornet's sting isn't all that big a deal.
Because before he started his theatrics, Coyote carefully placed the hornet on a stump and set a glass jar over it. If he was really in serious pain, first he would've thrown the hornet, then he would've thrown up. He definitely wouldn't've been able to talk. Bottom line, Texans have little to fear from the Asian Murder Hornet. We've already got centipedes and scorpions and red wasps and tarantulas, so one more ugly bug won't be a big deal.
We just need to gather up a few vegans and tell them the Asian Murder Hornet loves bacon . . .
Get more stories like this by signing up for our daily newsletter, The LIVE! Daily.