Cancel Culture
Opinion
OPINION — Dave Barry recently posted a YouTube video with some tips on getting through this coronavirus quarantine thing safely, such as keeping a roll of toilet paper on a string around your neck at all times, and carrying a huge lamp around as a social distancing tool. He also recommended washing your hands at least once every 45 seconds, and singing 'Happy Birthday' twice during the washing process, to make sure you're doing a thorough job. This is the kind of 'extra mile' advice you get from humorists during a crisis.
Dave has been my favorite humor writer for years. I met him once, in Conway, Arkansas, which was a big thrill for him. He was speaking at a college there, and I managed to talk them into giving me some free tickets. 'Never pay for tickets if you can get them free' is another great piece of virus advice.
During the 1990s Dave's weekly column ran weekly in about 200 newspapers across the country. Mine currently runs in four, but then, I choose quality over quantity, mainly because I can't choose quantity. My column ran in five papers until recently, but we'll get to that part shortly. The talent to build suspense is a major asset for a humor writer.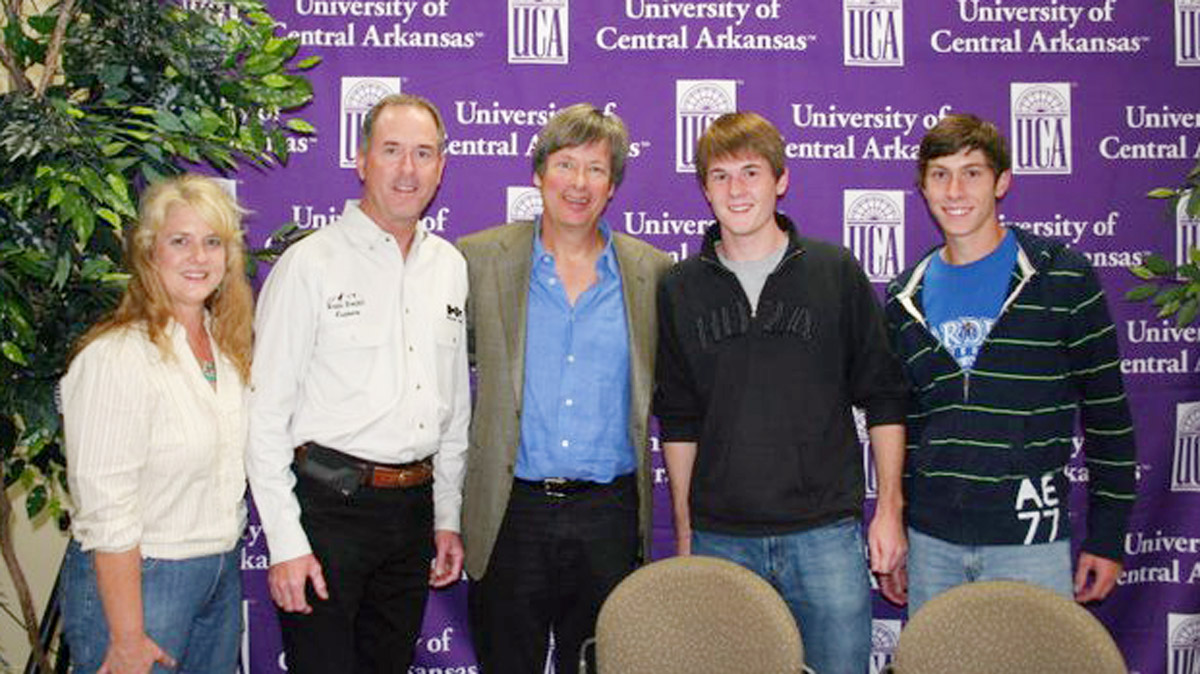 Above: Dave Barry (center) with (L-R) Jocelynn, Kendal, Courtland and Paden Hemphill (Contributed/Kendal Hemphill)
About twenty years ago a couple of papers refused to publish one of Dave's columns, because it was about circumcision, and they deemed the topic too sensitive for their readers. I agree it's a touchy subject, which is why you'll never hear me mention it, in a column or anywhere else. My motto is 'Avoid delicate subjects, unless you can irritate someone.'
So the next week Dave reported, in his column, that the Portland Oregonian and the St. Louis Post Dispatch wouldn't run the previous column because of the circumcision thing. He then described circumcision, for readers who were vague on the condition, as 'Taking hold of a guys Oregonian and cutting his Post Dispatch right off.' I apologize for the graphic nature of this description, but it's necessary in order to adequately repulse certain readers. Plus I don't think I laughed so hard at anything else, ever, except maybe Bill Clinton's definition of 'is.'
But I mention the Oregonian/Post Dispatch episode because it's a fair example of one of the left's most powerful and frequently used truth-suppression tools – canceling. If conservatives don't like an idea, they don't adopt it. If leftists don't like an idea, they demand that no one else agree with it, either. This is what happens when people think they know what's best for everyone else, and act like whiny crybabies until they get their way.
In case you're vague on cancel culture, it's basically taking hold of a guy's . . . wait. Wrong definition. Cancel culture is social justice warriors getting offended by something or someone, and demanding that something or someone be purged from society, just because they don't like it. A good example occurred when statues of early American heroes were torn down all over the country because the bed-wetters found out they'd owned slaves back in the day. Monuments to George Washington, Thomas Jefferson, and others were razed in fits of retroactive rage, as if centuries of actual injustice could be corrected by removing honorifics erected to people who committed many great acts, because they also made some great mistakes.
To be clear, conservatives also disagree with slavery. I, personally, freed all the slaves I owned as of last week. But that doesn't mean we can't honor the people who made this country what it is, just because we don't agree with the mores of society at the time our country was founded. We all wish slavery were not part of our history, but tearing down statues won't make it less so. Few historical figures, if any, lived such morally upright lives they can be held up as pristine examples of unassailable virtue. And if we manage to eliminate every reminder of the blight of slavery from our culture, we are more likely to repeat that heinous mistake in the future. The statues should have stayed. Millions of pigeons agree with me.
The truth is that discourse that offends no one is pretty much useless. When we try to avoid any and all offense, we become benign and worthless. When peoples' feelings trump progress, society stagnates, and intellectual death occurs.
Which brings us to the Mason County Snooze, which newspaper recently cancelled my column because it was 'offensive,' meaning the snowflakes didn't like it. I'll refrain from using an Oregonian/Post Dispatch metaphor, but editor Gerry Gamel didn't like what I wrote, so he decided to keep others from reading it. This is cancel culture at its finest.
My column is irrelevant, except that it's the canary in the coalmine. When the canary dies you have to either pump out the poison gas or leave the mine. The leftist gas of 'social justice' gets thicker every day, and if left unchecked will destroy all truth and progress in the country. As Edmond Burke said, "All that is required for evil to prevail is that good men do nothing."
Until the leftists grow up and become adults, my advice is to carry a roll of toilet paper around your neck at all times. And wash your hands. Who knows where they've been . . .
Get more stories like this by signing up for our daily newsletter, The LIVE! Daily.