Semi-Super Bowl
Opinion
OPINION — Super Bowl RXBR549, which was held Sunday in a specific location that was not my living room, was a little disappointing. Not that I was unhappy that Kansas City won, but it kind of reminded me of Super Bowl R2D2, which was totally different. That game, played in January, 2002, was in New Orleans, and it turned out to be a lot of trouble. That was also the only Super Bowl I ever, personally, attended, although I didn't watch the game. And that probably requires an explanation.
The only reason I went to New Orleans for the Super Bowl in 2002 was to make a little extra cash. My father-in-law was in charge of security for the Super Bowls for 25 years, and he invited me out to work on game day. This was probably a mistake on his part, since at that time the only experience I had working security was when my wife left me in charge of our cat, which disappeared. That wasn't my fault, as I'm pretty sure there was a raccoon involved, but I got the blame anyway.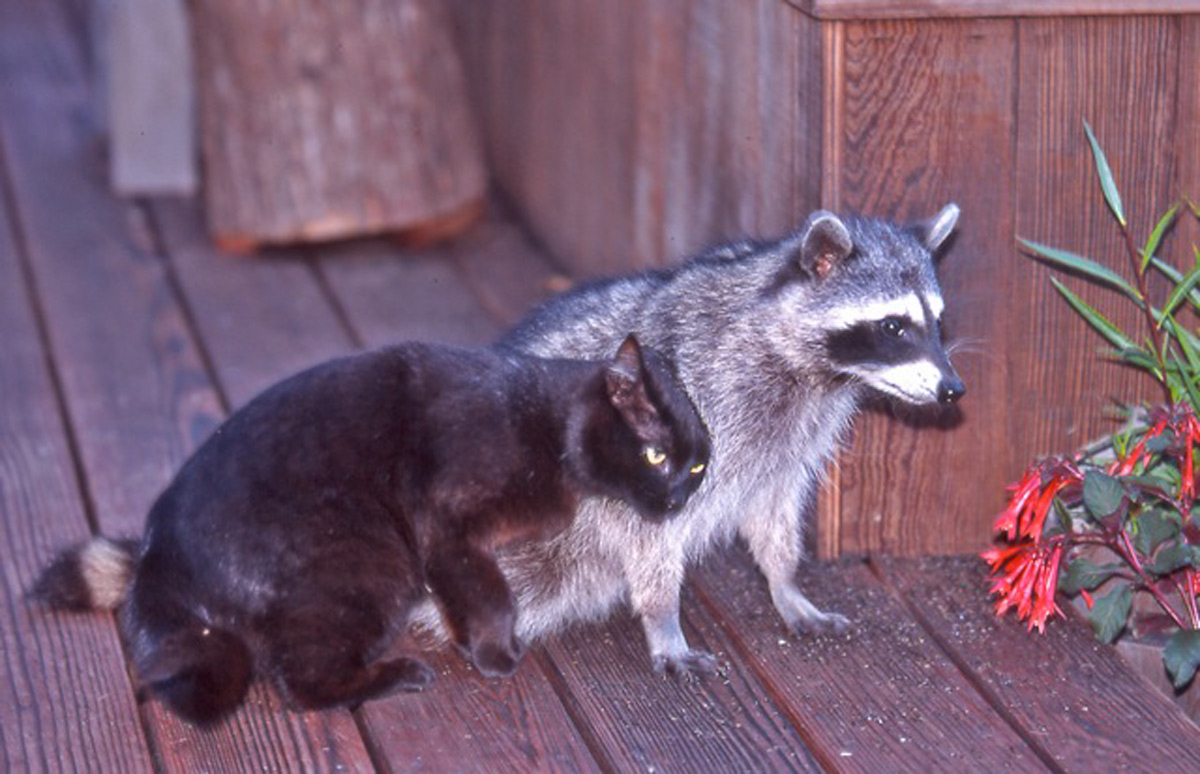 Above: The raccoon got my wife's cat?
So I drove to New Orleans a couple of days before the game, which I don't recommend. Driving to New Orleans, I mean. To get there you have to drive on Louisiana roads, which are rumored to be paved, but you'd never prove it by me. I kept stopping every few miles because I thought I had a flat tire. Louisiana highways seem to have been paved with alligators, or by alligators, or something.
No doubt you recall the terrorist attacks of 11 September 2001, which occurred just a few months before the game in question. That event caused a large amount of consternation to my father-in-law, since no one really knew if the bad guys had anything else planned, and hitting a Super Bowl would be a logical thing to do, if you were an America-hating terrorist. Which I'm sure you're not. I'm just saying.
So security was beefed up considerably for the game. Everyone had to be 'wanded' at least twice, with those metal-detecting wands you see at airports, plus the rules were changed so dangerous items were prohibited. The 9/11 terrorists had used box cutters to hijack at least one plane, so pocket knives were banned at the Super Bowl, lest some nut job try to hijack the Louisiana Superdome and fly it into the Pentagon. You never know.
Kickoff was at five o'clock on Sunday, but we had to be at the stadium a little early. And by 'a little early' I mean we got there at 2:30 a.m. Not p.m. We had to arrive more than fourteen hours before the game so we would have time to stand around in the dark for four hours waiting for people to start showing up. That's how security works, I guess, which is why I chose to be a writer.
Several hours before game time my wife and I were assigned to the gate where, as it turned out, the celebrities were admitted. After a while a steady stream of limousines began to disgorge their illustrious passengers at our gate, where we would open their doors and discretely look them over for explosives, machine guns, pocket knives, and other contraband items. I recognized Barry Manilow and Aretha Franklin, but had no idea who most of the others were.
My wife opened the door for Paul McCartney, and he stepped on my foot. I think he said 'excuse me,' but it must've been in English, so I'm not sure.
Mariah Carey sang the National Anthem for the game, and when she arrived she created quite a stir. The thin dress she was wearing, and I'll be delicate here, was all she was wearing, without question. The two guys holding the metal wands looked at her, looked at each other, and waved her through the gate. No way she was hiding anything.
During the game I was stationed between the section where sports writers sat and a section of regular people, and my job was to keep the regular people from encroaching into the press section. I stood in a stairwell, my back to the game, and watched people watch the Super Bowl. Never saw a play, but that was OK because New England won, which was tragic. Still is.
My compensation was the five women, all about 30 years old, who were sitting just above my stairwell. I'd say, if you put them on a scale all together, they would have gone about 1300 pounds. Those ladies had come to have fun, and brother, they had fun. They sang. They danced. They shouted and waved and bumped one another the whole game. They were far more entertaining than football could ever be. It was a blast just watching them.
So Sunday's game was kind of a letdown, except for one very important and vital and essential and crucial little detail that made it one of my favorite Super Bowls of all time – New England didn't win.
And if you need someone to work security, I'm busy . . .
Get more stories like this by signing up for our daily newsletter, The LIVE! Daily.