Divided We Fall
Opinion
Some of my earliest memories are of sitting on the floor in front of a 13" black & white television, watching grainy, poorly focused video of the assassination of John F. Kennedy, played over and over. Since I was a few months shy of my third birthday when that event occurred, it's possible that what I remember are reruns of that horrible crime, televised during the months that followed. Regardless, that murder left an indelible impression on me as a child. I remember wondering what that man had done that would cause someone to want to kill him.
I wondered almost the same thing nearly thirty-eight years later, as I sat in my office in Mason, Texas and watched crystal-clear video on a color computer monitor of the second airliner flying into one of the World Trade Center Towers in New York. That event also made an indelible impression on me, and although I was a few months shy of my forty-first birthday, I'm still doubtful that I could understand that event any better than I did JFK's assassination.
Now, nineteen years later, I still don't have any answers. What did the people in those towers do that would cause anyone to want to kill them? Maybe there aren't any answers, except that people hate. After countless investigations and articles and news stories about the people who committed those heinous crimes, I don't know that we're any closer to understanding. The terrorists have been identified, and those that survived the attacks have been caught or killed, and I still don't know why they hated so much. Maybe we're wasting our time trying to find out.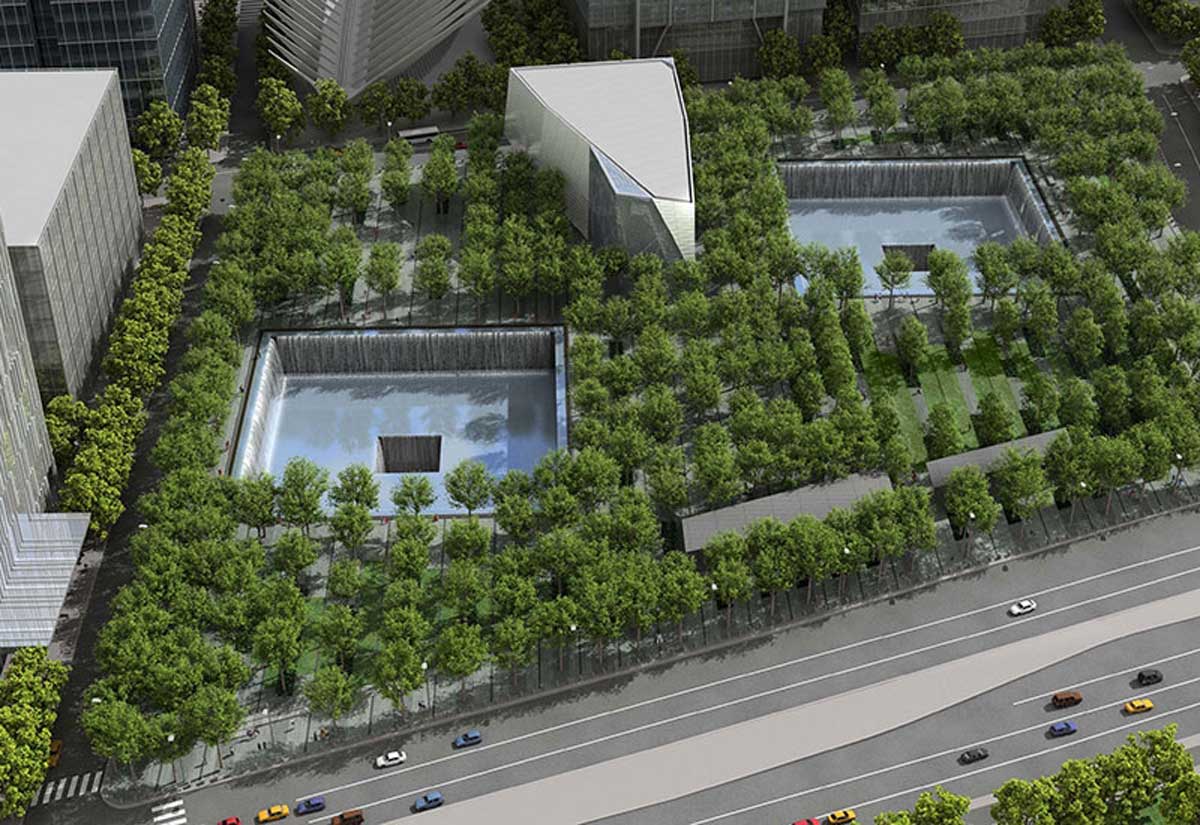 Above: The World Trade Center memorial
The airliner attacks of 9.11.01 may not have taught us anything about the terrorists involved, but I think they taught us something about us. And I think what happened on 9.11.01, as devastating as it was, was not as important to America as what happened on 9.12.01.
That day, the day after the attacks, we were a nation.
On the morning of 9.11.01 we were divided. We were rich or poor, liberal or conservative, city or country, urban or rural, Democrat or Republican, black or white or brown or whatever. We disagreed, we squabbled, we pandered, we fought, we pointed fingers. We looked for differences in one another, and we focused on how those differences made us better than our fellow Americans. We sought to build ourselves up by tearing one another down. We hated. And our hate was directed inward.
Once we were attacked by outsiders, by radical Islamic terrorists who hated us just because we were us, all those differences were suddenly forgotten. We weren't black or white, we weren't rich or poor, we weren't urban or rural. We were all Americans. Our hate for one another was forgotten. We came together to help one another, to save lives where possible, to reunite families, to tear away the rubble and look for whatever good might be left among the ashes. People drove across the country to bring supplies, hand out food, offer clothes or water or whatever they could. And they didn't care, or remember, that just a short time before they were sniping at one another over petty disagreements. All they knew was that Americans needed their help, so they came.
Funny how priorities can change in the blink of an eye. Life goes on as usual until you get a call that your sister has been in a serious accident, or your father has been diagnosed with cancer, or your brother has lost a child. Tragedy has a way of forcing us to focus, to ask ourselves what's really important in our lives. When bad things happen the hate goes away and we love one another again. When we're attacked we crawl into the foxhole with the guy we were arguing with a few moments before over a broken shoelace.
So what did we learn about ourselves, on 9.12.01? What does it tell us that we attack one another until the enemy shows up, and then stand back to back, willing to literally die for one another in times of crisis? Do we have to experience national tragedy in order to love one another?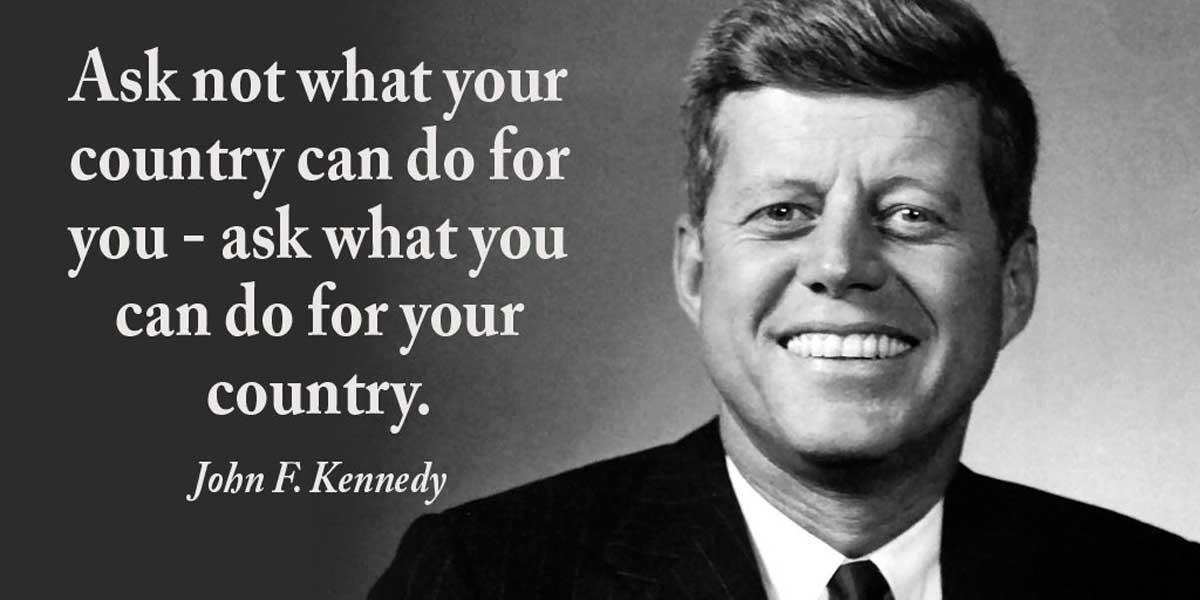 Above: President John F. Kennedy
That period of unity didn't last long. For a few months we put aside the trivia and became a united people with a shared set of values, but then our solidarity began to fade, our differences started to stand out anew, and we went back to hating one another again. Why? Do we need a common enemy to realize we're all on the same team? We seem happy to share an umbrella when it's raining, but can we not also use it to shade a compatriot from the sun?
It seems the disagreements and petty differences are more pronounced now than they were before the attacks two decades ago. We are less a nation of united states than we are a collection of divided isolationists. Maybe we learned nothing from the disaster, either about others or ourselves.
What Ben Franklin said before the American Revolution is as true today as it was then. We must all hang together, or assuredly we shall all hang separately . . .
Get more stories like this by signing up for our daily newsletter, The LIVE! Daily.