The Armpit of America
Opinion
OPINION — Warren G. Harding is the only sitting U.S. president to have ever visited Skagway, Alaska. He stayed about three hours, pronounced the place 'the armpit of America,' and left. The people of Alaska were so appreciative they named a mountain after him. It's called Harding Mountain. You might've been able to figure that out on your own, but then why would you need me?
Skagway is still pretty unimpressive, but it was the gateway to the Klondike gold fields back in the day. People like Jack London went through there on their way to getting rich writing books like 'Call of the Wild.' Sam McCord, played by John Wayne, also spent some time in Skagway, but they didn't name a mountain after him. For some reason.
No one ever found any gold in Skagway, because it was all located farther north, in the Yukon Territory of Canada. The trip from Skagway to White Horse, where the gold was, took four months by pack train, and it was bumper to bumper. Or at least nose to tail. When one horse stopped, everyone back down the line had to stop, because the trail was a no passing zone. It was just too narrow to get around anyone.
What they needed was a train, so some surveyors came in, looked the trail over, came back to the bar in town, and announced that it was impossible to build a railroad from Skagway to White Horse. But there was a fellow named Michael Heney drinking in the bar at the time who said, "I can build a railroad to White Horse." And he did. The White Pass & Yukon Railroad, narrow gauge. And it's still there. And the train still runs on it. And I can tell you from experience that it doesn't feel the least bit safe, riding that train, with it swaying from side to side, clacketing over ancient trestles spanning precipitous gorges and such. Precipitous gorges are nice to look at horizontally, but from above, in a shaky train car running on narrow rails laid during the Harding administration, they're less nice.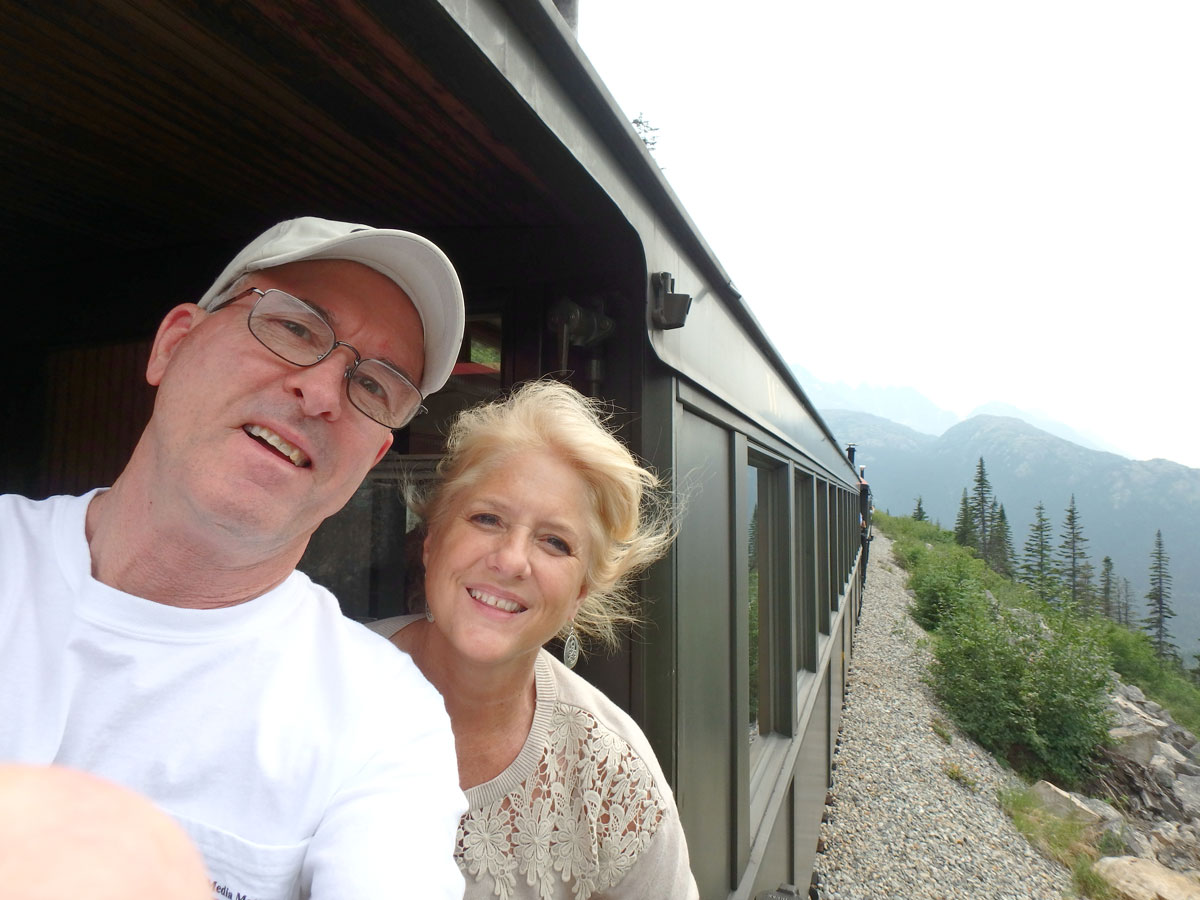 Above: The White Pass & Yukon Railroad, narrow gauge. And it's still there.
But we wanted to ride the train so we could experience exactly what it was like for prospectors to travel to the gold fields after eating cruise ship food for several days, and we were impressed. The journey was arduous, and I can't imagine how any of the prospectors survived it, especially since there was only one bathroom per train car. The lure of gold must've been quite enticing.
On the way back to Skagway we stopped at Liarsville, where the journalists hung around, giving the town its name. They realized their stories would take several months to hit the papers, what with AlGore's internet being pretty slow at the time, so they made up stories, painting a picture of romantic adventure and easy riches, which drew more people to Alaska, where all most of them found was squalid shanty towns, horrible living conditions, and crafty swindlers ready to con them out of their money. The journalists later formed a news syndicate called CNN.
One of the funniest, to me, ways to lose money during the gold rush days was to buy sled dogs. Good sled dogs were essential for winter travel in Alaska, so they were in high demand. The con men would bring trained sled dogs to Juneau or one of the other southern Alaskan towns and demonstrate their outstanding sled pulling abilities. When the mark bought them and got on a ship to head north, the con men would wait until the ship was away from the dock, and then whistle. The dogs would leap off the ship and swim back to shore, to be sold to the next mark.
Our final stop in Alaska was Ketchikan, where Jocelynn and I decided to go snorkeling. Yes, snorkeling. In the water. Yes, it was cold water. But the nice folks at Mountain Point Snorkeling set us up with some really thick wetsuits that more or less fit, to keep us from freezing to death. I'm still not sure whether it was the thickness of the suits that saved us, or the fact that those things are so hard to get on that, by the time we were ready to go in the water we'd worked up a good sweat. Either way, it worked.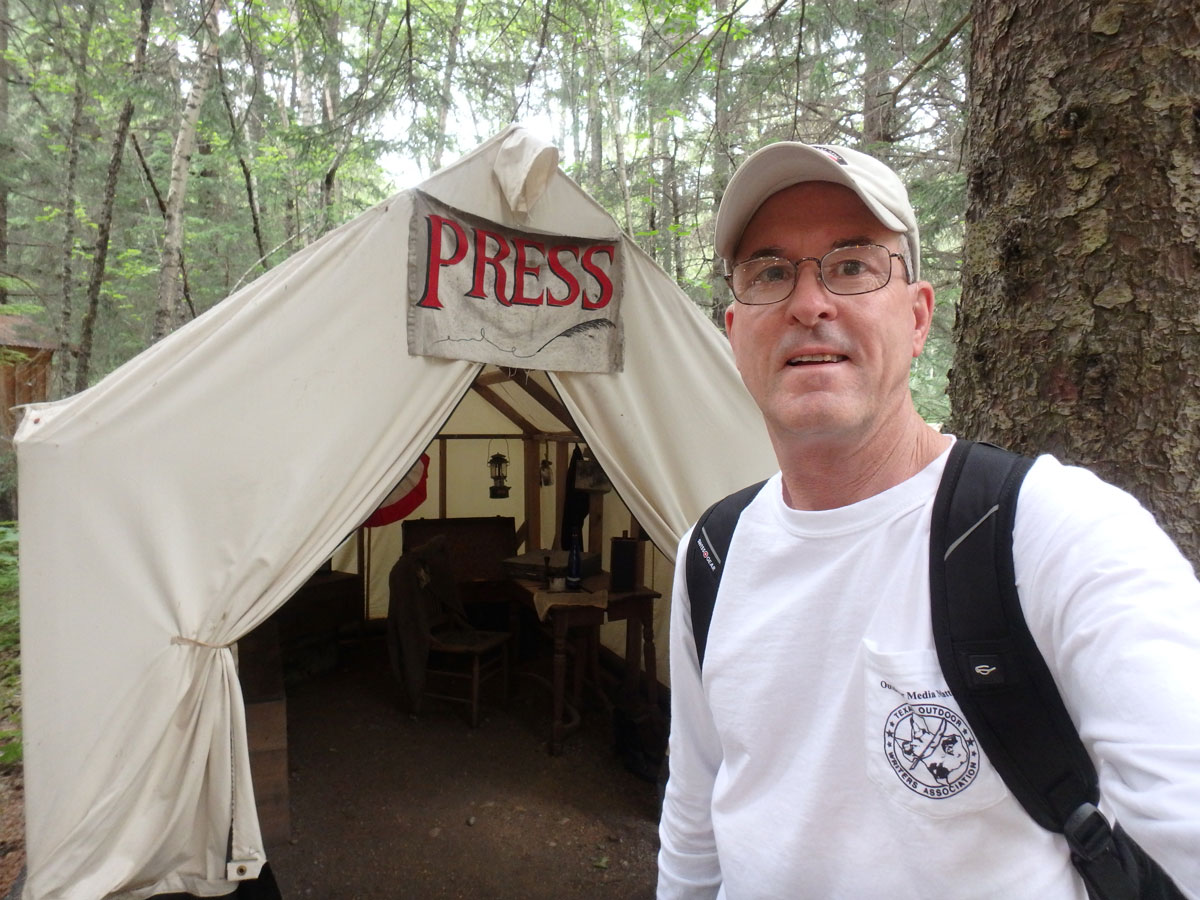 Above: A member of the press.
And the snorkeling was amazing. There were starfish and sea cucumbers and sea urchins and millions of tiny jellyfish, and if one of the jellyfish stings you you'll probably die, so it's best not to think about that too much. Who wants to live forever, anyway?
On our way back to Vancouver we spent a day sailing through Glacier Bay National Park, which is a national park that has glaciers. Also a bay. The scenery was beautiful, but by that time we were pretty tired of beautiful scenery, and we were completely tired of being on a ship. Honestly, for a few hours the ship was kind of fun, but after that it became mostly confinement. So the Alaska cruise was probably our first and our last, boatwise.
Alaska was fantastic, though, so we'll probably go back. I'm thinking of hitting Homer, and calling it the canker sore of America. Maybe they'll name a mountain after me . . .
Get more stories like this by signing up for our daily newsletter, The LIVE! Daily.