Over the Bounding Buffet
Opinion
OPINION — To cruise the Inside Passage from Vancouver, you first have to get to Vancouver. I call attention to the obvious because, for some reason, Vancouver happens to be located in a foreign country. Not that I'm complaining, but this seems to exhibit poor planning on someone's part.
When you arrive in Vancouver you have to go through 'customs,' which is a polite way for the locals to let you know they don't want you there. They express this sentiment by hiring the grumpiest people they can find to inspect you and your belongings when you get off your plane. These people have all had their humor genes surgically removed, provided they had any to begin with.
Should you manage to survive the customs inspection and are allowed into Canada, you then have to go through customs again in order to get on your cruise ship, since you'll be traveling back into the U.S. when you visit Alaska. Of course, when you come back to Vancouver to go home, you have to go through customs again to get back into Canada, and then again to get back to civilization in the United States. No one has yet completed the journey.
Jocelynn and I decided to further complicate our relationship with Canadian customs by booking a train ride from Skagway to the gold country north of there, and the train goes into British Columbia, which happens to be inconveniently located in Canada. So, two more trips through customs. So if anyone happens to have a bucket or two of humor lying around, please send it to the Canadian customs agents. They seem bereft.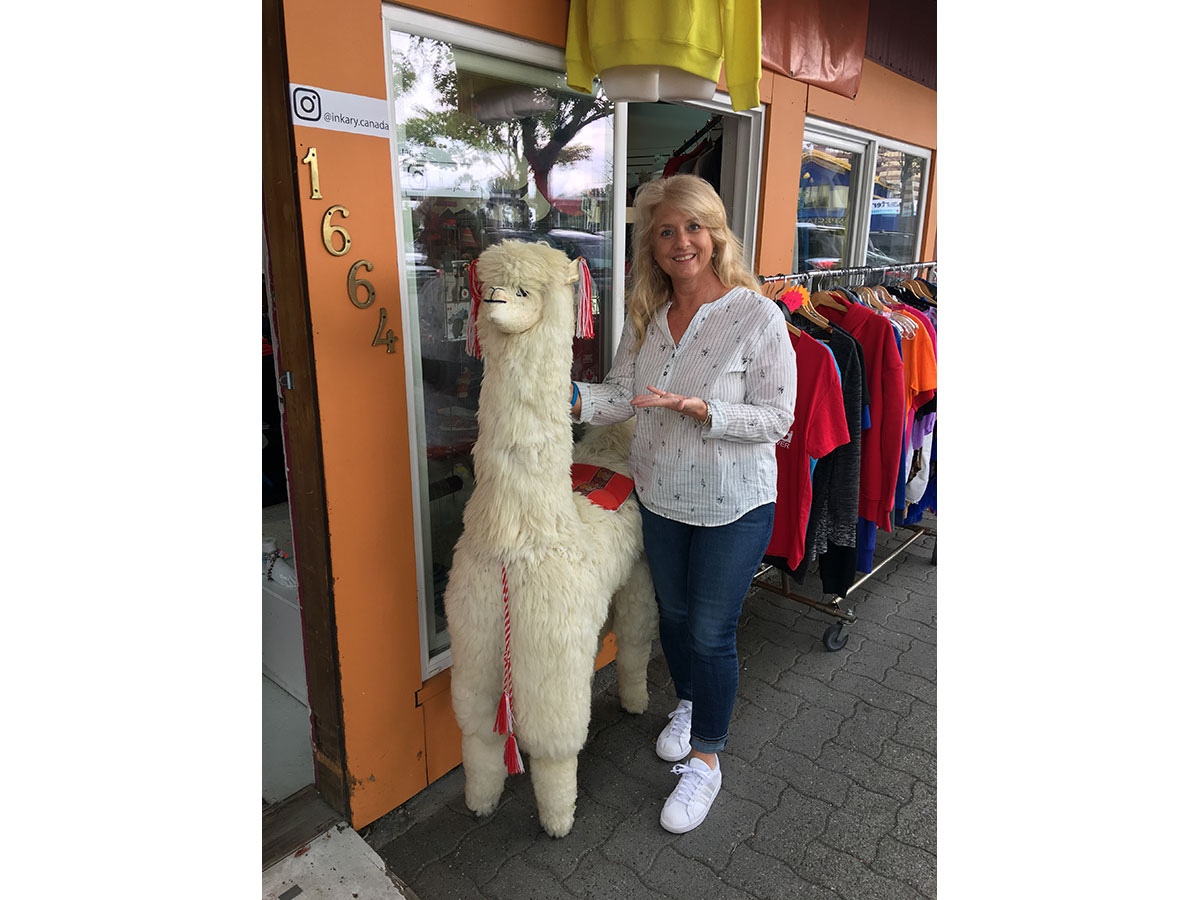 Above: Jocelynn & a llama (Contributed/Kendal Hemphill)
But the Skagway trip was still several days away as we stood in the endless lines at the embarkation center, hoping the customs people would deem us worthy to sail. The building we were in was roughly the size of New Mexico, and was devoid of furniture except for the counter where the overworked Holland America agent was checking people in. The serpentine lines of hopeful cruisers filled the rest of the space, standing in orderly, endless, serpentine lines. And once we got checked in, we had to stand in line again to go through customs. We could have walked to Alaska in less time than it took us to get on the boat.
But it was worth all the hassle to finally get on the ship and go to our luxurious stateroom and relax. Unfortunately we had to take turns relaxing, since our stateroom was the size of a regulation broom closet. Until we got our bags unloaded and stowed our suitcases, there was only room for one of us to sit on the bed at a time. Fortunately there are plenty of things to do on a cruise ship besides sleep.
Before our trip, I asked people who were veteran cruisers what there was to do on the ship. Every one of them said, 'eat.' They were right. If you've been wanting to gain some impressive body mass, a cruise is definitely the way to do it. Our ship, the Nieuw Amsterdam, had several restaurants on board, and they each served meals at least 17 times a day. The goal of cruise directors, as near as I can figure, is to transfer all the ballast from the kitchens to the passengers before the cruise is over. Anyone who tries to skip one of the meals is dragged to the main dining hall by large stewards and force-fed leftovers.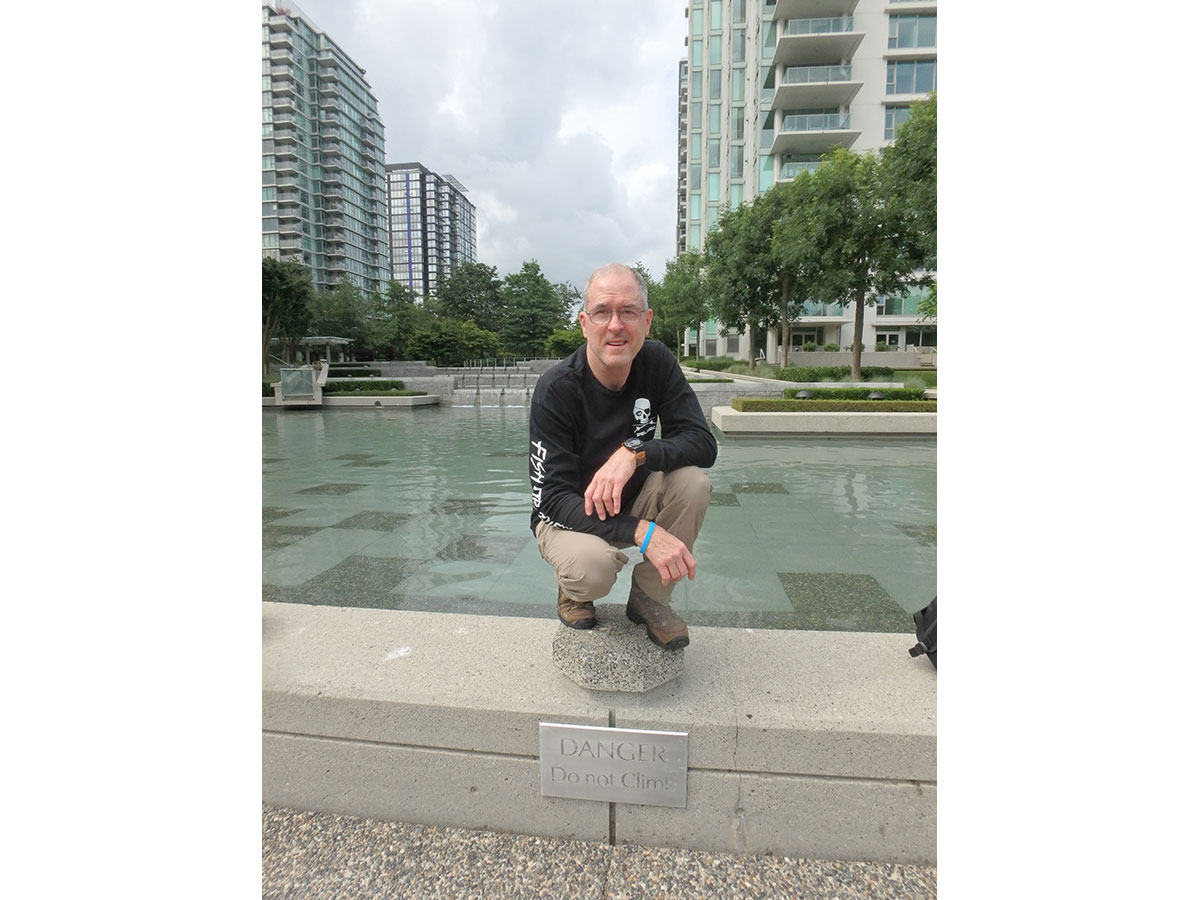 Above: Kendal in Vancouver - no climbing. (Contributed/Kendal Hemphill)
But there aren't any kitchens on ships. Those are called galleys. Everything on a ship has a different name from normal. This is done as a courtesy to the passengers, to make everyone feel as confused as possible. Floors are called 'decks,' walls are 'bulkheads,' ceilings are 'overheads,' and doors are 'hatches.' Most confusing to some are the various directions on a ship. The right side of the boat is the 'starboard,' or 'aft' side. The left is the 'port,' or 'keel' side. My favorite nautical term is what they call the bathroom – that's the 'head.' This seems appropriate, since the bathroom in our stateroom was only large enough to stick your head in.
Our cabin was on Deck 8, which is pretty high up in the ship, and was situated just forward of 'amidships,' or 'bow.' We were on the starboard side, and our seaward wall featured a huge glass door leading to the small, private balcony outside. The railing was waist high, which allowed us to leap into the sea to escape the large stewards coming to drag us to the galley for meals. We could also sit in our stateroom and watch the picturesque seascape and landscape of the Inside Passage slip by, when we weren't waving to the people on the other cruise ships as they leapt over their railings into the sea.
But shipboard life on a cruise is only part of the story. We still had stops in Juneau, Skagway, and Ketchikan, where our cruise director assured us there would be plenty of restaurants, just in case we decided to step up to twenty or so meals a day . . .
Get more stories like this by signing up for our daily newsletter, The LIVE! Daily.