No Good Deed Goes Unpunished
Opinion
OPINION — For the past several months an interesting pair of pictures has been making the social media rounds. One picture shows a woman's legs in a pair of footie pajamas, and they're printed to look like snakes, with the snakes' heads on the woman's feet. The other picture shows a heavily bandaged foot. As a Concerned American who's interested in both snakes and feet, though not necessarily in that order, I went to the trouble to read the accompanying story, since it only contained a few lines.
It said the woman was minding her own business, sleeping in her own bed, with one of her feet sticking out from under the covers. Her husband, being an observant sort, noticed the foot sticking out, but thought it was a huge snake. So he did what any loving husband would do in that situation. He sprang into action to save his spouse from the offending reptile. He grabbed 'an iron stick,' swung it in a manly fashion, and broke his wife's foot.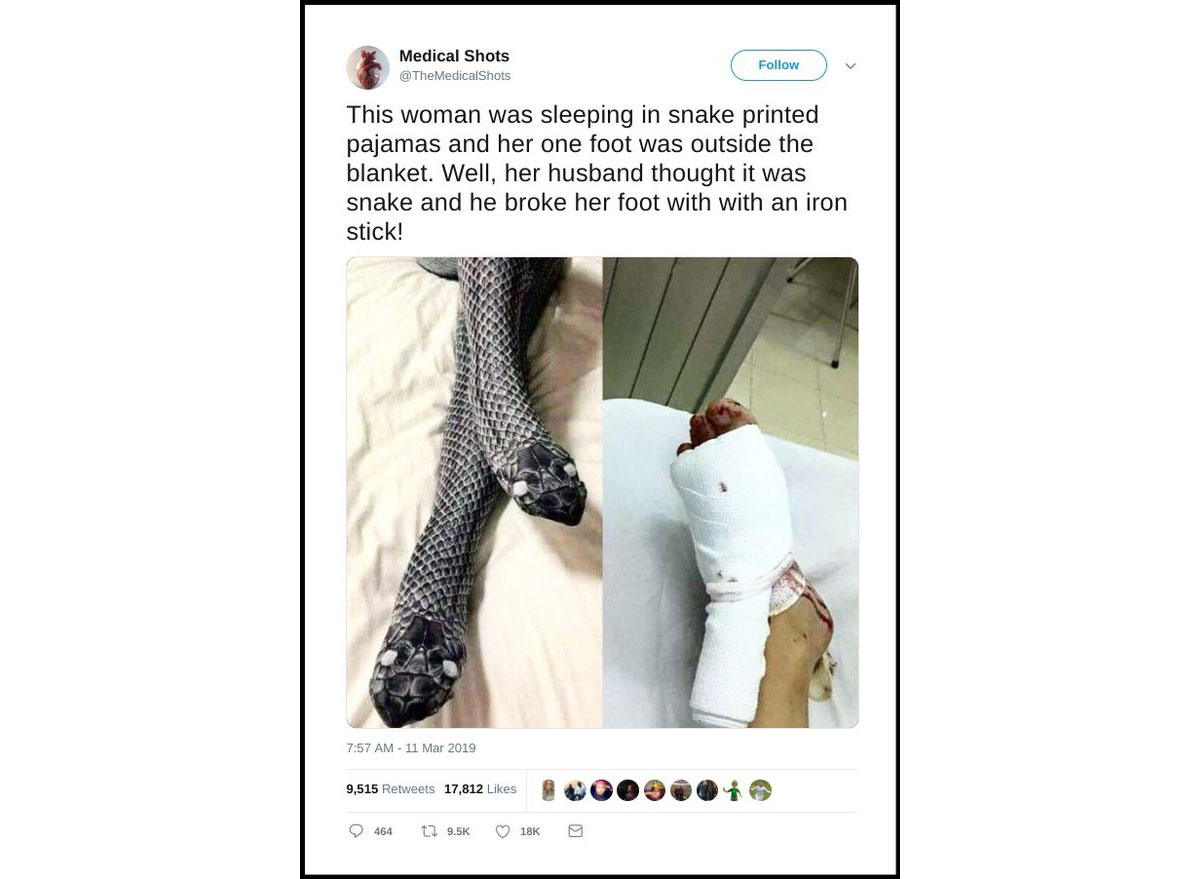 Above: Snake footie pajamas
Obviously, this scenario brings up a few questions, the first being what was an 'iron stick' doing in the bedroom? Where would you even get an iron stick, if you wanted one, assuming you could find a use for it besides breaking your spouse's foot while she was sleeping? You never see iron sticks for sale anywhere. I'm pretty much stumped.
Oh, you can get rebar in various thicknesses, but that's made out of steel. Galvanized pipe is also steel, with the galvan added after it's made. Electricians use steel and aluminum conduit, and golf club shafts are generally made of aluminum, although graphite and other composites are pretty popular. But iron? Nobody uses iron for much of anything anymore, not in the last two hundred years.
And even if you could find an iron stick, why would you have it in the house at all, much less in the bedroom? I can tell you what my wife would say, if I were to come dragging a piece of iron into the house. She'd say, "You can take that right back outside this minute, because I've just bought some snake footie pajamas," is what she'd say. Or words to that effect.
Another strange factor to this story is how the woman had those snake pajamas, and her husband didn't know it. This is not exactly I Love Lucy in the 1950s, with husbands and wives sleeping in separate twin beds. It seems unlikely the guy would not have noticed the pajamas before, unless maybe they were brand new. Even men notice such details, on occasion, as the fact that their wives' legs appear to be two large reptiles. I know it's a stretch, but I once personally noticed that my wife had brought a new coffee table into the house. So it happens.
This might be a good time to offer a word of caution to you ladies. If you decide to purchase an item of clothing designed to make you appear to be a large, hostile, generally hated and feared creature, and that item of clothing is intended to be worn someplace where the critter in question is not normally located, such as your personal boudoir, it might be a good idea to go ahead and clue your husband in on the details before you put it on. Unless you like surprises, such as broken feet.
But even if the woman didn't tell her husband she had the pajamas, it doesn't seem logical that the guy would grab his iron stick ('Walmart, $19.98, perfect for whacking bed-dwelling pythons') and start swinging. The story didn't mention where this was, but if I lived anyplace where it was plausible to believe a huge snake had crawled under my covers, I'd move. And then I'd move again, just in case. You can't be too careful, with large snakes, is what I always say.
In the man's defense, he was only trying to help. I've been involved in similar situations, myself. Once, about twenty years ago, lying in bed at night, I felt a scorpion tickling my side. Our brick house sat on a rocky hill, and scorpions were common, sometimes even in our beds. So, in order to keep the scorpion from stinging my wife, I swiftly, and with manly intrepidness, grabbed it and slung it away. Except it wasn't a scorpion. It was a good-sized hunk of my wife's long hair.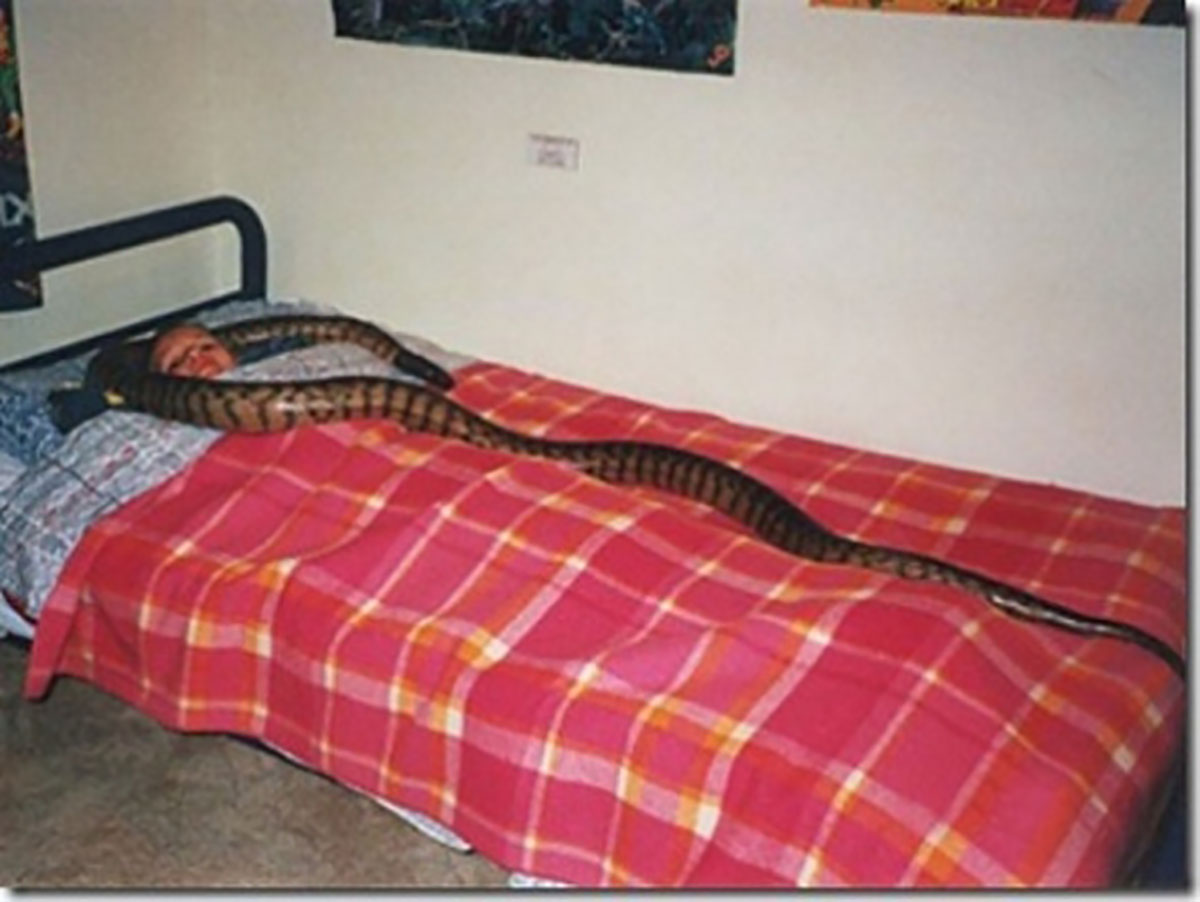 Above: Snake in bed
Now, this happened in the middle of the night, and the lights were off, so when my spousal unit sat up screaming and turned on the lamp, I tried to act all innocent, like I had no idea what she was whining about. After all, she hadn't actually SEEN me pull a wad of her hair out, but it was a stretch. I tried to blame it on one of the boys, but they were all asleep in the other end of the house. Plus I still had a sizeable swatch of blonde hair tangled up in my fingers. Women tend to notice little details like that, for some reason.

Above: A Scorpion.
Unfortunately, the story about the man breaking his wife's foot turned out to be a hoax. And the next time a scorpion crawls into the bed and tries to attack my wife, I'm staying out of it. Because no matter what you do, you just can't please some people . . .
Get more stories like this by signing up for our daily newsletter, The LIVE! Daily.