Me, Myself, and Why
Opinion
OPINION — To some readers it may seem like I spend a lot of time bashing California because of all the silly things they do out there. For the record, I'd like to point out that it only seems like I make fun of California a lot because I make fun of California a lot. So there's that. But I also make fun of other states where people do really strange things, like Florida. And then, just when it seems that no place can get crazier than California or Florida, a state like New York says 'hold my constitution' and lowers the bar even further.
This is not to imply the only crazy people live in those states. A 45-year-old Irish woman named Amanda Teague married a Haitian pirate named Jack Sparrow Large in 2014. Which is not really all that strange, except that Jack has been dead for 300 years. Amanda married his ghost, whom she met during a séance with a medium, or something.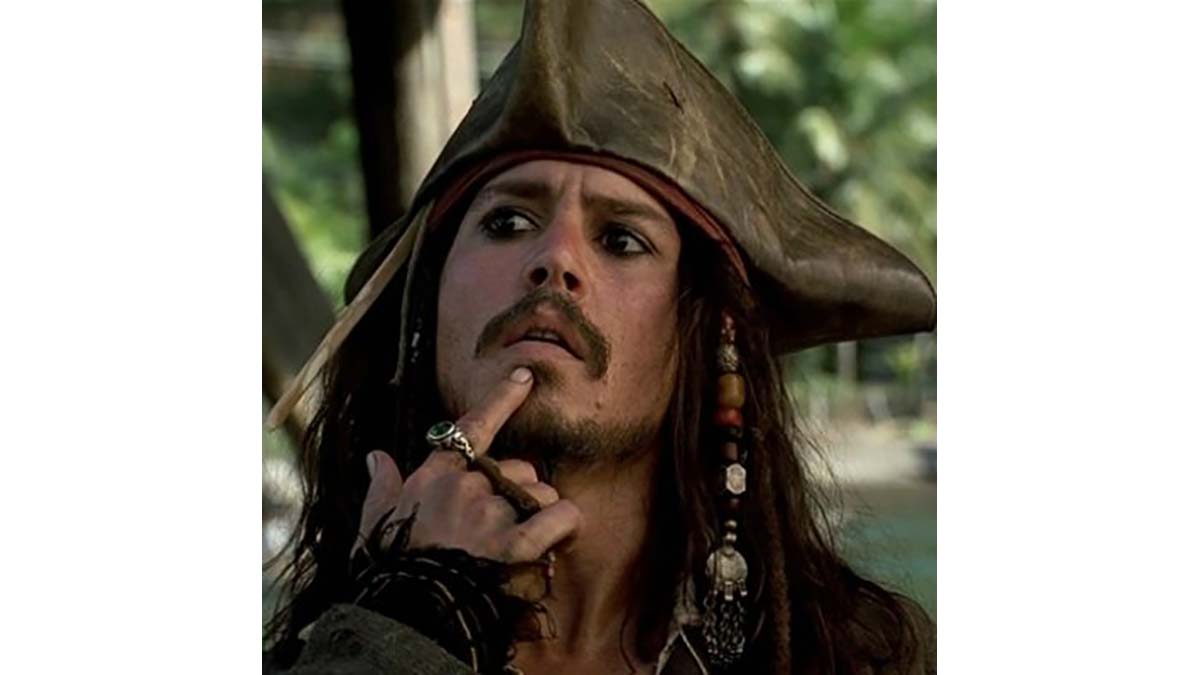 Above: Captain Jack
This was not love at first sight, since Amanda has never seen Jack, but communicated with him extensively through the medium (who, I'm guessing, charged a medium premium). Eventually the two became intimate (Amanda and Jack, not Amanda and the medium). Yes, intimate. No, I have no idea how, but that's what Amanda claims. So she figured they should get married, and Jack agreed to that, even though he had cold feet. Seriously, you didn't think I was going to pass that up.
The two were wed, through the medium, on a boat in international waters off the coast of Ireland, so it would be 'legal,' whatever that means. Amanda put Jack's ring on a candle she was holding, which was supposed to represent him. I'm sure it did a fine job. A shaman priest officiated, of course.

Above: Amanda
Now, on the surface this would seem to be a perfect marriage. Well, except for Jack being Haitian, and a pirate, and currently dead, and not being able to open jars or take out the trash. Other than that, you'd think the two would be blissfully happy together, in whatever world they inhabit. But recently Amanda announced they had split up. She won't say why, but pirates are notoriously untrustworthy. She did, however, caution others about getting romantically involved with spirits. And I have to say, that's something we probably don't tell our kids enough these days.
But at least Amanda had a groom at her wedding, albeit an extremely geriatric, felonious, deceased, metaphysical one. The same can't be said for a growing faction of women these days. The trend of late seems to be females choosing to marry themselves. There's a word for that, and it's not the word you're thinking. The word is sologamy, defined as 'marriage to a person by oneself.' And no, I will not make any jokes about these women being unable to find actual, physical, male husbands. They have enough problems without me piling on. Figuratively.
Take Sophie Tanner, for example. Sophie is a British woman who decided to marry herself, and she explained her reasons in detail in a YouTube video. And I'm sure they were good, solid reasons, too, although I couldn't understand a word she said, because she wasn't speaking in Texan. Far from it. The point is that Sophie made a commitment. To Sophie.
WATCH:

Not a very strong or reliable or lasting commitment, I guess, since she proceeded to cheat on herself with another sologamist named Ruari Barrett, who had previously identified as polygamous, but converted. There's no word yet on whether either of them plan to divorce themselves, but I wouldn't be surprised. Trust is a difficult thing to rebuild, especially in yourself.
This sologamy stuff may seem strange to those readers who are not, technically, nuts. But if you think about it, which I don't recommend, it may be the perfectly natural progression of our continually more self-absorbed, narcissistic, self-centered society. We seem to have lost our grip on the reality that fulfillment only comes through serving others. Or maybe we never really had a grip on reality in the first place.
But it seems to me that marrying yourself probably creates more problems than it solves, assuming, for the sake of argument, that it solves anything, which is statistically unlikely. For example, if I were to marry myself, would I then have to buy two plane tickets whenever I wanted to fly anywhere as a couple? After all, it wouldn't be much fun to go on vacation by myself. I might as well take me with me. Why marry myself if I wanted to spend time alone, anyway?
Not to mention the obvious arguments about who gets the remote when I'm watching television with myself - me, or me? And who decides where we're going to eat, or what movie we want to watch? And the really big problem, if I were to marry myself, as a man, would be having to find my own keys, and remind myself of all my own faults. That's what I married my wife for, after all.
But I have to admit Sophie has an even bigger dilemma, considering her particular circumstances. Now she has to figure out who to blame for the infidelity that has threatened her marriage. Well, unless she blames Ruari.
Maybe marrying yourself works better for women. If a man married himself, and then cheated on himself, he'd never find out . . .
Get more stories like this by signing up for our daily newsletter, The LIVE! Daily.