Cowabungle!
Opinion
OPINION — Maybe I'm just getting too old to remember my youth, but I don't recall doing stupid, dangerous things when I was a kid, just because someone dared me to. Not that I didn't do stupid, dangerous things, but I usually came up with the ideas all by myself. These days it seems kids have to be challenged before they risk their lives for no apparent reason. Whatever happened to ingenuity, imagination, and individualism? Adolescence ain't what it used to be, I guess.
A while back kids were challenging one another to eat Tide pods. As I understand it Tide pods are made of soap. Soap is not food. Then there was the Fat Lip challenge. Kids, mostly girls I think, would suck their lips into a bottle or jar and leave them there for a while, to make them swell to the size of regulation cantaloupes, in an effort to make themselves as unattractive as possible. It worked.
There have been other challenge trends, but lately a big one is the Bird Box Challenge, inspired by a really dumb movie on Netflix starring Sandra Bullock. Kids are trying to do stuff while blindfolded, which is kind of not a big deal, except that one of the things they've been doing without the benefit of sight is driving. There's a reason blind people don't drive cars. They run into stuff. It's bad for civilization.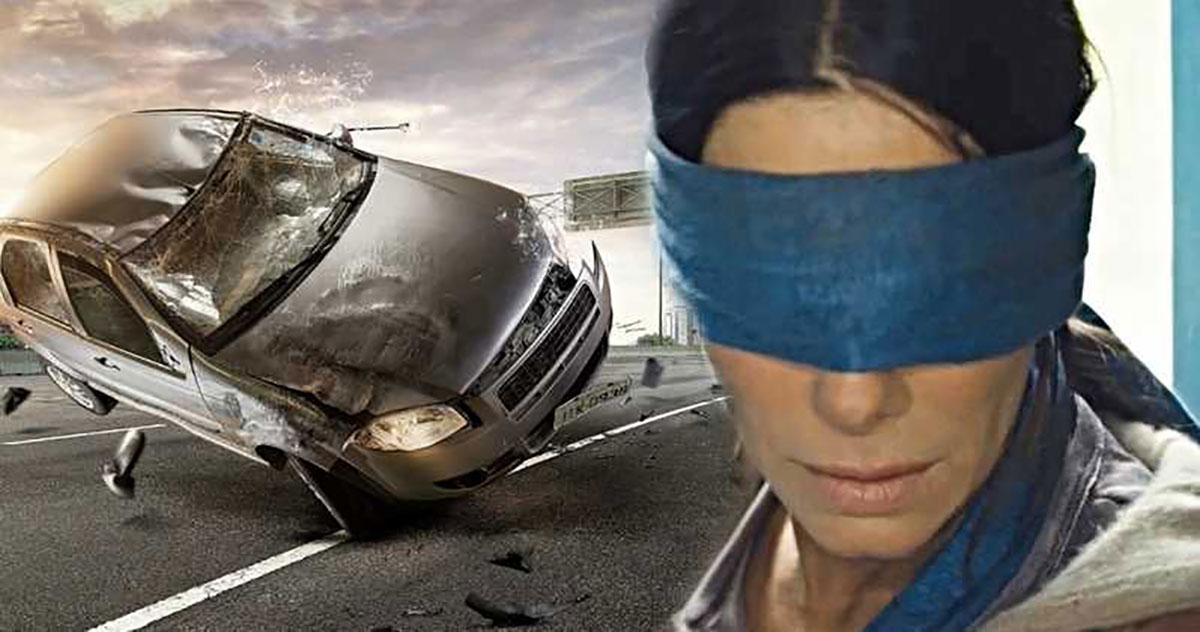 Above: Bird Box Challenge
Now there's a new trend called the '48-Hour Missing Challenge.' Teens and tweens are going off somewhere without telling anyone and hiding for two days straight, to see if they'll be reported missing on social media. This one is big fun for police and rescue personnel, and everyone has a good laugh once the kid decides to pop up and be 'found.' Well, everyone except the police, parents, and rescue personnel. Everyone else, namely the kids, think it's hilarious. Parenting ain't what it used to be, I guess.
A website called NPC Daily ran a story recently about a new trend called the Green New Deal Challenge. It said young people have been protesting the opposition to Alexandria Occasional-Cortex's plan to save the world, and the way they've been protesting is to put their mouths over vehicle exhaust pipes and breathing the carbon monoxide. Note: breathing CO can be harmful or fatal to most humans and animals.
NPC Daily is a satire site, but it seems a lot of people didn't know that. And since many of the challenges kids have actually been participating in are insane, a lot of people figured the GND challenge, as crazy as it was, must also be real. NPC Daily ended up putting a disclaimer at the top of the story, to cut down on the outrage. I don't think it worked. Satire ain't what it used to be, I guess.
But stupidity is not limited to adolescents, as AOC's Green New Deal demonstrates. In a recent column I mentioned that one of the major items in the GND requires regulation of cow flatulence. Cows produce methane, and introduce it into the environment when they belch, defecate, or produce flatulence. Methane is a short-lived greenhouse gas, and since there are people who think greenhouse gasses are bad, they want to cut down on bovine methane production.
Unfortunately, talking to the cows hasn't helped. You can ask a cow to be polite, but they'll just stare at you with that vacant look cows have. Cows, they don't care. So methane has to be regulated some other way.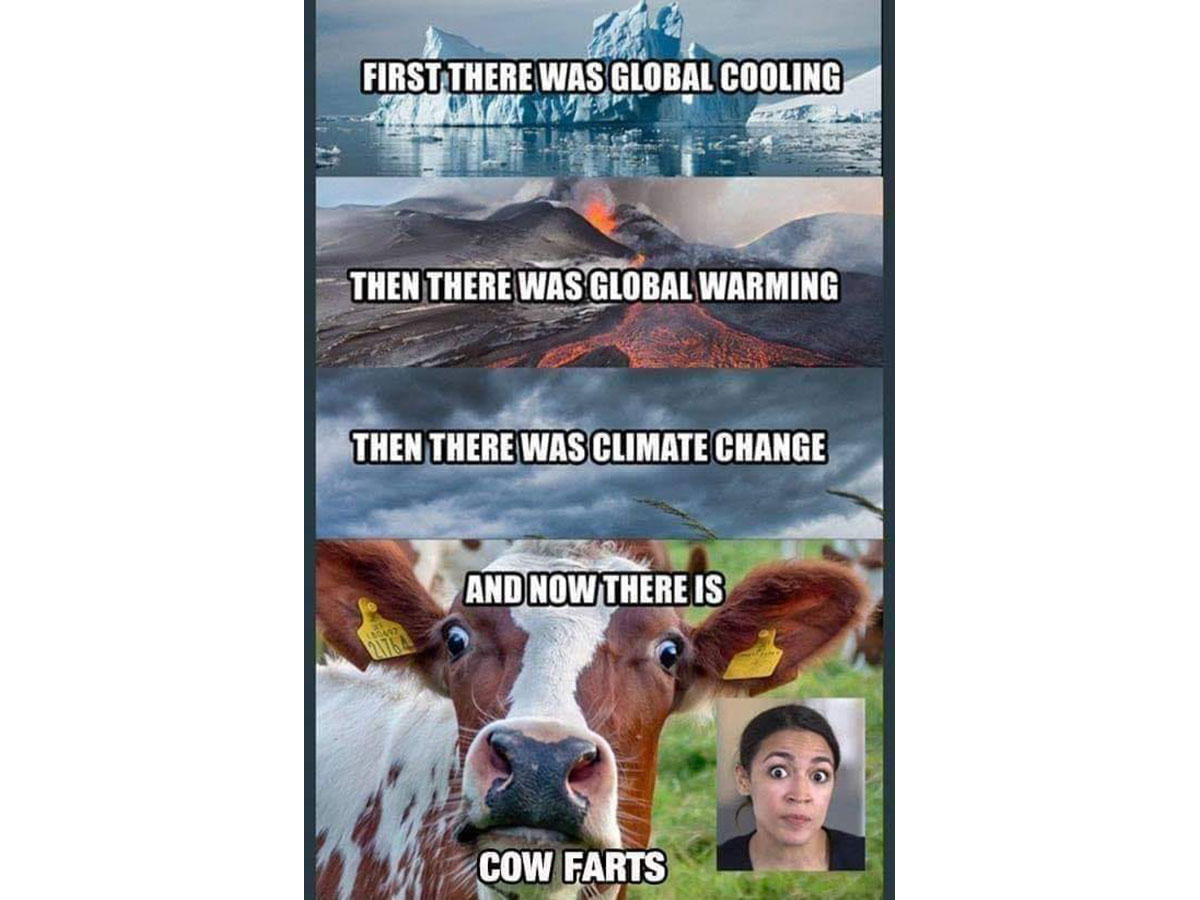 But AOC is not the first Mensa candidate to take a stab at methane regulation. California, the land of fruits and nuts, is also the nation's largest milk producing state. There are 1.7 million dairy cows in California, not to mention the 4 million beef cattle there. So California produces a lot of methane. Luckily, they're on it.
A few years ago the state of California, with governor Jerry Brown at the helm, passed a law that would require dairies to reduce their methane production by 40% from 2013 levels, by 2030. Never mind that it's impossible to accurately measure methane emissions from cattle, and never mind that no one really knows what the 2013 methane levels were. But lest you wonder when California will pass laws regulating the speed at which the wind is allowed to blow, and requiring the temperature in the state to remain within a desired range, let me point out that California actually has a plan for methane reduction. It's a stupid plan, doomed to failure, but still, it's a plan.
All dairy farms are supposed to install extremely expensive methane digesters, sort of like catalytic converters on cars, to scrub methane from the air. I guess the cows would have to stay in the barn all the time for that to work, which would probably get peta's socks in a wad.
But there's more. Australian scientists claim sprinkling a little seaweed on the cows' feed reduces their methane production by 99%. I have no idea if that will work, but Argentine scientists have developed a 'fart pack,' which is supposed to collect methane directly from a cow's digestive tract. I hope they washed their hands afterward.
I don't know about you, but I kind of feel like sucking some carbon monoxide from a tailpipe. Common sense ain't what it used to be, I guess . . .
Get more stories like this by signing up for our daily newsletter, The LIVE! Daily.