Bear With Me
Opinion
OPINION — Once in a while someone mistakes me for a serious outdoor writer, usually to their detriment. Not that I don't write the occasional serious column, when a situation calls for it, but I primarily just make fun of stuff and ridicule people. It's a lot easier than coming up with facts and such.
One of the questions I get from folks looking for actual information is what caliber gun they should use for certain game animals. A guy wrote once and asked me what he should use to hunt elk in the back country in Montana. I told him to put a Leupold Gold Ring 4-16x scope on a Red Ryder BB gun and take that. I figure anyone who has to ask me what he should shoot an elk with doesn't have any business trying to pack such a creature out of the boonies of Montana. If he did manage to kill an elk a bear would probably eat him.
Which is another question I get once in a while. What should I use to defend myself against a bear attack? I always take a .22 pistol with me, so I can shoot my buddy in the foot while I run away. (That's like a joke, except jokes are funny.)
But it wasn't funny for Brent Stalkup last year, when he was fined for killing a grizzly bear without a license. Brent was the one without a license, not the bear. And in case you're wondering, yes, Brent killed the bear with a .22. Really.
Brent was camped north of Cody, Wyoming, on an elk hunt, and the bear kept coming around, making bear-type noises, and wouldn't go away. Brent said, "I had multiple encounters with the bear that day and the last time it came in, it started circling me. And rather than trying to kill it, I tried to scare it off with a .22 by shooting it in the rump."
I'm going to take a stab here, and guess Brent wasn't valedictorian of his class, if you get my drift. I'm no expert on bear repulsion, but I'm smart enough to know that, if a grizzly is hanging around, I'd rather it wasn't a really angry grizzly. So shooting the bear in the posterior was probably not the wisest course of action. Still, I wasn't there, so I'm just making assumptions after the fact.
But even so, you wouldn't expect a .22 to kill a bear. You seldom hear of a hunting guide in Colorado or Alaska or anyplace carrying a .22 to deter bears, unless you hear of it posthumously. If you need to run a bear off you want a great big gun, preferably one with a hole large enough to stick your thumb in. A hole big enough to hide in might be better.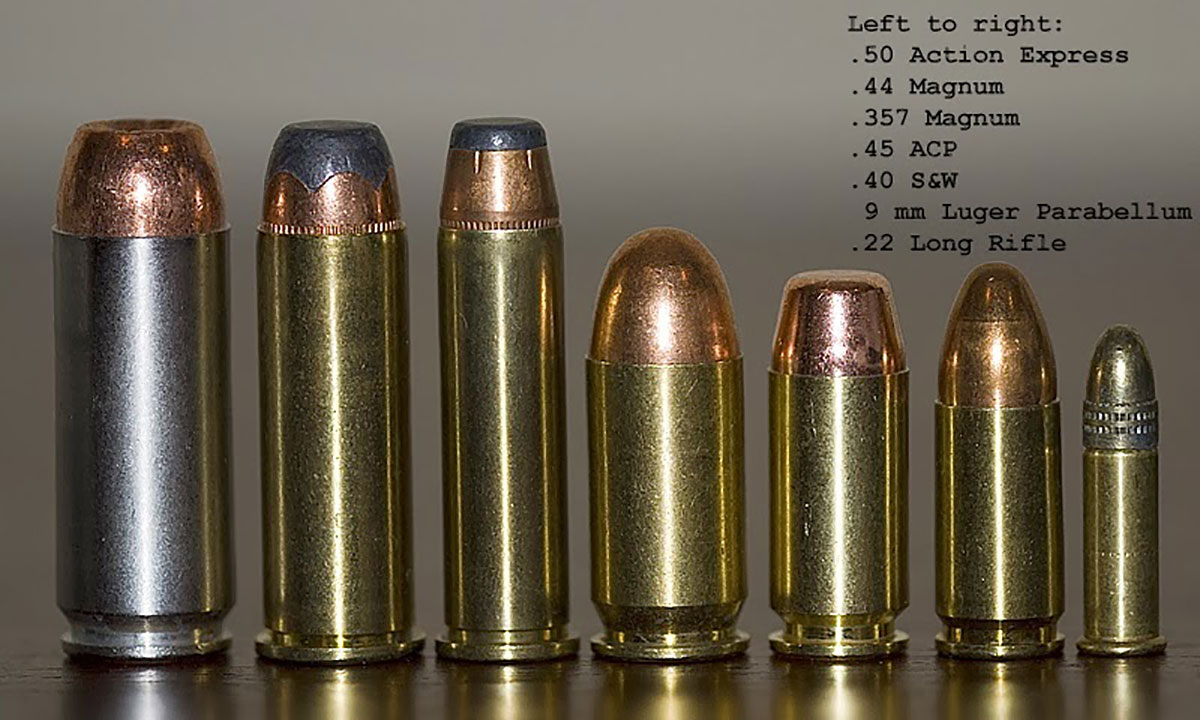 Above: Pistol ammo (Contributed/Kendal Hemphill)
Dean Weingarten compiled some statistics a while back for an Ammoland article on actual instances where people used pistols in various calibers to try to repel bears, and the results were kind of surprising, at least to me. He studied 37 such cases that occurred since 1987, involving pistols chambered in 9mm, .357 magnum, .40 S&W, 10mm, .41 magnum, .44 magnum, .45 ACP, .45 Super, and .454 Casull. You can't get your whole thumb in the barrel of a .454 Casull, but it's not referred to as a hand cannon for nothing. Out of all the cases Weingarten studied, the success rate came to 97%. Weingarten didn't mention it, but I suspect the 'changing your pants afterward' rate was 100%.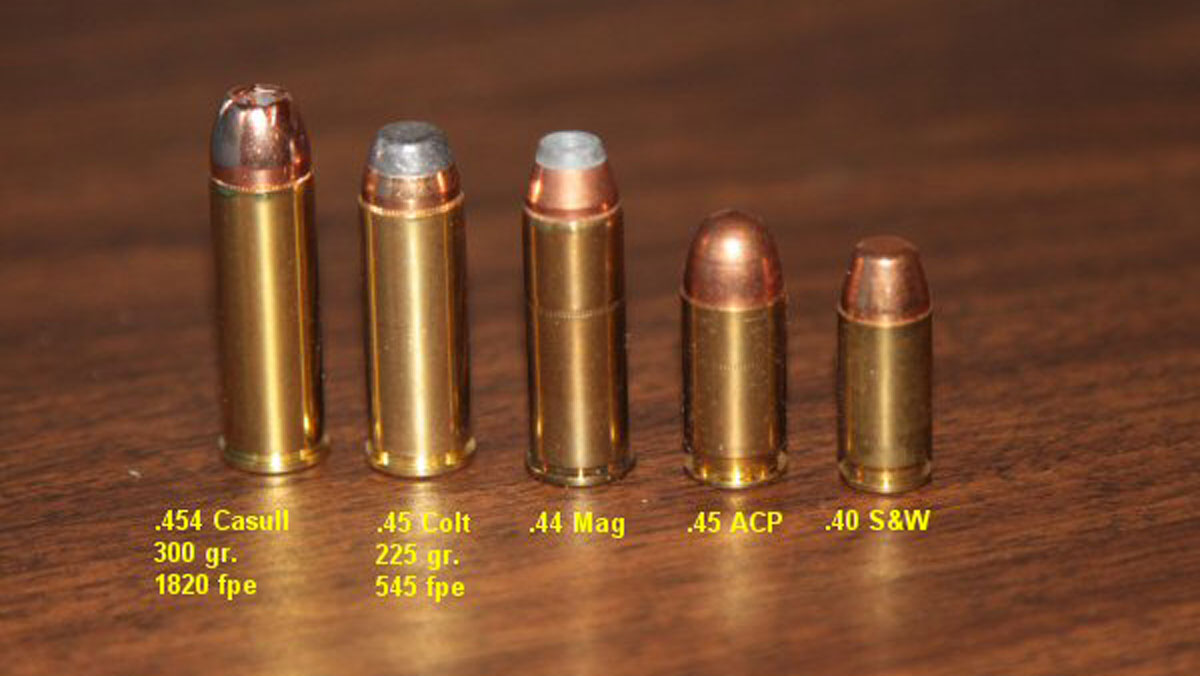 The distances in these cases was pretty short, up to about 10 yards, and out of all the calibers used, the only failure occurred in the case of the .357 magnum. Not that the caliber was deficient, but it seems the shooter was. He shot three times and only grazed the bear.
The only instance in which a .454 Casull was used, a fellow in Alaska was near his house and heard something behind him. Turning, he saw a large brown bear charging him from less than 15 yards. He pulled his Ruger revolver and started shooting as he backpedaled, falling on his back after four shots. The bear skidded to a stop within five yards of his feet.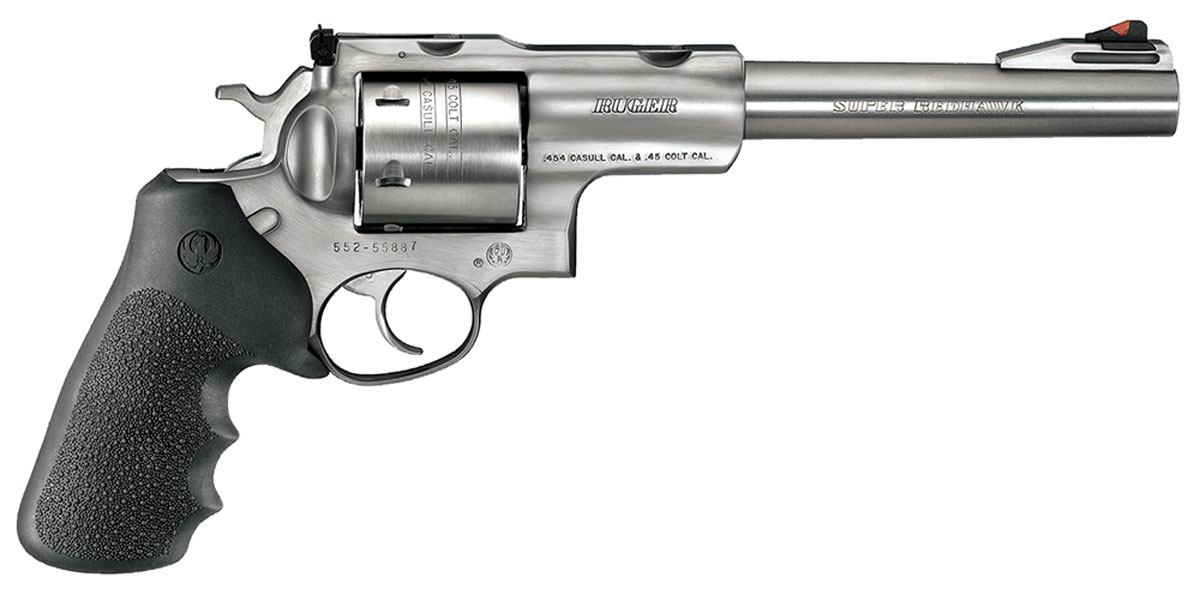 Above: Ruger Super Redhawk .454 casull (Contributed/Kendal Hemphill)
One fellow who used a 10mm to defend himself against a grizzly fell on his back, and was kicking at the bear and shooting at the same time. Who wouldn't? He managed to kill the bear, but shot one of his toes off in the process.
None of these cases involved a .22, and Brent had no reason to believe he could kill a grizzly with one, but the bear that was bothering him turned as he shot, and by chance the bullet missed the ribs and struck the bear in the heart. So it was a pretty freaky thing. Brent called the Wyoming Fish & Game dept., which is how he ended up in court. The judge fined him $25,500. I had no idea grizzly bears were so valuable, but there you go.
So if you're attacked by a bear, use whatever you've got to defend yourself. And if you really want to be safe while bear hunting, you can use a BB gun – just don't hunt anyplace except your kitchen . . .
Get more stories like this by signing up for our daily newsletter, The LIVE! Daily.