Mensa Material
Opinion
OPINON — Zappa once said, "It's not getting any smarter out there." I think Frank was right.
Recently, when Hurricane Florence was headed toward the east coast, a Facebook page asked people to sign up to fire guns at it. The plan was to line everyone up along the coast and have them all shoot at Florence at once, thereby scaring it off. The page was satire, but over 100,000 people responded. 'Event coordinator' Ryan Stumpf included a note on the page that said, "Do not actually discharge firearms into the air. You could kill someone and you cannot frighten a hurricane. I can't believe I actually have to write this."
Of course he had to write that. If you check out the Hot Topics section of World News Daily Report, you'll find out why people don't trust the media anymore. WNDR evidently thinks the Canadian doughnut shortage caused by legalization of cannabis is news. Likewise the story of an elderly Columbus, Ohio woman who has 65 cats, and has trained them to steal from her neighbors. Those are the kinds of things I write about in my column, so I know they aren't news.
But you'll also find stories that are actually interesting, such as the one about Barry Franklin, the Newcastle, Pennsylvania taxidermist who got into an argument with his neighbor, and assaulted him with a stuffed beaver. Another neighbor, who witnessed the altercation, was quoted as saying, "He was waving that rodent around like a baseball bat and he started hitting the other guy with it. But that thing looked pretty soft, it was a bit like a pillow fight."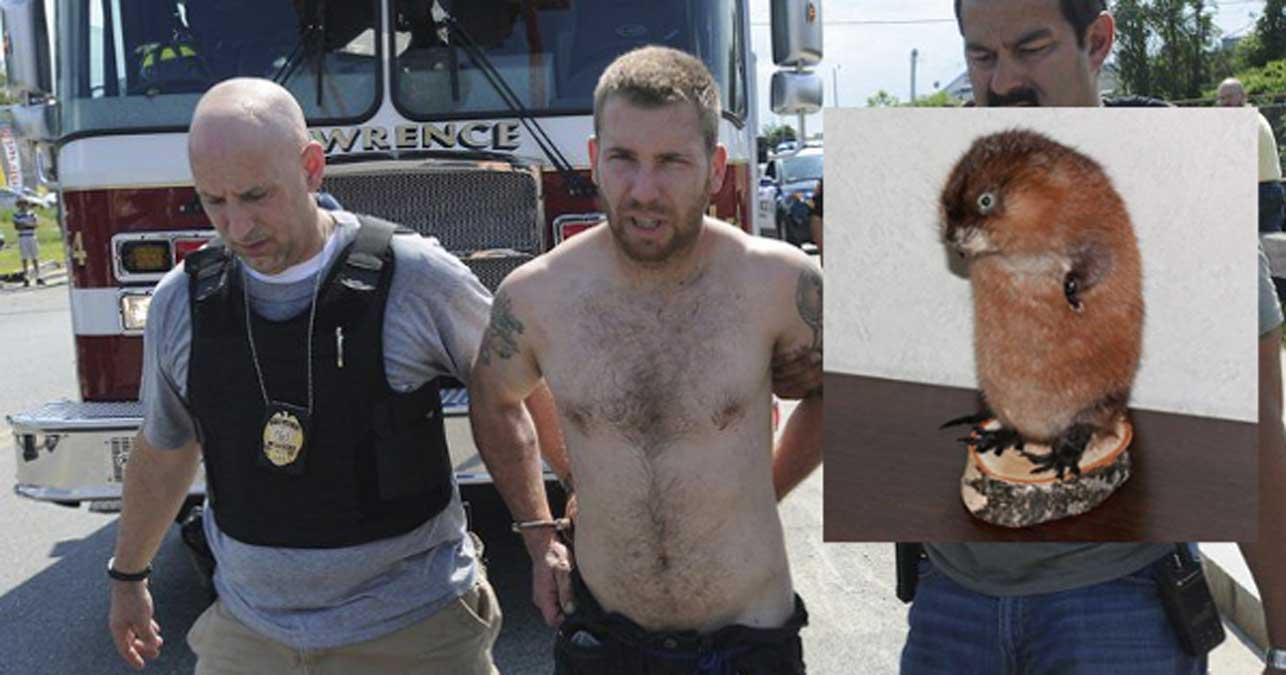 Above: Barry Franklin, the Newcastle, Pennsylvania taxidermist who assaulted another man with a stuffed beaver. (K Hemphill)
Normal people don't behave like that. And if they do, I would appreciate it if someone would send me a video.
My point (yes, I have a point) is that there are people who do really stupid things. The UK edition of HuffPost recently ran a story about a 22-year-old British guy named Jay Swingler who accidentally 'cemented his head inside a microwave.' The disappointing part is that there is no video.
Jay evidently had the idea to make a mold of his head by sticking it in an old microwave oven and having his friends pour something called 'Polyfilla' around it. I guess Polyfilla is similar to Quikrete, or something. It seems Jay wanted to immortalize himself with a statue of his head, but he didn't want to go to the trouble and expense of hiring a sculptor.
Now, lest you get the impression that Jay and his friends didn't think this thing through, let me point out that, to keep the Polyfilla from getting into Jay's nose and eyes and such, they took the sensible precaution of putting a plastic bag over his head first. This is the kind of detail your average, garden variety amateurs would have forgotten.
What they evidently did forget was that Polyfilla hardens pretty fast, and before they knew it, viola!, Jay's head was solidly ensconced in the microwave. It was at that point, and not before, that the group got their first inkling that there might be a tiny flaw in their plan.
By the time the fire department arrived, Jay's friends had been trying to extricate his noggin for an hour and a half. Fortunately they had managed to get an air hose to his mouth so he could breathe. It took firefighters another hour to pull Jay's head out, since they were careful not to damage it. Any head that works so poorly that it gets itself stuck in concrete doesn't need any more trauma, that's for sure.
But my favorite crazy person story of late comes from Glenwood Springs, Colorado, where a fellow named Darrel Whitaker was attacked by sasquatch. Or something. Maybe. As far as we know.
Darrel, who may or may not have a brother named Larry and another brother named Darrel, was walking along in the woods near Glenwood Springs when, without warning (there's never any warning with these things), 'a large, gorilla-like creature dropped from a tree in front of him and punched him in the face.' Darrel claims it was bigfoot, who has apparently overcome his signature shyness and become uncharacteristically violent. I haven't met Darrel, but maybe he's just a naturally unlikeable person, and that's why bigfoot hit him.
Darrel says that, when he woke up, sasquatch was tearing his clothes off. Darrel's clothes, not sasquatch's clothes. Sasquatch wasn't wearing any. He was 'at least eight feet tall and extremely hairy.' Darrel stabbed bigfoot in the shoulder with a bigknife, and ran him off.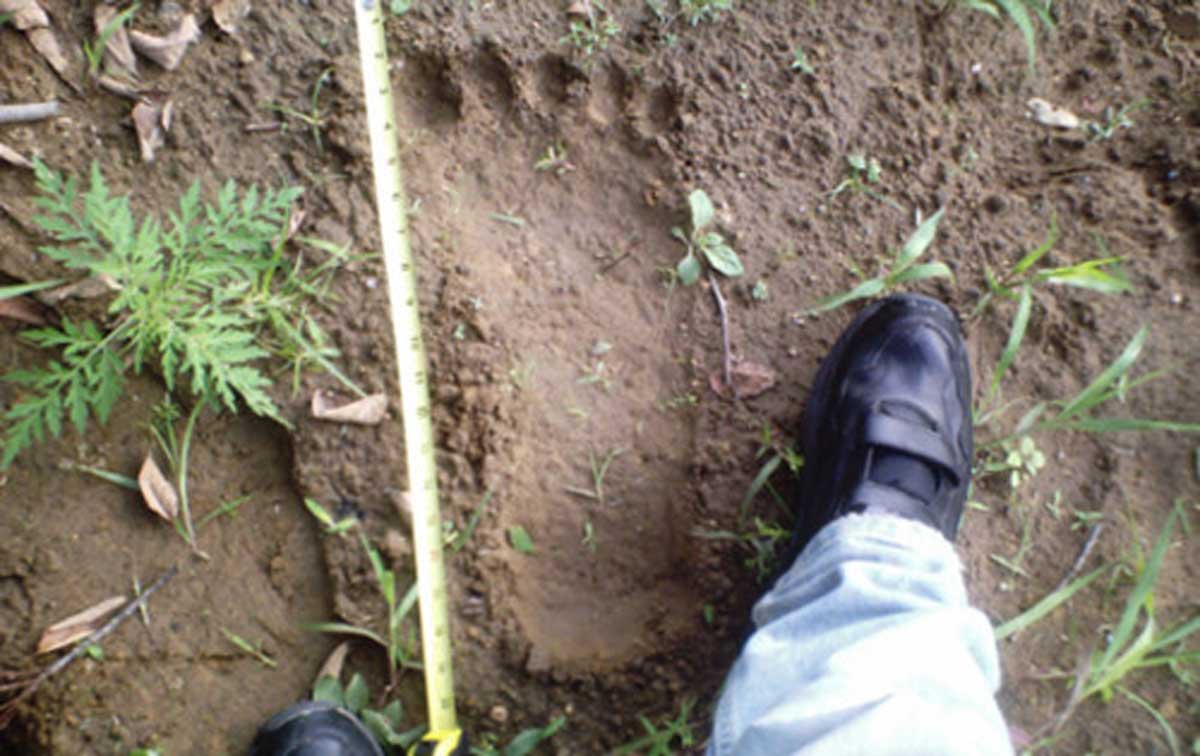 Above: Bigfoot's foot print?
Police are investigating Darrel's claims, and say it's likely that whatever attacked him wasn't sasquatch, but a 'large and hairy man.' I don't know about you, but that's actually a lot more terrifying to me than bigfoot. Authorities are 'interrogating nearby residents to see if anyone noticed an individual corresponding to the description of the suspect.' As if anyone, even in Colorado, would see a naked, hairy, eight-foot man and NOT report it.
But you never know. When you have to write a disclaimer to let people know it's unsafe to shoot at a hurricane, all bets are off . . .
Get more stories like this by signing up for our daily newsletter, The LIVE! Daily.