SWAT
Opinion
OPINION — The Daily Wire headline said, "Man Spanks Hippo at LA Zoo, Launching Criminal Investigation." For the record, I would like to point out that the subject of this investigation is not me. I've done some pretty stupid things, but I've never spanked a hippo. As far as hippos are concerned, I generally just leave them alone.
What happened was, a fellow climbed a short fence a couple of weeks ago and slapped a hippo in a very personal region, namely the LA Zoo hippo enclosure. The hippo was standing next to its mother, and both were startled. When zoo administrators found out about the incident, from a video posted on a social media website, they called police and snitched. The tattletales. So the police are opening an investigation which, no doubt, involves the LA Swat Team. Surely you didn't think I was going to pass that up.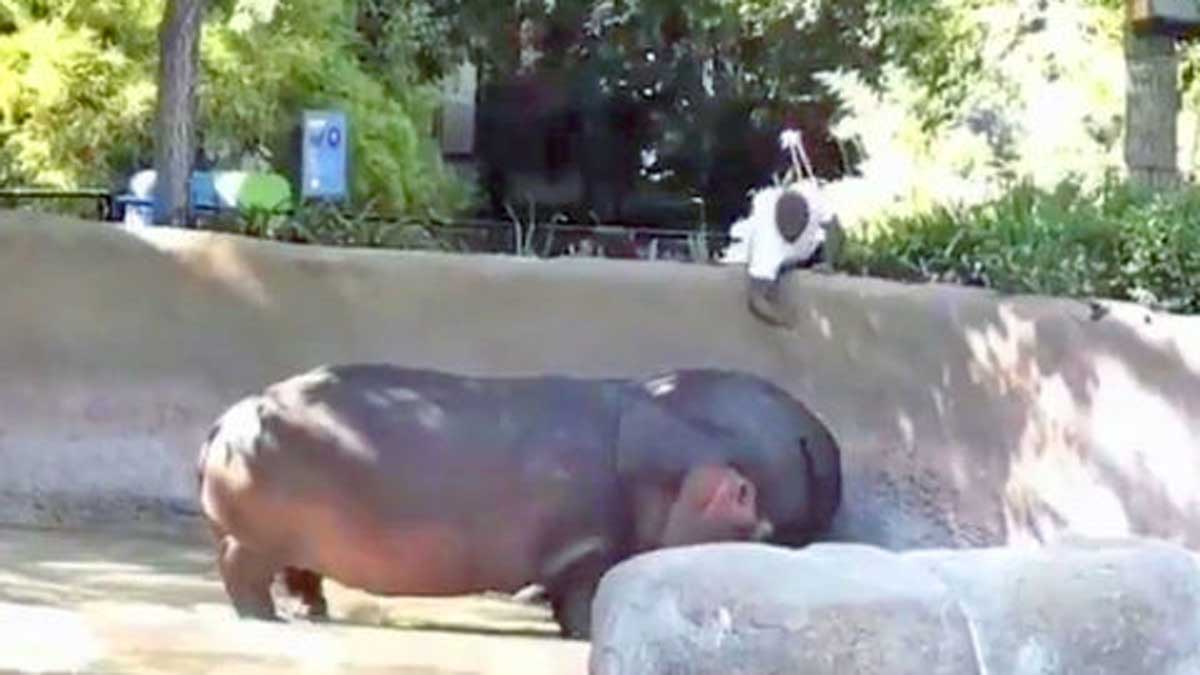 Above: That hippo. (Contributed/Kendal Hemphill)
The story made it sound like the guy could have been in some kind of danger, so I watched the video. After climbing the short fence, the man had to walk a few feet to where he could reach down and slap the hippo, which was standing in a sort of sunken area. The idiot would have had to fall into the sunken area to be in any danger. Still, he was guilty of trespassing, hence the charges. I imagine the guy would rather be charged by the police than the hippos.
The Daily Wire story called the hippo slap a 'strange and cruel act.' It was certainly strange, but in no way was it cruel. The zoo people wanted the man charged with animal cruelty, but the police said no, since the hippo wasn't damaged, that wouldn't wash.
LA Zoo spokesperson April Spurlock said, "Any unauthorized interaction with an animal is unsafe for the animal and potentially unsafe for the patron." And I'll bet she said it with a straight face. See, April, and the rest of the zoo people, want to give the impression they care about the animals. Wow.
Now, granted, the hippo slapper is a Grade AA Ding Dong. That was a really dumb thing to do. But the zoo people would like you to believe, somehow, that giving a hippo a light slap on the rear end is unacceptable, while it's perfectly fine to capture it and enslave it for the rest of its life, merely for the amusement of humans.
But animals can definitely be dangerous to people, especially if they're sick, like the beaver that attacked Dan Wherley and his 7-year-old daughter, Layla, while they were kayaking on Conewago Creek in Adams County, Pennsylvania recently. Dan and Layla were floating along, minding their own business, when a beaver swam up and started chewing on Dan's yak. He managed to fend it off with his paddle, but then it went for Layla, and actually climbed up on her kayak. Dan punched it, and then man and beaver fought their way to the bank, where Dan finally managed to kill the rabid critter. Beaver Punchers would make a pretty good name for a rock band.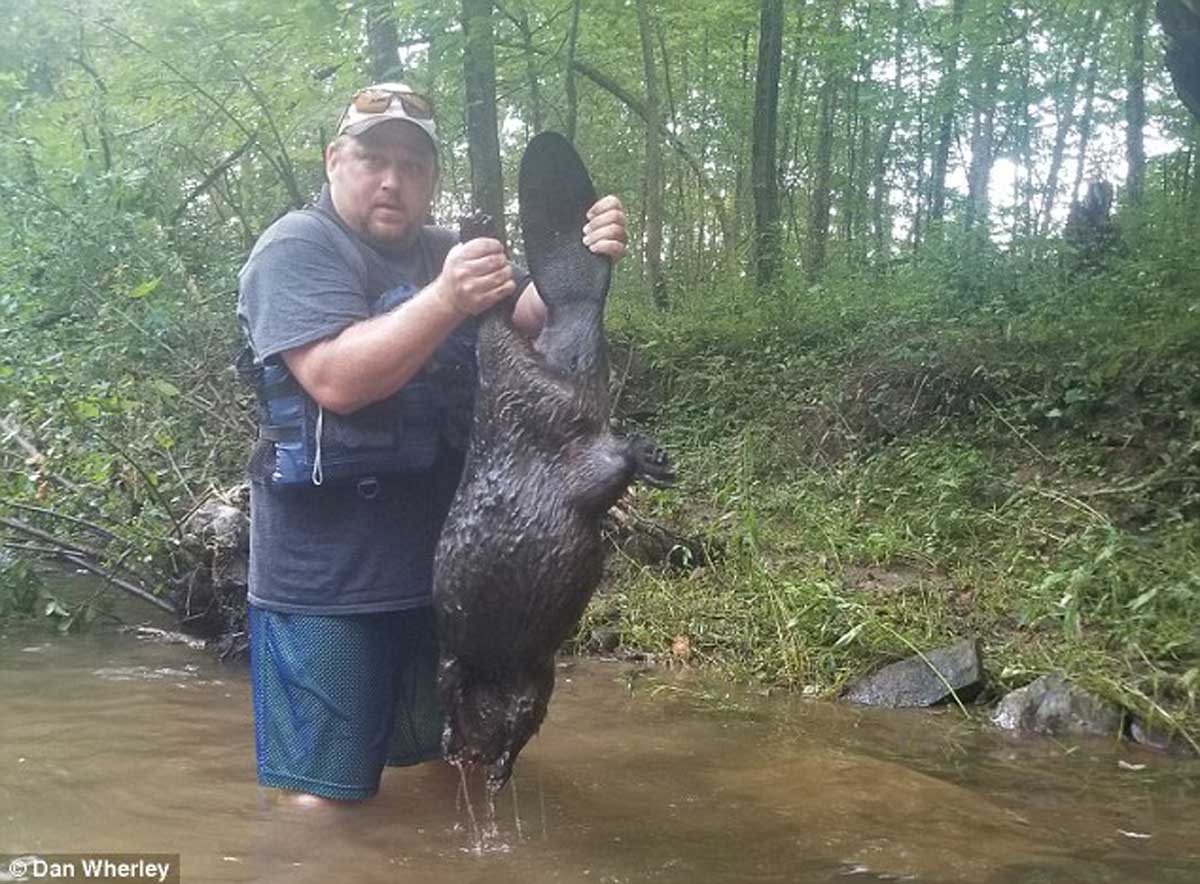 Above: That rabid beaver. (Contributed/Kendall Hemphill via Dan Wherley)
Beavers are usually not all that dangerous, unless they're sick. Wolves, on the other hand, can be dangerous anytime. It's kind of their job.
Astute readers may recall a story I wrote about recently, which came from Okanogan County, Washington. A research student was treed by a pack of wolves, and rescued by Okanogan County Search & Rescue. But I have since learned there's a lot more to that story. The wolves have filed a grievance with the state.
Just kidding, although I wouldn't be surprised. And if the wolves did file a grievance, I have no doubt the State of Insanity that calls itself Washington would give them whatever they wanted.
It turns out the student researcher wasn't a student, but she WAS a researcher. A salmon researcher. She was out looking for salmon, or something, when the wolves surrounded her. She used pepper spray and shouted at them, but for some reason they wouldn't go away. Maybe that was because pepper spray and shouting doesn't run wolves off. Especially when you smell like salmon.
So the woman climbed a tree and called for help. What I didn't know when I wrote the first column was that there was a 45-minute debate between Washington Dept. of Fish & Wildlife officers and the DNR over whether to send help to the woman. WDFW said, "No helicopter. Federally listed species. 3 WDFW personnel saying so."
Did you ever have the feeling you were being thrown to the wolves? That salmon lady has. The WDFW, because the wolves are protected, wanted to ignore the call for help, and let the woman be eaten by wild animals.
So if you ever find yourself up a tree and surrounded by wolves in Washington state, and you call for help, don't tell the 911 dispatcher you're requesting extraction. Say you've just slapped one of the wolves on the rump. The SWAT team will be there in no time . . .
Get more stories like this by signing up for our daily newsletter, The LIVE! Daily.