Have the Brits Become Wimps?
Opinion
OPINION — My old buddy, Bill, once wrote a play about the time the Brits, outnumbered by about five to one, pounded the wadding out of the French near the castle of Agincourt. It was on St. Crispin's Day, 1415. You've probably heard part of that play, called 'Henry V,' quoted numerous times in movies. "We few, we happy few, we band of brothers," and so on.
The battle of Agincourt wasn't the only major upset of the French during the Hundred Years War, which lasted, as you might surmise from the name, 116 years. I wonder why they don't call it the Hundred and Sixteen Years War. I guess it's an example of typical British understatement.
The Brits also soundly thrashed the French at the Battle of Poitiers in 1356, and the Battle of Crecy in 1346, to name just a couple of the more famous set-tos. Every time, the French greatly outnumbered the Brits. Every time, the British archers filled the French knights so full of arrows they looked like porcupines. Those battles were all unfair, one-sided spankings. The French had the numbers, but the Brits had the longbowmen.
England was able to field great numbers of archers because of a sort of glitch in history. For some reason the longbow became really popular among common folks, and most boys grew up shooting bows. By the time they were sixteen, most could shoot a 110-pound longbow and hit a man-sized target 200 yards away pretty much every time. No other country had archers like that.
Britain has always been a nation of laws, and when interest in archery began to wane during the late 15th century, all adult males were required to practice archery weekly. The value of having a trained, armed citizenry was recognized, and the king wanted to keep it that way. But things have changed since then, evidently.
The British Daily Express recently published an article written by Paul Jeeves which makes you wonder if the England of today is the same England that whipped France at Crecy and Agincourt and Poitiers. Apparently not.
The title of Jeeves's article is 'Deadly crossbows sold on High Street without need for a license or background checks.' The horror. The first sentence in the story is, 'DEADLY assault rifle-style crossbows are available on high streets and online without any need for a license or background checks.' Yes, the word 'deadly' is in all caps, and yes, the entire article is written as poorly as the first sentence. Jeeves was evidently so incensed by the mere prospect of freedom that his journalistic skills deserted him. If, in fact, he had any journalistic skills.
According to the column, the Daily Express has launched a 'crusade' calling on the British government to crack down on the sale of the 'potentially lethal weapons which can be bought without having to give details of identity or a reason for their use.' Basically, Jeeves, et al, want crossbows regulated just like guns are in the UK, which means you can't have one unless you can prove you really really really need one. Oh, and by the way, no one needs one. So there.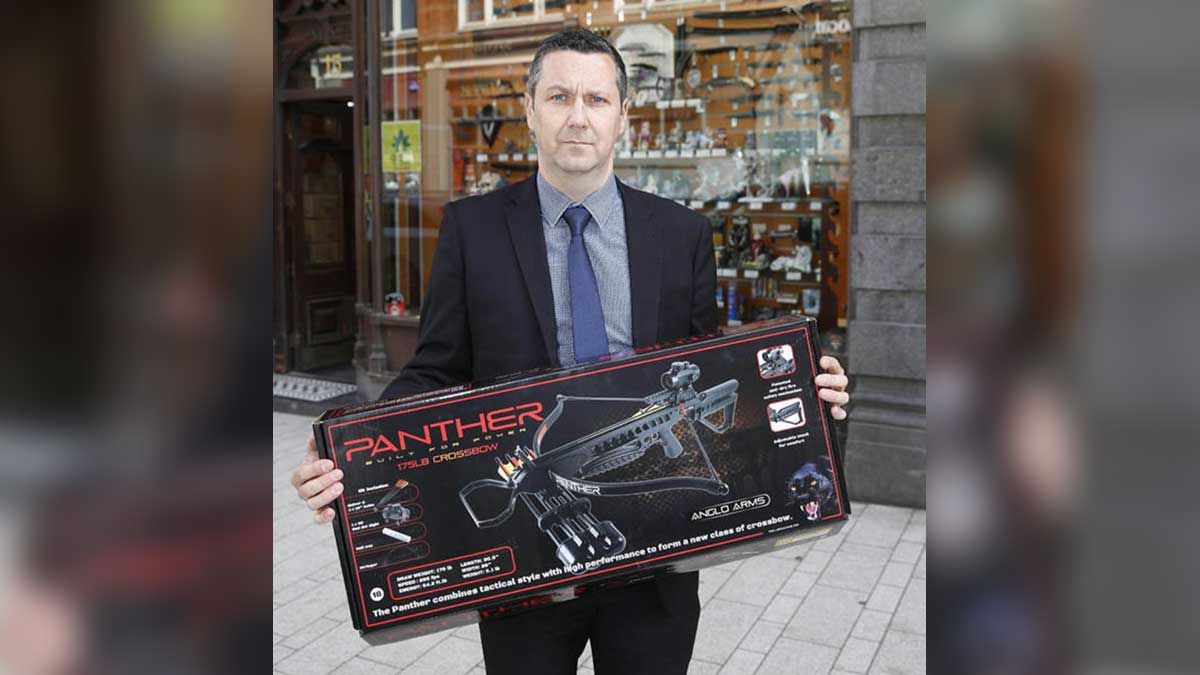 Above: Paul Jeeves and a deadly crossbow. (K Hemphill)
Actually, the first time I read the story, I wondered if maybe it was a satire piece from the Onion. Someone making fun of the insanity that has affected Britain of late. The best way to point out absurdity is with absurdity. There was an episode of 'All In The Family' where Archie said the way to stop airplane hijackings was to hand every passenger a gun as they got on the plane. That's absurd satire. That's what Jeeves's article sounds like.
But Jeeves is serious. He went into a shop in Leeds and, amazingly, was able to purchase a 175-pound crossbow without, and this is the really insane part, without having to jump through a lot of bureaucratic hoops. He didn't have to fill out forms, offer proof of identity or intent, leave a pint of blood, or bring a note from his mother. Your average, garden-variety human cannot be trusted with such a staggering level of freedom, according to Jeeves.
The adjectives he used in the story illustrate Jeeves's attitude toward crossbows in particular, and weapons in general. He calls crossbows 'deadly,' 'lethal,' 'terrifying,' 'high-velocity,' and 'dangerous.' OK.
Crossbows can certainly be deadly and dangerous if used properly. They are, after all, built to shoot bolts, and if they weren't deadly they'd be worthless. Terrifying is a monumental stretch, unless you're also afraid of Kleenex. As for high-velocity, your kid's Red Ryder BB gun offers twice the projectile speed as a 175-pound crossbow. Really. And then there's the 'assault rifle-style' crossbow comment. I don't even know how to address that. It's insane.
Now, I don't want to be too hard on Jeeves, so let me just say that, from what I can tell from his crossbow article, he's not much dumber than a plate of crumpets. I don't think he's a liar. In order to knowingly lie, you have to have at least a tiny concept of the truth. Jeeves is amazingly devoid of facts.
The good news is that the English have the British police (Liam and Nigel) to protect them from any and all harm, so they don't need to protect themselves. Unless a nefarious criminal manages to get hold of a tweezer . . .
Get more stories like this by signing up for our daily newsletter, The LIVE! Daily.