The End of Honor
Opinion
OPINION— When Don Zaidle called me in 2002, I had no idea what to expect. Don was a large, gregarious fellow, with a huge beard and shoulder-length hair, although he was bald as an egg on top. He reminded me of Grizzly Adams. He was also the managing editor of Texas Fish & Game magazine, and he opened the conversation with, "Hemphill, you write that newspaper column that irritates everybody, don't you?"
I allowed that my column had, on occasion, angered some readers, but since those were always people who were wrong, I figured I was doing exactly what I intended. He said, "Well, I want you to write the same kind of thing for me. You can say anything you want. I don't care who gets mad. I'll back you up."
What Don wanted was controversy. He was looking for a hatchet man, someone willing to address sensitive issues and tell the truth, no matter whose toes got stomped. He wanted a guy who wasn't afraid to stand up to stupidity, even if stupidity was rich and arrogant, which it often is. It sounded to me like he wanted a sacrificial lamb. He believed I cared little enough for political correctness and delicate feelings that I was willing to wield the axe. No one has ever offered me a greater compliment.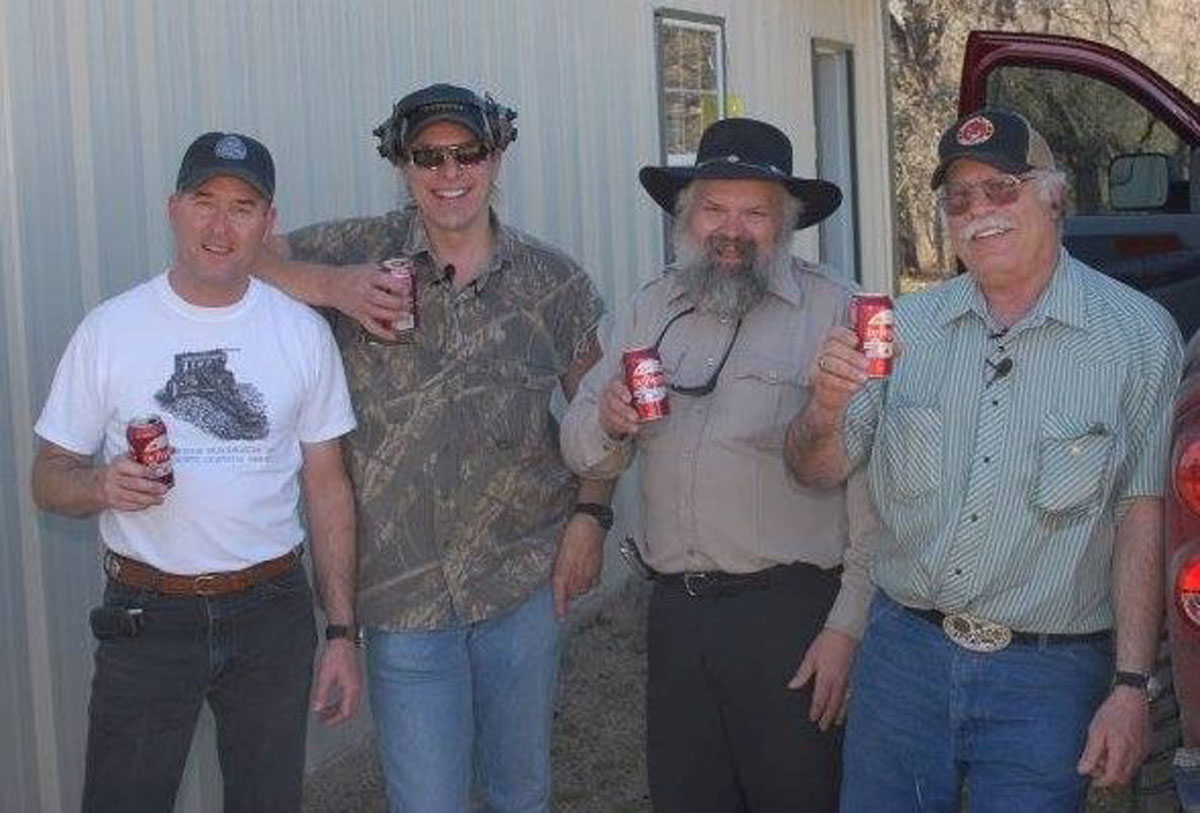 Above: Kendal Hemphill, Ted Nugent, Don Zaidle, Jim Zumbo. (Contributed/Kendal Hemphill)
Granted, I toned it back. I make an honest effort to tell the truth without hurting feelings with my TF&G column, and I've made a far greater effort to be congenial in my newspaper column over the years. I do that because once people stop reading, my voice is gone. No use preaching if the pews are all empty.
But the truth is that I despise political correctness far more than I worry about losing readers, and if I don't make an effort to change things I'm wasting my time. Almost all the bad things that have happened in my country during the past three decades have been the result of political correctness. Truth is stifled, lives are ruined, businesses are destroyed, institutions are toppled, and hate thrives because people are afraid to stand up and be accused of political incorrectness.
One of the best examples of this plague devouring our nation is the Boy Scouts of America. A decade ago the BSA organization was a bastion of Americana. Generations of boys have learned to become honest, clean, reverent, God-fearing men and productive members of society through Scouting. It was a Christian organization that taught Christian values, and it helped to fill a niche left by broken homes and absentee fathers. And now it's dying.
The BSA, as a whole, has been descending the slippery PC slope for a good while now, but the grade recently became steeper when they decided to allow girls to join. Now, girls are wonderful, essential, valuable people, but there's one thing they aren't – boys. Girls can do a lot of things, but they can't be boys. They can't become boys, regardless of how they feel or what alterations are made. That's a fact, despite what the PC crowd may claim.
Allowing girls to join the Boy Scouts was certainly not the first step down the PC road taken by the BSA. Other poor decisions have been made, and membership has plummeted in recent years. There were 6.5 million Boy Scouts during the 1970s. The total in 2016 was 2.3 million.
Since I couldn't understand why the BSA decided to let girls join, I asked a friend, who's been a scoutmaster for decades, what was going on. He said the Girl Scouts have campouts, but the kids and their parents are not required to actually camp. They can visit the campsite, and then retire to a hotel for the night, and come back in the morning if they want. And if the parents don't camp, the girls can't camp, either. A lot of the girls want to actually camp, really honestly camp, so they want to be in BSA.
So this problem was caused by parents who are so weak, so over-civilized, so pathetically and embarrassingly and disgustingly wimpy (in short, such bad parents), that they won't sleep in a tent a few times a year so their daughters can have fun and learn valuable life skills. This is a sad commentary on our nation, and humanity in general.
Parenting is not an easy job, and if people aren't willing to make sacrifices they shouldn't become parents. Mom and Dad have to put the welfare and development of their children above their own feelings and comfort. If your job or your house or your car, or a good night's sleep, is more important to you than your children, you don't deserve to have children.
Now the BSA isn't even the BSA anymore. The directors have officially changed the name to just 'Scouts BSA.' Allowing girls to join was an effort to boost membership, but it will, in fact, have the opposite affect. The Mormons have already announced they will pull out of Scouting and start their own organization. Others will follow suit, and before long the once-proud Boy Scouts of America will fade into obscurity. Another fine and honorable institution beaten to death with the nail-studded bludgeon of political correctness.
I'm glad Zaidle didn't live to see it . . .
Get more stories like this by signing up for our daily newsletter, The LIVE! Daily.