SAN ANGELO, TX — Caleb Wallace, the San Angelo man whose life came to define the revolt against government overreach in Covid-19 restrictions, died today of Covid-19. He had been at Shannon Medical Center since July 30.
According to his wife, Jessica, who was interviewed by the New York Times, when Caleb came down with Covid-19, he initially self-medicated with copious doses of Vitamin D, C, aspirin, and Zinc. He also took ivermectin, a drug used to treat infections in the body caused by parasites, such head lice and scabies. This drug has been recently touted as an alternative for treating Covid-19. Ivermectin is derided by those on the Left and most medical professionals as "horse paste," as the animal form of the drug can be purchased at feed supply stores. Jessica, in her interview with the Times, was not clear if Caleb had been prescribed ivermectin for humans or had taken the veterinarian version.
Caleb's dad caught Covid-19 at about the same time his son Caleb did. He too was hospitalized for 13 days in San Angelo. He said the experience softened his views on the use of the Covid-19 vaccines but admitted that he was still considering whether or not to get the jab. For now he is content with natural immunity that recovery from the disease provides.
Caleb Wallace's ordeal became newsworthy because of his anti-mask and anti-lockdown political activism. In 2020, he organized at least two protests against what he called "Covid tyranny."
"I guarantee you that 2020 has been one of the worst years for America," Caleb Wallace said at at July 4, 2020 protest rally organized by Wallaces' "Freedom Defenders." At the time, restaurants had reduced capacity and bars were closed under the threat of having the Texas Alcoholic Beverage Commission revoke the bar owner's license if the bar owner violated the statewide emergency order to remain closed. Wallace was reacting to serious concerns already expressed by the public.
Weeks prior, LIVE! had attended an organizational meeting of area bar owners who were contemplating breaking the order and opening up anyway as a group as a protest. The sting on the local economy was very apparent. At the same time, at least two protests for racial justice had just been held in the city and the perception was the participants of those protests were given a pass on Covid-19 restrictions.
Watch: We the People — The July 4, 2020 protest
Watch: The Fight for Freedom - The July 17, 2020 protest
Caleb Wallace's activism continued past the summer of 2020. During a briefing of the County Judge's Coronavirus Task Force in November of 2020, Wallace chastised county health and political leaders. Waiting until the end of the meeting, he approached the microphone to denounce the efforts of the combined government entities to mitigate the spread of the virus. He started with Shannon Medical Center, accusing the hospital system of cooking the books in their reporting of Covid-19 test results.
At the time, Governor Greg Abbott was allowing communities inside Trauma Service Areas where hospitals were reporting less than 15 percent Covid-19 patients as a whole of its patient population to reopen bars and restaurants. Then, San Angelo was rapidly approaching that 15 percent threshold and many were anticipating another business shutdown. Wallace wanted to know who was generating the data and how it was created. He didn't trust the government to want to keep businesses open.
"I've been bombarding you all with emails. I hope one day you will respond," he said. He wanted to know how Shannon Medical Center was determining who was positive with Covid-19.
Shannon's Chief Medical Officer Dr. Chris Barnett, MD, tried unsuccessfully to convince Wallace that Shannon relies on experts at outsourced labs that are using national standards to determine if a test specimen is Covid-19 positive. But Wallace persisted.
"Is Shannon withholding this information, is it not available? … We're getting false positives. We are leveling this tyranny on our citizens with incomplete data," he accused the medical organization.
He then trained his guns on the politicians.
"Is this type of tyranny without the data to prove [it is] as such worth it? Mayor Gunter, I am quite disappointed with your reaction to this," he said.
"I can't tell the difference between you and (California) Governor Newsom," he said to County Judge Steve Floyd.
"My health has nothing to do with you. It's not my job for your health. As harsh as that sounds, but our constitutional fundamental rights protect that. I care about freedom more that I care about your personal health."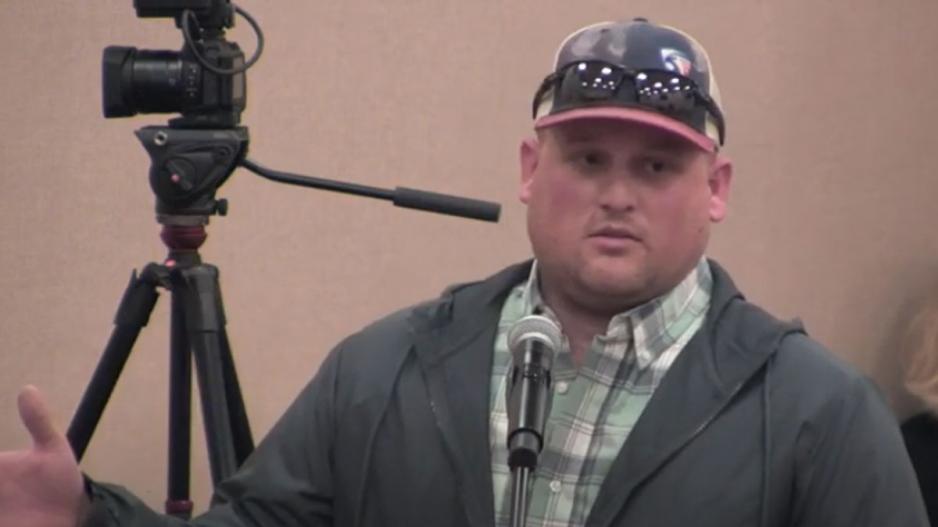 Many have criticized Wallace for his dogged pursuit for the truth during an era of civil unrest, wavering medical experts, changing scientific conditions, political censorship, uneven enforcement of mitigation rules, and a November presidential election many still suspect was not honest. In general he was just a blue collar guy who sold welding equipment who didn't trust the government or experts because he sensed he didn't have the freedom to weigh and consider in the public square the information that he held in suspicion. He reacted to that by being vocal and organizing public protests. It was his way of seeking the truth.
At the same time, his death reveals that Covid-19 is deadly.
Caleb leaves behind his wife who is expecting the couple's fourth child and three other children. He was only 30 years old. The family has a GoFundMe page to help with family expenses during this difficult time. 
Update Aug. 30 at 8 p.m. — Our op-ed that puts Caleb Wallace's life into perspective
Most Recent Videos