San Angelo's Newest Emergency Center Sees Influx of Patients
SAN ANGELO, TX – On August 27, San Angelo obtained a new medical facility. On this day, the Neighbors Emergency Center, located at 3417 Sherwood Way, right next to H-E-B, opened its doors to the community. The new center provides around the clock health care services for the greater San Angelo Community.
On September 24, the Neighbors Emergency Center held a grand opening, which gave San Angelo residents a chance to learn more about the center's services, while also engaging in fun activities that were suitable for people of all ages.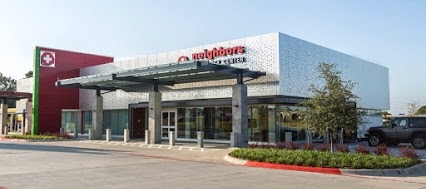 Since opening its doors in late summer, the center has seen an impressive "267 patients," a good indicator for Dannielle Dunagan, Marketing Liaison for Neighbors Emergency Center, that the center is successful. Dunagan underscored that the Neighbors Emergency Center and its medical staff are committed to providing extraordinary care for their patients by engaging in a culture and creating a community that has  "a vision to be the best neighbors ever."
As the newest healthcare provider in San Angelo, the Neighbors Emergency Center is trying to offer San Angelo residents another health care option for their emergent needs. Dr. Antonio Bueso, Medical Director for Neighbors Emergency Center, has met with senior leadership from both Shannon Medical Center and San Angelo Community Hospital to streamline patient care in the event a patient might require a longer hospital stay. Dr. Bueso also met with several other health care specialists in the area. He and the Neighbors Emergency Center look forward to working closely with these established hospitals and specialists. Dunagan emphasized that the Center's physicians and nurses "specialize in emergency medical care," which they provide every day, 24/7.  
"Our people genuinely care about their patients," Dunagan said. "And our patients are never rushed through or treated as a 'number.' We are patient centered and patient driven in all we do."
She also said that the staff at the facility recognizes the importance of short wait times, for they are vital for the diagnosis and treatment of patients. Previous LIVE! articles have already mentioned some of the medical conditions treated at the Neighbors Emergency Center, including abdominal pain, infections, fever and flu, allergic reactions, burns, sprains and fractures, head injuries, sports injuries, concussions, stroke, hypertension, and advanced cardiac and pediatric life support emergencies.
Currently, a new building is under construction at the corner of Southland and Sherwood Way between Sam's Club and Wal-Mart. This new building, with only the interior left to be finished, is slated to be a new free standing ER called Excel ER. Excel ER will be a medical facility similar to the Neighbors Emergency Center. However, the potential of another freestanding ER opening its doors soon does not trouble Dunagan. She said she has full faith that "people [will] come to [Neighbors Emergency Center] in an emergency situation" as "Neighbors knows the importance of providing premiere, personalized, quick and accurate medical attention" in emergency situations.
In addition, Neighbors Emergency Center is committed to "work[ing] hand and hand with the community of San Angelo," Dunagan asserted. The Neighbors Emergency Center's future plans include active engagement in the community through sponsorships, volunteer work, and/or health care educational talks.
Neighbors Emergency Center accepts most major private insurances, and also provides bilingual (English/Spanish) staff members and information cards and handouts. To find out more about Neighbors Emergency Center, please contact the San Angelo Location at 325-223-0075, or stop by any time. 
Get more stories like this by
signing up for our daily newsletter, The LIVE! Daily
.