JUNCTION, TX — Junction will be the host for a first-ever music festival next April. Junction native Macy Brooks will put on an event that has been in the works for the past two years to showcase her Hill Country home to the world. 
In honor of the upcoming total solar eclipse, the TEXCLIPSE Music Festival will be held at the Kimble County fairgrounds next April for a three-day festival. The festival is from April 6-8, 2024, and will feature music from an impressive artist lineup, rodeo, and food.
"This festival is designed to support and showcase Texan brands, musicians, and culture," Brooks said. "When you attend any TEXCLIPSE event, know that every decision involved with the festival is genuine. I am proud to be a Texan and proud to host an event that showcases our state. We hope you will feel welcomed at every corner with genuine Texan warmth and hospitality."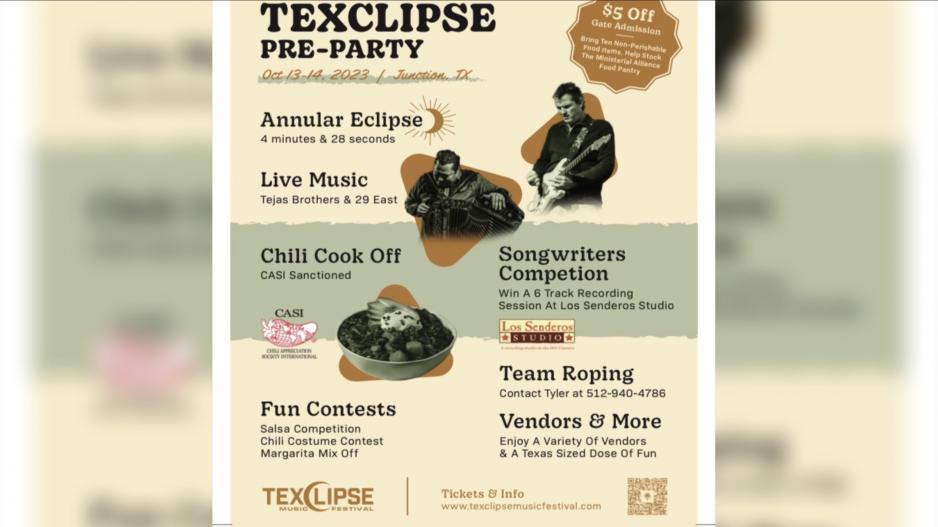 TEXCLIPSE "PRE-PARTY" OCTOBER 13-14
Brooks is also planning on hosting a Texclipse "Pre-Party" in Junction, which will be a 2-day event held October 13-14, 2023, at the Hill County fairgrounds located at FM 2169, Junction, TX, 76849, for the annular solar eclipse. $5 will be taken off the general admission price to the Pre-Party if attendees bring 10 non-perishable food items to help stock the Ministerial Alliance Food Pantry.
The Pre-party will feature the following:
Annular Eclipse - 4 minutes & 28 seconds
Live Music - Teias Brothers & 29 East
Chili Cook-Off - CASI Sanctioned
Songwriters Competition -Win A 6 Track Recording Session At Los Senderos Studio 
Salsa Competition
Chili Costume Contest
Margarita Mix Off
Team Roping: Contact Tyler at 512-940-4786
Vendors and More
Additional information will be forthcoming in the near future. Visit the TEXCLIPSE website to subscribe and stay updated. Brooks also encourages all interested to follow the TEXCLIPSE social pages on Facebook and Instagram: @texclipsemusicfestival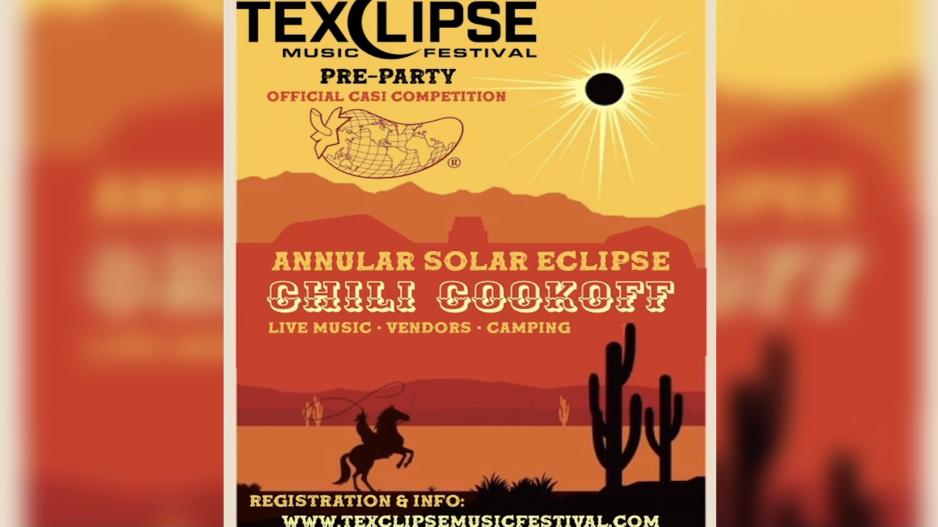 SAVE THE DATES: 
TEXCLIPSE "Pre-Party" October 13-14, 2023
TEXCLIPSE Music Festival April 6-8, 2024.
Most Recent Videos