SAN ANGELO, TX — This weekend's 3rd Annual Día de los Muertos Celebration will be headlined with the music of Gloria Estefan and the Miami Sound Machine at the Bill Aylor Sr Memorial RiverStage, 16 E. Avenue A, San Angelo. Admission is free.
The music Saturday night isn't just another band. It will be a full production called "Rhythm and Sound Machine" led by the husband and wife team of Rebecca and Rene Peña of Dallas.
"I will be a full, two-hour show," Rebecca said.
The band is comprised of 10 musicians on keyboards, guitars, and a complete horn section. There are also backup singers. The percussion is led by Grammy Award-winning percussionist A.J. Flores. The show is heavy on percussion.
The high-energy show was choreographed to resemble Gloria Estefan's 2003 Las Vegas show at Ceasar's Palace called "Live and Unwrapped" that received rave reviews back in the day.
Accompanying the Rhythm and Sound Machine will be a laser light show that will punctuate the Gloria Estefan music throughout the performance. The laser show will be spectacular, promised Tim Walsh with Laser Spectacles, Inc. His company produces shows all over the nation from Austin.
"The River Stage offers plenty of options," Walsh said. He is finalizing the design and engineering of the laser show and said his team will capitalize on the wings of the stage. The laser show will shoot right above the heads of those in the audience and into the trees.
"We will make the music come to life for the audience," Walsh said, adding that the incorporation of the lasers will span the entire performance of the Rhythm and Sound Machine production.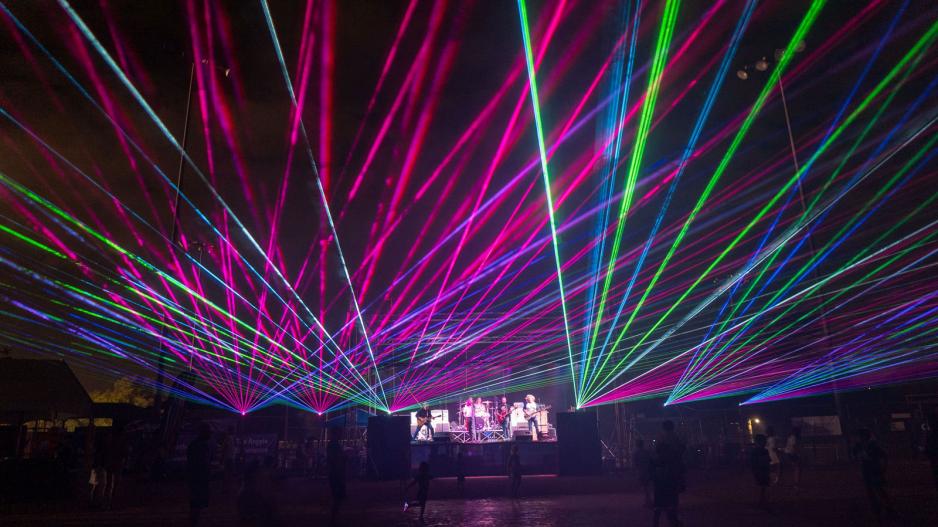 The Día de los Muertos Celebration is organized by the San Angelo Hispanic Heritage Museum and Cultural Center and hosted in and around San Angelo Museum of Fine Arts and at Bart DeWitt Park.
The traditional Mexican holiday is a celebration and remembrance of lost loved ones. A community altar will be installed on the steps of the west side of the San Angelo Museum of Fine Arts, created with thousands of balloons and hundreds of flowers. Organizers said the will be the largest community altar in the State of Texas.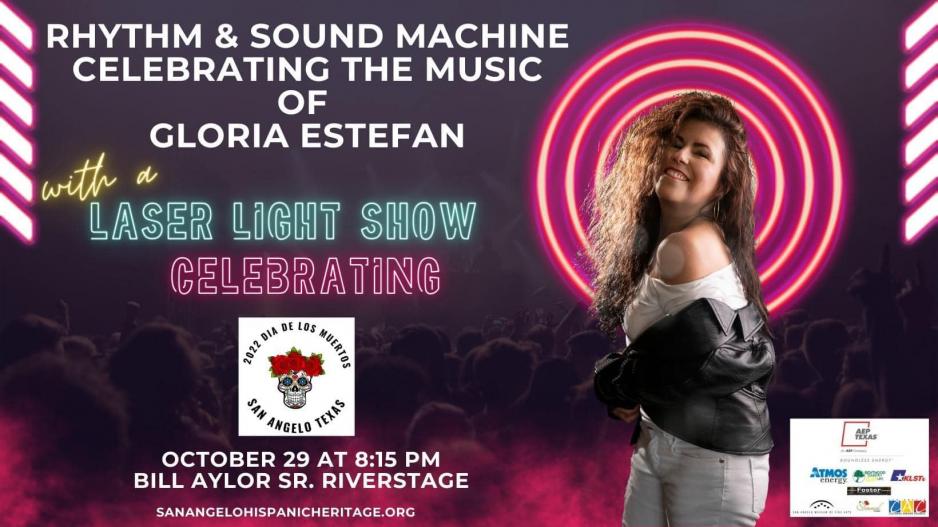 The grand opening begins at the community altar at 6 p.m. on Friday, October 28, where the community can gather and place a photo of a lost loved one.
In addition to the headline performance at the River Stage Saturday night, activities will include a Car show, 5K/1 Mile Run, Catrina contest mariachi performances, folklorico dancing performances, vendor booths, food trucks, free art demos, Lincoln/Lake View Art Exhibit, live music, and a procession across celebration bridge.
Here are the finer details of the two-day celebration this weekend:
Friday, Oct. 28
At the River Stage:
6:30 p.m. - Opening dance by Ballet San Angelo
6:50 p.m. - Bishop Michael Sis offers the opening prayer
7 p.m. Ballet Folklorico Azteca
7:30 p.m. Goodfellow AFB Fallen Members Memorial
7:40 p.m. ANIMO performance
6:30 - 9 p.m. - Wishful Parties Princess Face Painting
Saturday, Oct. 29
SAMFA Plaza (the area west of the museum)
9-11 a.m. - En Plein Air Artists -Paint Out. En Plein Air Texas to bring a new level of artistry to the event. The competition brings artists from around the United States and will feature a morning paint out at the Día de los Muertos celebration.
9 a.m. - Pick up free art activity kits for the kids
11 a.m. - 7 p.m. Dio de los Muertos Mercado (open air shopping with many vendors)
5 p.m. - Watch the Catrina contest presented by KSJT-FM 107.5. The Catrina is a long-standing symbol of Día de los Muertos. She symbolizes our willingness to laugh at death itself. Contestants will turn themselves into skeletons using elaborate makeup. The skeletal appearance, highlighted with flowers and artwork, is the icon of Día de los Muertos! The Catrina will be held at the community alter that is located on the west side steps of SAMFA, 1 Love St., starting at 5 p.m. Most will watch but contestants can sign up here.
SAMFA Ceramic Studio
9 am. - 12:30 p.m. - Alebrije & Calevera Painting Workshop
SAMFA Education Studio
9 a.m. until it runs out - Candle Votive Activity
11 a.m. - Clay Painting
1 p.m. - Clay Painting
2 p.m. - Flower Making
3 p.m. - Clay Painting
4 p.m. - Flower Making
River Stage
9 a.m. - Las Domitas y Los Charritos
10 a.m. - San Angelo Home School Center
10:30 a.m.- Story Time by Kona Ice features storytime readers Christy Diego and Senora Scott. The first 120 children into the River Stage will receive a free book. Saturday, October 29 at 10:30 a.m. at the River Stage.
11 a.m. - Leos Imports Fashion Show
12 p.m. - Irais Poem Readings and Dance
12:30 p.m. - Lake View High School Choir
1 p.m. - Prep Academy Dance
1:30 p.m. - Lake View Mariachis
2 p.m. - Roks Sanaan Belly Dance
3 p.m. - Lake View Chiefettes
3:30 p.m. - Lake View Orchestra
7 p.m. - Mexico 2000 Folklorico Performance: Día de los Muertos folklórico performance by the award-winning dance group Mexico 2000. Award-winning Mexico 2000 provides superior quality dancers who perform with the intent of inspiring their audiences to learn more about traditions of Mexico.
8:30 p.m. -  Rhythm and Sound Machine and Laser Light Show celebrating the music of Gloria Estefan in conjunction with a laser light show at the River Stage Amphitheater.
More Events:
Attend the Día de los Muertos Car Show featuring some of the most beautifully customized cars with altars in their trunks. It is from 11 a.m. until 5 p.m. at Bart Dewitt Park, 330 S. Irving St. For information, call: (325) 374-5451.
Also in Bart Dewitt Park:
11 a.m. - 1 p.m. - Cassie's Place Pet Adoption
11 a.m. - 4 p.m. - Railway Museum Train Rides
11 a.m. - 7 p.m. Food Truck Fiesta
6 p.m. - Procession honoring lost loved ones
Run in the annual Carrera de los Muertos 5K/10K live run or participate in the virtual 5K/1 Mile by walking or running at your own pace on the beautiful banks of the Concho River. The race begins at the San Angelo Museum of Fine Arts, 1 Love St. at 8 a.m. Sign-up here.
The "En Plein Air Texas International Juried Competition Artists Paint Out" will be held on Saturday morning. A children's paint out and art scavenger hunt, where children of all ages are invited to join, will receive free painting kits.
There is a photo contest throughout the event. Take a photo with your smartphone, post it on Facebook, and tag the post with #MuertosDelConcho. One winner will receive $100 cash.
"Dia de los Muertos is such a special holiday because it is something all races can understand, losing a lost loved one. This is the one thing we all will have to face. The celebration allows us to share those memories with one another and allows us to come together in unity. We invite the community to come celebrate with us, everyone is welcome!" said board vice president, Suzanna Valenzuela.
AEP Texas underwrote much of the event, including the free show Saturday night.
"The Foundation strives to improve the quality of life for people in the communities where AEP and its operating units serve and where AEP employees live and work. As a supporter of the important work you do, we care about our gift's impact in the community" said Judith E. Talavera, AEP Texas President and Chief Operating Officer.
If you go, park on Oakes or Chadbourne Streets and walk towards the River Stage that sits just south of the Concho River between the two streets or park just south of the Museum across Avenue A to get closest to the action.
Download the official map and schedule in *pdf here.
Most Recent Videos