MILES – The annual Miles United Methodist Church Sausage Festival is Sunday, Oct. 2, 2022 in downtown miles featuring drive thru sausage meal plates for $12, cooked and raw sausage by the pound and a raffle.  
According to information from the Miles UMC social media, the Miles Sausage Festival drive Thru is from 10:30 a.m. to 1 p.m. Sunday.  The sausage plates feature homemade sausage, German potatoes, sauerkraut, coleslaw, green beans, rolls & dessert.  
Fresh link sausage is available for sale by the pound; $8 per pound for raw sausage and $10 per pound for cooked sausage.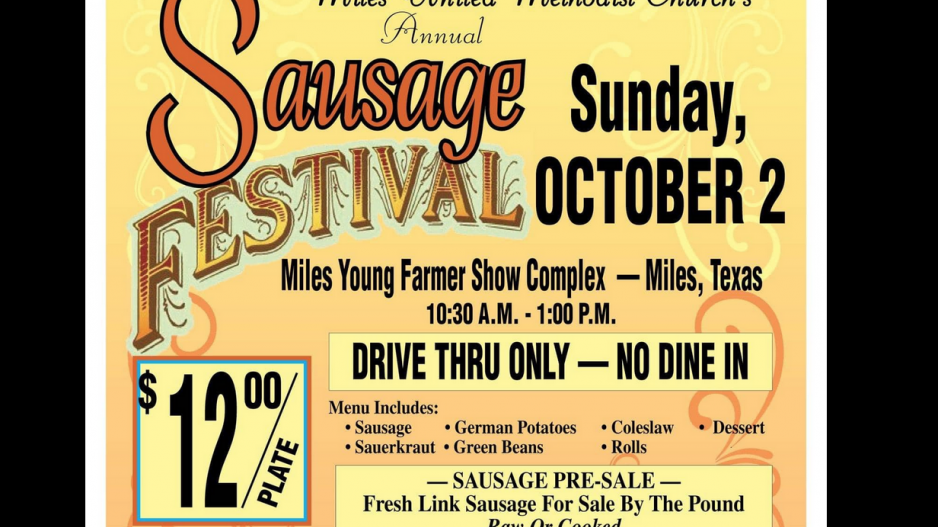 For more information on the Annual Miles Sausage Festival, Sunday, Oct. 2, 2022, follow this link. 
The raffle tickets are $1 each and prizes include gift certificates to Lowake Steak House, the Ideal Food Store, the Cobblestone Coffee House, the Depot at Top Tier, and a four gallon, two basket fryer with caddy.  
For more information call Mark Sklenarik at 325-895-0511, Bill Book at 325-895-0622 or Janice Alexander at 325-895-0403.
Most Recent Videos