SAN ANGELO, TX — The Wild West Fest concludes Friday night with the headline performance of The Turnpike Troubadours at the River Stage, 16 E. Avenue A. "Turnpike" as they are called in shorthand will take the stage at 10:15 a.m. But before (and even after) the final act, 9 more performances of other various musical acts will happen around San Angelo.
The Wild West Fest is a week-long celebration of Texas music that runs through Friday, August 5.
Leading up to the big concert at the River Stage, here's who is playing at 8 locations around San Angelo, in order of event:
August 4, 2022
Rita Capuchina — 5 p.m. at Twisted Root Burger Company, 333 S. Chadbourne St. Rita Capuchina is a San Angelo singer and songwriter with 20 years in the music industry. She produced a single earlier this year titled, "Con Ánimo."
Jamie Lin Wilson — 8 p.m. at The House of FiFi DuBois, 123 S. Chadbourne St. She describes herself as an Americana artist from D'Hanis, Texas. She is quite popular on the touring circuit, performing all over Texas and Oklahoma. Her top song on Spotify is a duet with Wade Bowen titled, "Just Some Things."
Corey Kent — 10 p.m. at Blaine's Pub, 10 W. Harris Ave. Corey Kent, a relatively newcomer to the Texas music scene due to his debut touring being shunted by the Covid pandemic, saw his latest single, "Wild As Her," soar to 30 million spins on Spotify over the past several weeks. The single also landed in the Billboard Hot 100. His solo career is fueled by a successful prior songwriting career in Nashville. Kent is credited with songs recorded by Kolby Cooper, Brandon Jenkins, and William Clark Green. Green's #1 hit, "Hit You Where It Hurts." Watch Kent when he granted us an exclusive interview in July while performing at John T. Floore's Country Store in Helotes:
Tickets are available in advance and on the day of the show at Stubwire.
August 5, 2022
Charlie Daniels II — 5 p.m. at Miss Hatties, 26 E. Concho Ave. We can find nothing about this mystery artist named after country rocker Charlie Daniels who died at the age of 83 in 2020. Will he perform his namesake's songs? You'll have to stop by Friday afternoon to find out!
James Manders and Mark David Manders — 5 p.m. at The Martial Pint, 19 E. Concho Ave. Mark David Manders is a legendary songwriter and performer of the late 1990s and 2000s Texas Country Music scene in San Angelo but he's from north Dallas. A regular at Blaine's Pub for years, Manders wrote a popular song about this city called, appropriately, "San Angelo." Mark is performing with his son, James, who is following in dad's footsteps first at Texas Tech and now in music. This will be an entertaining show!
Manny Campos — 5 p.m. at at Twisted Root Burger Company, 333 S. Chadbourne St. Manny is a favorite San Angelo musician who can play just about anything on the keyboard. He's a great singer too!
Matt Lopez — 5 p.m. at 1933 Bar, 217 S. Chadbourne St. Matt is a Texas country music singer with a rock feel from San Angelo.
The Finale at the Bill Aylor Sr Memorial RiverStage, 16 E. Avenue A. Tickets are pricy primarily because of the current popularity of The Turnpike Troubadours. Get tickets on Stubwire Thursday for $100 general admission and $250 VIP. On Friday, the prices increase.
William Beckmann — 7 p.m. on the River Stage. Beckmann hails from Del Rio who mixes Spanish and English in his live performances came to notoriety with the hit single, "Bourbon Whiskey," in 2021. He landed a music publishing deal with Warner Chappell. Beckmann was among the best performances at the weekly Ram Jam tailgate parties during the 2021 Angelo State football season. Listen to Beckmann on Spotify.
Cody Canada and The Departed — 8:30 p.m. on the River Stage. Cody Canada was one of the founders of the infamous band Cross Canadian Ragweed. After that band broke up in 2010, he formed The Departed. The band has a southern rock sound with a twist of Canada's hippie cowboy schtick. The Departed song "All-Nighter" has the most spins on Spotify with 1.3 million spins. The song is on the 2015 record titled HippieLovePunk.
Cody Canada will sometimes perform Ragweed songs, including this 18-year-old hit, "Alabama":
Cody Canada and the Departed - "Alabama"
Turnpike Troubadours — 10:15 p.m. on the River Stage. Turnpike's frontman Evan Felker announced a hiatus from the band and touring in 2019 near the top of the band's fame, it shook up the Texas Country Music scene. Felker spent the time off working on a ranch and getting sober. Today, the band's performance rider strictly forbids drink backstage. Rolling Stone reviewed Turnpike's return on the road in April. Reporter Josh Crutcher said, "Grown men cried." Their shows have been sold out throughout 2022.
Turnpike's influences ironically include Cross Canadian Ragweed (see The Departed above), as both originated their music careers at Stillwater, Oklahoma home of Oklahoma State University. "Hot Summer Day" is the top song on Spotify with almost 52 million spins. Other songs you may recognize are "7 & 7" with 49 million Spotify spins, "Good Lord Lorrie" with 39 million Spotify spins, and "Diamonds and Gasoline" with 29.6 million Spotify spins.
Here is "Good Lord Lorrie" from a concert last week:
Turnpike Troubadours - "Good Lord Lorrie"
The River Stage show ends at around 11:30 p.m. to 11:45 p.m. After the show, two after-parties are planned. One is at Blaine's Pub featuring Tanner Usery. The second is at The House for FiFi DuBois featuring Kevin Galloway. Both shows are from 12 midnight until 2 a.m.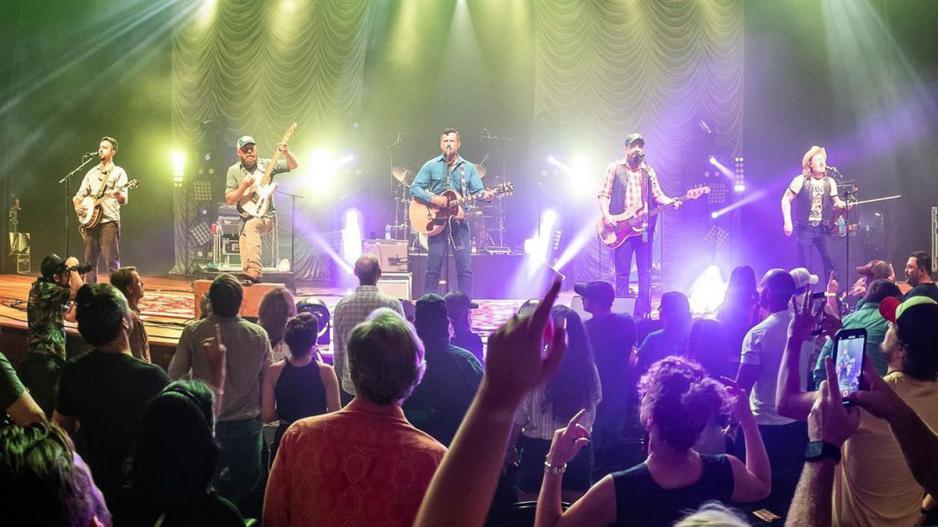 Most Recent Videos