SAN ANGELO, TX — The Wild West Fest is upon us and this year, the week-long Texas music event has expanded city wide with the Bill Aylor Memorial RiverStage as the focal point.
In all, 33 music artists will perform on 10 stages throughout San Angelo starting Friday night, July 29. The concert series continues through August 5.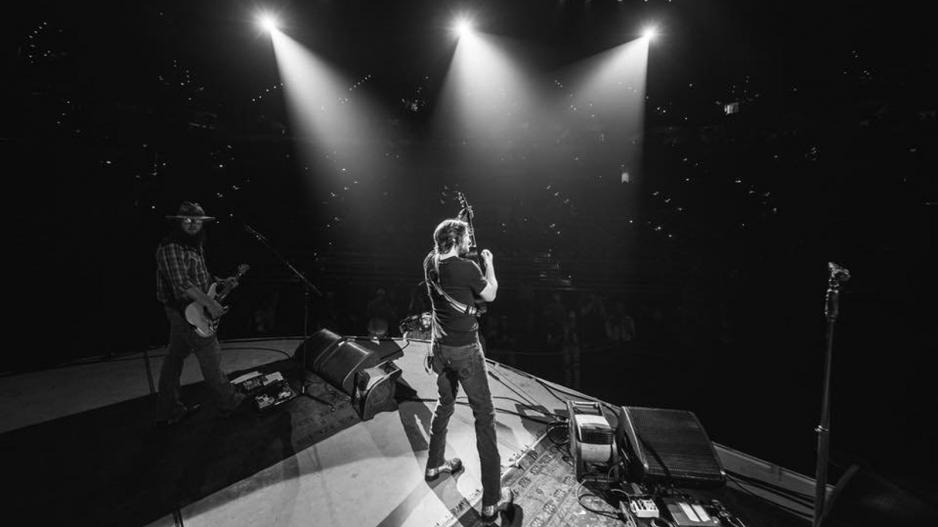 Headlining the first weekend is Whiskey Myers who will light up the RiverStage Saturday night. Next Friday, August 5, the RiverStage concert featuring the Turnpike Troubadours concludes the music festival.
To help you appreciate the amount of music that will be performed in San Angelo over the next two weekends, here is the complete guide to the first weekend.
Tickets to the RiverStage shows are available on Stubwire and range from $50 to $140 if you get the tickets today (Friday, July 29). Other shows at smaller venues range in price from free to a nominal $10 cover charge. You can purchase tickets to the RiverStage shows on Stubwire.
Here's what you can watch this weekend:
Friday, July 29, 2022
Hunter LaCoste at 7 p.m. at Sports Next Level, 2838 College Hills Blvd. This new country artist released his first single, Bourbon High in May. It has attracted almost 190,000 Spotify plays. Watch the video on YouTube.
Cameron Sacky Band at 8:15 p.m. at Sports Next Level, 2838 College Hills Blvd. They've been rocking since 2019. Their top Spotify song is Bittersweet Babe with 1.7 million spins. Listen to Bittersweet Babe on YouTube.
The Damn Quails at 9:30 p.m. at Sports Next Level, 2838 College Hills Blvd. The popular band that broke up in 2016 announced last month they were back with the release of a new record, Clouding Up Your City. The head man for the Quails describes his music as more rock than country. He told Saving Country Music last month that, "We might be the least-country band to ever break out in Texas." He noted that The Damned Quails are "more a rock project, but with a heavy emphasis on songwriting, and some country influences mixed in at times." The Quails' top song on Spotify is Fool's Gold with over 12 million spins. The irony is, it sounds like a country song. Watch it on YouTube.
Saturday, July 30, 2022
Kayla Ray from 5-7 p.m. and 11:45 p.m. - 2 a.m. at The House of Fifi DuBois, 123 S. Chadbourne St. She was Jason Eady's tour manager and has a repertoire of songs with titles that you will laugh about. For example, her latest is "Songs of Extreme Isolation, Economic Crisis, & Other Funny Things." Eady produced her first two records. Other song titles include "White Claw Wasted" and the "Quarantine Can Bong." Her style is traditional country. Her top song on Spotify is "The Jameson Waltz." Listen to it on Spotify and watch her on YouTube.
Kevin Brown, San Angelo sax player, at Miss Hatties, 26 E. Concho Ave, at 5 p.m. Kevin Brown is most welcome anywhere he performs, especially in San Angelo. The blind saxophonist is a local favorite. Watch him with the Tone Pirates perform "Turn The Page" about 10 years ago.
Cooper Mohrman & Co - 5 p.m. at The Martial Pint, 19 E. Concho Ave. Mohrman went to Baylor and started his music journey at 18. He recorded his first record at the Melody Mountain Studios in Stephenville. Cooper's top song on Spotify is "Whiskey When I'm Gone" with 160,000 spins. Watch it on YouTube.
Dedra Knox, 5 p.m. at The Twisted Root, 123 S. Chadbourne St. Dedra Knox is a popular San Angelo singer and songwriter.
Saturday, July 30, 2022
RiverStage Concert Headlined by Whiskey Myers. The RiverStage is at 16 E. Avenue A. Tickets to the show are $50 until midnight, $60 on Saturday; VIP tickets $160 until midnight Friday; Day of show $170. Get tickets here.
Austin Meade - 7 p.m. His latest single is "Red Roof Estates" but most will know Austin Meade's music by his top hit on Spotify with over 16 million spins, a duet with Koe Wetzel, "Happier Alone." Watch it on YouTube.
Whiskey Myers - 10 p.m. The east Texas phenom that got their start in the Texas music scene in 2007 is one of three Texas bands that attract the largest audiences today. The band's hit song, "Stone," was featured in an episode of the hit streaming series Yellowstone and the band gained nationwide appeal. "Stone" has nearly 72 million spins on Spotify. "Ballad of a Southern Man" is a rock anthem to rural America with 68 million Spotify spins. "Broken Window Serenade," a sad ballad about an east Texas woman who fell into methamphetamine addiction, is the band's third most requested song on Spotify with over 58 million Spotify spins. Whiskey Myers is a modern version of Lynyrd Skynyrd. It's hard-driving southern rock with loud guitars and all-original songwriting. Here is "Stone" on YouTube.
Saturday Night After Parties
Midnight River Choir - 12 a.m. After Party at The House of Fifi DuBois, 123 S. Chadbourne St.
Pony Bradshaw - 12 a.m. After Party at Blaine's Pub, 12 W. Harris Ave.
Sunday, July 31, 2022
Kin Faux, 6 p.m. at Fiddlestring's Bar and Patio, 3301 Arden Rd. From San Antonio, Kin Faux promotes himself at "Industrial Dirt Country Music." Watch a compilation on YouTube.
Monday, August 1, 2022
Holly Beth, 7 p.m. The Penny Tap House, 2412 College Hills Blvd. Her top song on Spotify is "100 Proof" with over 500,000 spins. Watch it on YouTube.
Gracie York, 7 p.m. The Penny Tap House, 2412 College Hills Blvd. A few of Graycie's musical inspirations include... Patsy Cline, Adele, Kaitlin Butts, Miranda Lambert, and Chris Stapleton. Her top song on Spotify is "Texas Rain" with 1.4 million spins.
Music continues throughout the next week, culminating with the Turnpike Troubadours headlining the show at the RiverStage on Friday, August 5. The full schedule is here.
Editor's note: Kin Faux was originally listed for a 1 p.m. show. The show is actually at 6 p.m. The times were updated above.
Most Recent Videos