SAN ANGELO, TX — Three San Angelo cooks defeated all of Texas at the annual Chilifest held in Snook, just west of College Station, this past weekend by winning first place. The Chilifest is an iconic two-day music festival that draws about 35,000 people each year that has been an Aggieland tradition since 1991. The heart of the festival is the chili cookoff contest.
Brantley Hoelscher, a Wall farmer, arrived at the contest last week with friends. Ruben Rodriguez and Blaine Wilson. Their intention was to win the chili cook-off. The grand prize was $1,500, four VIP tickets to next year's Chilifest, and bragging rights.
After parking the RV, Brantley and the fellas went to work. Their strategy was to cook three batches of chili and enter the best one. The first batch was what Brantley described as their "competition recipe." It was not too spicy with a hearty, full taste. The second pot was more or less the competition recipe cooked without complete discipline to the recipe. For the third batch, the San Angolans put "just the right amount of kick in it," as Brantley described their spicy version.
Having options — the three batches— became somewhat of a challenge for the trio. All of them thought each of the three batches were worthy of putting into the competition but they could only choose one for the judges.
"We saw some Aggie girls walking by and we invited them to try each of the three batches. They chose the spicy chili," Brantley said. Armed with consumer research data, the trio opted to enter the spicy chili into the contest.
"Usually, at contests like these, you try to stay away from over-spiced chili that burns the hell out of your palate. It hides the taste of the other spices," Brantley said. He thought the team was taking a big chance. "But the girls loved it, so," Brantley said.
The team's chili contains both beef and deer meat. Brantley said he definitely drains the grease out of the hamburger. Deer meat is generally always lean anyway.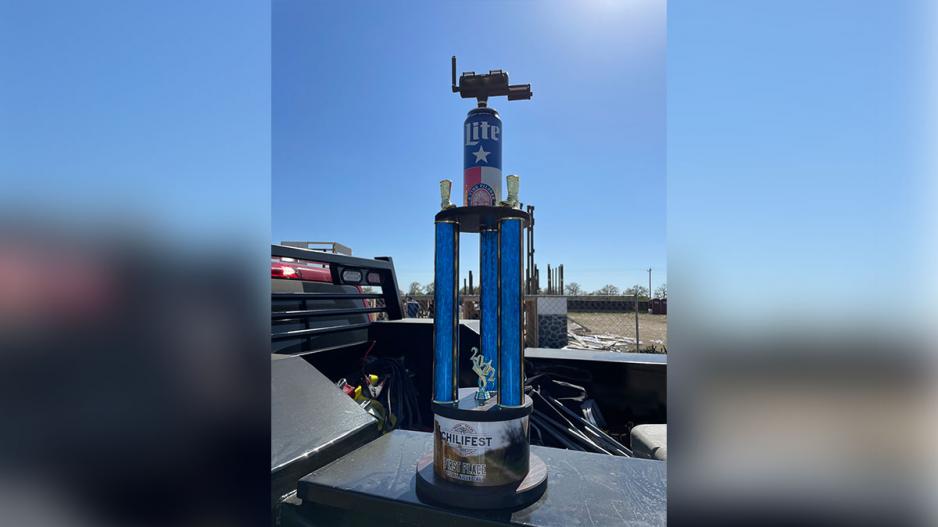 The trio named their chili cookoff team "Blaine's Pub." "That's where we hang out and we wanted to play tribute to our hometown," Brantley said.
To their surprise, Saturday before the big concert began, the announcer presented the awards. It took a little over 30 seconds before San Angelo was put on the map as the chili contest winning capital of Texas.
"In first place, from San Angelo, Texas. We have Blaine's Pub!" the announcer said. Watch:
Most Recent Videos