SAN ANGELO, TX — Texas Country singer Parker McCollum performs at the Bill Aylor Sr. Memorial RiverStage Friday night, July 30. July 30 is also the same day his latest full-length album drops. Titled Gold Chain Cowboy, the record punches all of the right boxes for a rising country music star.
On the record, the single titled "Pretty Heart" that was released ahead of the album last year, rocketed to the top of Billboard's Country Airplay ranking and Mediabase's Country Top 30.
Watch "Pretty Heart" here:
Parker McCollum performs an acoustic version of his hit single, "Pretty Heart"
Gold Chain Cowboy is the first full-length album released under MCA Nashville, a part of the Universal Music Group. McCollum's previous records, including 2015's The Limestone Kid and 2017's Probably Wrong, were self-produced, but still wildly popular. Getting the Nashville deal has expanded McCollum's horizons — and opportunities to co-write songs with a stable of excellent songwriters.
The title track, "Gold Chain Cowboy," was co-written with Randy Montana. Other co-songwriters on the album include Miranda Lambert, Florida Georgia Line's Brian Kelley, Randy Rogers and Rhett Akins. Jon Randall co-wrote two of the songs with McCollum. Randall was a member of the trio on Miranda Lambert's much-praised record released last year titled The Marfa Tapes. Randall is also the record's producer.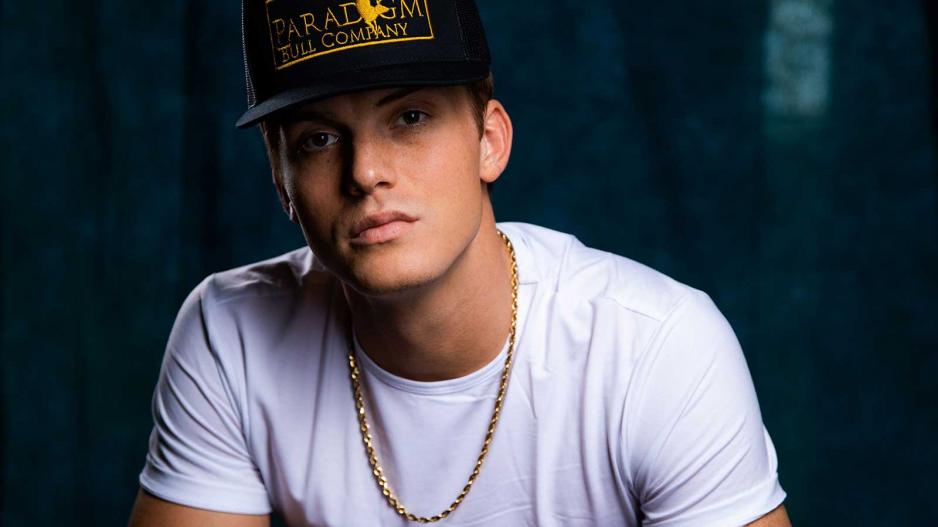 McCollum's live performances are popular because so far, many of his songs have contained what McCollum describes as "Chris Knight authenticity" with the popularity of a Chris Stapleton tune. "I try to write that perfect song you want to hear during that golden hour," he told the Cedar Rapids Gazette before performing a sold-out show there July 17. "I admire the guys who have done that, like James McMurtry, Todd Snider and John Mayer, who is so underrated.
McCollum, an ACM-nominated New Male Artist of the Year, made his Grand Ole Opry debut in February of this year and, as part of the class of 2021 of Grand Ol Opry new artists, returned a second time on July 20. 
McCollum is from The Woodlands just outside of Houston and is at that time during his career where he can transcend performing at smaller venues like the 8,000-capacity RiverStage by graduating to 30,000-capacity arenas. The strength of Gold Chain Cowboy will likely determine that and you can come out to the RiverStage Friday night to be the judge. McCollum fans don't think you'll be disappointed.
Shane Smith and the Saints and Kat Hasty open for McCollum Friday. The gates to the RiverStage open at 6 p.m.
The July 30 concert is called The Wild West Fest. Frontier Communications title sponsors the show. A portion of the proceeds are split between three Concho Valley non-profits: West Texas Counseling and Guidance, the Wall FFA, and the Wall Ag Boosters. The show is produced by Thomas Halfmann's M&H Productions.
Ticket sales have been brisk. All of the VIP tickets were sold out weeks ago. General admission tickets are $38 each. On the day of the show, ticket prices increase $10 to $48.
You can purchase tickets online at Stubwire or in-person at Blair's Western Wear, 4230 Sherwood Way.
Most Recent Videos