San Angelo Grunge Fest Lands Title Sponsor
SAN ANGELO, TX — On August 17, three bands will pay tribute to the Grunge era of American music in San Angelo. The Dallas band The Fool Fighters, a tribute band for the Foo Fighters, will headline the all-night show, set for San Angelo's RiverStage on the Concho River.
Corona Premier in concert with Glazier's in San Angelo is the title sponsor.
All three bands are top tier acts in the Dallas tributes music scene.
Headlining are The Fool Fighters who will play the hits of the popular Foo Fighters band. The Foo Fighters represent the extension of the Seattle Grunge scene into the mid-1990s when Nirvana's drummer Dave Grohl invited his colleague and Nirvana guitarist Pat Smear to join him. Their popular songs include "Everlong," "Best of You," and "My Hero." Expect a high-energy performance, said Fool Fighters' lead guitarist Brandon "Boss" Hogg.
WATCH:
Hogg relates to the Foo Fighters lead guitar licks. "They are all unique. The Foo Fighters have a very unique way of combining notes or chords that shouldn't belong together into a beautiful arrangement," he said.
The lead guitar solos on "Rope" and "Long Road to Ruins" are the hardest because both are very high tempo pieces, Hogg said.
Hogg defines the "Grunge" genre as a mix of atonal punk rock with the more melodic heavy metal of the 1980s and 1990s.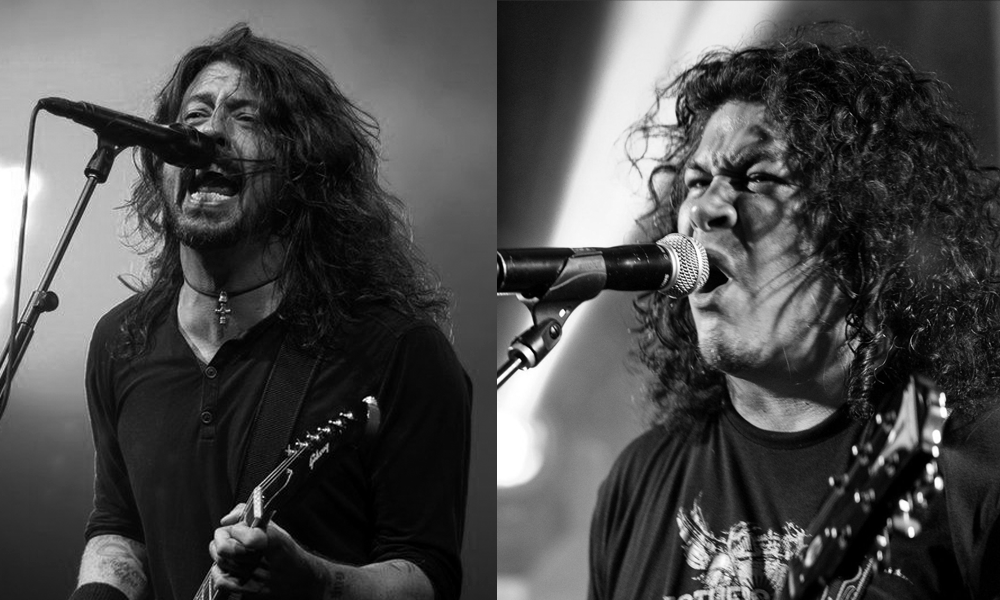 Above: Jacob Guzman, lead singer of the tribute band The Fool Fighters (R), and Dave Grohl, the real Foo Fighters' lead singer. 
"Grunge is the rebellious child of metal, punk rock, and the underground music scene. It was music that expresses how the musicians really felt instead of blasting out subpar pop rock songs about girls and alcohol," he said.
Grunge purists argue that the real Grunge music scene ended at the end of the 1980s when Nirvana in particular created their first successful commercial record, Nevermind, in early 1991. Hogg disagrees, and looks at the entire progression of the sound through the years. Foo Fighters didn't appear on the scene until 3.5 years after Nirvana's founder Kurt Corbain died.
Would Grunge have been different if Corbain had lived?
"I'm not sure where it would have gone. Kurt believed in writing simple songs, and if he hadn't died, I'm not sure he would have kept going with music for too long," Hogg said. "Yet, without Nirvana, there would be no Foo Fighters. Dave [Grohl, founder of Foo Fighters] learned how to write lyrics from Kurt, so without the influence of that grunge giant, they just wouldn't exist."
The Foo Fighters are the next wave of Grunge; post Nirvana or Alice in Chains. Their music was more melodic and more structured, Hogg believes.
The introduction to the Grunge scene happened for Go Ask Alice's guitarist when he saw Ozzy in concert in 1991. "Concerts and the obsession of music was new to me in high school. Alice in Chains opened for Ozzy that night and I loved the sound, the lyrics, the angst," said Brian Small. "The music was so new, raw and different. I became a massive fan at that moment and it grew as the years went."
Joshua Olsen is the lead singer of Go Ask Alice. He and Small have been performing for four years as the Alice in Chains tribute band. Olsen said he was running nightclubs in Dallas when he was approached to try out for Go Ask Alice. He's been the front man ever since.
"You know we try to give these bands justice with our shows, but we also throw in a little piece of ourselves, too," Olsen said. "That's what the boys in Unglued (the DFW-based Stone Temple Pilots tribute band) and Fool Fighters do as well."
Grunge grew out of the Pacific Northwest. Olsen attributes 1960s and 1970s acts like Jimi Hendrix and Heart as the foundation of the sound.
"Seattle is such a dreary, wet place. It's blue collar. I think that's how this sound really started to take hold," Olsen said of the sound that took America by storm by the early 1990s. "We honor the music because it [comes from what] was such an interesting time."
Rock music today has evolved into a much different thing today, Olsen said. "We wanted to just jump back to where we were influenced. It's so much different than music is today."
The Grunge Sound involves high levels of distortion, feedback and fuzz effects on guitars. It fuses metal with punk. In other words, where punk music can at times be atonal, without much melody, Grunge injects the melodic, almost anthem-like themes making the music more memorable.
Tribute bands have become the rage in Dallas and Fort Worth, Fool Fighters' Hogg said. Five years ago, he recalls only two tribute bands in the Metroplex—one for Bon Jovi and another for Journey.
Today, there are about two-dozen really good tribute bands touring from Dallas.
The recent tribute band trend happened for two reasons, Hogg said. "People love hearing the music they grew up with and fans get to see as close to the real bands as they can without the real band coming through town. And they can see them much more often," he said.
The San Angelo Grunge Fest will introduce a new beer for many in the San Angelo region. Glazier's is the distributor for Corona Premier, the title sponsor for this year's Grunge Fest. Corona Premier beer has less carbs and, with 90 calories, is lighter than competing brands.
Texas has become a very successful market for Corona Premier, said Constellation Brands representative Fernando Reyes. Constellation brings Corona and Modelo brand Mexican beers to the U.S. market. In the San Angelo region, sales of Corona Premier have increased 100 percent over last year.
It is described as a very sessional Mexican lager beer. It is brewed to be easy drinking, with the taste that is undeniably Corona.
You'll have your chance to try the new Corona light beer at the show, like these guys did:
WATCH:
The San Angelo Grunge Fest starts at 7 p.m. Saturday, August 17 with the Stone Temple Pilots tribute band named Unglued. Alice in Chains' tribute band Go Ask Alice plays next and opens for the finale starring the Fool Fighters. Tickets in advance are $15 for general admission and $22 for the pit area in front of San Angelo's RiverStage. Day of show tickets are $22 for general admission and $30 for the pit.
The show doesn't end when the Fool Fighters' set is complete. Alaniz, the Austin-based tribute band for Alanis Morrisette performs at the after-party at Shenenigan's starting just after midnight. Admission to the after-party is free with a Grunge Fest bracelet.
Tickets are available online at Stubwire or in person at Blair's Western Wear. Get tickets here.
Get more stories like this by signing up for our daily newsletter, The LIVE! Daily.