Classic Cars Converge on Twin Peaks Benefitting Toys for Tots
SAN ANGELO, TX — About 40 classic car owners gathered in the Twin Peaks Restaurant parking lot Saturday, Nov. 17, for a car show. The event was to attract people to stop by, see interesting classic cars, talk about them, and donate toys for the U.S. Marine Corps' Toys for Tots campaign in time for Christmas 2018.
No official count was given, but talking to a Marine at the restaurant, he said the turnout and the intake of toys was very good. Last week, he said, the Marines held a citywide event. About six boxes of toys were collected and $40,000 was raised.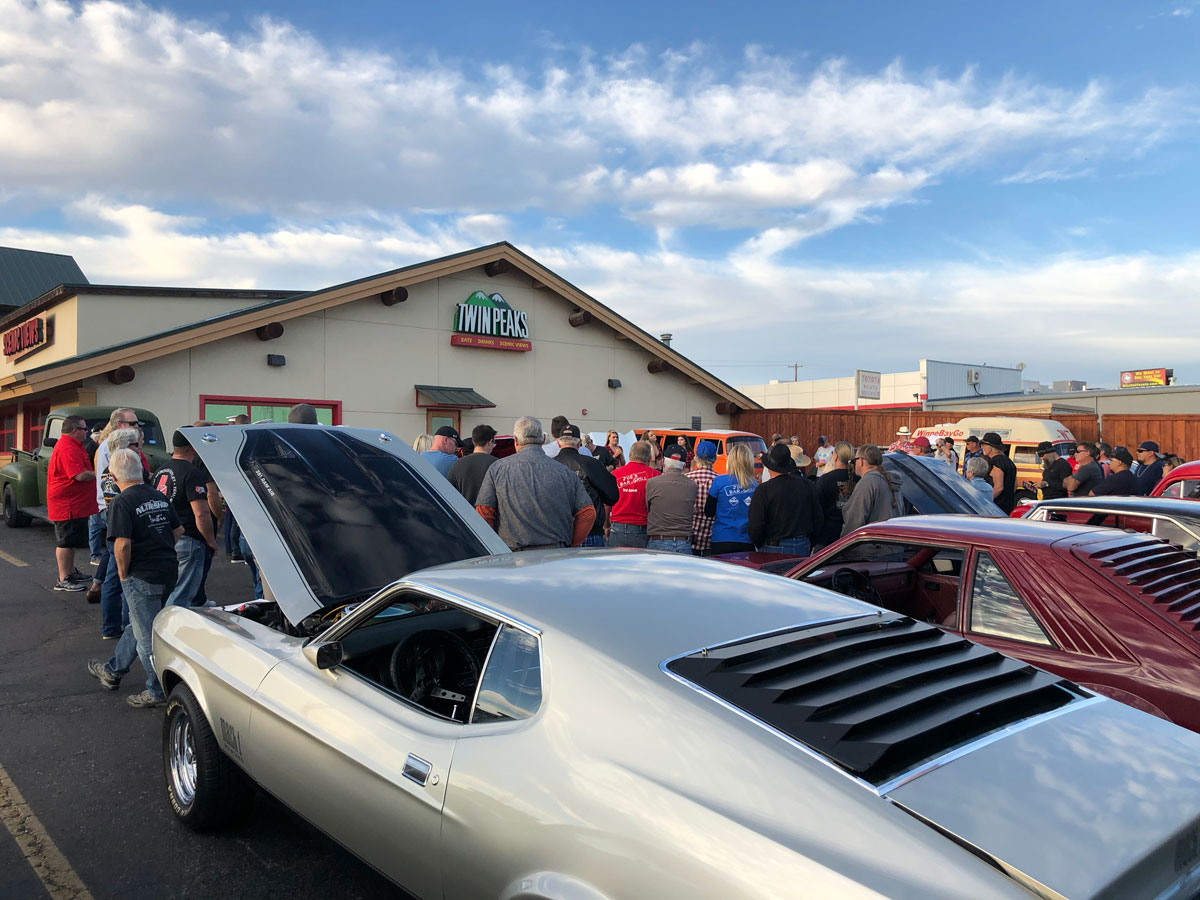 Above: The awards ceremony. (LIVE! Photo/Joe Hyde)
At Twin Peaks Saturday, the smaller event filled two boxes and one donor showed up with six brand new bicycles. The bikes were too large for the standard-issue Toys for Tots boxes. The money donated hadn't been tabulated late Saturday afternoon when I stopped by.
The show started at 1 p.m. and by 5 p.m., plaques and trophies were awarded and the drivers began clearing out.
WATCH: A 1969 Plymouth Roadrunner with its Hemi engine:
Owning and showing a classic car isn't done for the money you'll make, explained Eric Hanson, who maintains an immaculately detailed silver and black 1971 Ford Mustang Mach 1. He said he found the car on Craig's List about a decade ago and paid $1,600 for it.
"I probably overpaid," he said. That's because as soon as he started pulling back the layers of the non-working car, he found the entire front half of the chassis was rusted and flaking apart. He said he found a second Mach 1 and cut the front off the it to replace the rusted front frame of his Craig's List special. It's spliced together with careful welding, Hanson said.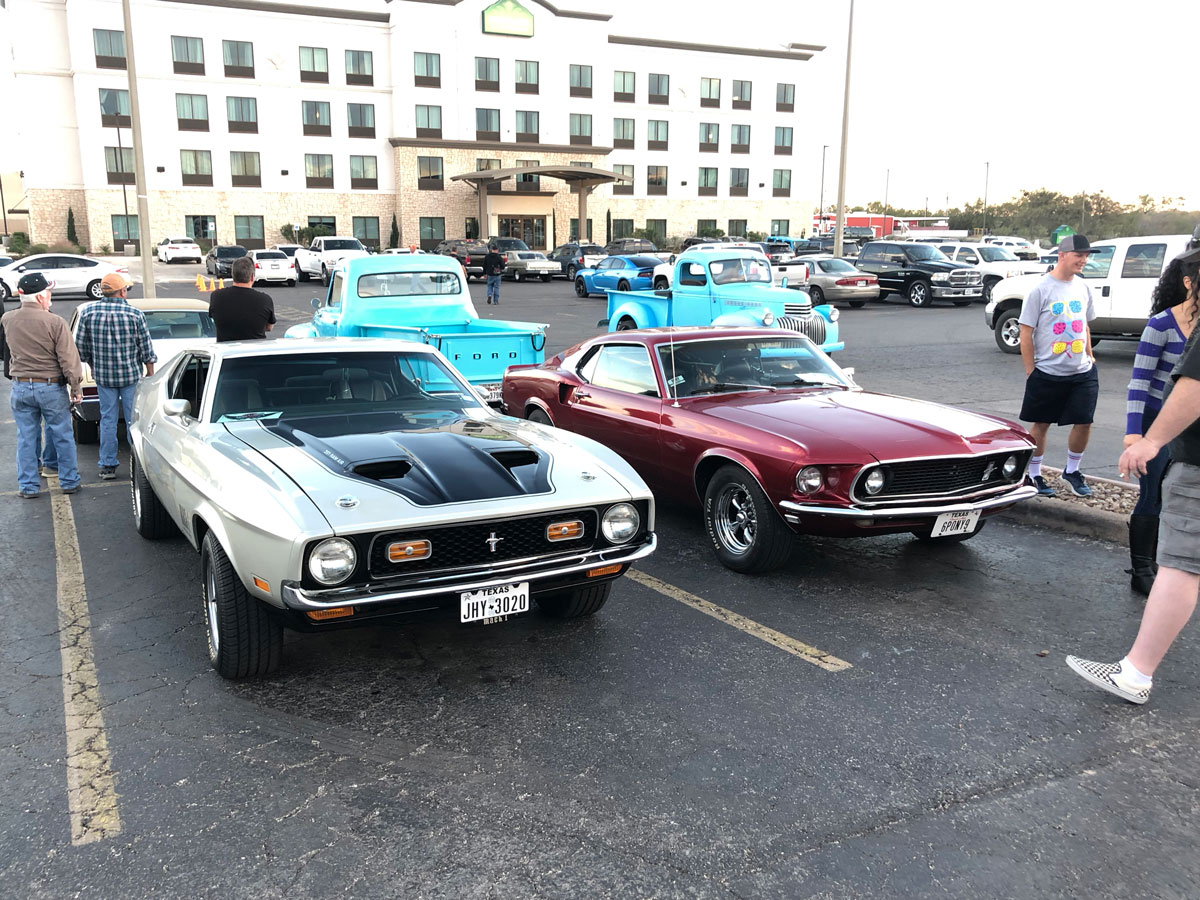 Above: The 1971 Mustang Mach 1 "2nd Generation" next to the 1st generation design of a 1969 Ford Mustang. (LIVE! Photo/Joe Hyde)
Hanson said he used official Ford marketing photos to restore the car as original as possible to the way it was delivered to the showroom floor in 1971. This style of Mach 1 was produced from 1971 until 1973. Hanson said his only major deviation was he replaced the old stock transmission with a newer technology transmission that has overdrive. That's for better gas mileage, Hanson said.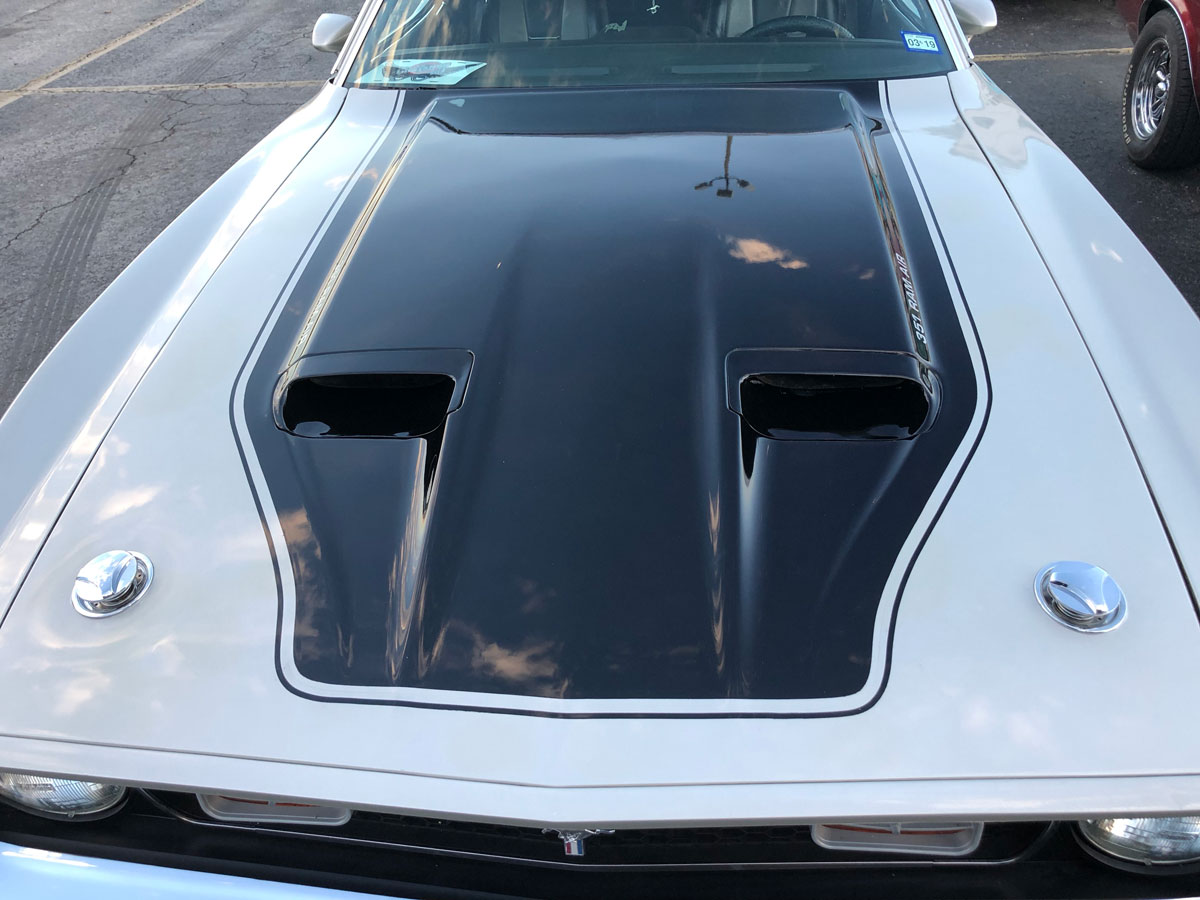 Above: A closeup of Hanson's Ford Mustang Mach 1 project. (LIVE! Photo/Joe Hyde)
The Mach 1 Second Generation model he restored appeared on the market two years prior to the OPEC Oil Embargo of 1973. Until 1973, when the price of oil skyrocketed during the crisis, gas mileage wasn't much of a consideration for muscle car enthusiasts; the power of the 351 Cleveland engine was.
In all, Hanson estimates he has over $45,000 in parts but not labor.
"How do I place a value on my time?" he asked.
Get more stories like this by signing up for our daily newsletter, The LIVE! Daily.