The Business of Being Siggno
SAN ANGELO, TX — Two weeks ago, Jesse Turner posted a video on the Grupo Siggno Facebook page, with its 285,000 fans, of Turner preparing a large room for a wedding.
Ladies from all over were devastated. Was the popular Norteño band Siggno's front man really getting married? Was he off the market?
Hardly.
Turner was in Corpus Christi filming the official music video for he next single. He asked if any of his fans wanted to act in the video days prior. It's all part of the marketing machine Turner runs around Siggno.
In the video to promote the third single from their Oct. 31 release of their next album, called "Monstruo," or in English, "Monster," Turner said the third single, "Que Diablos Pensabas" (or in English, "What the hell were you thinking?") will be portrayed as a wedding where the bride gets cold feet.
"Everyone in the church audience is wearing masks, like the masks in that Tom Cruise and Nicole Kidman movie ["Eyes Wide Shut"]," Turner explained.
Turner is hyper-creative in his videos, and many of them are ballads. He admitted he loves the power rock ballads of the rock bands of the 1980s and 1990s. He mixes the power ballad concept with the traditional Tejano corridos, and all of them are about the tension and joy of the challenges that life brings, often times surrounding male feelings for a member of the opposite sex. The songs are lyrical and infused with symphonic sounds from drums and sometimes power chords on guitars.
Growing up in the Rio Grande Valley, Turner said of that time he wanted to be a dentist or a drummer in a rock band. The desire to be a dentist came from personal needs. "I had crooked teeth," Turner joked. "I didn't realize until later that what I really wanted to be was an orthodontist."
For Turner, music is his first love. He realized his talents early on at church; starting with a Muppet Baby drum set playing with the church children's choir, until the guys at church realized the kid had talent. They bought him a used drum set made of different parts from various other sets.
"It didn't even have a bass drum," Turner recalled. But it had enough tom-toms, a snare and high hats to make music.
Then, when Turner was just 7 years old, his father died. Turner said he didn't really process that, or understand death at all, until he was a teenager. He soon realized why while friends' fathers would be there at soccer practice, for example, his father was never going to show up.
"I turned to music to get over the depression," Turner said.
His church procured for him a guitar and Turner taught himself to write poems first, and then put his words to music. He also continued performing with his church's contemporary music band as the drummer. One day, Turner said, he wanted to play a different instrument. The only instrument left was an old, dusty accordion he found at his church.
"I developed a passion for it," he said.
By age 16, Turner was touring South Texas with accordion master and Conjunto legend Ruben Vela. When Turner joined Vela, then in his late 50s, he was experiencing a rebirth of his popularity since his heyday of the mid-1950s when he was discovered on Spanish-language radio station KGBT-AM in the Rio Grande Valley.
Running with Vela on nights and weekends, and attending high school and then junior college during the week, encouraged Turner to turn to music.
"I was making maybe $50 a week, but I was stage hand, bus driver, booking agent, drummer, and whatever else Ruben needed," Turner said.
The experience planted the seeds for what soon was to become Siggno.
While working with Vela, Turner was asked by a record exec to record a demo tape.
"Do you have a band," Turner recalls the executive asking him.
Turner said he claimed the guys who played at church with him as his band. Eventually, though, Turner ended up recording most of the tracks on the first demo tape—bass, percussion, accordion, voice, and guitar.
"Today is a different era for music," Turner said. "Never before have the stage been bigger and the competition tougher."
Technology allows anyone, regardless of talent, to create a demo recording with a laptop with open source sound mixing software, or if you have an Apple Macintosh, GarageBand software.
At the same time, most of the money an artist makes is with live performances, not song royalties. Although Turner mentioned with pride that when a Mexico City radio station started spinning his latest single, "Solo Amame," his royalty check may include 5 million listeners.
"Mexico City is huge!" Turner said.
WATCH: Solo Amame.
To stay competitive, Turner said you must first love music and touching people with it. And you have to have the "it" factor, Turner explained. The people who influence the music industry have to realize quickly that "he's got it," Turner said. Then doors will open.
Once discovered, don't change when you're rising in popularity, Turner warned.
"Eighty percent of who you are, and how you treat others, will make or break you. Don't develop a sh**ty attitude, and know how to speak well, to communicate," he said.
Turner said getting a solid education is paramount because in the music business, you have to know enough about each component to be able to monitor and control it.
"People will steal from you. I had someone I thought was not just a business partner but also a friend steal $220,000 from me because I didn't want to look over my own business. Siggno is, even after all the fun, music, fans, and concerts, a business," Turner said. Finally, Turner said, "Know how to read and understand contracts."
Since 2000 when the first demo tape gave Turner and Siggno touring credibility, the business has taken off. Turner recalled the number of albums, 12 by my count on iTunes, and the concert attendance numbers. Breaking into the 1000s in attendance was a milestone, but nothing compared to RodeoHouston in 2017. Siggno headlined the show to the largest crowd the rodeo's history, attracting 75,557 in paid attendance. It was Go Tejano Day and Siggno performed with Banda el Recodo.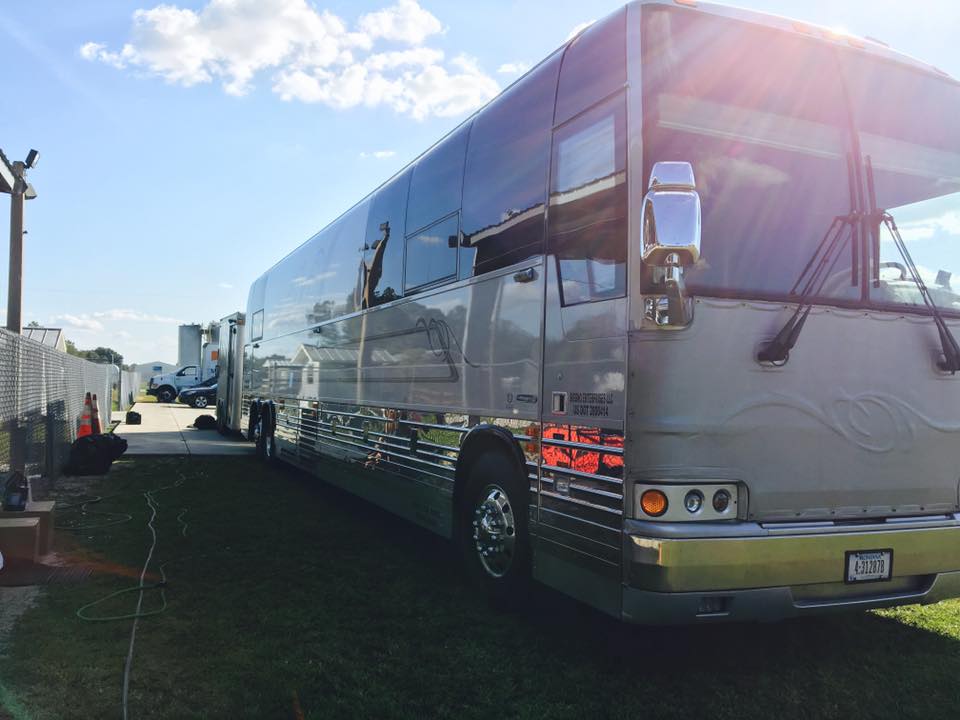 Above: Jesse Turner said that Siggno tours with up to three tour buses today, (Contributed/Grupo Siggno Facebook)
The business of Siggno has given Turner great opportunities, but has also been accompanied with tragedy. In February 2016, Turner's son, then 21-year-old Jacob Turner, who played bass with Siggno, was in a single-vehicle crash in Harlingen. Jacob was rescued from the fiery crash, but suffered a severe head injury with brain damage. He was in a coma for four months.
For months, everything related to Siggno was on hold because the front man had to take care of his son. He was living out of a suitcase, first in hospital rooms, then motels, and apartments.
"There was no music in my life," Turner admitted.
Turner admits the tragedy gave him songwriter's block. He could not successfully write anything because he was hoping and waiting for the day his son, now 23, will come back. By the end of last year, Turner said the doctors showed him scans of Jacob's brain. Nothing had changed. Turner said he didn't lose all hope, but came to the realization that this is the best it's going to get for Jacob.
"I accepted this as God's will. There will be no miracles," Turner said. He had to let go.
Since accepting the tragedy for what it is, and to accept his son's condition, Turner said his ability to write songs has returned.
"I know I can reach Jacob through my energy, and with music tell him that I love him. This is what music is about," he said.
"Music is all about hardships, falling down and getting back up, and the lessons of life."
Siggno performs at the Bill Aylor Memorial RiverStage in San Angelo on Sept. 29. Grupo Vida will open. The show, named ¡Viva! San Angelo, celebrates Hispanic Heritage Month, and presented by Downtown San Angelo, Inc. The show is open to all ages and children under the height of four feet tall get in free. Advance tickets are $16 for general admission and $31.25 for VIP table seats purchased in bundles of eight seats.
Turner said the show will be high energy. "We feed off the crowd," he said. Part of Siggno's concert rider requires the front of the stage to be open to anyone. "We will have you dancing," Turner promised. 
The band members are:
Jesse Turner – vocals, accordion
Ricardo Rosales – vocals, bajo sexto
Ruben Robles Jr – electric bass
Joey Jimenez - drums
Jorge Torres - congas, percussion
Sergio(Checo)Tabares – MC
Get advance tickets at VivaSanAngelo.com, Blair's Western Wear, La Azteca Meat Market next to Icon Cinemas on N. Bryant, or at any City of San Angelo ticket outlet.
Get more stories like this by signing up for our daily newsletter, The LIVE! Daily.