In Concert, Los Lonely Boys Finally Make it Home
SAN ANGELO, TX — An older gentleman was gathered with a few friends at the backdoor entrance to the RiverStage. "Can I help you?" he asked as I was rushing in to find a subject to interview. No, I said. I'm looking for one of those Los Lonely Boys to interview.
The old man replied, "You know who I am? I am Enrique Garza, the father of the Los Lonely Boys. Without me, there'd be no Lonely Boys. You should interview me!"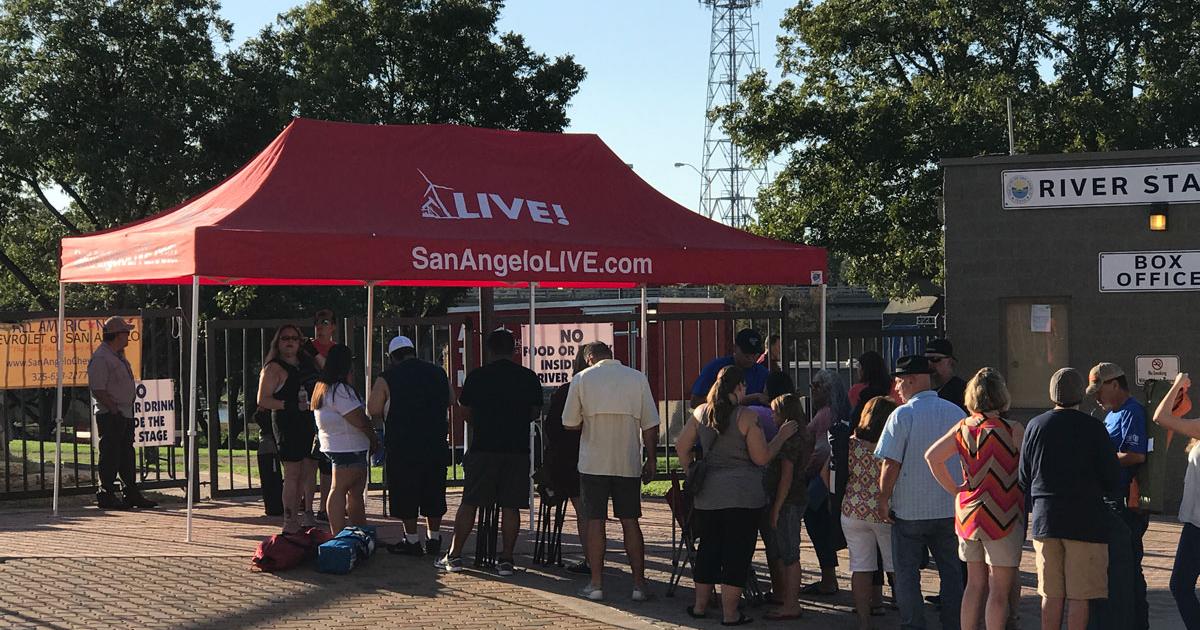 Above: A line forms at around 5 p.m. for Sunday's Los Lonely Boys concert on Oct. 8, 2017. (LIVE! Photo/Joe Hyde)
Wearing an "I Love NY" T-shirt, the old man beamed with pride. His sons had finally found acceptance in their hometown city of San Angelo. They were about to perform for 1500 local fans, some of whom had never seen the 'Boys play before.
Enrique said the 'Boys came of age in San Angelo's rough and tumble live music scene of the 1990s and early aughts, playing in backyard parties and Quinceañeras. They even performed at the infamous Eva's Place in north San Angelo, a dive bar since closed because of a Superbowl Sunday shooting in 2015, decades after the 'Boys last performed there.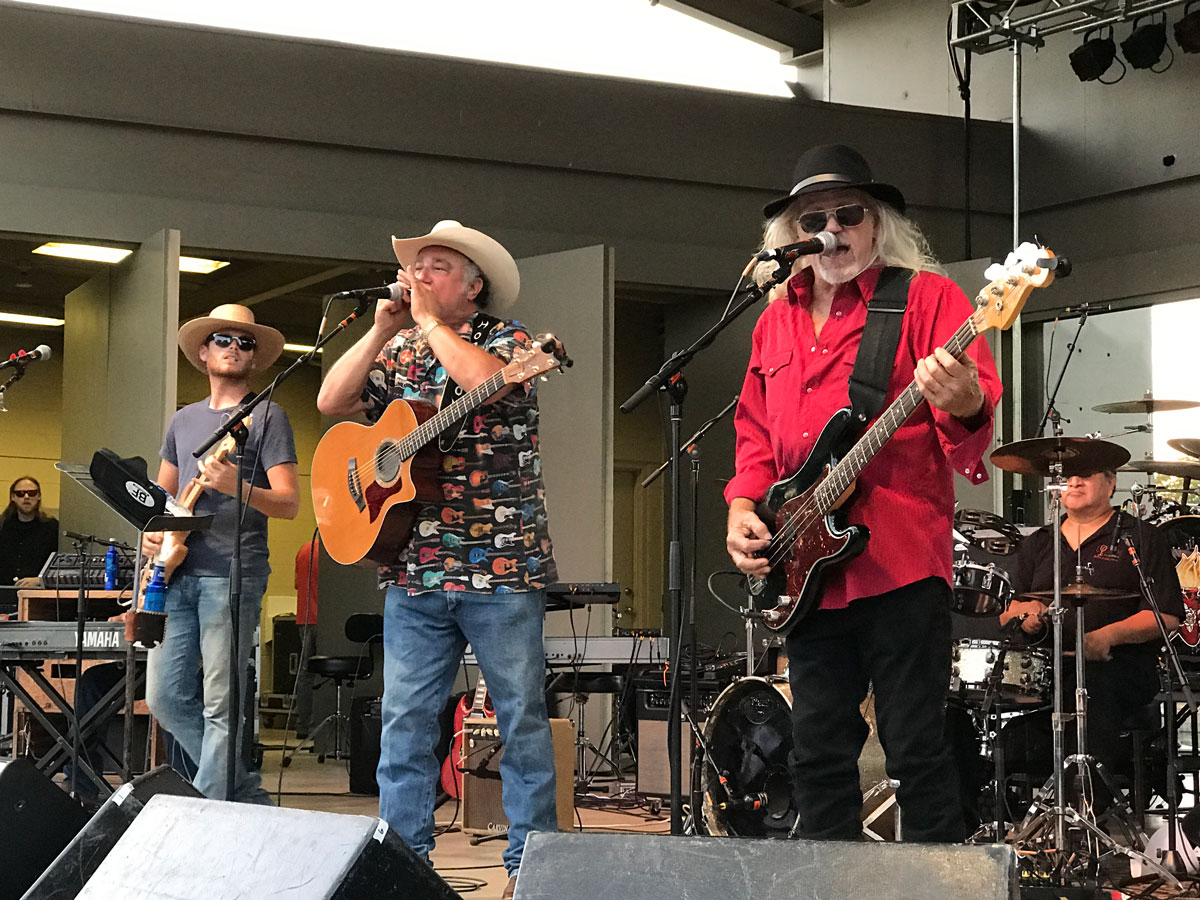 Above: T. Gozney Thornton and the Young Guns and Outlaws opened for Los Lonely Boys. (LIVE! Photo/Joe Hyde)
The 'Boys then made their mark at the former Steel Penny on College Hills in San Angelo in the early 2000s. Their song "Heaven" took them to national fame by 2004, but at the Penny they honed their sound in front of a discerning fan base of local rock music critics.  The 'Boys didn't seem to forget their beginnings there, either. In 2008, at a Del Castillo performance at the Penny, the 'Boys crashed the party. It felt like a homecoming for them. Henry proved he was a serious lead guitarist by holding more than his own with Rick and Mark del Castillo, fabulously great classically trained guitarists.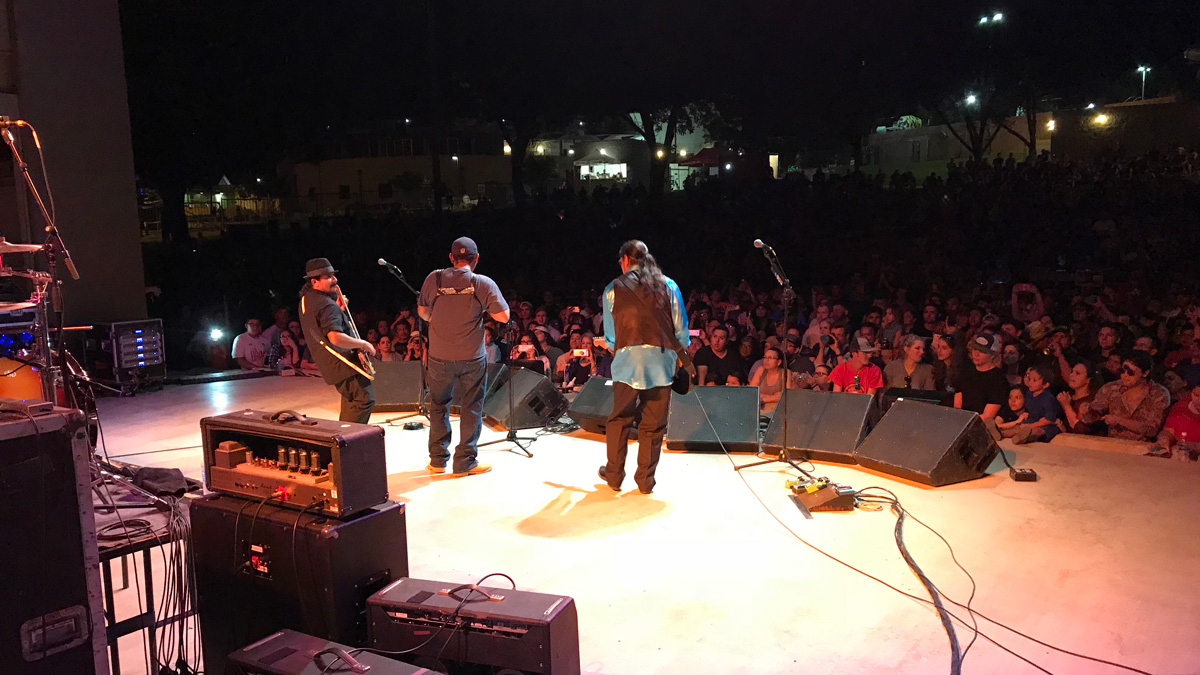 Above: A family affair: A cousin joins the 'Boys on stage with an accordion. (LIVE! Photo/Joe Hyde)
If Henry's talents were underestimated, anyone who watched him that night was convinced he was more than the "real deal."
It always seems as though the 'Boys had something to prove throughout the years. Can that much talent be sown up in three poor boys from small, rural San Angelo and not a big city? Most musicians cut their teeth in Austin and travel to San Angelo on a circuit to make more money. Not the 'Boys. They started here but were discovered in Austin.
Locally, the 'Boys endure typical problems when national celebrity enhances local visibility. "I saw one of them at the grocery store and he was rude," and similar comments are heard whenever the Los Lonely Boys were brought up in conversation. It is as if a higher standard exists for celebrities that can never be matched.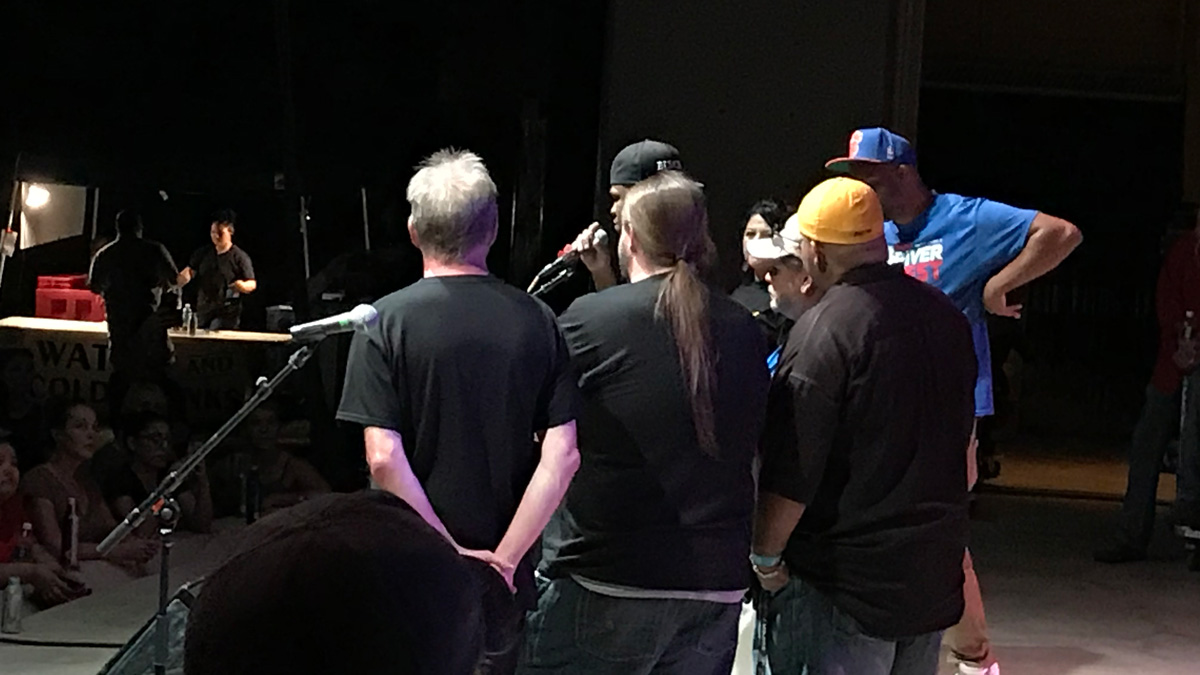 Above: Rapper Chamillionaire (at mic) thanks San Angelo for raising over $10,000 for Hurricane Harvey relief for his foundation, Robin's Heart, at the concert. (LIVE! Photo/Joe Hyde)
Sunday night's Lonely Boys concert was a celebration of what the 'Boys mean to San Angelo and what San Angelo means to the 'Boys. The 'Boys agreed to perform for free, and poured every ounce in their hearts and souls into the show. By the middle of the opening song, Henry was already playing his guitar on the back of his neck.
The 'Boys celebrated family at the end of their set. Enrique, the 'Boy's father, led the band through a set starting with "Folsom Prison Blues" and ending with a song Enrique claimed he wrote on a flight between Dallas and Fort Worth. "That took, what, all of three minutes?" son Jojo, the bassist, quipped.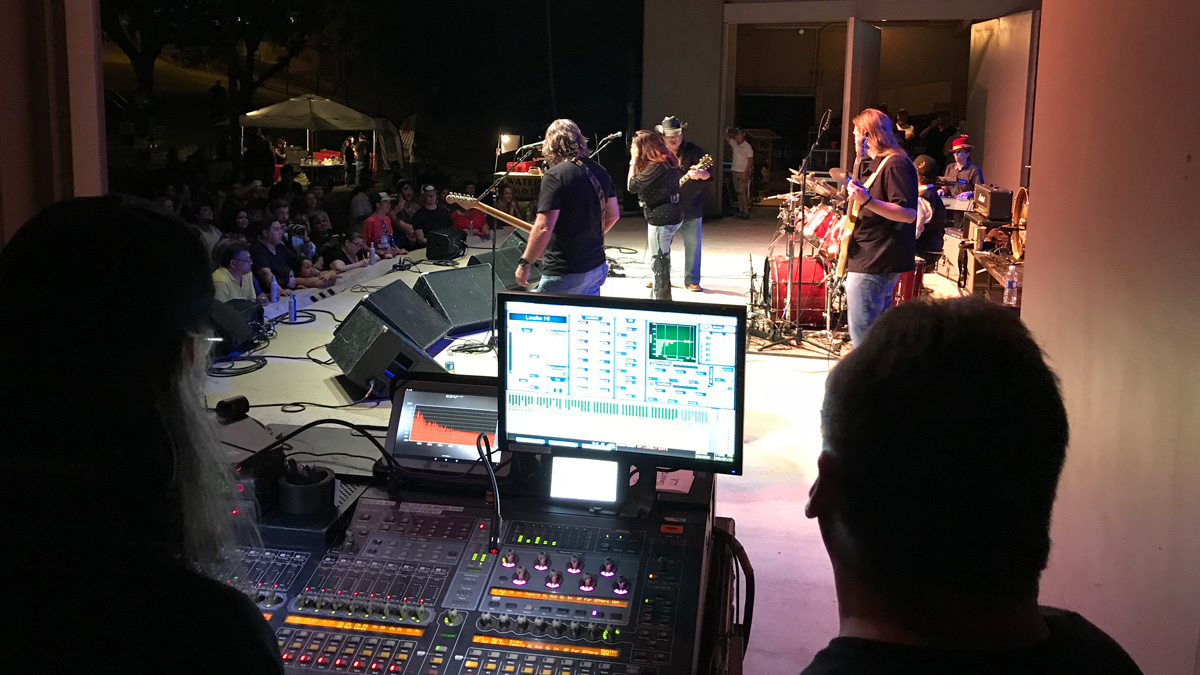 Above: Boogie Town, a band comprised of local seasoned musicians, opens for Los Lonely Boys. (LIVE! Photo/Joe Hyde)
Drummer Ringo's son and Henry's son joined the band for the finale, "Heaven." In the wings of the main stage were dozens of family. The crowd ate it up. Perhaps the concert showed that the Los Lonely Boys have finally made it at home.
Enrique Garza bragged about his 25 kids and grandchildren. "One thing is for certain," a proud Enrique said. "I don't have to worry about how I'm going to pay for all those tortillas to feed our family."
WATCH: Post-concert interview with Los Lonely Boys:
The show was opened by local bands Tequila Brothers, T. Gozney Thronton and Young Guns and Outlaws, and Boogietown.
Get more stories like this by
signing up for our daily newsletter, The LIVE! Daily
.