Keeping up with 'Squirrel' on Cheyenne's Rally
SAN ANGELO, TX — This month marks what would have been Cheyenne Fiveash's 26th birthday. Her life was cut short, however, by a brain tumor. She died at the age of 13 in 2004. Her father, Roy Fiveash, has turned his personal tragedy of losing a beloved daughter into something positive. Today was the 11th Annual Cheyenne's Rally, a motorcycle fun ride around the Concho Valley organized to raise money for the Children's Miracle Network.
"She was so caring for others," Roy Fiveash said. Her father said it took a few years to get over the grief of her death. After that, Roy and his wife Donna organized the motorcycle rally to raise money for the Children's Miracle Network.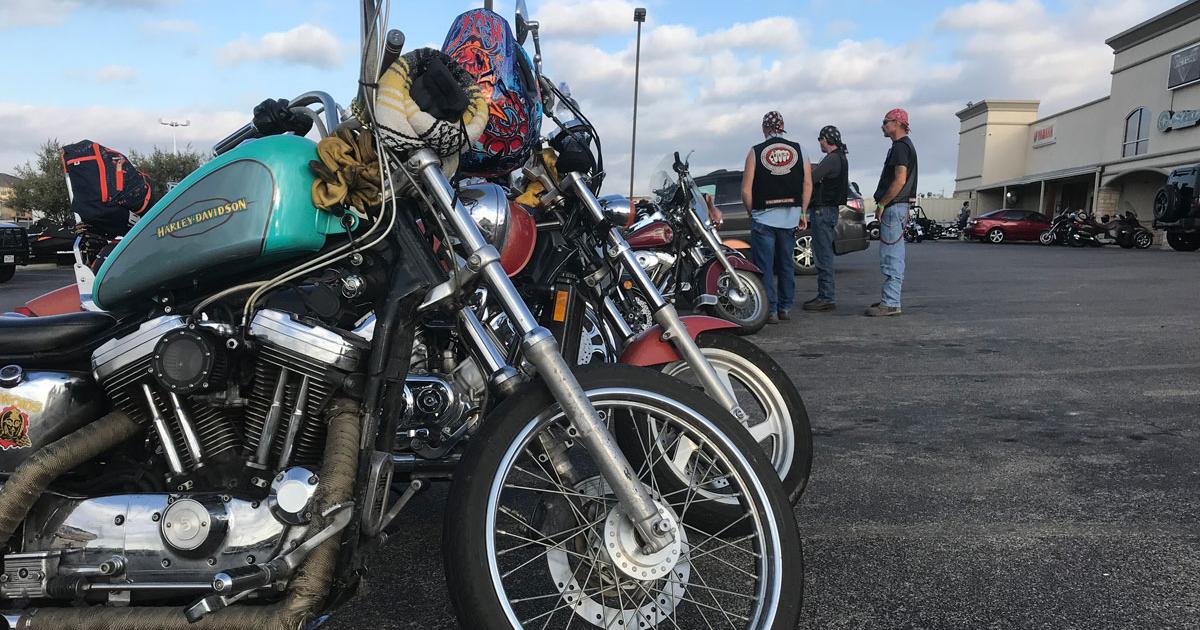 Above: The bikes line up at Family Power Sports in San Angelo for Cheyenne's Rally on Sept. 23, 2017. (LIVE! Photo/Joe Hyde)
"When she was sick, we took Cheyenne all over the country finding treatment," Roy said of his family's efforts to find a cure for his daughter. She was diagnosed with a brain tumor of a rare kind of cancer at age 11 and given just months to live. She survived two years after the initial diagnosis, passing away at the age of 13.
Roy said even though he had good health insurance, the final tally of his out-of-pocket bills was north of $400,000. "Shannon hospital forgave their part, but I still had a bunch of bills to pay," he said. Roy said he took on a federal job in Del Rio for a while and that helped him finally retire the debts he owed from Cheyenne's treatment.
Because of the help he received from the charity, Roy and family give all proceeds of the annual fundraising tradition to the CMN. It is a motorcycle rally held near the anniversary of Cheyenne's birthday called Cheyenne's Rally.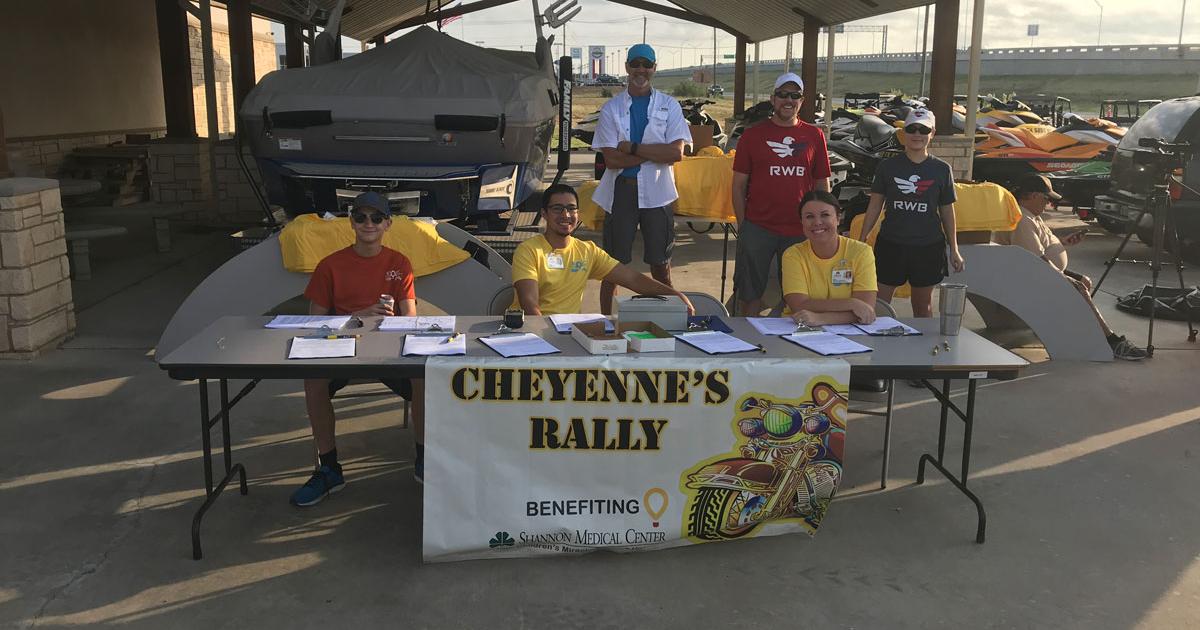 Above: Volunteers for the Children's Miracle Network organize Cheyenne's Rally. Many of the volunteers are employees at Shannon Medical Center. (LIVE! Photo/Joe Hyde)
At Family Power Sports Saturday morning, about 80 bikers trickled in starting at 8 a.m. When the rally began at 9, the bikers departed in small groups towards a Tres Amigos Convenience Store in Water Valley. I rode along.
Most of the bikers were on big Harley Davidson motorcycles. Many were in groups. In the old days, you'd call them motorcycle gangs, but that moniker carries a criminal connotation. Instead, we call them "motorcycle clubs." These are mostly regular middle class folks who enjoy riding motorcycles, especially in groups, and they especially enjoy riding big Harleys.
On the way to Water Valley of FM 2288, the road winded towards U.S. 87. I paced behind a group of Harleys in front of me, hoping my trusty old 2006 Yamaha V-Star with 1100cc's could keep up. It did. But I was low on gas based upon the odometer. I don't have a fuel quantity indicator. I worried about going full throttle and draining what gas I had left.
In Water Valley we picked up our first "bean," which is a real bean that will be turned in for a card. By the final destination, you will have collected four beans to turn in for the opportunity to draw six playing cards. The best poker hand wins one of three cash prizes. I also filled my bike up with gas.
Gassed up with bean in pocket departing Water Valley, I met up with a motorcycle club made up of Goodfellow Air Force Base firefighters. These guys were instructors at the school there. The leader, call sign "Squirrel," paced the five-ship down FM 2034 that winds east and north to Robert Lee where we were to fetch the next bean at the Allsup's Convenience Store there. I moved into the #6 position in the back, enlarging Squirrel's odd 5-ship into a full-fledged, even 6-ship formation.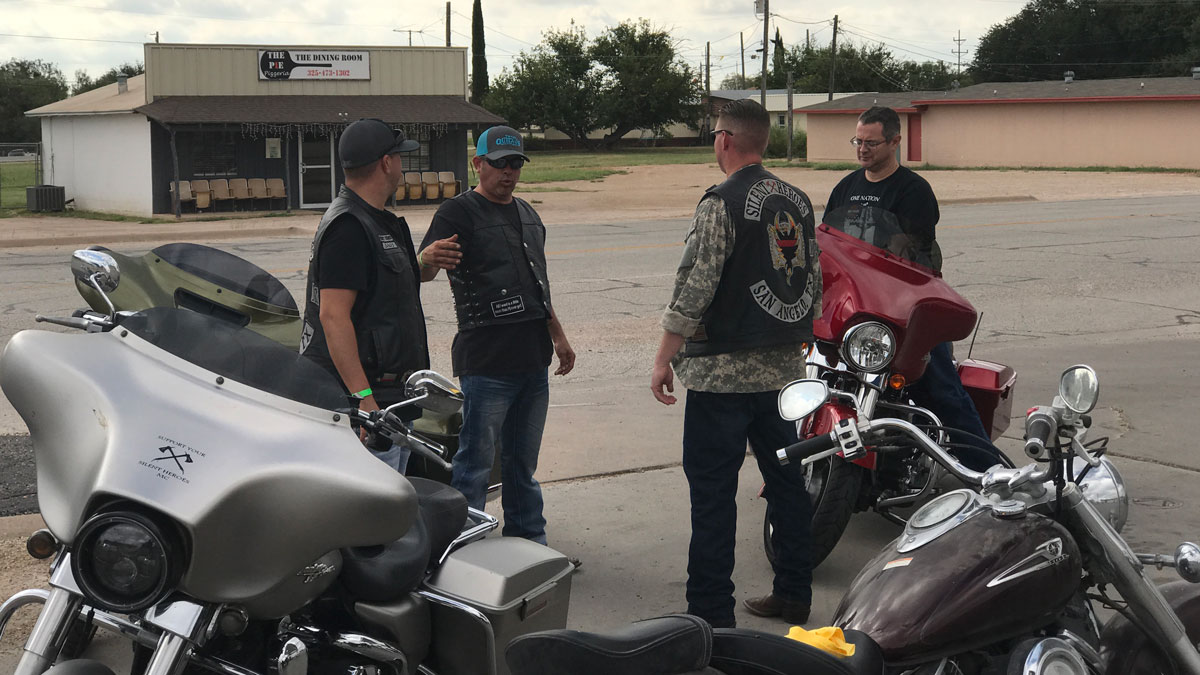 Above: The Silent Heroes at the Allsup's Convenience Store in Robert Lee. Squirrel is second from right. (LIVE! Photo/Joe Hyde)
When riding in formation, you have to accept the speed the lead is going, and Squirrel took it to the speed limit, 70-75 mph most of the way. The scenery along this route was magnificent, but most of my time was spent pacing the Silent Heroes, the name of Squirrel's motorcycle club.
From Robert Lee, we headed south and east to Miles to pick up the last bean at the Stripes there on U.S. 67. Somewhere on FM 2333, a snake slithered across the roadway and at least three of us rumbled over it at 70 mph. I didn't get a long look at it, but it appeared to be a three-foot-long rattlesnake.
After a short stop at the Stripes in Miles, we took FM 1692 south of there to CR 380 back to San Angelo via Veribest.
Our final destination was the VFW #1815 Hall on Browning St. We were in the middle of the pack of riders, so by the time we got there, the VFW had barbecue plates and we traded our beans for cards. I drew a pair of 5s, not high enough to win.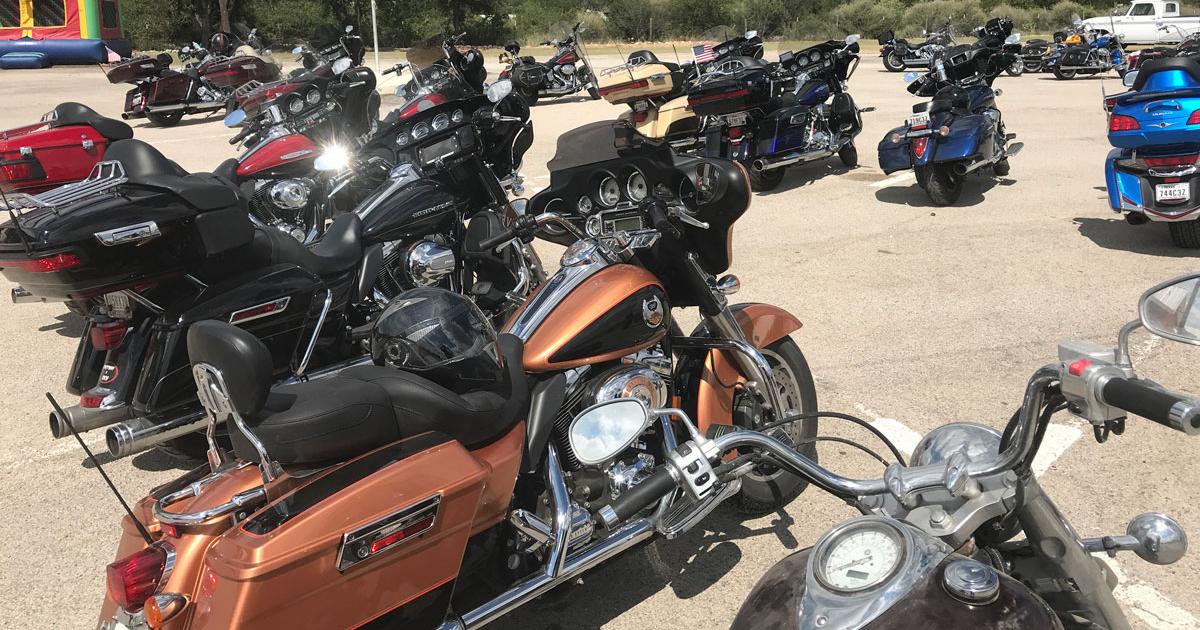 Above: A crowd of bikers gathers at the VFW Hall at the end of Cheyenne's Rally on Sept. 23, 2017. (LIVE! Photo/Joe Hyde)
Squirrel said his club, Silent Heroes, is a branch of a larger motorcycle club with chapters around the country. They get together because they enjoy riding. But they also serve a larger purpose in holding charity events and fundraising for various causes. He said they have also assisted families of fallen firefighters during funeral services.
While following Squirrel for over 80 miles, I noticed his license plate indicated he was a Purple Heart recipient. Squirrel, who looks to be in his 30s, said he earned it in Afghanistan during Operation Enduring Freedom. A mortar exploded above him and he suffered a head injury. The injury damaged Squirrel's inner ear, where one's sense of balance comes from. He said riding helps him conquer his recent handicap.
Squirrel's story showed me that the memory of Cheyenne continues to touch people, more than a decade after her passing. The event raises about $10,000 annually for the Children's Miracle Network.
Get more stories like this by
signing up for our daily newsletter, The LIVE! Daily
.