Artist Vic Payne Wins Competition to Sculpt Lady in Blue
SAN ANGELO, TX — Vic Payne of Cody, Wyoming is the unanimous choice to create San Angelo's newest public art sculpture. Payne is one of six artists who submitted entries to sculpt "The Lady in Blue."  San Angelo's Public Arts Commission received approval from the city council a year ago to proceed with the project which includes two sculptures; one of the Lady in Blue and one of a Jumano brave surrounded by appropriate landscaping. The one and one quarter life size sculptures will be placed along the Concho River behind the former Western Mattress building near Oaks street.
The San Angelo Museum of Fine Arts director Howard Taylor introduced Payne at the museum Thursday afternoon.  Payne, who was born in San Angelo, said the project is a spiritual one as much as a work of art: "I have an emotional connection to the subject; it moved my heart."  Payne explained that the story of the Lady in Blue touched his seven adult children so much that all of them became interested in the larger than life sculpture project.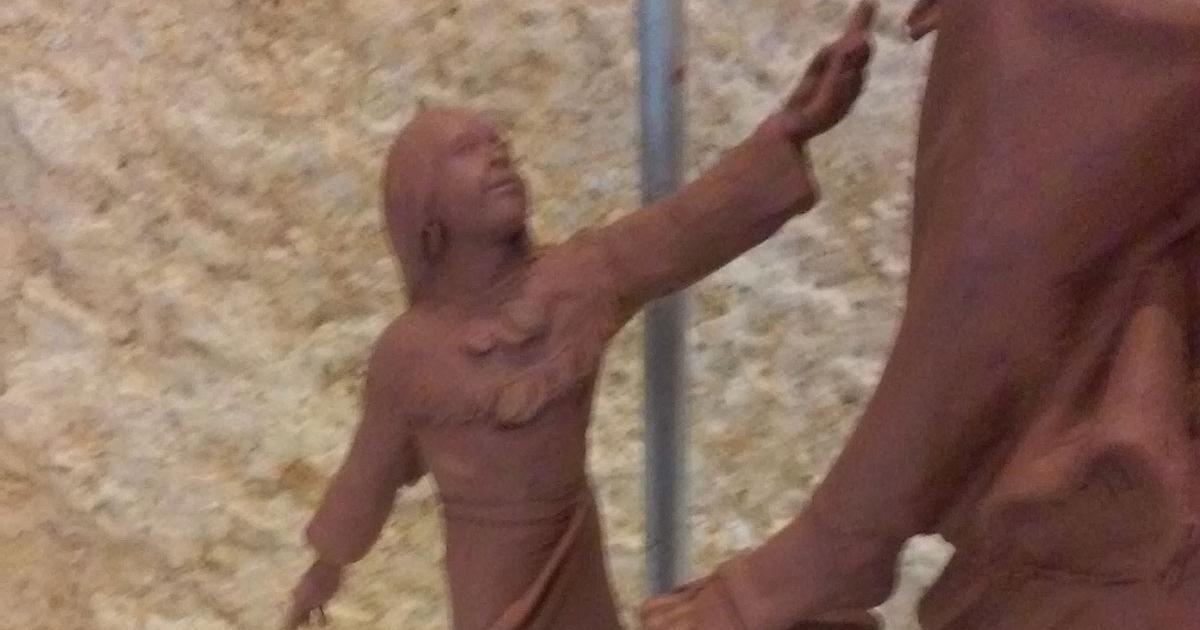 Above: A close-up of the child in the mock-up of the Lady in Blue statue. (LIVE! Photo/Yantis Green)
Project coordinator Tilly Chandler was joined Thursday by Taylor, Downtown San Angelo, Inc. President Brenda Gunter, city employees and members of the Jumano Indian tribe to unveil a mock-up of the sculpture.  Payne will create the massive bronze sculptures in his studio at his home in Wyoming.  The bronze sculptures are expected to be completed by May of 2018. 
Payne is primarily a western artist and sculptor.  According to his website, "Vic's mission is to lead the viewer through an emotional journey telling a story with his art."  Payne's sculptures can be found in Cabela's stores in Pennsylvania, West Virginia, Texas, Illinois, and Louisiana.  His art is collected worldwide.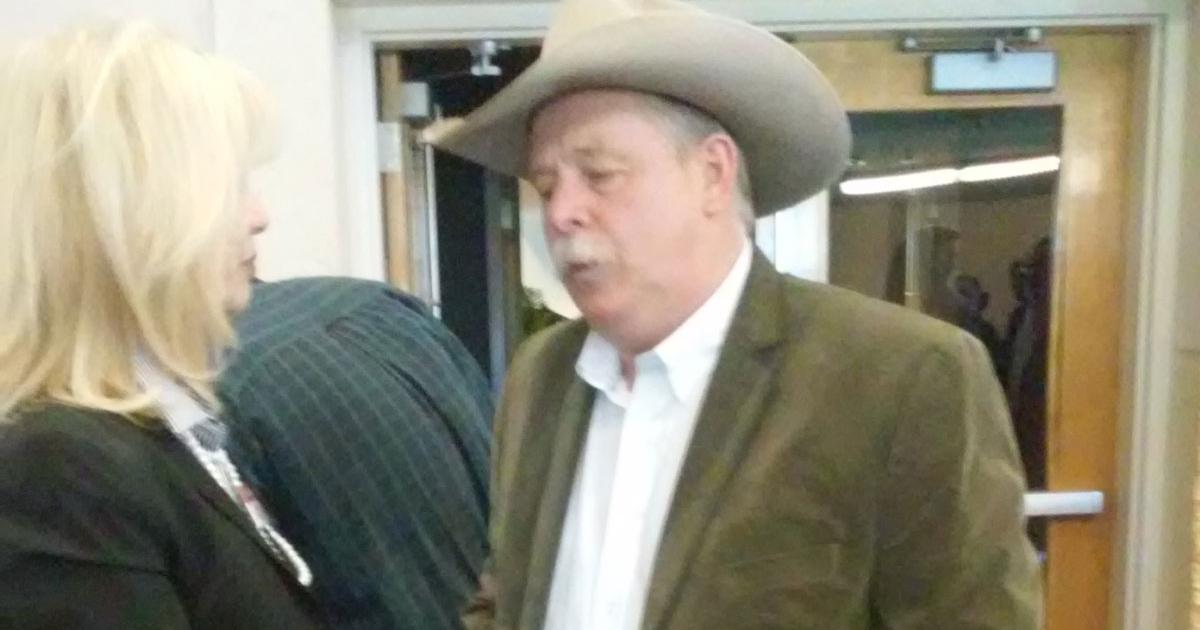 Above: Vic Payne visits with Downtown San Angelo, Inc. President Brenda Gunter. (LIVE! Photo/Yantis Green)
Who is the Lady in Blue, and why is this statue effort significant to San Angelo? Bishop Emeritus Michael Pfeifer, OMI, who headed Roman Catholic Diocese of San Angelo until recently, states in a short article on The Lady in Blue:
"The unusual way in which the gospel message arrived in this part of West Texas fascinated and puzzled even the first Franciscan missionaries who came to the new world to bring Christianity.
"The Franciscans were often approached by groups of native peoples, mainly the Jumanos, who asked not only for baptism but additional religious instruction, claiming that a woman had come to them and preached to each of them in their own language.
"This lady was dressed in blue and was known then to the Jumanos as she has now been known for years: The Lady in Blue," wrote the bishop here.
Get more stories like this by
signing up for our daily newsletter, The LIVE! Daily
.