SAN ANGELO, TX — The San Angelo Independent School District met Monday night to hear name recommendations for the renaming of Robert E. Lee Middle School. The meeting, called a workshop, is traditionally scheduled two weeks before an official board meeting to decide the agenda and hash out issues before formally voting on them. No action is usually taken at these workshops.
As previously reported, on Oct. 20, the San Angelo ISD School Board decided that Robert E. Lee would no longer be the name of the middle school located at 2500 Sherwood Way. The name of the last general to lead the Army of Northern Virginia for the Confederate States Army had become a symbol of white supremacy, board members argued, and had to be changed.
At the meeting tonight, Nov. 9, citizens offered a number ideas for a new name for the school.
The first name offered for later consideration was for Major Troy Lee Gilbert, an F-16 fighter pilot who was killed over Iraq in 2006. Gilbert was a U.S. Air Force dependent whose father was stationed at Goodfellow Air Force Base. Gilbert went to San Angelo ISD schools until the end of his senior year when his father was re-stationed, called a Permanent Change of Station, or PCS, to Germany.
He returned to San Angelo and graduated from Angelo State University. He then went to Texas Tech and after graduation was commissioned as an officer in the U.S. Air Force.
While in the air force, Gilbert sacrificed his life to save more than 20 Americans while fighting insurgents in Iraq in 2006. Gilbert was killed just outside of Taji, Iraq, on Nov. 27, 2006, when his plane crashed while he was strafing insurgents with his 20-mm Gatling gun.
Gilbert was listed as Missing in Action (MIA) for 10 years before his remains were recovered. Major Gilbert is the only person in American history that has been buried in Arlington National Cemetery three separate times.
The second name, proposed by the San Angelo NAACP Chapter, through their spokeswoman Mary Francis Owens. Owens was born and raised in Lamesa. She graduated at the age of 16 and then went on to graduate from Texas AM in 59.
Following graduation she moved to San Angelo to reunite with her former Superintendent G.B. Watson who was the superintedent of SAISD at the time. Throughout her 65 years in educating students she reached many achievements such as teacher of the year, head of the teachers association, school board member trustee candidate and much more. 
One of her main achievements was being a key role in integrating school in the 50s.
These two are not the only names that could be chosen. SAISD Superintendent Dr. Carl Dethloff released a list with over 100 names on it. Here it is: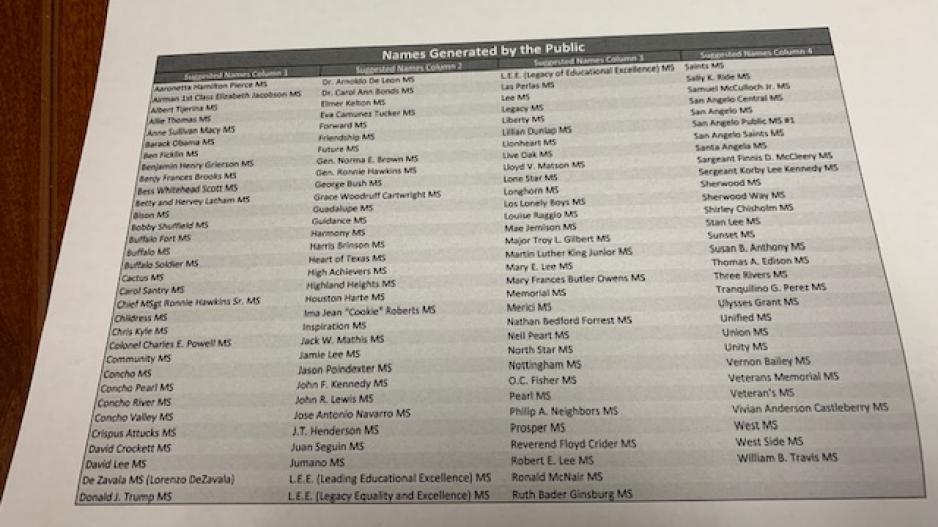 The board will meet one more time to take input on the name recommendations before deciding on the new name in early December.
Most Recent Original Videos