Snakes are Awesome! Don't Kill Them!
SAN ANGELO, TX — The springtime is a wonderful time of year where flowers bloom, trees sprout their leaves, and little critters come out from their deep slumbers. Not all the critters emerging from their hidey-holes are the cute and cuddly kind; snakes are coming out and in Texas, there are some that you got to be careful of.
Selina McSherry, the Recreation Coordinator at the San Angelo Nature Center, wanted to pass along knowledge about the different kind of snakes that we see in the Concho Valley and give San Angeloans advice when they come across the different snakes we might see.
The western diamondback rattlesnakes are the common venomous snakes in the area. The snakes give a distinct rattling noise to ward off unwanted visitors from its area. When it comes to these venomous guys invading our areas, people are warned to seek help from professionals for removal because rattlesnakes can be aggressive when disturbed. The diamondbacks that we see around here have black and white bands around the base of their tails right before the rattle. Babies are more dangerous because the young do not know how to control venom dosage and will give all their venom in one bite if given the chance.
The copperhead snake is another venomous snake to watch out for while having fun in the warmer months.  Copperheads are usually colorful and have striking patterns. They are usually a bright copper tan/pink color with light and dark brown shades. These snakes will give a warning bite referred to as a "dry bite," where no venom is given but don't give them the chance to bite again.
The cottonmouth or water moccasin is another venomous snake to keep an eye out for, though the sightings of these are rare around here they can still be found in the water or on the banks around water. The water dwellers are very venomous and have the potential to deliver a painful, fatal bite.  Cottonmouths are usually very dark in color and get darker as they grow older. They almost look black or a chalky gray.
A key to knowing the difference between a cottonmouth and a nonvenomous water snake is: when you only see the head of the snake in the water it is nonvenomous but if the whole body is moving on top of the water it is a venomous snake.

Most bites come when people are trying to kill snakes.
Though these snakes are venomous, it is strongly urged that we do not kill them. The saying "The only good snake is a dead snake" is not the message we should be sending. These creatures can be dangerous but they are being used to make huge waves in the medical field. The proteins that are extracted from their venom has been used in cancer research and has been making promising headway on the effects of cancer growth in breast cancer patients, especially the copperhead venom according to Selina McSherry.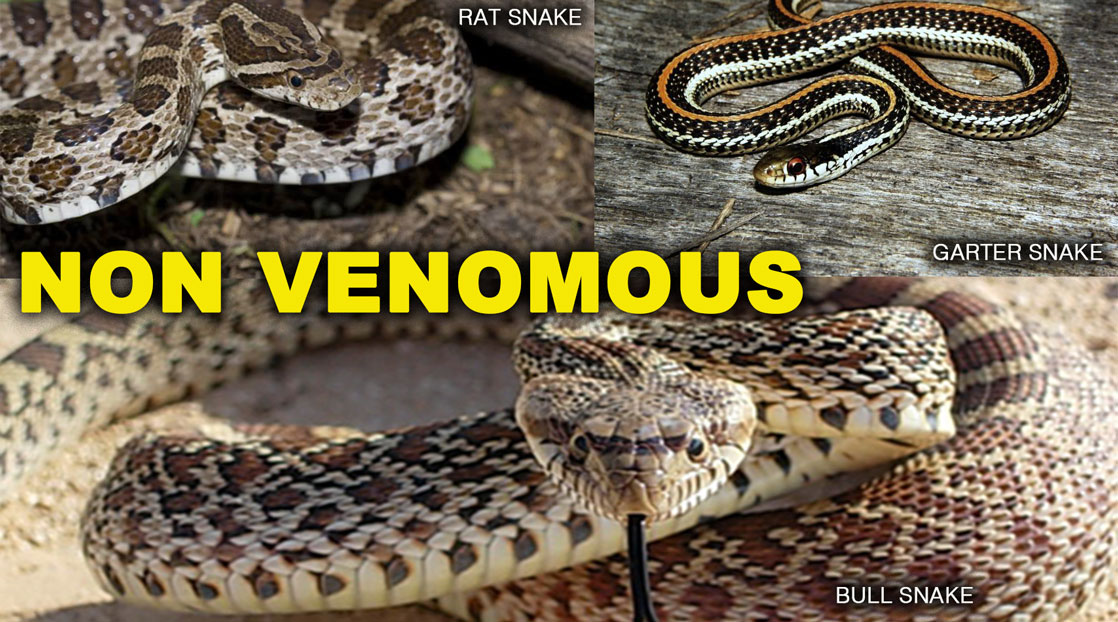 Not all snake are venomous and some nonvenomous snakes actually are helping keep the venomous snakes at bay like the King Snake. These snakes are scary looking to say the least. They can grow to be very large and they are black in color with yellow patterns across their backs. These snakes are not venomous and they are actually immune to most local venomous snakes which means these guys are eating the venomous snakes.
The Texas Indigo is on the endangered species list and cannot be kept as a pet and this is another nonvenomous snake that can eat the rattlesnakes. These snakes are strikingly beautiful because they are a dark blackish color but when the sun hits they appear to be bluish/indigo.
Then there are the snakes that we are familiar with, like the garter snakes which are usually a small snake that appears to be checkered. These snakes are nonvenomous and help keep the bugs and rodents from houses. Along with bull snakes and rat snakes these are also nonvenomous snakes that we find living in this area.  These two snakes have evolved to sometimes look more like a rattlesnake to ward off predators. Both snakes will mimic the sound of rattlesnakes by rapidly banging their tails on the ground but the Bull Snake goes further. These snakes will even flatten their heads to look like a rattlesnake. They are found in the high grasses and other grassy areas.
"We really don't want any snakes dead," added McSherry. It is urged that people contact Animal Control or the Texas Parks & Wildlife experts to extract snakes that are in a home. It is important to not keep animals you find as pets. If you find animals that need help, the nature center helps rehabilitate and then they release them on the nature trails.
Myths and Facts about snakes:
MYTH: Rattlesnakes are not losing their rattles, however, some in different areas have stopped rattling because wild hogs eat them.

MYTH: Bull Snakes are immune to rattlesnakes. The Bull Snakes can grow large enough to eat them but if they are bit they can die.

TRUE: Snakes CAN go up toilets in homes. If people have rodents or other critters snakes will make themselves at home and that includes the drainage. So be cautious.

TRUE: All snakes deserve to live, but people should be cautious and contact a professional when faced with a snake problem.
The San Angelo Nature Center is a treasure in this community. This natural history museum has a large and diverse collection of live animal exhibits that is fun for the whole family. It is located at 7409 Knickerbocker Road, out by the lake. The hours to come visit are Tue-Sat from 12:00 p.m. to 5:00 p.m. A small admission fee is all it takes to see the animals of the Concho Valley up close and personally.  
Get more stories like this by
signing up for our daily newsletter, The LIVE! Daily
.