ASU Theatre Department Proves There's More to Theatre Than Acting
SAN ANGELO, TEXAS – Between Tuesday of last week and this past Saturday, the Theatre Department at Angelo State University was busy hosting the Kennedy Center American College Theatre Festival (KCACTF) for the third year in a row.
The KCACTF, which was founded in 1969 by Roger L. Stevens, the Kennedy Center's founding chairman, is "a national theater program involving 18,000 students from colleges and universities nationwide," reads the KCACTF homepage. Furthermore, "through state, regional, and national festivals, KCACTF participants celebrate the creative process, see one another's work, and share experiences and insights within the community of theatre artists."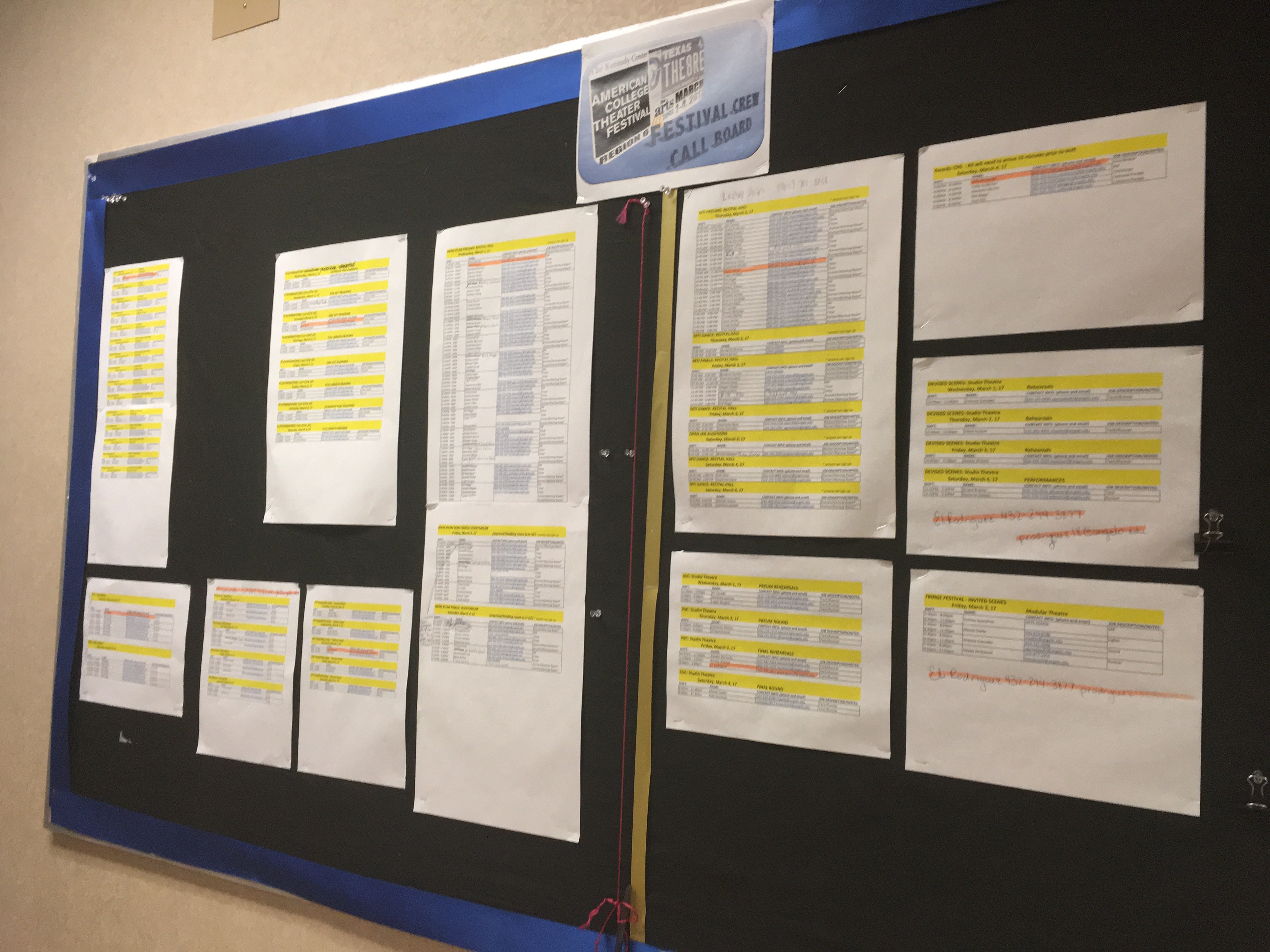 Last week's conference was 2017s regional festival. ASU belongs to Region 6, as do other schools within Texas, New Mexico, Oklahoma, Arkansas, and Louisiana.
Assistant Professor and Assistant Director of University Theatre Michael Burnett said, "We have 750 attendees from all of these schools. Big schools and little schools are all represented here."  He added, "What's really cool about KCACTF is that it is a level playing field for everybody."
Burnett also explained that smaller schools may only send one or two students, while bigger universities, such as Texas Tech University, Oklahoma University, and Texas State, send about 40-50 students to the conference; yet all have the same learning opportunities.
When thinking of theatre, most people maintain focus on the acting, and perhaps a few design aspects such as scenery; however, KCACTF proves that there is much more to theater than "just acting." At KCACTF, Burnett explained, students can participate in acting, as well as design, scenery, costume, lighting, sound, prop making, master electrician, and state management competitions.
For example, Burnett noted, "We have an acting competition called "Irene Ryan," named after the actress Irene Ryan, who most notably portrayed "granny" in the Beverly Hillbillies, where students prepare two scenes and one monologue." 
Furthermore, ASU invited around 12 dramaturgy students to spend their whole day learning about how to research for productions of plays.
KCACTF also provides learning experiences for the numerous attendees with its abundant amount of workshops. In the University Center Building of ASU, about 40 students crammed into a small conference room. Sitting in the back was Liz Larson, a stage manager in her theatre department.
She explained, "This is a review of state management. The stage managers give a presentation about their show and talk about challenges and what they think they did well, and what they can improve on. Then some professionals give their response to their work."
Brielle Brown, an actor from TLU in Seguine, Texas, also enjoyed the workshops provided over the five-day conference. 
"I took a workshop in Activism through the Arts, and it was really inspiring," she said. "I left there just wanting to change the world."
ASU not only has the opportunity to host the conference, but ASU students have the opportunity to help run the conference and intersperse throughout all areas to handle transportation, logistics, auditions, registration, money and anything else that is needed. In addition, ASU's students have a chance to interact and network with the invited VIPs on a personal level.
Burnett mentioned he is very grateful to the ASU administration, for "the school administration really supports us. We couldn't do [KCACTF] if the administration was not behind us."
The regional KCACTF plans to be back bigger and better next year at ASU.
For more information, please KCACTF's homepage. To find out more about ASU's theater department, please visit here.
Get more stories like this by
signing up for our daily newsletter, The LIVE! Daily
.