SAN ANGELO— A 26-year-old San Angelo man who allegedly has an attraction to a nine-year-old girl has been arrested after the child told another adult about being sexually abused.
According to court documents, on March 7, 2023, an investigator with the San Angelo Police Department was contacted by a patrol officer who advised a nine-year-old child victim had made an outcry that Brandon Jayce Sessom 26,  had touched her inappropriately.
The officer said an unidentified adult had confronted Sessom with this information and Sessom allegedly stated he "made out" with the girl in June or July of 2021 while his newborn daughter was in the hospital. The officer also advised the investigator that Sessom had left his residence with a firearm and allegedly stated he was going to kill himself after he was confronted.
The same day, investigators spoke with the outcry witness who said the day before, March 6, 2023, she was sleeping with her two-year-old daughter because she was having issues falling asleep and Sessom was sleeping with the victim in Sessom's bed.
This witness then said around midnight, the child victim allegedly came into the room she was sleeping in and told her she could no longer "take it" and the victim said Sessom had touched her private area. When the witness confronted Sessom, he allegedly admitted to "making out" with the child in June or July 2021. Also, Sessom allegedly told the witness that the child enjoyed what he was doing and that he was attracted to the child.
The alleged assault took place at a location inside the city of San Angelo.
A forensic interview was conducted on March 7, 2023, with the child victim where it was said that Sessom touched the child's private area with his hand in September 2021. The child stated she was scared and did not know what to do so she never told anyone. The child also stated that several days ago while she was asleep in the same bed as Sessom he touched her again and then again on the night of March 6, 2023.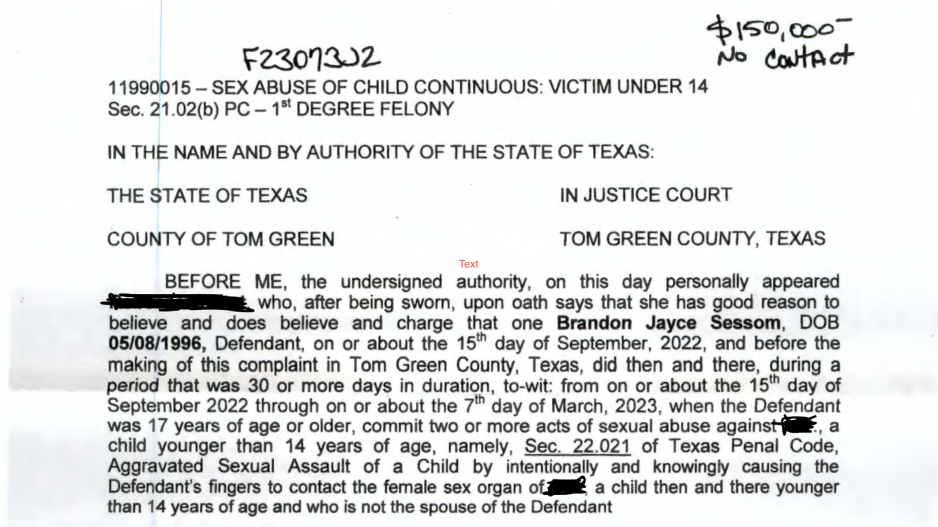 Sessom was arrested and charged with Continuous Sexual Abuse of a Child under the age of 14 on March 7, 2023. He was booked into the Tom Green County Detention Facility the same day and has a $150,000 bond.
Most Recent Videos