SAN ANGELO, TX – 20 suspects were booked into the Tom Green County Detention Facility over the past 24 hours.
San Angelo LIVE! makes no assumptions or representations about guilt or innocence of anyone on the booking report. Individuals charged with crimes are presumed innocent until proven guilty. Information on the site should not be used to determine any person's actual criminal record.
The San Angelo Police Department, the Tom Green County Sheriff's Office, and the Texas Department of Public Safety made 20 arrests including the following:
Carlos Encinas was arrested for GOB assault to a family member by impeding breath and GOB continuous violence against the family on Oct. 27 at 7:05 p.m.
Cheyenne Ponce was arrested for GOB theft of a property and GOB evading arrest on Oct. 27 at 6:57 p.m.
There are currently 497 inmates in the TGCDF as of Friday morning.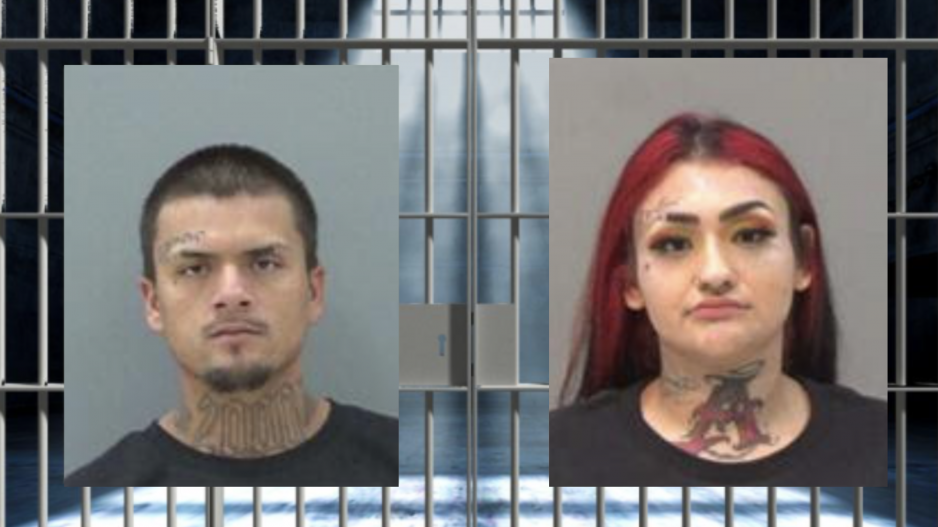 The following were booked into the Tom Green County Detention Facility over the past 24 hours:
WISEMAN, NATHANIEL 
Booking #:
442172
Booking Date:
10-28-2022 - 1:27 am
Charges:
38999999 ASSAULT BY CONTACT-FAMILY VIOLENCE
Bond:
$512.00
---
REHART, STEVEN 
Booking #:
442171
Booking Date:
10-28-2022 - 12:47 am
Charges:
22990001 BURGLARY OF BUILDING (FS)
Bond:
No Bond
---
ADAIR, DAVID 
Booking #:
442170
Booking Date:
10-27-2022 - 11:10 pm
Charges:
23990193 THEFT PROP >=$750<$2,500
35990133 POSS DANGEROUS DRUG
35990247 POSS CS PG 1/1-B <1G
55999999 POSS/DEL DRUG PARAPHERNALIA
Bond:
$2162.00
---
Zuniga, Joe 
Booking #:
442169
Booking Date:
10-27-2022 - 10:33 pm
Charges:
54990031 RACING ON HIGHWAY
Bond:
$500.00
---
MOORE, CODY 
Booking #:
442167
Booking Date:
10-27-2022 - 8:33 pm
Charges:
29990042 CRIMINAL MISCHIEF >=$100<$750
Bond:
$750.00
---
CORDOVA, ARTURO 
Booking #:
442166
Release Date:
10-28-2022 - 1:43 am
Booking Date:
10-27-2022 - 8:25 pm
Charges:
54040009 DRIVING WHILE INTOXICATED
Bond:
$1000.00
---
RENTERIA, THOMAS 
Booking #:
442165
Booking Date:
10-27-2022 - 7:42 pm
Charges:
11990004 *COMM*AGG SEXUAL ASSAULT CHILD
Bond:
No Bond
---
ENCINAS, CARLOS 
Booking #:
442164
Booking Date:
10-27-2022 - 7:05 pm
Charges:
13990076 * GOB* ASSAULT FAM/HOUSE MEM IMPEDE BREATH/CIRCULAT
13990078 *GOB* CONTINUOUS VIOLENCE AGAINST THE FAMILY
Bond:
No Bond
---
Ponce, Cheyenne 
Booking #:
442163
Booking Date:
10-27-2022 - 6:57 pm
Charges:
23990191 *GOB*THEFT PROP >= $100<$750
48010017 *GOB*EVADING ARREST DETENTION
Bond:
No Bond
---
RAY, CHRISTOPHER 
Booking #:
442162
Booking Date:
10-27-2022 - 5:37 pm
Charges:
54990067 DRIVING W/LIC INV W/PREV CONV/SUSP/W/O FIN RES
Bond:
$500.00
---
JOINER, STACY 
Booking #:
442161
Booking Date:
10-27-2022 - 4:39 pm
Charges:
23990191 *J/N*THEFT PROP >= $100<$750
52030027 *J/N*UNL CARRYING WEAPON
57070020 *RPR*CRIMINAL TRESPASS
Bond:
No Bond
---
SANTILLAN, CHRISTOPHER 
Booking #:
442160
Booking Date:
10-27-2022 - 4:10 pm
Charges:
16020009 TERRORISTIC THREAT CAUSE FEAR OF IMMINENT SBI
Bond:
No Bond
---
ALEXANDER, KENNY 
Booking #:
442159
Booking Date:
10-27-2022 - 2:52 pm
Charges:
54040011 *COMM*DRIVING WHILE INTOXICATED 3RD OR MORE
Bond:
No Bond
---
MAPPS, LACORBETT 
Booking #:
442158
Release Date:
10-27-2022 - 5:28 pm
Booking Date:
10-27-2022 - 2:35 pm
Charges:
35620008 *GOB* POSS MARIJ <2OZ
Bond:
No Bond
---
NUNEZ, OSCAR 
Booking #:
442157
Booking Date:
10-27-2022 - 2:34 pm
Charges:
54999999 DRIVING WHILE LICENSE INVALID2
54999999 NO PROOF OF FINANICAL RESPONSIBILITY - SUBSEQUENT
MISC CPF X2
MISC VPTA X2
Bond:
$3502.00
---
CANNON, JESSIE 
Booking #:
442156
Booking Date:
10-27-2022 - 2:16 pm
Charges:
54990067 *VOP*DRIVING W/LIC INV W/PREV CONV/SUSP/W/O FIN RES
Bond:
No Bond
---
AMOS, KENNETH 
Booking #:
442155
Release Date:
10-27-2022 - 2:58 pm
Booking Date:
10-27-2022 - 1:30 pm
Charges:
35620008 *RPR*POSS MARIJ <2OZ
Bond:
No Bond
---
PORRAS, EDWARDO 
Booking #:
442154
Release Date:
10-27-2022 - 3:13 pm
Booking Date:
10-27-2022 - 10:41 am
Charges:
FTA FAILURE TO APPEAR
Bond:
$500.00
---
HERRERA, JESUS 
Booking #:
442153
Release Date:
10-27-2022 - 3:28 pm
Booking Date:
10-27-2022 - 10:13 am
Charges:
54990067 DRIVING W/LIC INV W/PREV CONV/SUSP/W/O FIN RES
57070020 CRIMINAL TRESPASS
Bond:
$1000.00
---
STRINGFIELD, DERRECK 
Booking #:
442152
Booking Date:
10-27-2022 - 10:12 am
Charges:
22990004 BURGLARY OF VEHICLE
35990247 *MTR* POSS CS PG 1/1-B <1G
Bond:
$3000.00
The following were booked into the TGCDF over the past 24 hours:
CORDOVA, ARTURO 
Booking #:
442166
Release Date:
10-28-2022 - 1:43 am
Booking Date:
10-27-2022 - 8:25 pm
Charges:
54040009 DRIVING WHILE INTOXICATED
Bond:
$1000.00
---
mendez, donna 
Booking #:
441951
Release Date:
10-28-2022 - 1:13 am
Booking Date:
10-12-2022 - 10:29 pm
Charges:
MISC COMM X8
Bond:
No Bond
---
MARTINEZ, XHAVIER 
Booking #:
442144
Release Date:
10-27-2022 - 6:13 pm
Booking Date:
10-26-2022 - 5:30 pm
Charges:
35620008 *COMM*POSS MARIJ <2OZ
Bond:
No Bond
---
TREMBLAY, BRADLEY 
Booking #:
442141
Release Date:
10-27-2022 - 5:43 pm
Booking Date:
10-26-2022 - 3:37 pm
Charges:
13990078 CONTINUOUS VIOLENCE AGAINST THE FAMILY
Bond:
No Bond
---
MAPPS, LACORBETT 
Booking #:
442158
Release Date:
10-27-2022 - 5:28 pm
Booking Date:
10-27-2022 - 2:35 pm
Charges:
35620008 *GOB* POSS MARIJ <2OZ
Bond:
No Bond
---
TANGUMA, MANUEL 
Booking #:
441672
Release Date:
10-27-2022 - 5:28 pm
Booking Date:
09-24-2022 - 6:54 pm
Charges:
57070020 CRIMINAL TRESPASS
Bond:
$500.00
---
HERRERA, JESUS 
Booking #:
442153
Release Date:
10-27-2022 - 3:28 pm
Booking Date:
10-27-2022 - 10:13 am
Charges:
54990067 DRIVING W/LIC INV W/PREV CONV/SUSP/W/O FIN RES
57070020 CRIMINAL TRESPASS
Bond:
$1000.00
---
PORRAS, EDWARDO 
Booking #:
442154
Release Date:
10-27-2022 - 3:13 pm
Booking Date:
10-27-2022 - 10:41 am
Charges:
FTA FAILURE TO APPEAR
Bond:
$500.00
---
AMOS, KENNETH 
Booking #:
442155
Release Date:
10-27-2022 - 2:58 pm
Booking Date:
10-27-2022 - 1:30 pm
Charges:
35620008 *RPR*POSS MARIJ <2OZ
Bond:
No Bond
---
MARTINEZ, DOUGLAS 
Booking #:
442130
Release Date:
10-27-2022 - 11:28 am
Booking Date:
10-25-2022 - 12:37 pm
Charges:
13990031 ASSAULT CAUSES BODILY INJURY FAMILY VIOLENCE
Bond:
$5000.00
---
HOAK, WILLIAM 
Booking #:
442140
Release Date:
10-27-2022 - 11:13 am
Booking Date:
10-26-2022 - 1:39 pm
Charges:
37040009 POSS OF CHILD PORNOGRAPHY
Bond:
No Bond
---
REYES, JOSE 
Booking #:
442150
Release Date:
10-27-2022 - 9:13 am
Booking Date:
10-26-2022 - 11:40 pm
Charges:
55999999 POSS/DEL DRUG PARAPHERNALIA
73999999 LAKE-GLASS CONTAINERS AT LAKE
MISC FTA X 2
Bond:
$1988.00
---
FREEMAN, JASON 
Booking #:
441524
Release Date:
10-27-2022 - 9:13 am
Booking Date:
09-15-2022 - 6:11 pm
Charges:
57070020 *RPR* CRIMINAL TRESPASS
Bond:
No Bond
---
HERNANDEZ, MATEO 
Booking #:
442151
Release Date:
10-27-2022 - 8:28 am
Booking Date:
10-27-2022 - 2:08 am
Charges:
54990067 DRIVING W/LIC INV W/PREV CONV/SUSP/W/O FIN RES
Bond:
$500.00
---
GARZA, CHRISTOPHER 
Booking #:
442149
Release Date:
10-27-2022 - 8:28 am
Booking Date:
10-26-2022 - 10:53 pm
Charges:
41999999 PUBLIC INTOXICATION
Bond:
$462.00
The following is a key for the above abbreviations:
MISC- Miscellaneous
VOP- Violation of Parole
GOB- Going off Bond
VPTA- Violation Promise to Appear
GJI- Grand Jury Indictment
COMM- Commuted Sentence
RPR- Release of Personal Recognizance
CPF- Capias Pro Fine
J/N- Judgment NISI
ICE- Immigration Custom Enforcement
TDCJ- Texas Department of Criminal Justice
DWLI- Driving While License Invalid
POSS MARIJ- Possession of Marijuana
DWI- Driving While Intoxicated
MAN DEL CS PG – Manufacture and Delivery of a Controlled Substance Penalty Group
MO- Magistrate's Order
Most Recent Videos