SAN ANGELO, TX – More than a dozen suspects were booked into the Tom Green County Detention Facility over the past 24 hours.
San Angelo LIVE! makes no assumptions or representations about guilt or innocence of anyone on the booking report. Individuals charged with crimes are presumed innocent until proven guilty. Information on the site should not be used to determine any person's actual criminal record.
The San Angelo Police Department, the Tom Green County Sheriff's Office, and the Texas Department of Public Safety made 14 arrests including the following:
Rodolfo Mendoza was arrested for GJI unlawful possession of a firearm by a felon and GJI deadly conduct by discharging a firearm on Oct. 24 at 4:15 p.m.
Sadarian Sephus was arrested for GOB possession of marijuana and GOB unlawful carrying of a weapon on Oct. 24 at 5:11 p.m.
Jesse Rios was arrested for GOB possession of marijuana and RPR possession of marijuana on Oct. 24 at 5:08 p.m. 
There are currently 500 inmates in the TGCDF as of Tuesday morning.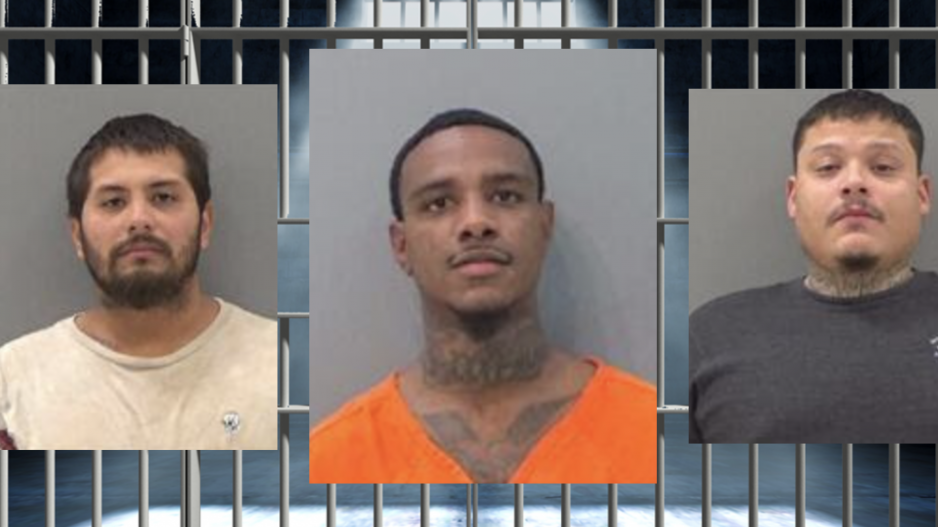 The following were booked into the Tom Green County Detention Facility over the past 24 hours:
SPELLER, DYLLAN 
Booking #:
442129
Booking Date:
10-25-2022 - 4:28 am
Charges:
54040012 DRIVING WHILE INTOXICATED/OPEN ALCH CONTAINER
Bond:
$1000.00
---
MILLER, BENJAMIN 
Booking #:
442128
Booking Date:
10-25-2022 - 2:57 am
Charges:
13150005 *MTR*AGG ASSAULT W/DEADLY WEAPON
Bond:
No Bond
---
COLE, MELISSA 
Booking #:
442127
Booking Date:
10-25-2022 - 12:49 am
Charges:
57070020 CRIMINAL TRESPASS
Bond:
$500.00
---
FLOTT, EDWIN 
Booking #:
442126
Booking Date:
10-25-2022 - 12:42 am
Charges:
41999999 PUBLIC INTOXICATION
57070020 CRIMINAL TRESPASS
Bond:
$962.00
---
VALDEZ, LEAH 
Booking #:
442125
Booking Date:
10-24-2022 - 7:10 pm
Charges:
35620008 POSS MARIJ <2OZ
35990247 POSS CS PG 1/1-B <1G
55999999 POSS/DEL DRUG PARAPHERNALIA
Bond:
$1662.00
---
MENDEZ, CHRISTOPHER 
Booking #:
442124
Booking Date:
10-24-2022 - 6:46 pm
Charges:
35990015 *MTR*POSS CS PG 1 >=1G<4G
Bond:
No Bond
---
BRYAN, OTIS 
Booking #:
442123
Release Date:
10-25-2022 - 1:58 am
Booking Date:
10-24-2022 - 6:15 pm
Charges:
MISC CPF X2
Bond:
No Bond
---
FIERROS, VICTOR 
Booking #:
442122
Booking Date:
10-24-2022 - 5:31 pm
Charges:
36010005 *COMM*INDECENCY W/CHILD SEXUAL CONTACT
Bond:
No Bond
---
SEPHUS, SADARIAN 
Booking #:
442119
Release Date:
10-24-2022 - 8:28 pm
Booking Date:
10-24-2022 - 5:11 pm
Charges:
35620008 *GOB* POSS MARIJ <2OZ
52030027 *GOB* UNL CARRYING WEAPON
Bond:
No Bond
---
RIOS, JESSE 
Booking #:
442121
Booking Date:
10-24-2022 - 5:08 pm
Charges:
35620008 *GOB* POSS MARIJ <2OZ
35620008 *RPR* POSS MARIJ <2OZ
Bond:
No Bond
---
SCHWAIGHOFER, CARL 
Booking #:
442120
Booking Date:
10-24-2022 - 5:02 pm
Charges:
36010001 BENCH WARRANT
Bond:
No Bond
---
MENDOZA, RODOLFO 
Booking #:
442118
Release Date:
10-24-2022 - 9:28 pm
Booking Date:
10-24-2022 - 4:15 pm
Charges:
52120009 *GJI*UNL POSS FIREARM BY FELON
52130005 *GJI*DEADLY CONDUCT DISCHARGE FIREARM
Bond:
No Bond
---
BLAYLOCK, SHAWN 
Booking #:
442117
Booking Date:
10-24-2022 - 10:04 am
Charges:
26050014 *COMM*CREDIT CARD OR DEBIT CARD ABUSE
Bond:
No Bond
---
CAMPBELL, SHAWNA 
Booking #:
442116
Release Date:
10-24-2022 - 5:28 pm
Booking Date:
10-24-2022 - 6:32 am
Charges:
54999999 PED FTYROW CROSSWALK
Bond:
$264.00
The following were released from the TGCDF over the past 24 hours:
DAIGLE, TYLER 
Booking #:
440443
Release Date:
10-25-2022 - 5:58 am
Booking Date:
07-14-2022 - 12:34 am
Charges:
35990247 *COMM* POSS CS PG 1/1-B <1G
48990009 *GOB* FAIL TO IDENTIFY FUGITIVE INTENT GIVE FALSE INFO
MISC PAROLE VIOLATION
Bond:
No Bond
---
BRYAN, OTIS 
Booking #:
442123
Release Date:
10-25-2022 - 1:58 am
Booking Date:
10-24-2022 - 6:15 pm
Charges:
MISC CPF X2
Bond:
No Bond
---
MENDOZA, RODOLFO 
Booking #:
442118
Release Date:
10-24-2022 - 9:28 pm
Booking Date:
10-24-2022 - 4:15 pm
Charges:
52120009 *GJI*UNL POSS FIREARM BY FELON
52130005 *GJI*DEADLY CONDUCT DISCHARGE FIREARM
Bond:
No Bond
---
GONZALES, BRANDON 
Booking #:
439057
Release Date:
10-24-2022 - 8:58 pm
Booking Date:
04-21-2022 - 9:32 am
Charges:
22990003 BURGLARY HABITATION INTEND OTHER FELONY
35620008 *GOB*POSS MARIJ <2OZ
35990248 *GOB*POSS CS PG 1/1-B >=1G<4G
48010019 *GJI* EVADING ARREST DET W/PREV CONVICTION
48010019 EVADING ARREST DET W/PREV CONVICTION
52120009 *GOB*UNL POSS FIREARM BY FELON
54999999 SEATBET-15 YEARS AND OLDER(PASSENGER)
MISC CPF X1
MISC FAIL TO APPEAR ON COURT DATE
Bond:
$10970.00
---
SEPHUS, SADARIAN 
Booking #:
442119
Release Date:
10-24-2022 - 8:28 pm
Booking Date:
10-24-2022 - 5:11 pm
Charges:
35620008 *GOB* POSS MARIJ <2OZ
52030027 *GOB* UNL CARRYING WEAPON
Bond:
No Bond
---
HICKS, JONATHAN 
Booking #:
442078
Release Date:
10-24-2022 - 7:58 pm
Booking Date:
10-21-2022 - 7:51 pm
Charges:
36990007 SEX OFFENDERS DUTY TO REGISTER LIFE/ANNUALLY
Bond:
No Bond
---
CAMPBELL, SHAWNA 
Booking #:
442116
Release Date:
10-24-2022 - 5:28 pm
Booking Date:
10-24-2022 - 6:32 am
Charges:
54999999 PED FTYROW CROSSWALK
Bond:
$264.00
---
Lopez, Perfecto 
Booking #:
442113
Release Date:
10-24-2022 - 5:13 pm
Booking Date:
10-24-2022 - 2:52 am
Charges:
FTA FAILURE TO APPEAR ICON
MISC CPF X 1
Bond:
$550.00
---
HEDRICK, ROSIE 
Booking #:
442032
Release Date:
10-24-2022 - 4:58 pm
Booking Date:
10-19-2022 - 5:24 am
Charges:
35990247 *GOB*POSS CS PG 1/1-B <1G
35990248 POSS CS PG 1/1-B >=1G<4G
Bond:
$20000.00
---
DRENNAN, WILLIAM 
Booking #:
442074
Release Date:
10-24-2022 - 4:13 pm
Booking Date:
10-21-2022 - 12:14 pm
Charges:
MISC CPF X15
Bond:
No Bond
---
WILLIAMS, CLEOPHUS 
Booking #:
441558
Release Date:
10-24-2022 - 2:58 pm
Booking Date:
09-17-2022 - 6:53 pm
Charges:
35990014 *J/N*POSS CS PG 1 <1G
Bond:
No Bond
---
TORRES, JUAN 
Booking #:
442095
Release Date:
10-24-2022 - 1:58 pm
Booking Date:
10-22-2022 - 10:23 pm
Charges:
13990031 ASSAULT CAUSES BODILY INJURY FAMILY VIOLENCE
35620008 POSS MARIJ <2OZ
Bond:
$3500.00
---
SPILLER, CHARLY 
Booking #:
441972
Release Date:
10-24-2022 - 1:43 pm
Booking Date:
10-13-2022 - 9:10 pm
Charges:
26999999 ISSUANCE OF BAD CHECK ($150.01-$200) X 7
26999999 ISSUANCE OF BAD CHECK ($200.01-PLUS)
26999999 ISSUANCE OF BAD CHECK ($25.01-$50) X 3
26999999 ISSUANCE OF BAD CHECK ($50.01 -$100) X 7
MISC COMM X 6
Bond:
$11286.00
---
MOORE, THOMAS 
Booking #:
442108
Release Date:
10-24-2022 - 12:28 pm
Booking Date:
10-23-2022 - 4:07 pm
Charges:
35990247 POSS CS PG 1/1-B <1G
54990067 DRIVING W/LIC INV W/PREV CONV/SUSP/W/O FIN RES
55999999 POSS/DEL DRUG PARAPHERNALIA
Bond:
$8662.00
---
BERMEA, ANDREW 
Booking #:
442069
Release Date:
10-24-2022 - 10:43 am
Booking Date:
10-21-2022 - 3:58 am
Charges:
48010019 EVADING ARREST DET W/PREV CONVICTION
57070019 CRIM TRESPASS HABIT/SHLTR/SUPRFUND/INFSTRT
Bond:
$10500.00
---
RAMOS, RICHARD 
Booking #:
442115
Release Date:
10-24-2022 - 9:58 am
Booking Date:
10-24-2022 - 4:18 am
Charges:
54040009 DRIVING WHILE INTOXICATED
Bond:
$1000.00
---
CAVAZOS, ANDREW 
Booking #:
442025
Release Date:
10-24-2022 - 8:58 am
Booking Date:
10-18-2022 - 3:40 pm
Charges:
50160004 VIOL BOND/PROTECTIVE ORDER 2+ PREV CONV IAT
Bond:
No Bond
---
SAMARIPA, EDWARD 
Booking #:
442112
Release Date:
10-24-2022 - 8:28 am
Booking Date:
10-23-2022 - 8:51 pm
Charges:
57070019 CRIM TRESPASS HABIT/SHLTR/SUPRFUND/INFSTRT
Bond:
$500.00
---
RAMON, RICHARD 
Booking #:
442111
Release Date:
10-24-2022 - 8:28 am
Booking Date:
10-23-2022 - 8:35 pm
Charges:
54040009 DRIVING WHILE INTOXICATED
Bond:
$1000.00
---
BALLI, RUBEN 
Booking #:
442110
Release Date:
10-24-2022 - 8:28 am
Booking Date:
10-23-2022 - 8:17 pm
Charges:
41999999 PUBLIC INTOXICATION
Bond:
$462.00
---
HAMNER, JAMES 
Booking #:
442084
Release Date:
10-24-2022 - 8:28 am
Booking Date:
10-22-2022 - 3:16 am
Charges:
MISC CPF X 2
Bond:
No Bond
---
CASTILLO, ESIAH 
Booking #:
436090
Release Date:
10-24-2022 - 7:58 am
Booking Date:
10-16-2021 - 3:14 pm
Charges:
11990002 *GJI* SEXUAL ASSAULT CHILD
11990002 SEXUAL ASSAULT CHILD
11990004 *GJI* AGG SEXUAL ASSAULT CHILD
11990004 AGG SEXUAL ASSAULT CHILD
36010005 *GJI* INDECENCY W/CHILD SEXUAL CONTACT
Bond:
$200000.00
---
WILLIAMS, CHARLES 
Booking #:
442114
Release Date:
10-24-2022 - 7:58 am
Booking Date:
10-24-2022 - 3:36 am
Charges:
35620008 POSS MARIJ <2OZ
55999999 POSS/DEL DRUG PARAPHERNALIA
Bond:
$1462.00
The following is a key for the above abbreviations:
MISC- Miscellaneous
VOP- Violation of Parole
GOB- Going off Bond
VPTA- Violation Promise to Appear
GJI- Grand Jury Indictment
COMM- Commuted Sentence
RPR- Release of Personal Recognizance
CPF- Capias Pro Fine
J/N- Judgment NISI
ICE- Immigration Custom Enforcement
TDCJ- Texas Department of Criminal Justice
DWLI- Driving While License Invalid
POSS MARIJ- Possession of Marijuana
DWI- Driving While Intoxicated
MAN DEL CS PG – Manufacture and Delivery of a Controlled Substance Penalty Group
MO- Magistrate's Order
Most Recent Videos