SAN ANGELO, TX – More than a dozen suspects were booked into the Tom Green County Detention Facility over the past 24 hours.
San Angelo LIVE! makes no assumptions or representations about guilt or innocence of anyone on the booking report. Individuals charged with crimes are presumed innocent until proven guilty. Information on the site should not be used to determine any person's actual criminal record.
The San Angelo Police Department, the Tom Green County Sheriff's Office, and the Texas Department of Public Safety made 20 arrests including the following:
Mason Fulton was arrested for assaulting a pregnant person on Oct. 19 at 6:38 p.m. 
There are currently 517 inmates in the TGCDF as of Thursday morning.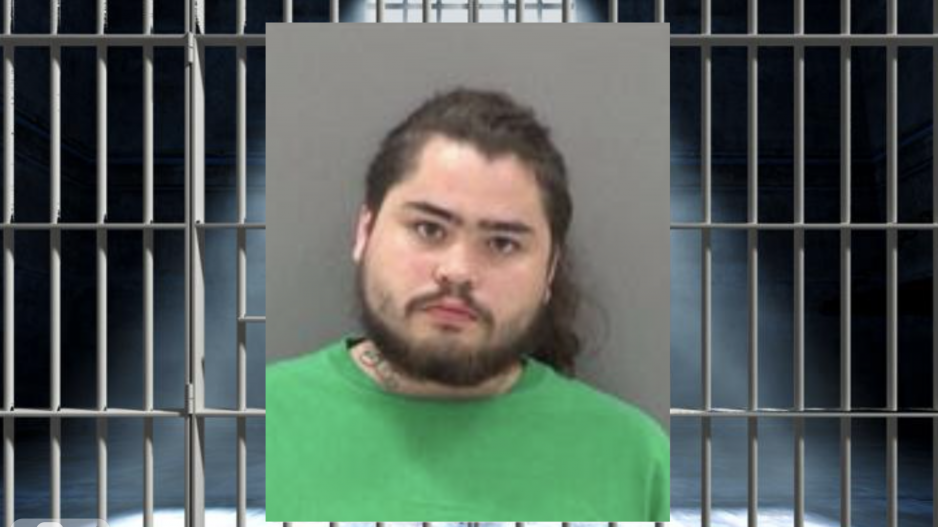 The following were booked into the Tom Green County Detention Facility over the past 24 hours:
PADILLA, JOSE 
Booking #:
442053
Booking Date:
10-20-2022 - 4:38 am
Charges:
54040009 DRIVING WHILE INTOXICATED
Bond:
$1000.00
---
FLOTT, EDWIN 
Booking #:
442052
Booking Date:
10-20-2022 - 3:41 am
Charges:
41999999 PUBLIC INTOXICATION X 3
57070020 CRIMINAL TRESPASS
MISC FTA X 2
Bond:
$3190.00
---
CARTHORNE, WILLIAM 
Booking #:
442051
Booking Date:
10-20-2022 - 2:54 am
Charges:
35990247 POSS CS PG 1/1-B <1G
Bond:
No Bond
---
ARROYO, DEVIN 
Booking #:
442050
Booking Date:
10-20-2022 - 2:18 am
Charges:
35620008 *RPR*POSS MARIJ <2OZ
Bond:
No Bond
---
MARTINEZ, ANTONIA 
Booking #:
442049
Booking Date:
10-20-2022 - 2:06 am
Charges:
41999999 PUBLIC INTOXICATION
55999999 POSS/DEL DRUG PARAPHERNALIA
MISC FTA X 2
Bond:
$2990.00
---
ROJAS, JOSE 
Booking #:
442048
Booking Date:
10-20-2022 - 1:35 am
Charges:
41999999 PUBLIC INTOXICATION
Bond:
$462.00
---
RODRIGUEZ, JESUS 
Booking #:
442047
Booking Date:
10-19-2022 - 10:41 pm
Charges:
48010019 *COMM* EVADING ARREST DET W/PREV CONVICTION
Bond:
No Bond
---
DAVIS, TRAVIS 
Booking #:
442046
Booking Date:
10-19-2022 - 9:53 pm
Charges:
35620008 *GOB* POSS MARIJ <2OZ
35990020 *GOB* POSS CS PG 2 >= 1G<4G
Bond:
No Bond
---
MORALES, MACARENA 
Booking #:
442045
Booking Date:
10-19-2022 - 8:09 pm
Charges:
38990027 VIOL BOND/PROTECTIVE ORDER
Bond:
No Bond
---
FULTON, MASON 
Booking #:
442044
Booking Date:
10-19-2022 - 6:38 pm
Charges:
13990090 ASSAULT OF PREGNANT PERSON
Bond:
No Bond
---
HAMPTON, DAVID 
Booking #:
442043
Booking Date:
10-19-2022 - 6:14 pm
Charges:
23990008 *MTR* THEFT OF FIREARM
23999999 THEFT CLASS C
48010017 EVADING ARREST DETENTION
52120009 UNL POSS FIREARM BY FELON
57070020 CRIMINAL TRESPASS
MISC CPF X22
Bond:
$1444.00
---
LANGENFELD, CASEY 
Booking #:
442042
Booking Date:
10-19-2022 - 5:37 pm
Charges:
MISC PAROLE VIOLATION
Bond:
No Bond
---
COFFEE, ANDREW 
Booking #:
442041
Release Date:
10-20-2022 - 12:13 am
Booking Date:
10-19-2022 - 5:23 pm
Charges:
13999999 ASSAULT BY THREAT FAMILY VIOLENCE
Bond:
$512.00
---
METAXAS, KEVIN 
Booking #:
442039
Booking Date:
10-19-2022 - 3:27 pm
Charges:
36010001 *GJI* INDECENCY W/CHILD SEXUAL CONTACT
36010001 *GJI*INDECENCY W/CHILD SEXUAL CONTACT
Bond:
$40000.00
---
COLEMAN, DUSTY 
Booking #:
442038
Booking Date:
10-19-2022 - 3:23 pm
Charges:
54040009 *VOP* DRIVING WHILE INTOXICATED
Bond:
No Bond
---
FITCHETT, CIRILDO 
Booking #:
442037
Booking Date:
10-19-2022 - 3:04 pm
Charges:
13990075 ASSAULT FAMILY/HOUSEHOLD MEMBER W/PREV CONV
57070020 CRIMINAL TRESPASS
Bond:
$1000.00
---
Durham, Susanne 
Booking #:
442036
Booking Date:
10-19-2022 - 2:51 pm
Charges:
41999999 PUBLIC INTOXICATION
54999999 PEDESTRIAN- WALKING WITH TRAFFIC
Bond:
$594.00
---
SADLER, SANDI 
Booking #:
442035
Release Date:
10-19-2022 - 2:58 pm
Booking Date:
10-19-2022 - 1:22 pm
Charges:
29990042 CRIMINAL MISCHIEF >=$100<$750
Bond:
No Bond
---
GONZALES, JAYSON 
Booking #:
442034
Booking Date:
10-19-2022 - 11:58 am
Charges:
29990044 CRIMINAL MISCHIEF >=$2,500<$30K
57070020 CRIMINAL TRESPASS
Bond:
$500.00
---
CHURCHILL, MATTHEW 
Booking #:
442033
Booking Date:
10-19-2022 - 6:40 am
Charges:
35990247 POSS CS PG 1/1-B <1G
55999999 POSS/DEL DRUG PARAPHERNALIA
6104 *CPF* Public Hunting Lands: No annual limited public use permit
Bond:
$8162.00
The following were released from the TGCDF over the past 24 hours:
COFFEE, ANDREW 
Booking #:
442041
Release Date:
10-20-2022 - 12:13 am
Booking Date:
10-19-2022 - 5:23 pm
Charges:
13999999 ASSAULT BY THREAT FAMILY VIOLENCE
Bond:
$512.00
---
FLORES, CRYSTAL 
Booking #:
441890
Release Date:
10-19-2022 - 10:13 pm
Booking Date:
10-08-2022 - 7:19 pm
Charges:
41999999 PUBLIC INTOXICATION
48010020 EVADING ARREST DET W/VEH
Bond:
$30440.00
---
HARVEY, FLOYD 
Booking #:
441025
Release Date:
10-19-2022 - 6:28 pm
Booking Date:
08-17-2022 - 5:41 pm
Charges:
23990191 THEFT PROP >= $100<$750
53999999 FAIL TO IDENTIFY
55999999 POSS DRUG PARAPHERNALIA
57070020 CRIMINAL TRESPASS
Bond:
$2174.00
---
LANEY, DAVID 
Booking #:
442023
Release Date:
10-19-2022 - 6:13 pm
Booking Date:
10-18-2022 - 3:23 pm
Charges:
22990001 BURGLARY OF BUILDING (FS)
Bond:
$10000.00
---
HARGROVE, MICHAEL 
Booking #:
440949
Release Date:
10-19-2022 - 5:58 pm
Booking Date:
08-13-2022 - 12:27 am
Charges:
23999999 THEFT CLASS C
35990247 *GJI* POSS CS PG 1/1-B <1G
48990009 *CPF* FAIL TO IDENTIFY FUGITIVE INTENT GIVE FALSE INFO
48990009 *VOP* FAIL TO IDENTIFY FUGITIVE INTENT GIVE FALSE INFO
55999999 POSSESSION/DELIVERY OF DRUG PARAPHERNALIA
MISC FTA
MISC FTAX2
Bond:
$3660.40
---
SADLER, SANDI 
Booking #:
442035
Release Date:
10-19-2022 - 2:58 pm
Booking Date:
10-19-2022 - 1:22 pm
Charges:
29990042 CRIMINAL MISCHIEF >=$100<$750
Bond:
No Bond
---
ROBLES, CRYSTAL 
Booking #:
442008
Release Date:
10-19-2022 - 1:58 pm
Booking Date:
10-17-2022 - 3:29 am
Charges:
48010016 EVADING ARREST DETENTION W/VEH OR WATERCRAFT
54040012 DRIVING WHILE INTOXICATED/OPEN ALCH CONTAINER
54990044 RECKLESS DRIVING
Bond:
$7500.00
---
MEDINA, ALEXIS 
Booking #:
440700
Release Date:
10-19-2022 - 12:28 pm
Booking Date:
07-29-2022 - 10:12 pm
Charges:
35990014 *MTR* POSS CS PG 1 <1G
Bond:
No Bond
---
HALE, KEVIN 
Booking #:
442031
Release Date:
10-19-2022 - 7:43 am
Booking Date:
10-19-2022 - 1:58 am
Charges:
55999999 POSS/DEL DRUG PARAPHERNALIA
Bond:
$662.00
---
ALVAREZ, MARISSA 
Booking #:
442028
Release Date:
10-19-2022 - 7:43 am
Booking Date:
10-18-2022 - 11:51 pm
Charges:
35620008 POSS MARIJ <2OZ
Bond:
$1000.00
---
SCARBROUGH, MICHAEL 
Booking #:
442027
Release Date:
10-19-2022 - 7:43 am
Booking Date:
10-18-2022 - 5:09 pm
Charges:
41999999 PUBLIC INTOXICATION
57070020 CRIMINAL TRESPASS
Bond:
$962.00
---
CHAPOY, STEPHANIE 
Booking #:
439704
Release Date:
10-19-2022 - 6:28 am
Booking Date:
05-29-2022 - 3:01 am
Charges:
35620008 POSS MARIJ <2OZ
35990015 *MTR*POSS CS PG 1 >=1G<4G
35990249 *GJI*POSS CS PG 1/1-B >=4G<200G
35990249 POSS CS PG 1/1-B >=4G<200G
Bond:
$31000.00
The following is a key for the above abbreviations:
MISC- Miscellaneous
VOP- Violation of Parole
GOB- Going off Bond
VPTA- Violation Promise to Appear
GJI- Grand Jury Indictment
COMM- Commuted Sentence
RPR- Release of Personal Recognizance
CPF- Capias Pro Fine
J/N- Judgment NISI
ICE- Immigration Custom Enforcement
TDCJ- Texas Department of Criminal Justice
DWLI- Driving While License Invalid
POSS MARIJ- Possession of Marijuana
DWI- Driving While Intoxicated
MAN DEL CS PG – Manufacture and Delivery of a Controlled Substance Penalty Group
MO- Magistrate's Order
Most Recent Videos