SAN ANGELO, TX – More than two dozen suspects were booked into the Tom Green County Detention Facility over the past 24 hours.
San Angelo LIVE! makes no assumptions or representations about guilt or innocence of anyone on the booking report. Individuals charged with crimes are presumed innocent until proven guilty. Information on the site should not be used to determine any person's actual criminal record.
The San Angelo Police Department, the Tom Green County Sheriff's Office, and the Texas Department of Public Safety made 25 arrests including the following:
Stacy Rodriguez was arrested for RPR possession of marijuana and manufacture and delivery of a controlled substance on Sep. 26 at 3:22 a.m.
Christopher Contreras was arrested for possession of a controlled substance and his third or more driving while intoxicated on Sep. 24 at 11:42 p.m. 
There are currently 549 inmates in the TGCDF as of Monday morning.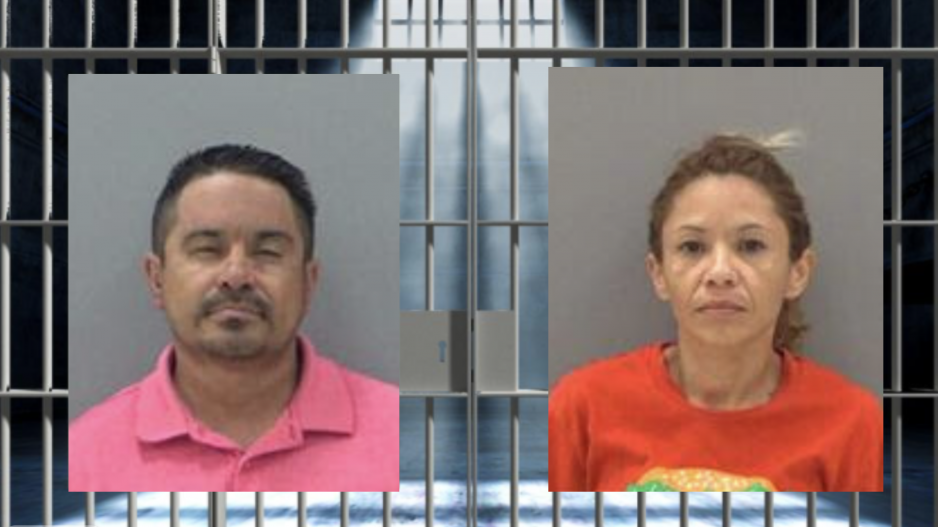 The following were booked into the Tom Green County Detention Facility over the past 48 hours:
RODRIGUEZ, STACY 
Booking #:
441694
Booking Date:
09-26-2022 - 3:22 am
Charges:
35620008 *RPR* POSS MARIJ <2OZ
35990244 MAN DEL CS PG 1-B >=4G<200G
Bond:
$25000.00
---
WILKINS, JACOB 
Booking #:
441693
Booking Date:
09-26-2022 - 2:53 am
Charges:
35990019 POSS CS PG 2 < 1G
73999999 TRASH ON PROPERTY
Bond:
$1674.00
---
ANDERSON, JOSHUA 
Booking #:
441692
Booking Date:
09-26-2022 - 2:36 am
Charges:
13990031 *J/N* ASSAULT CAUSES BODILY INJURY FAMILY VIOLENCE
Bond:
No Bond
---
MARTINEZ, ALEXIA 
Booking #:
441691
Booking Date:
09-26-2022 - 2:35 am
Charges:
54040009 DRIVING WHILE INTOXICATED
Bond:
$1000.00
---
ZOBEL, LEVI 
Booking #:
441690
Booking Date:
09-26-2022 - 12:06 am
Charges:
57070020 CRIMINAL TRESPASS
Bond:
$500.00
---
RAMIREZ, ROCKY 
Booking #:
441689
Booking Date:
09-25-2022 - 10:44 pm
Charges:
35990247 POSS CS PG 1/1-B <1G
Bond:
No Bond
---
GUITERREZ, VON-DEAN 
Booking #:
441688
Booking Date:
09-25-2022 - 7:10 pm
Charges:
35990247 *GOB*POSS CS PG 1/1-B <1G
55999999 POSS/DEL DRUG PARAPHERNALIA
Bond:
$662.00
---
HODGES, CHARLES 
Booking #:
441687
Booking Date:
09-25-2022 - 6:26 pm
Charges:
52030027 UNL CARRYING WEAPON
54040010 DRIVING WHILE INTOXICATED 2ND
Bond:
$2000.00
---
DOMINGUEZ, CHRISTOPHER 
Booking #:
441686
Booking Date:
09-25-2022 - 2:59 pm
Charges:
13990031 ASSAULT CAUSES BODILY INJURY FAMILY VIOLENCE
41999999 PUBLIC INTOXICATION
Bond:
$462.00
---
ELVINA, CHAD 
Booking #:
441685
Release Date:
09-25-2022 - 2:43 pm
Booking Date:
09-25-2022 - 2:01 pm
Charges:
23990191 THEFT PROP >= $100<$750
Bond:
$500.00
---
SMITH, BROOKE 
Booking #:
441684
Release Date:
09-25-2022 - 11:13 am
Booking Date:
09-25-2022 - 10:35 am
Charges:
57070019 CRIM TRESPASS HABIT/SHLTR/SUPRFUND/INFSTRT
Bond:
$500.00
SALAZAR, ORLANDO 
Booking #:
441683
Release Date:
09-25-2022 - 4:43 am
Booking Date:
09-25-2022 - 2:33 am
Charges:
35620008 POSS MARIJ <2OZ
Bond:
$1000.00
---
GAMEZ, MICHAEL 
Booking #:
441682
Release Date:
09-25-2022 - 5:43 am
Booking Date:
09-25-2022 - 2:20 am
Charges:
35620008 POSS MARIJ <2OZ
Bond:
$1000.00
---
MCVINNIE, SAMANTHA 
Booking #:
441680
Booking Date:
09-25-2022 - 1:37 am
Charges:
MISC CPF X 1
Bond:
No Bond
---
ABALOS, GILBERT 
Booking #:
441679
Booking Date:
09-25-2022 - 1:22 am
Charges:
29990060 HINDER SECURED CREDITORS >=$2,500<$30K
Bond:
No Bond
---
CONTRERAS, CHRISTOPHER 
Booking #:
441678
Booking Date:
09-24-2022 - 11:42 pm
Charges:
35990249 POSS CS PG 1/1-B >=4G<200G
54040011 DRIVING WHILE INTOXICATED 3RD OR MORE
Bond:
No Bond
---
GARCIA, MALIA 
Booking #:
441677
Release Date:
09-25-2022 - 5:28 am
Booking Date:
09-24-2022 - 11:25 pm
Charges:
41999999 ALCOHOL-MISREPRESENTATION OF AGE BY A MINOR
Bond:
$462.00
---
NAVARETTE, JAVIER 
Booking #:
441676
Booking Date:
09-24-2022 - 11:10 pm
Charges:
35620008 *GOB* POSS MARIJ <2OZ
48010017 EVADING ARREST DETENTION
55999999 POSS/DEL DRUG PARAPHERNALIA
Bond:
$1162.00
---
RIGHTSELL, GARY 
Booking #:
441675
Booking Date:
09-24-2022 - 10:38 pm
Charges:
13990031 ASSAULT CAUSES BODILY INJURY FAMILY VIOLENCE
Bond:
No Bond
---
LOPEZ, NICHOLAS 
Booking #:
441674
Release Date:
09-25-2022 - 12:58 am
Booking Date:
09-24-2022 - 9:42 pm
Charges:
54999999 FAIL TO CHANGE ADDRESS ON DRIVER LICENSE
54999999 RESTRICTION CODE VIOLATION/ NO CORRECTIVE EYEWEAR
54999999 SPEEDING 10% OR OVER 54MPH IN A 40MPH
MISC VPTA X 3
Bond:
$2866.20
---
RODRIGUEZ, VANESSA 
Booking #:
441673
Booking Date:
09-24-2022 - 7:49 pm
Charges:
13990031 ASSAULT CAUSES BODILY INJURY FAMILY VIOLENCE
Bond:
No Bond
---
TANGUMA, MANUEL 
Booking #:
441672
Booking Date:
09-24-2022 - 6:54 pm
Charges:
57070020 CRIMINAL TRESPASS
Bond:
$500.00
---
MEDRANO, ROMAN 
Booking #:
441671
Release Date:
09-24-2022 - 6:43 pm
Booking Date:
09-24-2022 - 5:40 pm
Charges:
23999999 THEFT CLASS C
26990233 FRAUD DESTROY REMOVAL CONCEALMENT WRITING
Bond:
$944.00
---
BRYAN, DUSTIN 
Booking #:
441670
Booking Date:
09-24-2022 - 2:44 pm
Charges:
48010006 RESIST ARREST SEARCH OR TRANSPORT
48010016 EVADING ARREST DETENTION W/VEH OR WATERCRAFT
48010017 EVADING ARREST DETENTION
Bond:
$1000.00
---
CALHOUN, NANETTE 
Booking #:
441669
Release Date:
09-24-2022 - 1:13 pm
Booking Date:
09-24-2022 - 11:21 am
Charges:
13990031 ASSAULT CAUSES BODILY INJURY FAMILY VIOLENCE
Bond:
$1000.00
The following were booked into the TGCDF over the past 48 hours:
ELVINA, CHAD 
Booking #:
441685
Release Date:
09-25-2022 - 2:43 pm
Booking Date:
09-25-2022 - 2:01 pm
Charges:
23990191 THEFT PROP >= $100<$750
Bond:
$500.00
---
THOMAS, MARK 
Booking #:
441647
Release Date:
09-25-2022 - 11:28 am
Booking Date:
09-23-2022 - 3:28 pm
Charges:
13160012 HARASSMENT
13160014 STALKING
53990004 HARASSMENT
Bond:
$57500.00
---
SMITH, BROOKE 
Booking #:
441684
Release Date:
09-25-2022 - 11:13 am
Booking Date:
09-25-2022 - 10:35 am
Charges:
57070019 CRIM TRESPASS HABIT/SHLTR/SUPRFUND/INFSTRT
Bond:
$500.00
---
RODRIGUEZ, VANESSA 
Booking #:
441673
Release Date:
09-25-2022 - 10:58 am
Booking Date:
09-24-2022 - 7:49 pm
Charges:
13990031 ASSAULT CAUSES BODILY INJURY FAMILY VIOLENCE
Bond:
$2500.00
GAMEZ, MICHAEL 
Booking #:
441682
Release Date:
09-25-2022 - 5:43 am
Booking Date:
09-25-2022 - 2:20 am
Charges:
35620008 POSS MARIJ <2OZ
Bond:
$1000.00
---
GARCIA, MALIA 
Booking #:
441677
Release Date:
09-25-2022 - 5:28 am
Booking Date:
09-24-2022 - 11:25 pm
Charges:
41999999 ALCOHOL-MISREPRESENTATION OF AGE BY A MINOR
Bond:
$462.00
---
SALAZAR, ORLANDO 
Booking #:
441683
Release Date:
09-25-2022 - 4:43 am
Booking Date:
09-25-2022 - 2:33 am
Charges:
35620008 POSS MARIJ <2OZ
Bond:
$1000.00
---
LOPEZ, NICHOLAS 
Booking #:
441674
Release Date:
09-25-2022 - 12:58 am
Booking Date:
09-24-2022 - 9:42 pm
Charges:
54999999 FAIL TO CHANGE ADDRESS ON DRIVER LICENSE
54999999 RESTRICTION CODE VIOLATION/ NO CORRECTIVE EYEWEAR
54999999 SPEEDING 10% OR OVER 54MPH IN A 40MPH
MISC VPTA X 3
Bond:
$2866.20
---
MEDRANO, ROMAN 
Booking #:
441671
Release Date:
09-24-2022 - 6:43 pm
Booking Date:
09-24-2022 - 5:40 pm
Charges:
23999999 THEFT CLASS C
26990233 FRAUD DESTROY REMOVAL CONCEALMENT WRITING
Bond:
$944.00
---
CALHOUN, NANETTE 
Booking #:
441669
Release Date:
09-24-2022 - 1:13 pm
Booking Date:
09-24-2022 - 11:21 am
Charges:
13990031 ASSAULT CAUSES BODILY INJURY FAMILY VIOLENCE
Bond:
$1000.00
---
ROBERTS, TIMOTHY 
Booking #:
441643
Release Date:
09-24-2022 - 10:13 am
Booking Date:
09-23-2022 - 1:08 pm
Charges:
29990044 *GJI* CRIMINAL MISCHIEF >=$2,500<$30K
Bond:
No Bond
---
WARD, CHRISTINE 
Booking #:
441668
Release Date:
09-24-2022 - 8:13 am
Booking Date:
09-24-2022 - 3:57 am
Charges:
41999999 PUBLIC INTOXICATION
Bond:
$462.00
---
FLORES, BRENDA 
Booking #:
441657
Release Date:
09-24-2022 - 8:13 am
Booking Date:
09-23-2022 - 11:30 pm
Charges:
41999999 PUBLIC INTOXICATION
Bond:
$462.00
---
GUERRERO, JUAN 
Booking #:
441665
Release Date:
09-24-2022 - 7:58 am
Booking Date:
09-24-2022 - 2:49 am
Charges:
41999999 PUBLIC INTOXICATION
Bond:
$462.00
---
WALKER, CHRISTENE 
Booking #:
441664
Release Date:
09-24-2022 - 7:58 am
Booking Date:
09-24-2022 - 2:24 am
Charges:
54040009 DRIVING WHILE INTOXICATED
Bond:
$1000.00
---
NEWMAN, MELVIN 
Booking #:
441661
Release Date:
09-24-2022 - 7:58 am
Booking Date:
09-24-2022 - 1:42 am
Charges:
54040012 DRIVING WHILE INTOXICATED/OPEN ALCH CONTAINER
Bond:
$1000.00
---
SALAZAR, JAIME 
Booking #:
441659
Release Date:
09-24-2022 - 7:58 am
Booking Date:
09-24-2022 - 12:15 am
Charges:
54040009 DRIVING WHILE INTOXICATED
Bond:
$1000.00
---
OGLE, KAYLA 
Booking #:
441654
Release Date:
09-24-2022 - 7:58 am
Booking Date:
09-23-2022 - 10:20 pm
Charges:
26999999 ISSUANCE OF BAD CHECK X 2
Bond:
$1064.00
---
MITCHAM, PATRICK 
Booking #:
441662
Release Date:
09-24-2022 - 7:43 am
Booking Date:
09-24-2022 - 1:47 am
Charges:
41999999 PUBLIC INTOXICATION
Bond:
$462.00
---
HILL, JACKIE 
Booking #:
441658
Release Date:
09-24-2022 - 7:43 am
Booking Date:
09-23-2022 - 11:49 pm
Charges:
MISC FTA X2
MISC NO/DEFECTIVE HEADLIGHTS ON BICYCLE
Bond:
$1488.00
The following is a key for the above abbreviations:
MISC- Miscellaneous
VOP- Violation of Parole
GOB- Going off Bond
VPTA- Violation Promise to Appear
GJI- Grand Jury Indictment
COMM- Commuted Sentence
RPR- Release of Personal Recognizance
CPF- Capias Pro Fine
J/N- Judgment NISI
ICE- Immigration Custom Enforcement
TDCJ- Texas Department of Criminal Justice
DWLI- Driving While License Invalid
POSS MARIJ- Possession of Marijuana
DWI- Driving While Intoxicated
MAN DEL CS PG – Manufacture and Delivery of a Controlled Substance Penalty Group
MO- Magistrate's Order
Most Recent Videos