SAN ANGELO, TX – Nearly a dozen suspects were booked into the Tom Green County Detention Facility over the past 24 hours.
San Angelo LIVE! Makes no assumptions or representations about guilt or innocence of anyone on the booking report. Individuals charged with crimes are presumed innocent until proven guilty. Information on the site should not be used to determine any person's actual criminal record.
The San Angelo Police Department, the Tom Green County Sheriff's Office, and the Texas Department of Public Safety made 10 arrests including the following:
Jose Gonzalez was arrested for RPR possession of marijuana, duty on striking fixture highway landscape, and four MISC FTA on Sep. 20 at 8:27 p.m.
Joseph Geair was arrested for driving while intoxicated on Sep. 21 at 1:13 a.m.
There are currently 528 inmates at the TGCDF as of Wednesday morning.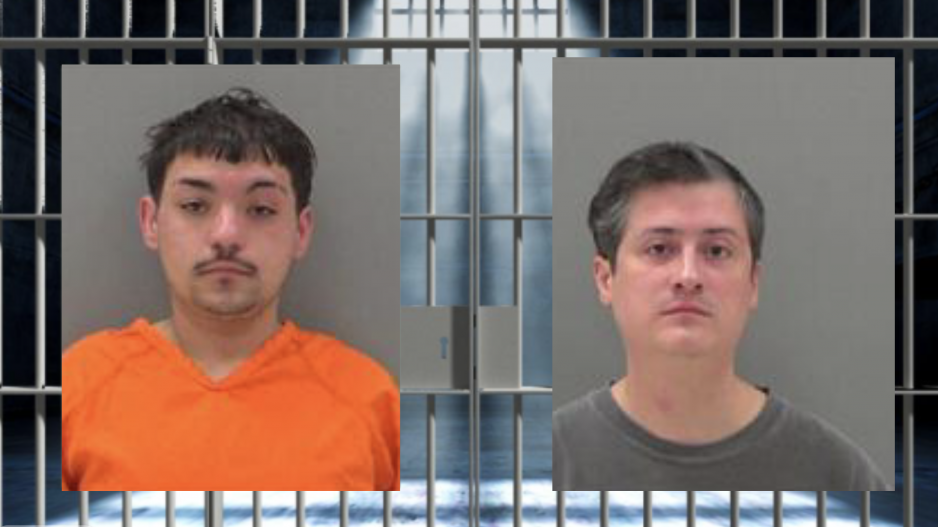 The following were booked into the Tom Green County Detention Facility over the past 48 hours:
Geair, Joseph 
Booking #:
441607
Booking Date:
09-21-2022 - 1:13 am
Charges:
54040009 DRIVING WHILE INTOXICATED
Bond:
$1000.00
---
TERRAZAS, MIREYA 
Booking #:
441606
Booking Date:
09-20-2022 - 10:11 pm
Charges:
35990015 *COMM*POSS CS PG 1 >=1G<4G
Bond:
No Bond
---
ARAMBULA, ROBERTO 
Booking #:
441604
Booking Date:
09-20-2022 - 8:37 pm
Charges:
23990196 THEFT PROP <$2,500 2/MORE PREV CONV
48010019 EVADING ARREST DET W/PREV CONVICTION
Bond:
No Bond
---
GONZALEZ, JOSE 
Booking #:
441603
Booking Date:
09-20-2022 - 8:27 pm
Charges:
35620008 *RPR* POSS MARIJ <2OZ
54990008 DUTY ON STRIKING FIXTURE/HWY LANDSCAPE>=$200
70990045 HARBORING RUNAWAY CHILD
MISC FTA X 4
Bond:
$5008.00
---
TANGUMA, MANUEL 
Booking #:
441602
Booking Date:
09-20-2022 - 7:02 pm
Charges:
57070020 CRIMINAL TRESPASS
Bond:
$500.00
---
PITTS, PHILLIPE 
Booking #:
441601
Release Date:
09-20-2022 - 6:43 pm
Booking Date:
09-20-2022 - 5:52 pm
Charges:
MISC FTA X2
Bond:
$1004.00
---
WEST, JOHN 
Booking #:
441600
Release Date:
09-20-2022 - 2:43 pm
Booking Date:
09-20-2022 - 12:16 pm
Charges:
35620008 POSS MARIJ <2OZ
Bond:
$1000.00
---
GARVIN, CHRISTOPHER 
Booking #:
441599
Booking Date:
09-20-2022 - 10:18 am
Charges:
MISC CPF X 14
Bond:
No Bond
---
SEETON, MARY 
Booking #:
441598
Booking Date:
09-20-2022 - 9:42 am
Charges:
35990001 *MTR* MAN DEL CS PG 1 <1G
Bond:
No Bond
---
TANKERSLEY, JENNIFER 
Booking #:
441597
Booking Date:
09-20-2022 - 9:39 am
Charges:
35990247 *MTR* POSS CS PG 1/1-B <1G
Bond:
$15000.00
The following were released from the TGCDF over the past 48 hours:
BRADLEY, JULIAN 
Booking #:
440781
Release Date:
09-20-2022 - 7:28 pm
Booking Date:
08-03-2022 - 5:26 pm
Charges:
13990031 *VOP* ASSAULT CAUSES BODILY INJURY FAMILY VIOLENCE
Bond:
No Bond
---
PITTS, PHILLIPE 
Booking #:
441601
Release Date:
09-20-2022 - 6:43 pm
Booking Date:
09-20-2022 - 5:52 pm
Charges:
MISC FTA X2
Bond:
$1004.00
---
WEST, JOHN 
Booking #:
441600
Release Date:
09-20-2022 - 2:43 pm
Booking Date:
09-20-2022 - 12:16 pm
Charges:
35620008 POSS MARIJ <2OZ
Bond:
$1000.00
---
VASQUEZ, HUGO 
Booking #:
441593
Release Date:
09-20-2022 - 12:28 pm
Booking Date:
09-20-2022 - 12:12 am
Charges:
41999999 PUBLIC INTOXICATION
57070020 CRIMINAL TRESPASS
Bond:
$942.00
---
AMIS, FRANK 
Booking #:
441449
Release Date:
09-20-2022 - 12:13 pm
Booking Date:
09-10-2022 - 6:26 pm
Charges:
35990247 POSS CS PG 1/1-B <1G
Bond:
$7500.00
---
HUNTER, TYLER 
Booking #:
441355
Release Date:
09-20-2022 - 12:13 pm
Booking Date:
09-04-2022 - 9:40 pm
Charges:
23990196 THEFT PROP <$2,500 2/MORE PREV CONV
Bond:
$20000.00
---
Souder, Nina 
Booking #:
440033
Release Date:
09-20-2022 - 12:13 pm
Booking Date:
06-20-2022 - 4:07 pm
Charges:
35990014 *GJI*POSS CS PG 1 <1G
MISC CPF X 2
Bond:
No Bond
---
POULLARD, DEMARCUS 
Booking #:
439970
Release Date:
09-20-2022 - 12:13 pm
Booking Date:
06-17-2022 - 12:33 am
Charges:
35990247 *GJI* POSS CS PG 1/1-B <1G
35990247 POSS CS PG 1/1-B <1G
Bond:
$10000.00
---
PACHECO, LISA 
Booking #:
441520
Release Date:
09-20-2022 - 11:13 am
Booking Date:
09-15-2022 - 1:58 pm
Charges:
35620008 *GOB* POSS MARIJ <2OZ
Bond:
No Bond
---
BORREGO, ARIEL 
Booking #:
441578
Release Date:
09-20-2022 - 10:28 am
Booking Date:
09-19-2022 - 9:54 am
Charges:
13990031 ASSAULT CAUSES BODILY INJURY FAMILY VIOLENCE
Bond:
$2500.00
---
DORETY, JOHN 
Booking #:
441427
Release Date:
09-20-2022 - 8:43 am
Booking Date:
09-09-2022 - 2:25 pm
Charges:
35620008 *COMM*POSS MARIJ <2OZ
Bond:
No Bond
---
BECK, CRYSTAL 
Booking #:
441590
Release Date:
09-20-2022 - 7:58 am
Booking Date:
09-19-2022 - 8:30 pm
Charges:
57070020 CRIMINAL TRESPASS
Bond:
$500.00
The following is a key for the above abbreviations:
MISC- Miscellaneous
VOP- Violation of Parole
GOB- Going off Bond
VPTA- Violation Promise to Appear
GJI- Grand Jury Indictment
COMM- Commuted Sentence
RPR- Release of Personal Recognizance
CPF- Capias Pro Fine
J/N- Judgment NISI
ICE- Immigration Custom Enforcement
TDCJ- Texas Department of Criminal Justice
DWLI- Driving While License Invalid
POSS MARIJ- Possession of Marijuana
DWI- Driving While Intoxicated
MAN DEL CS PG – Manufacture and Delivery of a Controlled Substance Penalty Group
MO- Magistrate's Order
Most Recent Videos