SAN ANGELO, TX – Nearly 50 suspects were booked into the Tom Green County Detention Facility over the past 72 hours.
San Angelo LIVE! Makes no assumptions or representations about guilt or innocence of anyone on the booking report. Individuals charged with crimes are presumed innocent until proven guilty. Information on the site should not be used to determine any person's actual criminal record.
The San Angelo Police Department, the Tom Green County Sheriff's Office, and the Texas Department of Public Safety made 45 arrests including the following:
Steven Danish was arrested for aggravated assault that caused serious bodily injury on Sep. 18 at 11:06 a.m.
Rayden Wadley was arrested for assault to a family member by impeding breath, possession of marijuana, resisting arrest, and possession of drug paraphernalia on Sep. 17 at 11:34 p.m.
Crystal Vaquera was arrested for assault that caused bodily injury to a family member and interfering with emergency request for assistance on Sep. 17 at 7:29 p.m.
There are currently 532 inmates at the TGCDF as of Wednesday morning.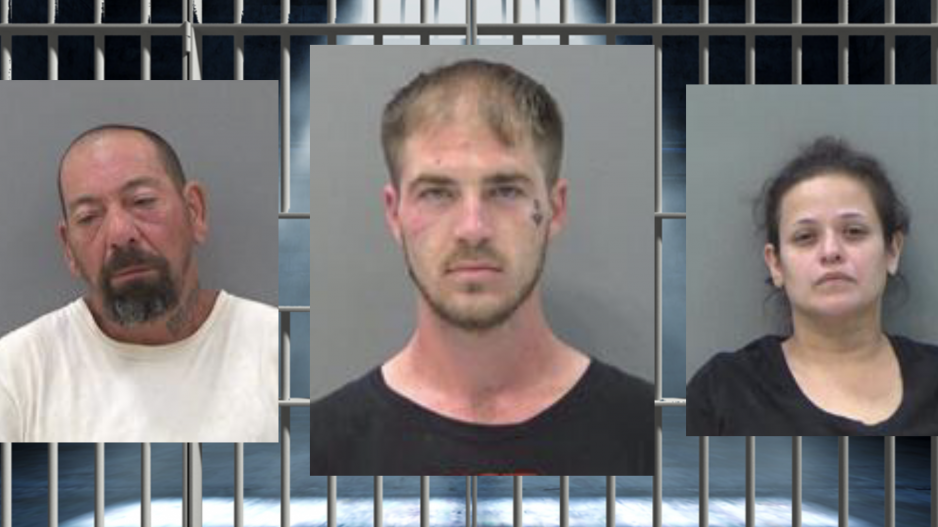 The following were booked into the TGCDF over the past 72 hours:
ALLEN, CRYSTAL 
Booking #:
441553
Booking Date:
09-17-2022 - 4:31 am
Charges:
54040009 DRIVING WHILE INTOXICATED
Bond:
$1000.00
---
WELLS, RICKY 
Booking #:
441552
Booking Date:
09-17-2022 - 3:59 am
Charges:
41999999 PUBLIC INTOXICATION
Bond:
$462.00
---
CLEMENTS, GERALD 
Booking #:
441551
Booking Date:
09-17-2022 - 3:25 am
Charges:
13160014 *MTR* STALKING
Bond:
No Bond
---
ISAACKS, DANIEL 
Booking #:
441550
Booking Date:
09-17-2022 - 2:21 am
Charges:
54040009 DRIVING WHILE INTOXICATED
Bond:
$1000.00
---
LOPEZ, SANTIAGO 
Booking #:
441549
Booking Date:
09-17-2022 - 2:19 am
Charges:
35990247 POSS CS PG 1/1-B <1G
MISC CPF X 7
Bond:
No Bond
---
O CONNER, MICHAEL 
Booking #:
441548
Booking Date:
09-17-2022 - 1:46 am
Charges:
52030027 UNL CARRYING WEAPON
54040010 DRIVING WHILE INTOXICATED 2ND
Bond:
$2000.00
---
HENN, PAUL 
Booking #:
441547
Booking Date:
09-17-2022 - 1:12 am
Charges:
55999999 POSS/DEL DRUG PARAPHERNALIA
MISC CPF X 1
MISC FTA X 2
Bond:
$1666.00
---
DOMINGUEZ, GABRIANNA 
Booking #:
441546
Release Date:
09-17-2022 - 2:28 am
Booking Date:
09-17-2022 - 12:18 am
Charges:
54999999 NO DRIVERS LICENSE
MISC FTA X 1
MISC VPTA X 1
Bond:
$1674.00
---
PIERCE, BRENDAN 
Booking #:
441545
Release Date:
09-17-2022 - 12:58 am
Booking Date:
09-16-2022 - 10:43 pm
Charges:
23999999 THEFT CLASS C
26990233 FRAUD DESTROY REMOVAL CONCEALMENT WRITING
Bond:
$944.00
---
COLE, MELISSA 
Booking #:
441544
Booking Date:
09-16-2022 - 10:23 pm
Charges:
13990043 GOB* INJURY CHILD/ELDERLY/DISABLE W/INT BODILY INJ
Bond:
No Bond
---
HAYWARD, CHARLES 
Booking #:
441543
Booking Date:
09-16-2022 - 9:31 pm
Charges:
57070020 *GOB* CRIMINAL TRESPASS
Bond:
No Bond
---
PATTON, JUSTIN 
Booking #:
441542
Booking Date:
09-16-2022 - 8:07 pm
Charges:
57070020 CRIMINAL TRESPASS
MISC PAROLE VIOLATION
Bond:
$500.00
---
RAMIREZ, ALEJANDRA 
Booking #:
441541
Booking Date:
09-16-2022 - 7:14 pm
Charges:
38990027 VIOL BOND/PROTECTIVE ORDER
Bond:
No Bond
---
MOLKENTIN, GEORGIA 
Booking #:
441540
Booking Date:
09-16-2022 - 5:00 pm
Charges:
MISC FUGITIVE FROM JUSTICE
Bond:
No Bond
---
BROOKS, BRADLEY 
Booking #:
441539
Release Date:
09-16-2022 - 11:28 pm
Booking Date:
09-16-2022 - 3:54 pm
Charges:
23990198 THEFT PROP >=$30K<$150K
Bond:
No Bond
---
WISDOM, KEVIN 
Booking #:
441538
Release Date:
09-16-2022 - 9:43 pm
Booking Date:
09-16-2022 - 3:47 pm
Charges:
23990196 *GOB*THEFT PROP <$2,500 2/MORE PREV CONV
Bond:
No Bond
---
KENDRIX, JAMES 
Booking #:
441537
Booking Date:
09-16-2022 - 3:02 pm
Charges:
54040009 *RPR* DRIVING WHILE INTOXICATED
Bond:
$5000.00
---
MILLER, AMBER 
Booking #:
441536
Booking Date:
09-16-2022 - 10:51 am
Charges:
MISC COMM X9
Bond:
No Bond
---
AGUILAR, MARY 
Booking #:
441535
Release Date:
09-16-2022 - 11:13 am
Booking Date:
09-16-2022 - 9:45 am
Charges:
545412A *CPF* CHILD PASSENGER SAFETY SEAT SYSTEMS
FMFR *CPF* FAILURE MAINTAIN FINANCIAL RESPONSIBILITY
Bond:
No Bond
---
MITCHELL, KEVIN 
Booking #:
441534
Release Date:
09-16-2022 - 11:13 am
Booking Date:
09-16-2022 - 9:40 am
Charges:
29990042 CRIMINAL MISCHIEF >=$100<$750
Bond:
$500.00
---
IBARRA, DELBERT 
Booking #:
441533
Release Date:
09-16-2022 - 7:28 am
Booking Date:
09-16-2022 - 6:18 am
Charges:
54990044 RECKLESS DRIVING
Bond:
$500.00
PINON, ELIZABETH 
Booking #:
441568
Booking Date:
09-18-2022 - 3:34 am
Charges:
54040014 DRIVING WHILE INTOXICATED BAC >=0.15
Bond:
$1500.00
---
YANT, LAURIE 
Booking #:
441567
Booking Date:
09-18-2022 - 12:41 am
Charges:
23999999 THEFT CLASS C
54999999 NO PROOF OF FINANCIAL RESPONSIBILITY - SUBSEQUENT
57070020 CRIMINAL TRESPASS
MISC CPF X5
MISC VPTA
Bond:
$2576.00
---
WADLEY, RAYDEN 
Booking #:
441565
Booking Date:
09-17-2022 - 11:34 pm
Charges:
13990076 ASSAULT FAM/HOUSE MEM IMPEDE BREATH/CIRCULAT
35620008 POSS MARIJ <2OZ
48010006 RESIST ARREST SEARCH OR TRANSPORT
55999999 POSS/DEL DRUG PARAPHERNALIA
Bond:
$2162.00
---
BRION, JASON 
Booking #:
441566
Booking Date:
09-17-2022 - 11:19 pm
Charges:
35990014 *COMM* POSS CS PG 1 <1G
Bond:
No Bond
---
TRAN, MANUEL 
Booking #:
441564
Release Date:
09-18-2022 - 1:28 am
Booking Date:
09-17-2022 - 10:34 pm
Charges:
54040009 *RPR* DRIVING WHILE INTOXICATED
Bond:
No Bond
---
Jimenez, Antonio 
Booking #:
441563
Release Date:
09-18-2022 - 3:58 am
Booking Date:
09-17-2022 - 10:03 pm
Charges:
41999999 PUBLIC INTOXICATION
Bond:
$462.00
---
DE LA ROSA, AZAEL 
Booking #:
441562
Release Date:
09-18-2022 - 2:28 am
Booking Date:
09-17-2022 - 10:00 pm
Charges:
VPTA VIOLATE PROMISE TO APPEAR ON SPEEDING J42136842 (ICON)
Bond:
No Bond
---
MCCARLEY, JAMES 
Booking #:
441561
Booking Date:
09-17-2022 - 9:01 pm
Charges:
41999999 PUBLIC INTOXICATION
Bond:
$462.00
---
MOLINA, GABRIEL 
Booking #:
441560
Booking Date:
09-17-2022 - 7:47 pm
Charges:
MISC PAROLE VIOLATION
Bond:
No Bond
---
VAQUERA, CRYSTAL 
Booking #:
441559
Booking Date:
09-17-2022 - 7:29 pm
Charges:
13990031 ASSAULT CAUSES BODILY INJURY FAMILY VIOLENCE
53990010 INTERFER W/EMERGENCY REQUEST FOR ASSISTANCE
Bond:
$500.00
---
WILLIAMS, CLEOPHUS 
Booking #:
441558
Booking Date:
09-17-2022 - 6:53 pm
Charges:
35990014 *J/N*POSS CS PG 1 <1G
Bond:
No Bond
---
ANDROS, MICHAEL 
Booking #:
441557
Booking Date:
09-17-2022 - 6:50 pm
Charges:
11990002 SEXUAL ASSAULT CHILD
Bond:
No Bond
---
VASQUEZ, HUGO 
Booking #:
441556
Booking Date:
09-17-2022 - 3:44 pm
Charges:
41999999 PUBLIC INTOXICATION
MISC FTA X1
Bond:
$1526.00
---
SNELL, STEPHANIE 
Booking #:
441555
Booking Date:
09-17-2022 - 12:31 pm
Charges:
13990031 ASSAULT CAUSES BODILY INJURY FAMILY VIOLENCE
55999999 POSS/DEL DRUG PARAPHERNALIA
Bond:
$662.00
---
PHILLIPS, JUANITA 
Booking #:
441554
Release Date:
09-17-2022 - 11:28 am
Booking Date:
09-17-2022 - 9:25 am
Charges:
57070020 CRIMINAL TRESPASS
Bond:
$500.00
WALTON, JOHNATHAN 
Booking #:
441577
Booking Date:
09-19-2022 - 2:48 am
Charges:
29990043 CRIMINAL MISCHIEF >=$750<$2500
Bond:
$500.00
---
LUNA, FRANCISCO 
Booking #:
441576
Release Date:
09-19-2022 - 4:43 am
Booking Date:
09-18-2022 - 11:57 pm
Charges:
MISC CPF X 1
Bond:
No Bond
---
MORALES, ANGELICA 
Booking #:
441575
Booking Date:
09-18-2022 - 10:36 pm
Charges:
13990031 * GOB* ASSAULT CAUSES BODILY INJURY FAMILY VIOLENCE
13990078 *GJI* CONTINUOUS VIOLENCE AGAINST THE FAMILY
48010017 EVADING ARREST DETENTION
Bond:
$500.00
---
HANLON, JAMES 
Booking #:
441574
Booking Date:
09-18-2022 - 9:47 pm
Charges:
54040009 DRIVING WHILE INTOXICATED
Bond:
$1000.00
---
FULLER, ERIKA 
Booking #:
441573
Booking Date:
09-18-2022 - 8:19 pm
Charges:
35990247 POSS CS PG 1/1-B <1G
55999999 POSS/DEL DRUG PARAPHERNALIA
57070019 CRIM TRESPASS HABIT/SHLTR/SUPRFUND/INFSTRT
MISC FTA X2
Bond:
$2266.00
---
PAINTER, JACOB 
Booking #:
441572
Booking Date:
09-18-2022 - 8:10 pm
Charges:
55999999 POSS/DEL DRUG PARAPHERNALIA
57070019 CRIM TRESPASS HABIT/SHLTR/SUPRFUND/INFSTRT
Bond:
$1162.00
---
Huertas, William 
Booking #:
441571
Booking Date:
09-18-2022 - 7:56 pm
Charges:
35990015 *GOB* POSS CS PG 1 >=1G<4G
Bond:
No Bond
---
Danish, STEVEN 
Booking #:
441570
Booking Date:
09-18-2022 - 11:06 am
Charges:
13150004 AGG ASSAULT CAUSES SERIOUS BODILY INJ
Bond:
No Bond
---
HANEY, JAMEY 
Booking #:
441569
Release Date:
09-18-2022 - 6:13 pm
Booking Date:
09-18-2022 - 10:18 am
Charges:
35990003 *GOB* MAN DEL CS PG 1 >=4G<200G
35990247 *GOB* POSS CS PG 1/1-B <1G
41999999 PUBLIC INTOXICATION
Bond:
$462.00
The following were released from the TGCDF over the past 72 hours:
DOMINGUEZ, GABRIANNA 
Booking #:
441546
Release Date:
09-17-2022 - 2:28 am
Booking Date:
09-17-2022 - 12:18 am
Charges:
54999999 NO DRIVERS LICENSE
MISC FTA X 1
MISC VPTA X 1
Bond:
$1674.00
---
PIERCE, BRENDAN 
Booking #:
441545
Release Date:
09-17-2022 - 12:58 am
Booking Date:
09-16-2022 - 10:43 pm
Charges:
23999999 THEFT CLASS C
26990233 FRAUD DESTROY REMOVAL CONCEALMENT WRITING
Bond:
$944.00
---
BROOKS, BRADLEY 
Booking #:
441539
Release Date:
09-16-2022 - 11:28 pm
Booking Date:
09-16-2022 - 3:54 pm
Charges:
23990198 THEFT PROP >=$30K<$150K
Bond:
No Bond
---
WISDOM, KEVIN 
Booking #:
441538
Release Date:
09-16-2022 - 9:43 pm
Booking Date:
09-16-2022 - 3:47 pm
Charges:
23990196 *GOB*THEFT PROP <$2,500 2/MORE PREV CONV
Bond:
No Bond
---
BORREGO, SANDRA 
Booking #:
441066
Release Date:
09-16-2022 - 5:13 pm
Booking Date:
08-19-2022 - 10:22 am
Charges:
MISC PAROLE VIOLATION
Bond:
No Bond
---
MATLEY, JAMES 
Booking #:
441522
Release Date:
09-16-2022 - 4:28 pm
Booking Date:
09-15-2022 - 4:28 pm
Charges:
54040009 DRIVING WHILE INTOXICATED
Bond:
$5000.00
---
OWEN, ZACHARY 
Booking #:
441530
Release Date:
09-16-2022 - 2:58 pm
Booking Date:
09-15-2022 - 10:20 pm
Charges:
52120009 UNL POSS FIREARM BY FELON
Bond:
$10000.00
---
QUINONEZ, MOISES 
Booking #:
441527
Release Date:
09-16-2022 - 1:58 pm
Booking Date:
09-15-2022 - 8:52 pm
Charges:
35990248 POSS CS PG 1/1-B >=1G<4G
Bond:
$5000.00
---
Casey, Destini 
Booking #:
441368
Release Date:
09-16-2022 - 12:58 pm
Booking Date:
09-05-2022 - 12:02 pm
Charges:
48010006 RESIST ARREST SEARCH OR TRANSPORT
70990140 HARRASSMENT OF PUBLIC SERVANT
Bond:
$15500.00
---
CLARK, BRITTNEY 
Booking #:
441502
Release Date:
09-16-2022 - 11:28 am
Booking Date:
09-14-2022 - 5:10 pm
Charges:
35990127 *MTR*POSS CS PG 1 <1G DRUG FREE ZONE
Bond:
No Bond
---
AGUILAR, MARY 
Booking #:
441535
Release Date:
09-16-2022 - 11:13 am
Booking Date:
09-16-2022 - 9:45 am
Charges:
545412A *CPF* CHILD PASSENGER SAFETY SEAT SYSTEMS
FMFR *CPF* FAILURE MAINTAIN FINANCIAL RESPONSIBILITY
Bond:
No Bond
---
MITCHELL, KEVIN 
Booking #:
441534
Release Date:
09-16-2022 - 11:13 am
Booking Date:
09-16-2022 - 9:40 am
Charges:
29990042 CRIMINAL MISCHIEF >=$100<$750
Bond:
$500.00
---
MARTINEZ, LORIN 
Booking #:
441346
Release Date:
09-16-2022 - 11:13 am
Booking Date:
09-04-2022 - 3:18 am
Charges:
35620008 POSS MARIJ <2OZ
MISC COMM X6
Bond:
$1000.00
---
GARZA, MARCANTHONY 
Booking #:
441532
Release Date:
09-16-2022 - 8:13 am
Booking Date:
09-16-2022 - 2:04 am
Charges:
35620008 POSS MARIJ <2OZ
Bond:
$1000.00
---
Olofsson, Yasmeen 
Booking #:
441531
Release Date:
09-16-2022 - 7:43 am
Booking Date:
09-16-2022 - 12:12 am
Charges:
54040009 DRIVING WHILE INTOXICATED
Bond:
$1000.00
---
IBARRA, DELBERT 
Booking #:
441533
Release Date:
09-16-2022 - 7:28 am
Booking Date:
09-16-2022 - 6:18 am
Charges:
54990044 RECKLESS DRIVING
Bond:
$500.00
HITCHCOCK, AUTUMN 
Booking #:
441379
Release Date:
09-18-2022 - 5:58 am
Booking Date:
09-06-2022 - 12:04 pm
Charges:
MISC COMM X5
MISC FTA X1
Bond:
$502.00
---
Jimenez, Antonio 
Booking #:
441563
Release Date:
09-18-2022 - 3:58 am
Booking Date:
09-17-2022 - 10:03 pm
Charges:
41999999 PUBLIC INTOXICATION
Bond:
$462.00
---
DE LA ROSA, AZAEL 
Booking #:
441562
Release Date:
09-18-2022 - 2:28 am
Booking Date:
09-17-2022 - 10:00 pm
Charges:
VPTA VIOLATE PROMISE TO APPEAR ON SPEEDING J42136842 (ICON)
Bond:
No Bond
---
TRAN, MANUEL 
Booking #:
441564
Release Date:
09-18-2022 - 1:28 am
Booking Date:
09-17-2022 - 10:34 pm
Charges:
54040009 *RPR* DRIVING WHILE INTOXICATED
Bond:
No Bond
---
MENDOZA, NORMA 
Booking #:
438563
Release Date:
09-18-2022 - 1:28 am
Booking Date:
03-25-2022 - 10:27 am
Charges:
23990191 *GOB* THEFT PROP >= $100<$750
35990014 *MTR*POSS CS PG 1 <1G
Bond:
No Bond
---
LOPEZ, GABRIEL 
Booking #:
441529
Release Date:
09-17-2022 - 5:43 pm
Booking Date:
09-15-2022 - 10:09 pm
Charges:
26050022 FRAUD POSS/USE CREDIT OR DEBIT CARD <5
Bond:
No Bond
---
HIDALGO, EDDIE 
Booking #:
440714
Release Date:
09-17-2022 - 2:13 pm
Booking Date:
07-30-2022 - 7:42 pm
Charges:
35990014 *GJI*POSS CS PG 1 <1G
35990014 POSS CS PG 1 <1G
35990242 MAN DEL CS PG 1-B <1G
35990247 POSS CS PG 1/1-B <1G
55999999 POSS/DEL DRUG PARAPHERNALIA
MISC COMM X 9
MISC FTA X 2
Bond:
$16766.00
---
RAMIREZ, ALEJANDRA 
Booking #:
441541
Release Date:
09-17-2022 - 12:58 pm
Booking Date:
09-16-2022 - 7:14 pm
Charges:
38990027 VIOL BOND/PROTECTIVE ORDER
Bond:
$5000.00
---
PHILLIPS, JUANITA 
Booking #:
441554
Release Date:
09-17-2022 - 11:28 am
Booking Date:
09-17-2022 - 9:25 am
Charges:
57070020 CRIMINAL TRESPASS
Bond:
$500.00
---
O CONNER, MICHAEL 
Booking #:
441548
Release Date:
09-17-2022 - 11:13 am
Booking Date:
09-17-2022 - 1:46 am
Charges:
52030027 UNL CARRYING WEAPON
54040010 DRIVING WHILE INTOXICATED 2ND
Bond:
$6000.00
---
WALTON, JOHN 
Booking #:
441490
Release Date:
09-17-2022 - 11:13 am
Booking Date:
09-13-2022 - 11:42 pm
Charges:
13150005 AGG ASSAULT W/DEADLY WEAPON
Bond:
$75000.00
---
LEWIS, JOHN 
Booking #:
436632
Release Date:
09-17-2022 - 10:43 am
Booking Date:
11-19-2021 - 8:43 pm
Charges:
23990196 *GJI* THEFT PROP <$2,500 2/MORE PREV CONV
23990196 *MTR*THEFT PROP <$2,500 2/MORE PREV CONV
23990196 THEFT PROP <$2,500 2/MORE PREV CONV
57070020 CRIMINAL TRESPASS
Bond:
$8000.00
---
ALLEN, CRYSTAL 
Booking #:
441553
Release Date:
09-17-2022 - 10:28 am
Booking Date:
09-17-2022 - 4:31 am
Charges:
54040009 DRIVING WHILE INTOXICATED
Bond:
$1000.00
---
WELLS, RICKY 
Booking #:
441552
Release Date:
09-17-2022 - 10:28 am
Booking Date:
09-17-2022 - 3:59 am
Charges:
41999999 PUBLIC INTOXICATION
Bond:
$462.00
---
ISAACKS, DANIEL 
Booking #:
441550
Release Date:
09-17-2022 - 9:13 am
Booking Date:
09-17-2022 - 2:21 am
Charges:
54040009 DRIVING WHILE INTOXICATED
Bond:
$1000.00
LUNA, FRANCISCO 
Booking #:
441576
Release Date:
09-19-2022 - 4:43 am
Booking Date:
09-18-2022 - 11:57 pm
Charges:
MISC CPF X 1
Bond:
No Bond
---
HENN, PAUL 
Booking #:
441547
Release Date:
09-19-2022 - 12:43 am
Booking Date:
09-17-2022 - 1:12 am
Charges:
55999999 POSS/DEL DRUG PARAPHERNALIA
MISC CPF X 1
MISC FTA X 2
Bond:
$1666.00
---
HANEY, JAMEY 
Booking #:
441569
Release Date:
09-18-2022 - 6:13 pm
Booking Date:
09-18-2022 - 10:18 am
Charges:
35990003 *GOB* MAN DEL CS PG 1 >=4G<200G
35990247 *GOB* POSS CS PG 1/1-B <1G
41999999 PUBLIC INTOXICATION
Bond:
$462.00
---
YANT, LAURIE 
Booking #:
441567
Release Date:
09-18-2022 - 5:13 pm
Booking Date:
09-18-2022 - 12:41 am
Charges:
23999999 THEFT CLASS C
54999999 NO PROOF OF FINANCIAL RESPONSIBILITY - SUBSEQUENT
57070020 CRIMINAL TRESPASS
MISC CPF X5
MISC VPTA
Bond:
$3576.00
---
SNELL, STEPHANIE 
Booking #:
441555
Release Date:
09-18-2022 - 4:43 pm
Booking Date:
09-17-2022 - 12:31 pm
Charges:
13990031 ASSAULT CAUSES BODILY INJURY FAMILY VIOLENCE
55999999 POSS/DEL DRUG PARAPHERNALIA
Bond:
$3162.00
---
PINON, ELIZABETH 
Booking #:
441568
Release Date:
09-18-2022 - 2:28 pm
Booking Date:
09-18-2022 - 3:34 am
Charges:
54040014 DRIVING WHILE INTOXICATED BAC >=0.15
Bond:
$1500.00
---
VAQUERA, CRYSTAL 
Booking #:
441559
Release Date:
09-18-2022 - 10:43 am
Booking Date:
09-17-2022 - 7:29 pm
Charges:
13990031 ASSAULT CAUSES BODILY INJURY FAMILY VIOLENCE
53990010 INTERFER W/EMERGENCY REQUEST FOR ASSISTANCE
Bond:
$5000.00
---
MCCARLEY, JAMES 
Booking #:
441561
Release Date:
09-18-2022 - 9:58 am
Booking Date:
09-17-2022 - 9:01 pm
Charges:
41999999 PUBLIC INTOXICATION
Bond:
$462.00
---
VASQUEZ, HUGO 
Booking #:
441556
Release Date:
09-18-2022 - 9:58 am
Booking Date:
09-17-2022 - 3:44 pm
Charges:
41999999 PUBLIC INTOXICATION
MISC FTA X1
Bond:
$1526.00
The following is a key for the above abbreviations:
MISC- Miscellaneous
VOP- Violation of Parole
GOB- Going off Bond
VPTA- Violation Promise to Appear
GJI- Grand Jury Indictment
COMM- Commuted Sentence
RPR- Release of Personal Recognizance
CPF- Capias Pro Fine
J/N- Judgment NISI
ICE- Immigration Custom Enforcement
TDCJ- Texas Department of Criminal Justice
DWLI- Driving While License Invalid
POSS MARIJ- Possession of Marijuana
DWI- Driving While Intoxicated
MAN DEL CS PG – Manufacture and Delivery of a Controlled Substance Penalty Group
MO- Magistrate's Order
Most Recent Videos