SAN ANGELO, TX – 50 suspects were booked into the Tom Green County Detention Facility over the past 24 hours.
San Angelo LIVE! Makes no assumptions or representations about guilt or innocence of anyone on the booking report. Individuals charged with crimes are presumed innocent until proven guilty. Information on the site should not be used to determine any person's actual criminal record.
The San Angelo Police Department, the Tom Green County Sheriff's Office, and the Texas Department of Public Safety made 50 arrests including the following:
Matthew Clark was arrested for aggravated assault against a public servant, possession of a controlled substance, resisting arrest, evading arrest, and GOB tampering with physical evidence with intent to impair on Sep. 11 at 5:35 p.m.
Iziah Rodriguez was arrested for unauthorized use of a vehicle, evading arrest with a vehicle, and evading arrest on Sep. 11 at 12:05 a.m.
There are currently 534 inmates at the TGCDF as of Wednesday morning.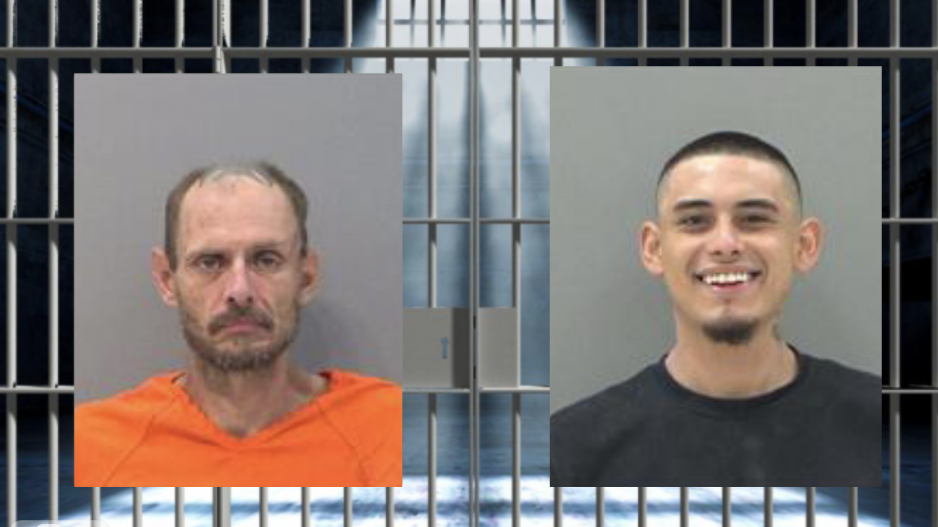 The following were booked into the Tom Green County Detention Facility over the past 72 hours:
MUNOZ-DIAZ, GABRIEL 
Booking #:
441445
Booking Date:
09-10-2022 - 5:17 am
Charges:
41999999 PUBLIC INTOXICATION
Bond:
$462.00
---
DEHOYOS, TRINIDAD 
Booking #:
441444
Booking Date:
09-10-2022 - 3:41 am
Charges:
54990044 *RPR* RECKLESS DRIVING
Bond:
No Bond
---
LOPEZ, GABRIEL 
Booking #:
441443
Booking Date:
09-10-2022 - 3:25 am
Charges:
MISC CPF X 6
MISC FTA X 3
Bond:
$1506.00
---
MEDINA, MARILYN 
Booking #:
441442
Booking Date:
09-10-2022 - 3:17 am
Charges:
54040009 DRIVING WHILE INTOXICATED
Bond:
$1000.00
---
KAPALA, JENNIFER 
Booking #:
441441
Booking Date:
09-10-2022 - 3:15 am
Charges:
54040011 DRIVING WHILE INTOXICATED 3RD OR MORE
Bond:
No Bond
---
COLON, JUSTYN 
Booking #:
441440
Booking Date:
09-10-2022 - 2:38 am
Charges:
54040009 DRIVING WHILE INTOXICATED
Bond:
$1000.00
---
JOHNSON, THOMAS 
Booking #:
441439
Booking Date:
09-10-2022 - 12:31 am
Charges:
13990082 ASSAULT PEACE OFFICER/JUDGE
13999999 ASSAULT BY CONTACT-FAMILY VIOLENCE
13999999 ASSAULT CLASS C
Bond:
$1024.00
---
BROWN, JORDAN 
Booking #:
441438
Booking Date:
09-10-2022 - 12:14 am
Charges:
54040012 DRIVING WHILE INTOXICATED/OPEN ALCH CONTAINER
Bond:
$1500.00
---
BROWN, TONY 
Booking #:
441437
Booking Date:
09-09-2022 - 11:34 pm
Charges:
23990163 THEFT PROP <$1500 2+ CONV ENH
35620009 POSS MARIJ >2OZ<=4OZ
35990248 POSS CS PG 1/1-B >=1G<4G
48990009 FAIL TO IDENTIFY FUGITIVE INTENT GIVE FALSE INFO
73990623 TAMPER W/GOVERNMENT RECORD
Bond:
$2000.00
---
FRANK, JEFFERY 
Booking #:
441436
Booking Date:
09-09-2022 - 11:29 pm
Charges:
26050014 CREDIT CARD OR DEBIT CARD ABUSE
73990623 TAMPER W/GOVERNMENT RECORD
Bond:
No Bond
---
DELEON, ROBERTO 
Booking #:
441435
Booking Date:
09-09-2022 - 10:16 pm
Charges:
23990207 *MTR* THEFT PROP >=$750<$2500 ENH IAT
35620008 POSS MARIJ <2OZ
48010019 EVADING ARREST DET W/PREV CONVICTION
MISC PAROLE VIOLATION
Bond:
$1000.00
---
PERALES, MICHAEL 
Booking #:
441434
Booking Date:
09-09-2022 - 10:15 pm
Charges:
54999999 PEDESTRIAN-WALKING WITH TRAFFIC
Bond:
$264.00
---
STEVENS, DEVIN 
Booking #:
441433
Booking Date:
09-09-2022 - 9:48 pm
Charges:
13990075 *MTR* ASSAULT FAMILY/HOUSEHOLD MEMBER W/PREV CONV
13990075 *MTR* ASSAULT FAMILY/HOUSEHOLD MEMBER W/PREV CONV
Bond:
No Bond
---
Strader, Carla 
Booking #:
441432
Booking Date:
09-09-2022 - 9:45 pm
Charges:
57070020 *RPR*CRIMINAL TRESPASS
Bond:
No Bond
---
MCGEE, AVERY 
Booking #:
441431
Booking Date:
09-09-2022 - 9:34 pm
Charges:
54999999 DWLI
54999999 FAIL TO DISPLAY DRIVERS LICENSE
54999999 SPEEDING- 10% OR OVER 47 MPH IN A 35 MPH ZONE
MISC VPTA X 3
Bond:
$3460.20
---
Lancaster, Amanda 
Booking #:
441430
Booking Date:
09-09-2022 - 8:19 pm
Charges:
25890001 *COMM* FORGERY FINANCIAL INSTRUMENT
Bond:
$15000.00
---
HILL, JACKIE 
Booking #:
441429
Booking Date:
09-09-2022 - 5:38 pm
Charges:
54999999 NO/DEFECTIVE HEADLIGHTS ON BICYCLE
MISC FTA X1
Bond:
$986.00
---
TAMEZ, JORDAN 
Booking #:
441428
Booking Date:
09-09-2022 - 2:39 pm
Charges:
12990002 *GJI* AGG ROBBERY
MISC BENCH WARRANT
Bond:
No Bond
---
DORETY, JOHN 
Booking #:
441427
Booking Date:
09-09-2022 - 2:25 pm
Charges:
35620008 POSS MARIJ <2OZ
Bond:
No Bond
---
ALVARADO, STEVEN 
Booking #:
441426
Release Date:
09-09-2022 - 9:28 am
Booking Date:
09-09-2022 - 8:35 am
Charges:
35620008 POSS MARIJ <2OZ
Bond:
$1000.00
ESPINOZA, MAYRA 
Booking #:
441465
Booking Date:
09-11-2022 - 4:23 am
Charges:
54040009 DRIVING WHILE INTOXICATED
Bond:
$1000.00
---
OVERSTREET, JAMES 
Booking #:
441464
Booking Date:
09-11-2022 - 3:45 am
Charges:
41999999 PUBLIC INTOXICATION
48010017 EVADING ARREST DETENTION
Bond:
$962.00
---
ROBLEDO, GILBERT 
Booking #:
441463
Booking Date:
09-11-2022 - 2:33 am
Charges:
35990247 POSS CS PG 1/1-B <1G
57070020 CRIMINAL TRESPASS
Bond:
$500.00
---
MARTINEZ, CHRISTOPHER 
Booking #:
441462
Release Date:
09-11-2022 - 5:28 am
Booking Date:
09-11-2022 - 2:12 am
Charges:
35620008 *RPR*POSS MARIJ <2OZ
Bond:
No Bond
---
CASTANEDA, NAPOLEON 
Booking #:
441461
Booking Date:
09-11-2022 - 12:18 am
Charges:
52120009 UNL POSS FIREARM BY FELON
Bond:
No Bond
---
ESTRADA, RUBY 
Booking #:
441460
Release Date:
09-11-2022 - 1:58 am
Booking Date:
09-11-2022 - 12:08 am
Charges:
35620008 POSS MARIJ <2OZ
P48 UNLAWFULLY CARRYING A WEAPON
Bond:
$1500.00
---
RODRIGUEZ, IZIAH 
Booking #:
441459
Booking Date:
09-11-2022 - 12:05 am
Charges:
24110003 UNAUTH USE OF VEHICLE
48010016 EVADING ARREST DETENTION W/VEH OR WATERCRAFT
48010017 EVADING ARREST DETENTION
Bond:
$500.00
---
BONNER, ROBERT 
Booking #:
441457
Booking Date:
09-10-2022 - 11:23 pm
Charges:
57070020 CRIMINAL TRESPASS
Bond:
$500.00
---
JOHNSON, SARA 
Booking #:
441456
Booking Date:
09-10-2022 - 10:26 pm
Charges:
54040009 DRIVING WHILE INTOXICATED
Bond:
$1000.00
---
ALLISON, JEFFERY 
Booking #:
441455
Booking Date:
09-10-2022 - 10:11 pm
Charges:
41999999 PUBLIC INTOXICATION
Bond:
$440.00
---
WINTERS, CYNTHIA 
Booking #:
441454
Booking Date:
09-10-2022 - 9:32 pm
Charges:
13990043 INJURY CHILD/ELDERLY/DISABLE W/INT BODILY INJ
Bond:
No Bond
---
HIRST, ERIC 
Booking #:
441453
Booking Date:
09-10-2022 - 9:23 pm
Charges:
41999999 PUBLIC INTOXICATION
Bond:
$462.00
---
BROWN, PRINCESS 
Booking #:
441452
Booking Date:
09-10-2022 - 8:12 pm
Charges:
MISC CPF X 5
Bond:
No Bond
---
AMIS, FRANK 
Booking #:
441449
Booking Date:
09-10-2022 - 6:26 pm
Charges:
35990247 POSS CS PG 1/1-B <1G
Bond:
No Bond
---
FULTON, MASON 
Booking #:
441448
Booking Date:
09-10-2022 - 3:28 pm
Charges:
13990086 ASSAULT OF PREGNANT PERSON
Bond:
No Bond
---
DUPREE, TAMMY 
Booking #:
441447
Release Date:
09-10-2022 - 12:13 pm
Booking Date:
09-10-2022 - 11:18 am
Charges:
23990191 THEFT PROP >= $100<$750
Bond:
$500.00
---
BRIDGES, RONALD 
Booking #:
441446
Booking Date:
09-10-2022 - 9:56 am
Charges:
38990027 VIOL BOND/PROTECTIVE ORDER
Bond:
No Bond
HUNT, KAILEY 
Booking #:
441474
Booking Date:
09-12-2022 - 2:22 am
Charges:
35620008 POSS MARIJ <2OZ
54040009 DRIVING WHILE INTOXICATED
Bond:
$2000.00
---
ROBERTS, RAYFUS 
Booking #:
441473
Booking Date:
09-12-2022 - 1:19 am
Charges:
35620008 POSS MARIJ <2OZ
35990019 POSS CS PG 2 < 1G
52030027 UNL CARRYING WEAPON
Bond:
$13500.00
---
MOERKE, SHAWN 
Booking #:
441472
Booking Date:
09-11-2022 - 9:08 pm
Charges:
57070020 CRIMINAL TRESPASS
Bond:
$500.00
---
JUAREZ, ISAIAH 
Booking #:
441471
Booking Date:
09-11-2022 - 8:42 pm
Charges:
11990004 AGG SEXUAL ASSAULT CHILD
Bond:
No Bond
---
HAMPTON, DAVID 
Booking #:
441470
Booking Date:
09-11-2022 - 7:46 pm
Charges:
35990247 POSS CS PG 1/1-B <1G
54999999 EXPIRED MOTOR VEHICLE REGISTRATION
55999999 POSS/DEL DRUG PARAPHERNALIA
Bond:
$994.00
---
CLARK, MATTHEW 
Booking #:
441467
Booking Date:
09-11-2022 - 5:35 pm
Charges:
13150011 AGG ASSAULT AGAINST PUBLIC SERVANT
35990247 POSS CS PG 1/1-B <1G
48010006 RESIST ARREST SEARCH OR TRANSPORT
48010017 EVADING ARREST DETENTION
48040003 *GOB* TAMPER/FABRICATE PHYS EVID W/INTENT TO IMPAIR
Bond:
$1000.00
---
HOGEDA, MONICA 
Booking #:
441468
Booking Date:
09-11-2022 - 5:34 pm
Charges:
35990247 POSS CS PG 1/1-B <1G
57070020 CRIMINAL TRESPASS
Bond:
$500.00
---
TURNER, ERIC 
Booking #:
441466
Booking Date:
09-11-2022 - 7:17 am
Charges:
25020015 FORGERY FINANCIAL INSTRUMENT >=$100<$750 IAT
35990247 POSS CS PG 1/1-B <1G
48010017 EVADING ARREST DETENTION
48990009 *GOB* FAIL TO IDENTIFY FUGITIVE INTENT GIVE FALSE INFO
48990009 FAIL TO IDENTIFY FUGITIVE INTENT GIVE FALSE INFO
54999999 NO PROOF FINANCIAL RESPONSIBILITY
MISC EXPIRED VEHICLE REGISTRATION
MISC PAROLE VIOLATION
MISC VPTA X2
Bond:
$9172.00
The following were released from the TGCDF over the past 72 hours:
BOLWERK, TRAVIS 
Booking #:
441012
Release Date:
09-09-2022 - 5:43 pm
Booking Date:
08-17-2022 - 12:31 am
Charges:
MISC PAROLE VIOLATION
Bond:
No Bond
---
AGUIRRE, VICTORIA 
Booking #:
441135
Release Date:
09-09-2022 - 3:43 pm
Booking Date:
08-23-2022 - 12:40 pm
Charges:
MISC COMM X8
Bond:
No Bond
---
HURTT, PAUL 
Booking #:
441413
Release Date:
09-09-2022 - 2:13 pm
Booking Date:
09-08-2022 - 5:28 pm
Charges:
55999999 POSS/DEL DRUG PARAPHERNALIA
MISC CPF X8
Bond:
$662.00
---
SALAZAR, ALEX 
Booking #:
441423
Release Date:
09-09-2022 - 1:58 pm
Booking Date:
09-09-2022 - 1:21 am
Charges:
MISC CONTEMPT OF COURT
MISC CPF X4
MISC FTA X2
Bond:
$1220.00
---
ROBERTS, SHELLY 
Booking #:
441404
Release Date:
09-09-2022 - 1:28 pm
Booking Date:
09-08-2022 - 5:58 am
Charges:
54040028 DRIVING WHILE INTOXICATED W/CHILD UNDER 15YOA
Bond:
$7500.00
---
JOINER, JOSH 
Booking #:
441071
Release Date:
09-09-2022 - 12:58 pm
Booking Date:
08-19-2022 - 3:42 pm
Charges:
MISC BENCH WARRANT
Bond:
No Bond
---
ANDRADE, MISTY 
Booking #:
441405
Release Date:
09-09-2022 - 12:13 pm
Booking Date:
09-08-2022 - 11:42 am
Charges:
521457 *CPF* DRIVING WHILE LICENSE INVALID
ALC1 *CPF* CHANGED LANE WHEN UNSAFE
Bond:
No Bond
---
ARREOLA, LOUIS 
Booking #:
441422
Release Date:
09-09-2022 - 11:28 am
Booking Date:
09-09-2022 - 12:49 am
Charges:
35620008 *RPR* POSS MARIJ <2OZ
Bond:
No Bond
---
BURNEY, CHRISTOPHER 
Booking #:
441418
Release Date:
09-09-2022 - 11:28 am
Booking Date:
09-08-2022 - 8:41 pm
Charges:
38990027 VIOL BOND/PROTECTIVE ORDER
Bond:
$10000.00
---
KLAH, LISA 
Booking #:
441415
Release Date:
09-09-2022 - 11:13 am
Booking Date:
09-08-2022 - 6:57 pm
Charges:
38990013 VIOL PROTECT ORDER BIAS/PREJUDICE
Bond:
$5000.00
---
ARREOLA, ARNULFO 
Booking #:
436093
Release Date:
09-09-2022 - 10:13 am
Booking Date:
10-16-2021 - 9:32 pm
Charges:
13150005 *GJI* AGG ASSAULT W/DEADLY WEAPON
13150005 AGG ASSAULT W/DEADLY WEAPON
Bond:
$50000.00
---
ORNELAS, ROBERTO 
Booking #:
441409
Release Date:
09-09-2022 - 9:43 am
Booking Date:
09-08-2022 - 4:12 pm
Charges:
26990178 *RPR* DISPLAY FICTITIOUS MOTOR VEHICLE REGISTRATION
MISC CPF X1
Bond:
No Bond
---
ALVARADO, STEVEN 
Booking #:
441426
Release Date:
09-09-2022 - 9:28 am
Booking Date:
09-09-2022 - 8:35 am
Charges:
35620008 POSS MARIJ <2OZ
Bond:
$1000.00
---
MCDONALD, NOEL 
Booking #:
435361
Release Date:
09-09-2022 - 8:28 am
Booking Date:
09-03-2021 - 6:55 pm
Charges:
35990014 *GJI* POSS CS PG 1 <1G
35990014 *GOB*POSS CS PG 1 <1G
35990015 POSS CS PG 1 >=1G<4G
Bond:
$35000.00
---
TERRAZAS, DAVID 
Booking #:
441412
Release Date:
09-09-2022 - 8:28 am
Booking Date:
09-08-2022 - 4:50 pm
Charges:
MISC TDCJ HOLDOVER
Bond:
No Bond
---
HARRISON, CORT 
Booking #:
441068
Release Date:
09-09-2022 - 8:28 am
Booking Date:
08-19-2022 - 12:55 pm
Charges:
35990016 *COMM*POSS CS PG 1 >=4G<200G
MISC PAROLE VIOLATION
MISC US MARSHAL HOLD
Bond:
No Bond
---
JENSEN, CALLI 
Booking #:
441416
Release Date:
09-09-2022 - 7:58 am
Booking Date:
09-08-2022 - 7:30 pm
Charges:
57070020 CRIMINAL TRESPASS
Bond:
$500.00
---
SMITH, CEDRICK 
Booking #:
439865
Release Date:
09-09-2022 - 6:13 am
Booking Date:
06-09-2022 - 3:29 pm
Charges:
13990031 *GOB*ASSAULT CAUSES BODILY INJURY FAMILY VIOLENCE
35990014 *GOB*POSS CS PG 1 <1G
38060001 *COMM*ABANDON ENDANGER CHILD IMMINENT DANGER BODILY INJ
DL1 *COMM*NO DRIVER'S LICENSE (WHEN UNLICENSED) ICON
FMFR *COMM*FAILURE MAINTAIN FINANCIAL RESPONSIBILITY ICON
Bond:
No Bond
MARTINEZ, CHRISTOPHER 
Booking #:
441462
Release Date:
09-11-2022 - 5:28 am
Booking Date:
09-11-2022 - 2:12 am
Charges:
35620008 *RPR*POSS MARIJ <2OZ
Bond:
No Bond
---
ESTRADA, RUBY 
Booking #:
441460
Release Date:
09-11-2022 - 1:58 am
Booking Date:
09-11-2022 - 12:08 am
Charges:
35620008 POSS MARIJ <2OZ
P48 UNLAWFULLY CARRYING A WEAPON
Bond:
$1500.00
---
MORENO, RACHEL 
Booking #:
441185
Release Date:
09-10-2022 - 5:13 pm
Booking Date:
08-25-2022 - 10:53 pm
Charges:
35990248 POSS CS PG 1/1-B >=1G<4G
52030027 UNL CARRYING WEAPON
Bond:
$12500.00
---
DUPREE, TAMMY 
Booking #:
441447
Release Date:
09-10-2022 - 12:13 pm
Booking Date:
09-10-2022 - 11:18 am
Charges:
23990191 THEFT PROP >= $100<$750
Bond:
$500.00
---
MEDINA, MARILYN 
Booking #:
441442
Release Date:
09-10-2022 - 11:58 am
Booking Date:
09-10-2022 - 3:17 am
Charges:
54040009 DRIVING WHILE INTOXICATED
Bond:
$1000.00
---
BROWN, JORDAN 
Booking #:
441438
Release Date:
09-10-2022 - 11:28 am
Booking Date:
09-10-2022 - 12:14 am
Charges:
54040012 DRIVING WHILE INTOXICATED/OPEN ALCH CONTAINER
Bond:
$1500.00
---
HILL, JACKIE 
Booking #:
441429
Release Date:
09-10-2022 - 8:43 am
Booking Date:
09-09-2022 - 5:38 pm
Charges:
54999999 NO/DEFECTIVE HEADLIGHTS ON BICYCLE
MISC FTA X1
Bond:
$986.00
---
MUNOZ-DIAZ, GABRIEL 
Booking #:
441445
Release Date:
09-10-2022 - 7:58 am
Booking Date:
09-10-2022 - 5:17 am
Charges:
41999999 PUBLIC INTOXICATION
Bond:
$462.00
---
DEHOYOS, TRINIDAD 
Booking #:
441444
Release Date:
09-10-2022 - 7:43 am
Booking Date:
09-10-2022 - 3:41 am
Charges:
54990044 *RPR* RECKLESS DRIVING
Bond:
No Bond
---
COLON, JUSTYN 
Booking #:
441440
Release Date:
09-10-2022 - 7:43 am
Booking Date:
09-10-2022 - 2:38 am
Charges:
54040009 DRIVING WHILE INTOXICATED
Bond:
$1000.00
---
MCGEE, AVERY 
Booking #:
441431
Release Date:
09-10-2022 - 7:43 am
Booking Date:
09-09-2022 - 9:34 pm
Charges:
54999999 DWLI
54999999 FAIL TO DISPLAY DRIVERS LICENSE
54999999 SPEEDING- 10% OR OVER 47 MPH IN A 35 MPH ZONE
MISC VPTA X 3
Bond:
$3460.20
---
PERALES, MICHAEL 
Booking #:
441434
Release Date:
09-10-2022 - 7:28 am
Booking Date:
09-09-2022 - 10:15 pm
Charges:
54999999 PEDESTRIAN-WALKING WITH TRAFFIC
Bond:
$264.00
BONNER, ROBERT 
Booking #:
441457
Release Date:
09-11-2022 - 1:43 pm
Booking Date:
09-10-2022 - 11:23 pm
Charges:
57070020 CRIMINAL TRESPASS
Bond:
$500.00
---
FULTON, MASON 
Booking #:
441448
Release Date:
09-11-2022 - 1:28 pm
Booking Date:
09-10-2022 - 3:28 pm
Charges:
13990086 ASSAULT OF PREGNANT PERSON
Bond:
$10000.00
---
CASTANEDA, NAPOLEON 
Booking #:
441461
Release Date:
09-11-2022 - 11:43 am
Booking Date:
09-11-2022 - 12:18 am
Charges:
52120009 UNL POSS FIREARM BY FELON
Bond:
$10000.00
---
BRIDGES, RONALD 
Booking #:
441446
Release Date:
09-11-2022 - 11:43 am
Booking Date:
09-10-2022 - 9:56 am
Charges:
38990027 VIOL BOND/PROTECTIVE ORDER
Bond:
$5000.00
---
HIRST, ERIC 
Booking #:
441453
Release Date:
09-11-2022 - 10:28 am
Booking Date:
09-10-2022 - 9:23 pm
Charges:
41999999 PUBLIC INTOXICATION
Bond:
$462.00
---
ESPINOZA, MAYRA 
Booking #:
441465
Release Date:
09-11-2022 - 9:28 am
Booking Date:
09-11-2022 - 4:23 am
Charges:
54040009 DRIVING WHILE INTOXICATED
Bond:
$1000.00
---
OVERSTREET, JAMES 
Booking #:
441464
Release Date:
09-11-2022 - 9:13 am
Booking Date:
09-11-2022 - 3:45 am
Charges:
41999999 PUBLIC INTOXICATION
48010017 EVADING ARREST DETENTION
Bond:
$962.00
---
ALLISON, JEFFERY 
Booking #:
441455
Release Date:
09-11-2022 - 9:13 am
Booking Date:
09-10-2022 - 10:11 pm
Charges:
41999999 PUBLIC INTOXICATION
Bond:
$440.00
JOHNSON, SARA 
Booking #:
441456
Release Date:
09-11-2022 - 7:58 am
Booking Date:
09-10-2022 - 10:26 pm
Charges:
54040009 DRIVING WHILE INTOXICATED
Bond:
$1000.00
The following is a key for the above abbreviations:
MISC- Miscellaneous
VOP- Violation of Parole
GOB- Going off Bond
VPTA- Violation Promise to Appear
GJI- Grand Jury Indictment
COMM- Commuted Sentence
RPR- Release of Personal Recognizance
CPF- Capias Pro Fine
J/N- Judgement NISI
ICE- Immigration Custom Enforcement
TDCJ- Texas Department of Criminal Justice
DWLI- Driving While License Invalid
POSS MARIJ- Possession of Marijuana
DWI- Driving While Intoxicated
MAN DEL CS PG – Manufacture and Delivery of a Controlled Substance Penalty Group
MO- Magistrate's Order
Most Recent Videos