SAN ANGELO, TX – More than a dozen suspects were booked into the Tom Green County Detention Facility over the past 24 hours.
San Angelo LIVE! Makes no assumptions or representations about guilt or innocence of anyone on the booking report. Individuals charged with crimes are presumed innocent until proven guilty. Information on the site should not be used to determine any person's actual criminal record.
The San Angelo Police Department, the Tom Green County Sheriff's Office, and the Texas Department of Public Safety made 13 arrests including the following:
Jaylin Deanda was arrested for cruelty to non-livestock animals by failing to provide on Sep. 6 at 5:39 p.m. 
Phoenix Ferro was arrested for illegal dumping on Sep. 6 at 4:11 p.m.
There are currently 515 inmates at the TGCDF as of Wednesday morning.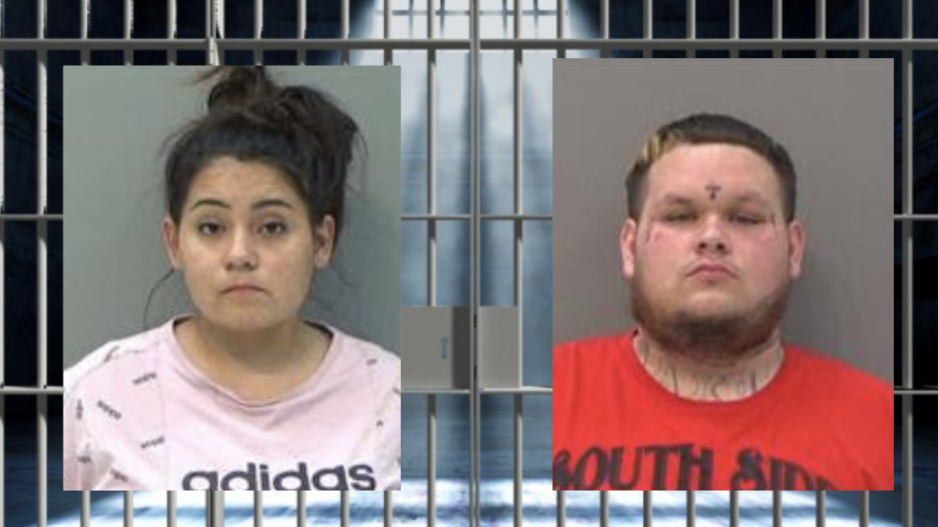 The following were booked into the Tom Green County Detention Facility over the past 24 hours:
DIAZ, DANIEL 
Booking #:
441390
Release Date:
09-07-2022 - 4:28 am
Booking Date:
09-07-2022 - 1:38 am
Charges:
521457 DRIVING WHILE LICENSE INVALID ICON
ER EXPIRED REGISTRATION ICON
Bond:
$578.50
---
HAMPTON, DAVID 
Booking #:
441389
Booking Date:
09-07-2022 - 1:18 am
Charges:
35990247 POSS CS PG 1/1-B <1G
55999999 POSS/DEL DRUG PARAPHERNALIA
Bond:
$331.00
---
PITTS, PHILLIPE 
Booking #:
441388
Booking Date:
09-06-2022 - 9:32 pm
Charges:
MISC FTA X 1
Bond:
$502.00
---
BONNER, ROBERT 
Booking #:
441387
Booking Date:
09-06-2022 - 9:21 pm
Charges:
41999999 PUBLIC INTOXICATION
Bond:
$462.00
---
MILLER, ATOM 
Booking #:
441386
Booking Date:
09-06-2022 - 7:28 pm
Charges:
13990031 ASSAULT CAUSES BODILY INJURY FAMILY VIOLENCE
Bond:
No Bond
---
DEANDA, JAYLIN 
Booking #:
441385
Booking Date:
09-06-2022 - 5:39 pm
Charges:
73990643 CRUELTY TO NON-LIVESTOCK ANIMALS: FAIL TO PROV
Bond:
No Bond
---
SARSOSA, ELI 
Booking #:
441384
Booking Date:
09-06-2022 - 5:34 pm
Charges:
73990643 CRUELTY TO NON-LIVESTOCK ANIMALS: FAIL TO PROV
Bond:
No Bond
---
KALVODA, ISABELLA 
Booking #:
441383
Release Date:
09-06-2022 - 5:58 pm
Booking Date:
09-06-2022 - 5:07 pm
Charges:
57070019 CRIM TRESPASS HABIT/SHLTR/SUPRFUND/INFSTRT
Bond:
$500.00
---
FERRO, PHOENIX 
Booking #:
441382
Release Date:
09-06-2022 - 5:13 pm
Booking Date:
09-06-2022 - 4:11 pm
Charges:
62050119 ILL DUMP =>500 LBS <1000 LBS OR =>100CFT <200CFT
Bond:
No Bond
---
MITCHELL, GARY 
Booking #:
441381
Release Date:
09-06-2022 - 3:28 pm
Booking Date:
09-06-2022 - 2:43 pm
Charges:
35620008 POSS MARIJ <2OZ
Bond:
$1000.00
---
MARTIN, ALBERT 
Booking #:
441380
Release Date:
09-06-2022 - 3:28 pm
Booking Date:
09-06-2022 - 1:00 pm
Charges:
57070020 CRIMINAL TRESPASS
Bond:
$500.00
---
HITCHCOCK, AUTUMN 
Booking #:
441379
Booking Date:
09-06-2022 - 12:04 pm
Charges:
MISC CPF X5
MISC FTA X1
Bond:
$502.00
---
OROSCO, DANIEL 
Booking #:
441378
Booking Date:
09-06-2022 - 8:40 am
Charges:
35990015 *GJI* POSS CS PG 1 >=1G<4G
48010020 *GJI*EVADING ARREST DET W/VEH
Bond:
No Bond
The following were released from the TGCDF over the past 24 hours:
DIAZ, DANIEL 
Booking #:
441390
Release Date:
09-07-2022 - 4:28 am
Booking Date:
09-07-2022 - 1:38 am
Charges:
521457 DRIVING WHILE LICENSE INVALID ICON
ER EXPIRED REGISTRATION ICON
Bond:
$578.50
---
PEREZ, JOSE 
Booking #:
441367
Release Date:
09-07-2022 - 2:28 am
Booking Date:
09-05-2022 - 9:02 am
Charges:
54999999 NO DRIVERS LICENSE
54999999 NO PROOF OF FINANCIAL RESPONSIBLITY
MISC COMM X4
MISC FAILURE TO SPRAY/NEUTER
MISC FAILURE TO VACCINATE
MISC FTA X2
Bond:
$3046.00
---
KALVODA, ISABELLA 
Booking #:
441383
Release Date:
09-06-2022 - 5:58 pm
Booking Date:
09-06-2022 - 5:07 pm
Charges:
57070019 CRIM TRESPASS HABIT/SHLTR/SUPRFUND/INFSTRT
Bond:
$500.00
---
FERRO, PHOENIX 
Booking #:
441382
Release Date:
09-06-2022 - 5:13 pm
Booking Date:
09-06-2022 - 4:11 pm
Charges:
62050119 ILL DUMP =>500 LBS <1000 LBS OR =>100CFT <200CFT
Bond:
No Bond
---
MITCHELL, GARY 
Booking #:
441381
Release Date:
09-06-2022 - 3:28 pm
Booking Date:
09-06-2022 - 2:43 pm
Charges:
35620008 POSS MARIJ <2OZ
Bond:
$1000.00
---
MARTIN, ALBERT 
Booking #:
441380
Release Date:
09-06-2022 - 3:28 pm
Booking Date:
09-06-2022 - 1:00 pm
Charges:
57070020 CRIMINAL TRESPASS
Bond:
$500.00
---
TAYLOR, RAYMOND 
Booking #:
441314
Release Date:
09-06-2022 - 3:13 pm
Booking Date:
09-02-2022 - 2:32 pm
Charges:
35620008 *COMM*POSS MARIJ <2OZ
54040009 *COMM*DRIVING WHILE INTOXICATED
Bond:
No Bond
---
WUERTENBURG, JAMES 
Booking #:
441307
Release Date:
09-06-2022 - 3:13 pm
Booking Date:
09-02-2022 - 7:57 am
Charges:
13990076 *MTR* ASSAULT FAM/HOUSE MEM IMPEDE BREATH/CIRCULAT
Bond:
No Bond
---
HERNANDEZ, MATEO 
Booking #:
441360
Release Date:
09-06-2022 - 1:28 pm
Booking Date:
09-05-2022 - 12:22 am
Charges:
54999999 LICENSE PLATES- OPERATING VEHICLE W/WRONG LICENSE PLATE
MISC CPFX1
Bond:
$332.00
---
GARCIA, JOSHUA 
Booking #:
441358
Release Date:
09-06-2022 - 1:28 pm
Booking Date:
09-04-2022 - 11:36 pm
Charges:
MISC CPFX2
Bond:
No Bond
---
FLORES, JOSE 
Booking #:
441342
Release Date:
09-06-2022 - 1:28 pm
Booking Date:
09-03-2022 - 11:52 pm
Charges:
55999999 POSS DRUG PARAPHERNALIA
MISC CPF X4
MISC FTA X2
Bond:
$1666.00
---
HOGEDA, MONICA 
Booking #:
441371
Release Date:
09-06-2022 - 11:58 am
Booking Date:
09-05-2022 - 9:06 pm
Charges:
54999999 PEDESTRIAN-WALKING WITH THE FLOW
55999999 POSS/DEL DRUG PARAPHERNALIA
Bond:
$926.00
---
SERRANO, ADRIAN 
Booking #:
441207
Release Date:
09-06-2022 - 8:58 am
Booking Date:
08-27-2022 - 12:48 am
Charges:
35990015 *COMM* POSS CS PG 1 >=1G<4G
48010006 *RPR* RESIST ARREST SEARCH OR TRANSPORT
Bond:
No Bond
---
OLIVO, ROLANDO 
Booking #:
441377
Release Date:
09-06-2022 - 8:43 am
Booking Date:
09-06-2022 - 1:59 am
Charges:
54040009 DRIVING WHILE INTOXICATED
Bond:
$1000.00
---
SEDILLO, YSMAEL 
Booking #:
441376
Release Date:
09-06-2022 - 8:43 am
Booking Date:
09-06-2022 - 1:13 am
Charges:
41999999 PUBLIC INTOXICATION
Bond:
$462.00
---
YBARRA, DOMINIC 
Booking #:
441375
Release Date:
09-06-2022 - 8:43 am
Booking Date:
09-06-2022 - 1:04 am
Charges:
54040009 DRIVING WHILE INTOXICATED
Bond:
$1000.00
---
MALDONADO, ASHLEE 
Booking #:
441374
Release Date:
09-06-2022 - 8:28 am
Booking Date:
09-06-2022 - 12:11 am
Charges:
35620008 POSS MARIJ <2OZ
54040009 DRIVING WHILE INTOXICATED
Bond:
$2000.00
The following is a key for the above abbreviations:
MISC- Miscellaneous
VOP- Violation of Parole
GOB- Going off Bond
VPTA- Violation Promise to Appear
GJI- Grand Jury Indictment
COMM- Commuted Sentence
RPR- Release of Personal Recognizance
CPF- Capias Pro Fine
J/N- Judgement NISI
ICE- Immigration Custom Enforcement
TDCJ- Texas Department of Criminal Justice
DWLI- Driving While License Invalid
POSS MARIJ- Possession of Marijuana
DWI- Driving While Intoxicated
MAN DEL CS PG – Manufacture and Delivery of a Controlled Substance Penalty Group
MO- Magistrate's Order
Most Recent Videos