SAN ANGELO, TX — A San Angelo attorney won a lawsuit resulting in the largest judgement against the defendant in the history of Tom Green County, over $16 million. The judgement comes in the wake of a vehicle crash where the motivations of the man who caused the crash were said to be racist.
It was just after sundown and as darkness had just fallen on the road ahead of him, Felipe Garcia, Jr. was driving his gold 2001 Kia, headed from San Angelo to Grape Creek on U.S. 87. Upon reaching the March Road intersection, it was just after 8 p.m. and Garcia turned right and headed east.
Meanwhile, driving westbound on March Road was a white man in a white 2002 Chevrolet single-cab pickup. According to a lawsuit complaint, the pickup's driver, David McKinney, was looking for prey to harm or kill. Garcia was Hispanic who met McKinney's mark as he swerved into Garcia's eastbound line of travel and hit him head-on.
According to LIVE! reports from that evening, after the crash, Garcia was airlifted to Shannon Medical Center in the Airmed 1 helicopter. McKinney refused medical treatment at the scene; he had no serious injuries, even though the Grape Creek VFD had to extinguish his truck that was on fire. After the helicopter departed, our reporter overheard the DPS Troopers asking McKinney if he will submit to field sobriety test, take a Breathalyzer test, or have authorities draw blood before he was handcuffed and taken to jail.
McKinney was not charged with drunk driving, however. Instead, he was charged with something more sinister: Trying to harm or kill another motorist, and a civil lawsuit states he did so because of the color of his victim's skin.
Meanwhile, at Shannon, Garcia was being treated for a severe head injury, a condition that may never completely heal.
According to a criminal indictment, McKinney was charged with aggravated assault with a deadly weapon, a second degree felony in Texas. The indictment states that McKinney's actions did "intentionally, knowingly, and recklessly cause bodily injury to Felipe Garcia Jr. by striking him with a vehicle, and the defendant did then and there use or exhibit a deadly weapon, namely a motor vehicle that in the manner of its use or intended use is capable of causing death or serious bodily injury."
If found guilty of a second degree felony, McKinney faced 20 years in prison and up to a $10,000 fine. In a plea deal handed down Oct. 15, McKinney was given deferred adjudication, probation for 5 years, and ordered to pay a $300 fine and pay another $300 in restitution to the victim, Garcia. If McKinney successfully completes the probation, the incident can be taken off his record, and there will be no conviction. District Judge Jay Weatherby signed off on the plea deal presented by McKinney's defense attorney John Sutton and District Assistant DA Meagan Wyatt.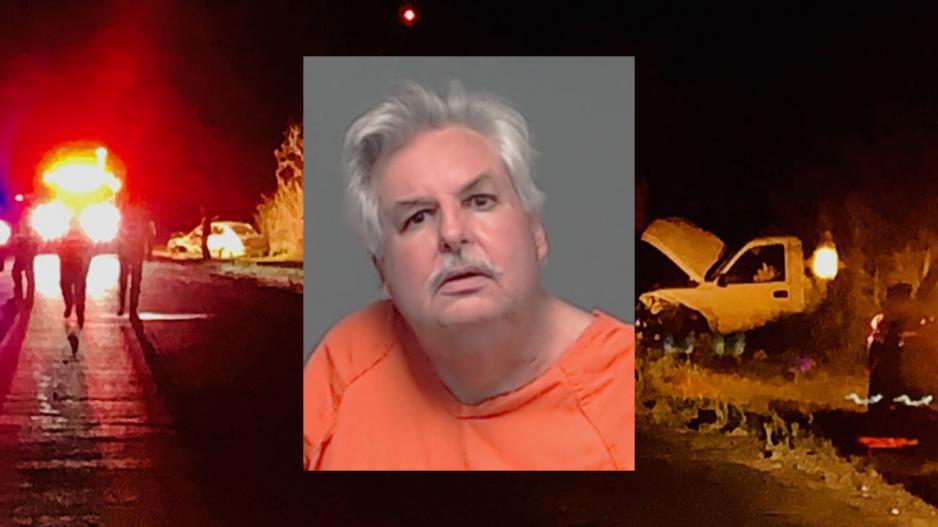 When local attorney Rick DeHoyos heard about the crash from Garcia's family, he noted that there was no insurance and McKinney was basically broke. He agreed to take the case on contingency to represent Garcia anyway.
"We cannot allow this kind of behavior to become acceptable," DeHoyos said.
He filed the lawsuit in July 2019 before the indictment was handed down three weeks later.
In the lawsuit, DeHoyos wrote, "Plaintiff (Garcia) will show that the defendant (McKinney) is a racist bigot who dislikes Mexicans and his statements and attitude towards plaintiff and his family after the collision were indicative of malicious, and reckless disregard for the safety of human life and a complete disregard for the safety of the public including Tom Green County citizens and the rest of the World."
McKinney didn't show up to the trial resulting in a default judgment against him. The same district judge who heard the criminal trial, Weatherby, threw the book at him. He ordered McKinney to pay Garcia $16,322,895.55, a record amount for any Tom Green County civil lawsuit.
McKinney was specifically ordered to pay:
$4,000 for property damage
$68.895.55 in past medical bills
$500,000 in future medical bills
$5 million each for past and future physical impairment, past and future pain and suffering, and past and future mental anguish.
$750,000 was added for exemplary damages.
McKinney will never be able to pay this judgement, though DeHoyos pointed out that any land or real estate he ever sells will be confiscated by the court.
A previous lawsuit in Tom Green County saw victims of the Party Ranch bar's loose alcohol serving awarded $5 million from that bar's former owner, Tracy Lawson. At the time of the judgement, the plaintiffs didn't believe they would every recover a dime of that. Lawson, in lawsuit hell, gave up and didn't appear in court either.
Most Recent Videos