Police Asking the Public to Stop Social Media Harrassment About Poisoned Dogs
Press Release
SAN ANGELO, TX – The San Angelo Police Department issued a statement to the public on Tuesday asking that they remain patient as officers continue to investigate the possible killing of animals. 
As previously reported, on August 10, this weekend two dogs were reportedly poisoned by eating sausages soaked in anti-freeze by the Concho Valley PAWS. Here is the original story: Concho Valley PAWS Warns of Animal Poisoning Near College Hills
Later that day the San Angelo Police Department released a statement regarding the incident. In the statement they acknowledged that they were aware of the incident and that they were investigating it. They also asked for anyone who knew anything about it. For the full statement click here.
Early on Tuesday morning the post went viral and a number of people were outraged because of what happened including people from out of the state. Now the SAPD says that this is slowing down their process to investigate. 
"We appreciate the community's concern for this investigation and we are attempting to conduct a thorough, unbiased, and expedient investigation into the allegations in the interest of justice.
That being said, we have had multiple issues with social media posts, comments, and behavior from some members of the public:
The investigating Detective has been receiving calls from people with no first hand knowledge and some from out of state. This takes time away from actually conducting the investigation.
Some posts and comments on Facebook have been incendiary, inflammatory, and outright violent in nature. In a multitude of investigations, gaining cooperation from those who have knowledge of the incident or knowledge helpful to the investigation is paramount. The comments and posts mentioned can cause those potential witnesses to avoid speaking with law enforcement. 
Anyone involved, with first hand knowledge or who may have picked up any items of interest around the location of the incident, please contact Detective Lane at 325-481-2789."
A funeral is set to be held for one of the dogs, Tiny, tonight at 7 p.m. on Dartmouth drive.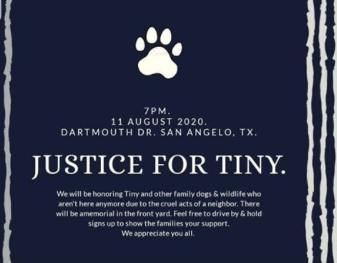 Get more stories like this by signing up for our daily newsletter, The LIVE! Daily.