Dumpsters, Drones, DNA and a Dead Stripper in Murder Trial Day One
SAN ANGELO, TX – A San Angelo man on trial for killing a 24-year-old woman pleaded not guilty Monday morning in the beginning of his jury trial which saw drone footage, testimony that the deceased was a former stripper and DNA evidence found on a gun and a knife. 
Andres Rios Ramirez, 32, is charged with murder in the shooting death of 24-year-old Camille Garcia on March 20. 2018.  Her body was found bound with rope, wrapped in a blanket and stuffed in a blue plastic tote in a dumpster in the 1000 block of Cactus Lane just outside the San Angelo city limits in what one witness described as part of the Grape Creek community.  
The investigation alleges Ramirez shot Garcia in the head at a residence on Antonio St., wrapped and tied her body in a blanket, stuffed it into a blue tote, put it in his Pontiac Vibe and drove from south San Angelo to north San Angelo and dumped the tote and body in a dumpster in front of a residence on Cactus Lane. 
The jury was selected Friday by District Attorney Allison Palmer and defense attorney Kirk Hawkins in District Judge Brad Goodwin's court.  
In opening statements, Palmer warned jurors they would be seeing 'difficult' photos of the autopsy and the body in the dumpster.  Hawkins told jurors to listen to the testimony and pay attention to the evidence because there are two sides to every story. 
Palmer's first witness was Tom Green County Sheriff's Office Deputy Michael Farmer who was the first deputy on the scene on Cactus Lane where the body was found in the dumpster.  Farmer testified that the resident was visibly upset pointing to the dumpster in the middle of the afternoon.  He said the man was vomiting.  Farmer said he looked in the dumpster and saw a woman's booted foot sticking out of a blue tote wrapped in a brown blanket.  
Palmer showed the jury photos of the body in the dumpster and outside of it as investigators unwrapped the corpse.  
Next on the witness stand was TGCSO evidence technician Bonnie Slone who testified she bar coded all the evidence and insured it was not tampered with or contaminated.  
Then TGCSO Forensic Specialist Amanda Brechtel was called to the stand.  She testified that she collected a firearm, magazine, and ammunition and later received a black tank top and a pair of shorts.  Under cross examination, Brechtel testified she also collected a black folding knife.  
Palmer then called TGCSO Sgt. Orlando Juarez to the stand.  Juarez testified that he was at the scene where Garcia's body was found.  He said they had to use social media to identify Garcia by her many unique tattoos.  Palmer then showed jurors photos of the body wrapped in a blanket in the blue tote inside the dumpster.  There was a very visible wet blood stain on the blanket.  The photos also showed the woman's tattoos.  The body was clothed in a black tank top and shorts and was bound with rope.  There were tears and gasps in the courtroom as jurors saw photos of the blood matted hair and the gunshot wound. 

Above: The scene where the body was discovered on March 20, 2018. (LIVE! Photo/John Basquez) (See: "Body Found in Dumpster was of a Woman")
Juarez testified that he delivered the physical evidence to the Department of Public Safety crime lab in Lubbock and attended the autopsy.  
Palmer then showed the jury TGCSO drone footage of investigators removing the body from the dumpster it was quite graphic and disturbed some individuals sitting in the gallery.  
Under cross examination Juarez testified that there were 'pretty rough' pictures of Garcia on social media. 
Palmer then called Gemma Guerra to the witness stand.  Guerra is a Forensic Analyst at the Lubbock DPS Crime Lab who performed DNA testing on the physical evidence.  Assistant District Attorney Tiffany Sheppard took over questioning.  Guerra's detailed testimony showed that she tested a blood stain on a couch cushion from the crime scene.  The murder allegedly occurred in the 600 block of Antonio St.  The blood stain on the couch cushion contained DNA that belonged to Garcia. 
Guerra also testified Garcia's DNA was found in blood collected from a black folding knife found in a trash can at the crime scene. 
Sheppard then had Guerra show jurors a Smith & Wesson 9 mm handgun collected during a traffic stop when Ramirez was arrested.  Judge Goodwin had the bailiff clear the weapon before it was admitted into evidence and shown to the jury.  Guerra's testing showed that Garcia's DNA and Ramirez's DNA was present on the handgun.  

Above: The scene of the murder of Camille Garcia, 629 Antonio St. in San Angelo.  (LIVE! Photo/Zoey Hanrahan) See: "Affidavit: Camille Garcia Shot in the Head."
Next on the witness stand was Gilbert Hernandez.  Hernandez was wearing a Tom Green County jail jumpsuit and was shackled.  Hernandez testified that the victim used meth in his presence and she lived on the street.  He said she moved around a lot and wanted to leave town.  He said she would show up at his house to shower and spend the night.  
Palmer then called Texas Department of Public Safety Special Agent Michael Sams to the stand. Sams testified that his job is to assist Texas Rangers in criminal investigations.  He testified that the investigation led to residences on Antonio, Upton and San Jacinto Streets.  Sams said Garcia moved from house to house and they got information from interviews that Andres Ramirez was Garcia's boyfriend.  Ramirez lived at 629 Antonio St. so Sams began surveilling the residence.  Ramirez also drove a 2003 gray or silver Pontiac Vibe SUV.  Sams watched the Pontiac leave the residence and began following it.  Ramirez was ultimately stopped at the Stripes convenience store on Knickerbocker Rd. and Austin St.  where he was taken into custody.  Investigators found the handgun in the back of that vehicle.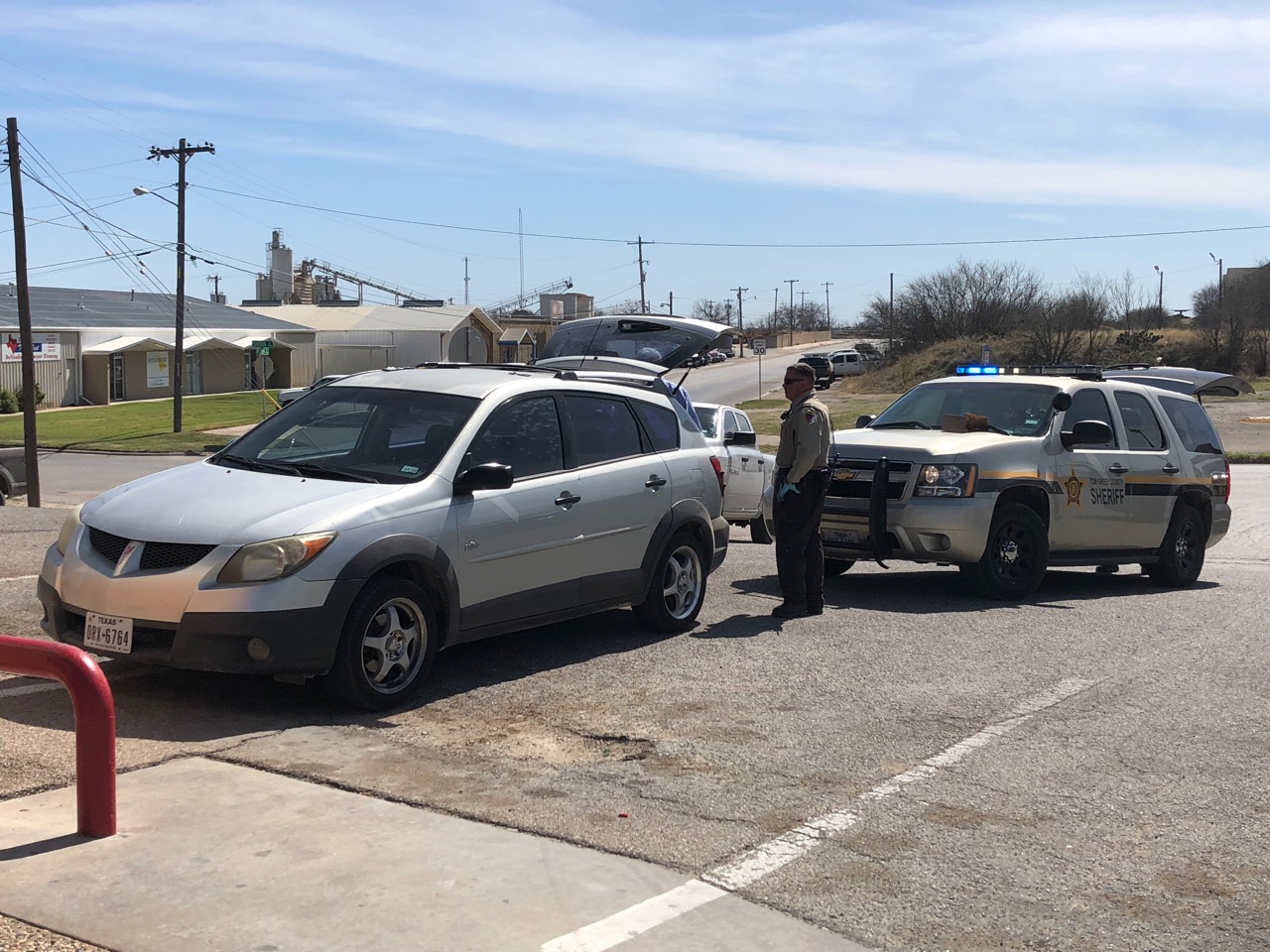 Above: Law enforcement operations were underway Wednesday afternoon (March 21, 2018) at the Stripes at the corner of Knickerbocker and Austin. (LIVE! Photo/John Basquez)
Sams testified that investigators got a search warrant for 629 Antonio.  They found evidence there including a folding knife in a trash can.  
Palmer then called David Perez to the witness stand.  Perez testified that Garcia would stop by his house on San Jacinto St. to shower and eat.  He said he didn't know much about her but she had a daughter and she was a very private person.  He said she moved around a lot. Under cross examination by Hawkins, Perez testified that Camille Garcia had been a stripper at Desire's and that she left a bag of clothes and a bicycle at his house.  He also testified that Garcia was tired most of the time when she showed up at his house and that she drank a lot.  
Then Palmer called TGCSO Deputy Grayson Hiers to the stand.  he testified that he made the traffic stop on Ramirez at the Stripes store and arrested him.  He said Ramirez told him there was a handgun in the vehicle.  Hiers found the 9mm handgun in the back of the SUV.  He testified it was loaded with a round in the chamber.  
Murder is punishable by 5 to 99 years or life in prison and a fine of up to $10,000.
Testimony resumes Tuesday morning at 9 a.m. in the Tom Green County Courthouse.
Get more stories like this by signing up for our daily newsletter, The LIVE! Daily.