SAN ANGELO, TX — Day two in the hearing for John Young's motion for a new trial and motion in arrest of judgment came and went without a ruling and included testimony by phone and a passel of attorneys taking the witness stand.  
First up Wednesday morning was phone testimony from Cara Hardin.  Hardin has a ten-month-old child fathered by Chris Hartman, the Sweetwater attorney whose ex-wife's affidavit is at the center of the request for a new trial.  Hardin testified that she is a flight attendant with Southwest Airlines who dated Hartman and planned on marrying him until he cheated on her with a 19-year-old girl according to her testimony.  
Hardin testified that she lent Hartman $30,000 to help purchase the building for his law office in Sweetwater.  After they broke up, she had to hire an attorney to get her money back according to her testimony.  A photo of Chris Hartman and the 19-year-old was admitted into evidence.   The photo was allowed because it was taken at a Halloween party in October 2017 shortly after Hartman testified in John Young's trial.  Defense attorneys said the photo, "shows consciousness of guilt and a flippant attitude; an attitude of I'm above the law."
Hardin testified that their relationship ended when Hartman got back together with his ex-wife while Hardin was five months pregnant.  Hardin testified that Hartman made similar statements to those in Katie Hartman's affidavit, specifically that Chris Hartman said, "He knew how to hide a body."  She also testified that the forged John Sullivan will looked like Chris Hartman's handwriting.  As to Chris Hartman's character, Hardin said, "He's been very dishonest to me."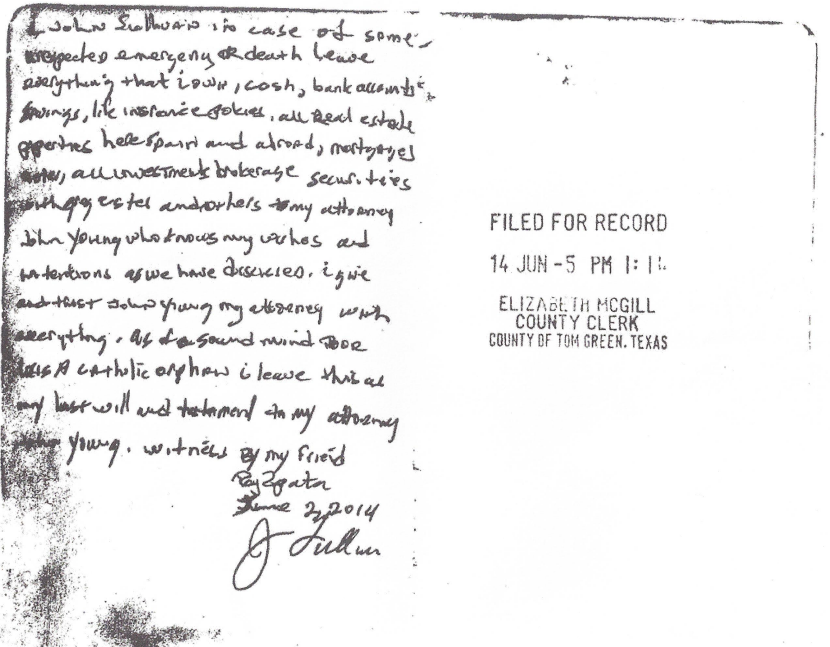 Hardin testified that Katie Hartman has been telling the truth about Chris Hartman.  
Then came the first of several attorneys to take the witness stand.  119th District First Assistant District Attorney Jason Ferguson was called to the stand.  He testified that he tried a sexual assault case in which the John Young jury foreperson was a material witness.  That case ended with an acquittal and the witness was very unhappy with the verdict.  Ferguson disclosed to both sides during the Young trial that he knew the juror and they said 'Hi' in the hallway while the trial was going on.  
Then another attorney took the stand.  Gerald Ratliff testified that during that sexual assault trial he was the defense attorney and that the juror, Gretchen Smith, was very upset with the verdict and him.  He testified that he shook hands with defense attorney Dan Hurley in the presence of the jury in the John Young trial because they were friends.  After that, Hurley and co-counsel Frank Sellers said they noticed the juror making faces and rolling her eyes at the attorneys.  
After lunch, Sellers was the next attorney to take the stand.  Sellers testified that he talked to Katie Hartman and she never waivered on her testimony that Chris Hartman had forged a will for John Sullivan in a book that looked like a bible in his office in early June of 2014.  Sellers testified that Katie Hartman talked to Greg Lucas and Brandon Riser with the OAG and that they both told her it was too late to testify in John Young's trial.  When they learned she witnessed Chris Hartman forge the will, Sellers testified that that information would have changed their defense strategy completely.  
In one of the strange twists, of the day, defense attorney Sellers was on the witness stand and was questioned by prosecuting attorneys.  He testified that part of their reason for requesting a new trial was that, "It was poor judgment not to reach out to Katie Hartman before the trial and it was something we clearly missed."
Sellers testified that they missed the signs in the juror questionnaire for Gretchen Smith.  He said he had the court reporter checked to see if Smith said she might need to talk to the attorneys about being fair and impartial, and the court reporter found in the record where Smith said she might need to talk to attorneys about that.     
When does the unusual become the norm?
Defense attorney Dan Hurley then took the stand.  He testified that at first he believed Chris Hartman.  Then Hartman testified in Young's trial that he lied to the grand jury.  After that, Hurley said Hartman was trying to protect himself.  
Hurley also testified that, "Our strategy would have been completely different if we'd had Katie Hartman's testimony for the trial. I made the decision before the trial not to interview Katie and it was a huge mistake."  Hurley testified that he believed the verdict would have been different with Katie Hartman's evidence.
The defense then rested after Sellers took the stand again to testify about records of cell phone towers for Chris Hartman for June 2 - 4, 2017.  Those records show Hartman was in his office at the time Katie Hartman said she was present and witnessed him forging the will.  
The prosecution's first witness was Amy Word, the Nolan County Court Administrator.  She testified she notarized Katie Hartman's sworn affidavit.  She also said she previously worked for Chris Hartman.  
Then it was Tiffany Cook's turn on the witness stand.  Cook is a Child Protective Services Investigator and Supervisor in Taylor County.  She testified that Katie Hartman had substance abuse problems and lost custody of her two children with Chris Hartman.  She could only have supervised visits with the children.
Following Cook was Chris Hartman's office manager Melinda Pulattie.  She testified that the forged will was not in Chris Hartman's handwriting.  She also testified that she didn't see Katie Hartman or Ray Zapata in Chris Hartman's office the day that Katie Hartman says she witnessed Chris Hartman forging John Sullivan's will.  Defense attorneys said Pulattie was not there because she left the office at 5:10 p.m. and Katie Hartman, Ray Zapata and Chris Hartman were there after 8 p.m. according to phone records.  
The prosecution's final witness was Chris Hartman.  Hartman testified that his relationship with his ex-wife was rocky from the start because of her substance abuse.  He testified that Katie was bipolar, an alcoholic, aggressive and promiscuous.  Hartman said his ex-wife used meth, heroin and pills she bought off the street.  He said he stopped supporting his ex-wife in 2017 when she "ran off again with her boyfriend Mr. Hoolihan, who supplied her with heroin."
Hartman's testimony was consistent with his testimony during Young's trial.  When prosecuting attorney Shane Attaway questioned Hartman about his texts with his ex-wife in Dec 2017, Chris Hartman testified that he texted her asking what her endgame was.  He said the texts presented as evidence showed that he told her he read on San Angelo Live about her affidavit.  He says she texted back saying that stupid San Angelo Live the aren't accurate.  Chris Hartman texted her back saying he read San Angelo Live and he had her affidavit and San Angelo Live was accurate.  
Prosecutors led Chris Hartman through each statement in Katie Hartman's affidavit.  He testified that each statement was not true.  
Testimony ended when the state passed the witness, Chris Hartman to the defense for questioning.  After some discussion, Judge Jones recessed the proceedings until 9 a.m. Thursday morning.    
Most Recent Videos