SAN ANGELO, TX — The Tom Green County Sheriff released more information about their investigation into the disappearance of Eric Torrez (also spelled Torres), an Abilene man with connections to San Angelo who went missing last week.
According to the Sheriff, Torrez's ex-wife, Kristen Anne Jennings of the 7400 block of Duckworth Rd. in northeast Tom Green County, was accused of breaking and entering Torrez's mother's residence in Abilene and forcibly took Torrez's and his ex-wife's four-year-old-child. In this incident that occurred on July 21, Kristen Jennings is also accused of assaulting Torrez's mother.
The Abilene Police Department charged Kristen Jennings with burglary of a habitation with the intent to commit another felony, but she was apparently on the way back home in Tom Green County and was not arrested at the crime scene.
On Monday, APD notified the Tom Green County Sheriff of Eric Torrez's disappearance. The APD investigation established that Torrez received a series of text messages on the same day of Kristen's alleged forced entry into his mother's home. The text messages invited Torrez to come to Tom Green County for contract work on a residence, according to the Sheriff.
Investigators with KTXS confirmed with Torrez's sister that Eric was living in his mother's home at the time of these incidents. The APD incident report did not indicate that Eric Torrez was present at his mother's home when the abduction occurred. At the same time, The Sheriff confirmed Torrez's last known location was on Duckworth Rd. at approximately 1 p.m. on July 24, the same day of the break-in and assault at Torrez's mother's home in Abilene.
On social media, Kristen Jennings may have stated her intentions. In a post dated July 19 at 7:08 a.m., she stated onFacebook (posted with all original spelling and grammar):
"So of course they did not indite him and for the abuse it's most likely going to be a misdemeanor, seriously done with the "legal" way of doing this!!!! Why when seriously they do nothing you call cps tell them the threats, he refuses to let them see her, has to get court ordered to see her. AND THEY STILL SAW NOTHING WRONG! He beats me and impeached my breathing and slap on the wrist, didn't even get arrested that night, try to get legal aid to help me fight for custody jerked around for months, and now I may have to re apply when I should have a answer are you kidding me, I don't have that time think of my child!!!! How can one man get away with abuse 2 times (that I reposted anyways) get away with a misdemeanor take my child keep her make threats AND NO ONE DOES ANYTHING!!!!!!!!!! Why even try so FYI everyone can get away with beating there spouse! Good to know we are safe! Just done done done!!!!!"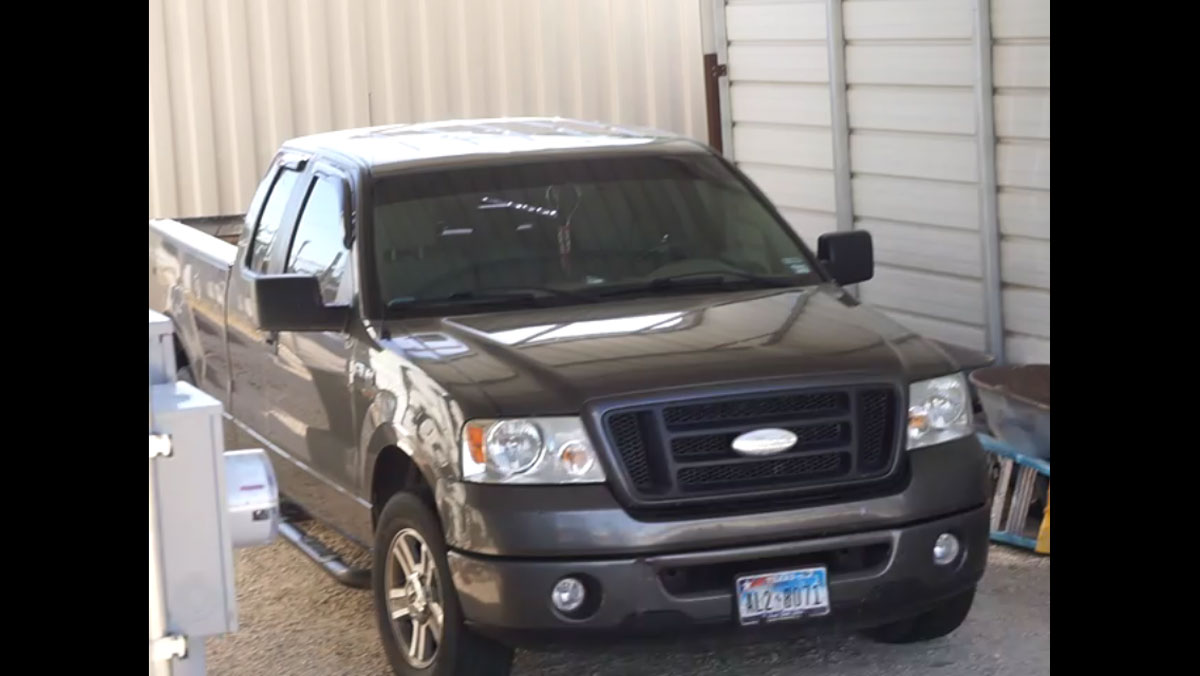 Above: The F-150 that Torrez was driving was found in Ballinger. (LIVE! Photo/JOHN BASQUEZ)
The Sheriff's investigation led TGCSO investigators to the home of Stephen and Kristen Jennings in the 7400 block of Duckworth Rd. on July 25 where an evidentiary search warrant was served. There, the Sheriff arrested Kristen Jennings on the Taylor County warrant and booked her into the Tom Green County Jail.
"This investigation has resulted in numerous persons being interviewed, additional search warrants being executed along with other investigative measures being utilized," Sheriff Jones stated.
Wednesday, July 26, Tom Green County Justice of the Peace J.P. McGuire issued arrest warrants for Stephen Lynn Jennings, Kristin Jennings' husband, and Gary Lynn Jennings, Stephen's father, for the offense of tamper or fabricate with physical evidence with intent to impair.  On the same day, Stephen Jennings was located in Red Oak, south of the Dallas-Fort Worth Metroplex, and arrested by Texas Ranger Hanna and Tom Green County Sheriff's Investigator Billy Fiveash. He was charged with tampering with evidence.
Thursday, July 27, the gray 2007 Ford F-150 that Eric Torrez was reported to be driving was located in the Walmart parking lot in Ballinger. The pickup was turned over to Tom Green County Sheriff's custody for processing of evidence.
The Sheriff stated Eric Torrez has not been located. However, interviews and the information collected thus far in the investigation indicate that Torrez is the victim of a homicide, the Sheriff stated.
The family of Torrez stated this afternoon that the four-year-old child is safe and under protection of Child Protective Services.
The Tom Green County Sheriff's Office along with the Texas Ranger's Service are committing all available resources into the investigation.  Tom Green County Sheriff Jones is continuing to ask for the public's assistance in locating Eric Torrez.  Anyone having any information that might be connected to Torrez's disappearance or observed any suspicious activity is also requested to contact the Tom Green County Sheriff's Office Criminal Investigation Division at 325-655-8111.
Most Recent Videos