Zapata Trial: Defense Dirties Local Attorney Up
SAN ANGELO, TX — Day 4 of the Ray Zapata trial highlighted local attorneys and judges. The central witness called by the prosecution was attorney Joe Hernandez. He is a charismatic character from whose office the storyline of what has become the crime of San Angelo's decade began.
Hernandez has a two-story building on West Concho Avenue. One floor is his law office. On the second floor, his brother operated a bail bond business. Also on the first floor, is a payday loan operation.
The defense attempted to impeach Hernandez's testimony. His brother Frank Hernandez died in January at the age of 63. But for many years, twin brothers Joe and Frank were inseparable. Both earned law degrees, but Frank didn't take the bar exam. Instead, he worked on the peripheral of the law as a private investigator, a bail bondsman, and etc. Joe was the attorney who kept it all together, representing criminals and personal injury clients.
The defense, in their questioning, made the impression that the Hernandez complex was a one-stop shop for those in legal trouble. If you're in jail, you can get a high interest loan to bond out of jail, and then hire attorney Joe Hernandez to represent you. A lawyer making commission off bail bonds, or bail bondsmen paying commission to criminal defense attorneys is unethical and illegal. "Did you do that?" Lubbock defense attorney Mark Snodgrass asked.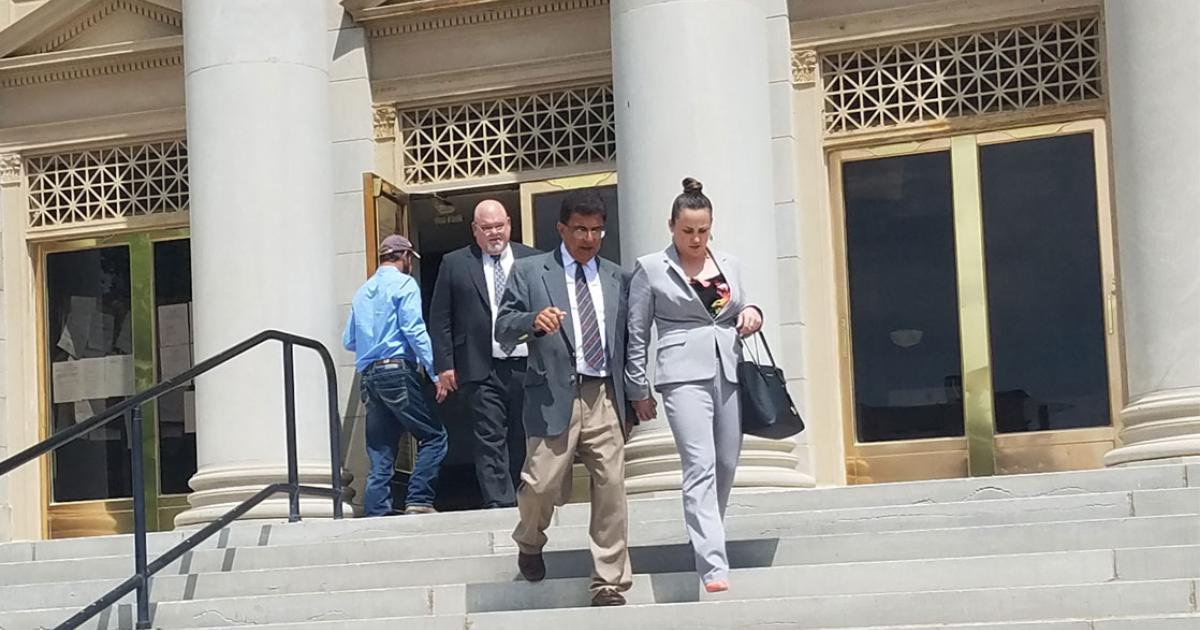 Above: Ray Zapata departs the Tom Green County Courthouse with his defense attorneys. Attorney Mark Snodgrass is behind Zapata. (LIVE! Photo/Sonia Ramirez)
Hernandez admitted he represented some folks over the years who were also clients of his brother's bail bond company, but no commission was paid either way.
Into the Hernandez brother operation, defendant Ray Zapata attached himself. He first worked as a bail bondsman under Frank, and then as his own company, Zapata Bail Bonds.
Defense attorney Snodgrass, who is as stout as a lineman on the Pittsburg Steelers, in a deep Texas draw, made several pointed questions of Joe Hernandez, accusing him of sour grapes.
"You were mad because you were cut out of the deal. And your brother was too, weren't you?" Snodgrass sneered at Hernandez who was on the stand during cross-examination. Zapata had cut a deal with Armando Martinez to pay the $1 million bail for John Sullivan. The two split the 15 percent fee, $150,000, Sullivan paid them for the bond. Joe and Frank Hernandez reportedly got nothing.
Hernandez vehemently denied any jealousy. In a spirited defense, he said he wanted to do the right thing for Sullivan's family. He knew Sullivan had family, in "Worcester, Massachusetts. He was no orphan," he answered from the stand.
"When did Zapata Bail Bonds start?" Snodgrass asked, suggesting that Zapata's company was set-up to compete with his brother after Zapata had been working with his brother. It was as if Snodgrass was suggesting Zapata outsmarted the Hernandez twins and used them to start his own, competing, bail bond business.
Hernandez could not recall when Zapata Bail Bonds began operations.
Snodgrass then laid into Hernandez with a line of questioning that suggested Hernandez was cut out of the Sullivan money, too. All of this was Hernandez's motivation for blowing the whistle.
Once again, Hernandez explained he did it to do the "right thing" in the most spirited exchange of the trial to date.
According to criminal complaints, it was Hernandez who tipped off Ranger Nick Hanna about the suspected will forgery by Zapata. Hernandez said on the stand Wednesday that he first confronted Zapata's alleged co-conspirator John Young at a seminar on criminal law hosted by Rusty Duncan in San Antonio. This was on the Friday before the probate hearing in County Court at Law Judge Ben Nolen's courtroom on the Monday after the weekend.
Hernandez saw Young and asked him about when the funeral services for Sullivan. "Out of the blue, he tells me about the holographic will." A holographic will is handwritten, rather than typed, and signed by the testator. In Texas, a hand-written will requires two witnesses of the signing, but no notary. Hernandez said Young told him that day the will was witnessed by Zapata. But, Young told Hernandez that, "Ray is not the beneficiary of the estate."
The holographic will with Zapata as its witness immediately raised red flags for Hernandez. He confronted Young with knowledge of Sullivan's immediate family. "You want their address?" Hernandez said Young asked.
"Oh no, you didn't just say that," Hernandez said Young said. Young then suggested he pay Hernandez for a few hours of work as his attorney so Hernandez's knowledge of Sullivan's probable heirs didn't come up in court testimony. That information would then be protected under attorney-client privilege.
Hernandez said he attended the probate hearing that Monday, June 16, 2014, as a spectator. Hernandez said he didn't speak up, even though he learned at the probate hearing that not only Zapata was a witness to the will, but John Young was too. And, at that hearing, he learned that Young was the only beneficiary of Sullivan's estate.
The State argued in opening statements that being both witness and beneficiary was a conflict of interest.
"Why didn't you contest the will then?" Snodgrass asked. "Was it because you were still hopeful they'd cut you in on the deal?"
Also testifying Wednesday was Judge Ben Nolen. He explained the legal procedures to probate a will. Amanda Deanda, a clerk from Nolen's office, testified that a holographic will was very unusual in the hundreds, if not thousands, of wills she had processed. She stated that the lawyer representing the estate, Chris Hartman, appeared to be "very nervous" when he presented the hand-written will. She called Judge Nolen with Hartman still in her office to ask if or how they should separate the will from the missalette. Then Hartman talked to Nolen. "It appeared they had spoken about this before," she testified. Most interesting is that Hartman presented the will June 5, the day after Sullivan was found dead. She said the timing was strange. The clerk said the will was cut from the Catholic prayer book with a razor blade.
Zapata's partner in their joint venture to fund Sullivan's bond, Armando Martinez, also testified. He said that it was he who gained entry into Sullivan's home the day. After Zapata unlocked a window with a screwdriver, Martinez climbed inside the house. As he did so, he said Zapata snapped a photo of him crawling through the window. He thought it was strange.
The trial continues through next week. The prosecutors said they expect to rest their case Friday. Defense will likely start their presentation Monday.
For more on the case against Ray Zapata, click here.
Below is a complete timeline of LIVE!'s coverage of the Trial.
Get more stories like this by
signing up for our daily newsletter, The LIVE! Daily
.